"My friends used to say I was majoring in Walter Feldman," says Colette Crutcher '78 of her favorite Brown art professor. "His huge respect for materials and craft imparted to me what it is to be an artist."
Although trained as a painter, Crutcher now works with tile mosaics on a grand scale. She recently completed a 163-step staircase that climbs a steep San Francisco hillside, and is now crafting a gigantic mosaic snake for a public park in a largely Hispanic district of the city. The snake, which would measure more than 100 feet if uncoiled, represents the Aztec feathered serpent Quetzalcoatl, god of civilization.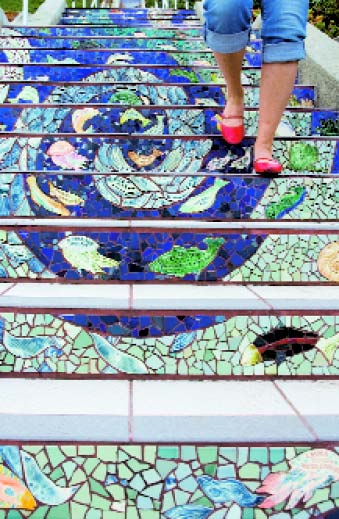 Crutcher began making mosaics eleven years ago, when she was named artist-in-residence at the San Francisco landfill—the dump. "The company that runs it has a very forward-looking environmental approach," she says. As artist-in-residence, she received studio space, tools, a stipend, and technical assistance. Plus, people at the dump helped her find materials she wanted for her projects.
The experience led to more mosaic projects, and in the last three years Crutcher has done more mosaics than anything else, in part because she loves it, and in part because mosaics pay. "It's still a very popular public-art medium, because it's completely durable and you can do something colorful outdoors that will last," Crutcher says. "San Francisco has no maintenance budget for public art, so they want something they know will survive on its own."
For the staircase project, Crutcher collaborated with another San Francisco artist, Aileen Barr. The 2,000-tile mosaic involved 300 neighbors and took three years to complete. "It was pretty amazing to see a community come together like that," says Crutcher, as she describes the transformation of a neighborhood where previously people didn't socialize and had no particular interest in public art.
The project was initiated by two local women, one of whom had lived in Rio de Janeiro, where she'd admired a gigantic colorfully tiled staircase. Walking the plain San Francisco stairs depressed her, so she and her neighbor decided to hold a contest for artists' designs. Since Crutcher and Barr submitted similar proposals, the judges asked if they'd work together. The collaboration was so successful that the two are continuing it on the snake mural, along with Crutcher's husband, Mark Roller.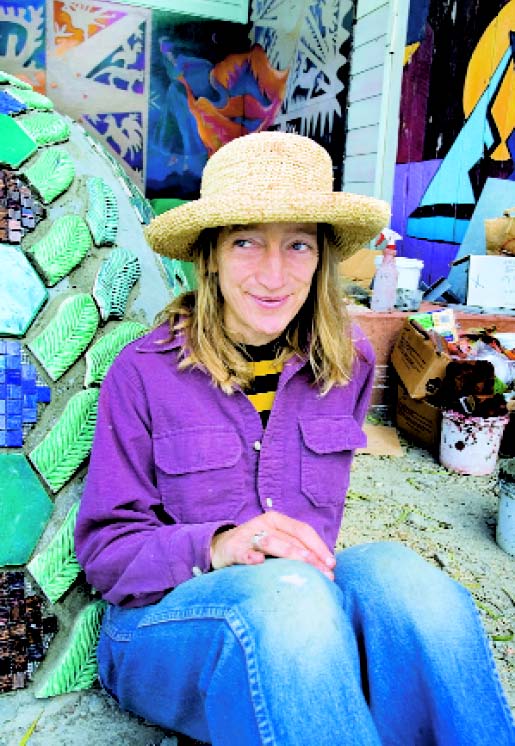 A public art project involves a tremendous amount of organization, the political wrangling of city permits, management of volunteers, and the ability to maintain an artistic vision so a cohesive work emerges at the end. One look at the vibrant steps Crutcher and Barr created speaks volumes about their sustained artistic vision. At the bottom is the sea with fish, which spirals and ascends to images of the sky and birds at the stairs' top. Each riser is an individual mosaic panel that fits into the larger scheme.
Costing well over $100,000, the project was funded almost entirely by public donations. Neighbors chipped in both labor and individual tiles, many engraved to commemorate a loved one or a special event. The hillside steps are strewn with names and dedications. "There are a lot of Chinese Americans in the neighborhood, and a lot of them would have a tile for the first person in that family born in this country," Crutcher says. "My dog died during the process, and I put a tile in for him.
Toni Weingarten is a freelance writer in San Francisco.