When Sylvia Poggioli, the senior European correspondent for National Public Radio, spoke at Sayles Hall in May, her experience as a U.S. journalist living in Italy prompted her to paint a surprisingly bleak picture of Europe and U.S.- European relations. Poggioli was on campus to receive the annual Welles Hangen '49 Award for Distinguished Journalism, whose previous recipients have included Peter Jennings and Dan Rather.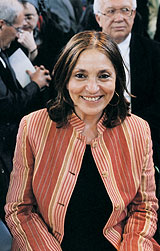 "As soon as news of the attacks on the World Trade Center spread in Europe," Poggioli said, "something extraordinary happened: an outpouring of warmth for every American in sight." But that unity was short-lived. Today, she said, Europe views the Bush administration as self-serving and prone to acting unilaterally. "The solidarity honeymoon is long over," Poggioli said. "The Atlantic Ocean has become a gulf of disharmony."
Poggioli noted a new sense of irrelevance sweeping over Europe after the United States sent troops into Afghanistan. "Europe's offers of military assistance were largely spurned," she said. The operation revealed the military supremacy of the United States - magnifying a gap that Poggioli said became apparent in 1999, during the war in Kosovo.
This blow to European self-esteem, Poggioli said, has contributed to a wave of nationalism, as well as outbreaks of anti-immigrant, anti-Muslim, and anti-Semitic feelings. "The mood in Europe is [one of] national retrenchment," she said - a far cry from 1989, when, after the collapse of the Berlin wall, "nationalism had appeared to be a demon of the past, a relic of feudalism." She pointed to a postÐ
September 11 poll revealing that even in the Netherlands, historically a haven for the oppressed, a majority believe Muslim immigrants should either integrate or leave the country. In Italy, Poggioli has witnessed a "revisionist view of fascism," with streets renamed after Fascist heroes and newsstands selling Mussolini memorial calendars.
"In this atmosphere," she said, "It's reasonable to be anxious about the future of the Western alliance."