"Once again," Liberian president Ellen Johnson Sirleaf told a packed Sayles Hall, "our country is honored. But the honor goes to the Liberian people. And I ask the Liberian people to please stand."
Dozens rose to their feet, waving tiny Liberian flags and paper programs, whooping with joy and chanting greetings in their native tongue.
And then the first democratically elected female president on the African continent sat down beside the first African American president of an Ivy League university—both of them the descendants of slaves—for a public conversation.
Sirleaf, who was given an honorary doctorate that day, had come to Brown in part to address the 20,000 Liberians who escaped the country's recent civil wars  by settling in Rhode Island. "Though we've made great progress," she told the audience, which also included faculty, students, staff, and non-Liberian locals, "we still have a long way to go. You've got to give back to those who are there. I know that we can count on you to come back home—in your own time."
Sirleaf's 2005 election as president came after many years of promoting democracy. She fled into exile after Samuel Doe's military coup in 1980, but returned a few years later to run against Doe, who placed her under house arrest and sentenced her to ten years in prison. After a little more than a year, she agreed to go into exile once again. She moved to Washington, D.C., worked mostly for the United Nations, and returned home in the late 1990s. She was soon accused of treason, and after civil war forced Charles Taylor from power, she headed the Government Reform Commission for the interim government. In 2007 President Bush awarded her the Presidential Medal of Freedom.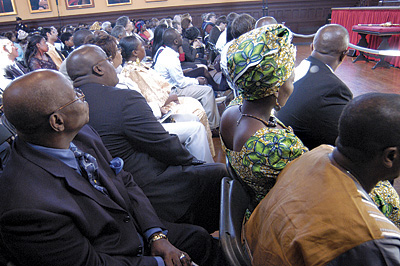 "In these times of political and moral vacillation," Simmons asked her, "how do you keep your determination strong?"
Citing her family, her mother, and her Methodist faith, Sirleaf said her motivation was her belief that Liberia, "has the potential to be one of the successful ones."
Her most immediate task, Sirleaf said, was to restore the country's infrastructure. When she took office, she said, only three percent of Liberians had electricity, a number that should be up to seven percent this fall. Rebuilding roads will help people return to their farms and will allow farmers to get their food to market.
Simmons asked Sirleaf whether she is frustrated by the media tendency to view Africa as the continent of incessant bad news. "There are now close to twenty democracies in Africa," Sirleaf responded, "some of them maturing. In the last year or so, Africa's [economic] growth rate is equal to or better than other parts of the world."
She concluded by asking Brown students to go see for themselves, citing a program that brings students from Harvard and a few other schools to work alongside Liberians.
Simmons expressed her support for the idea, joking that few things motivate Brown students better than telling them Harvard students are already doing it.