First Person
Deep Humanity
David Yazbek '82 tackles a new musical.
April 1st, 2018
While chasing a career as a singer-songwriter, David Yazbek '82 has also been writing music and lyrics for Broadway. So far he has written the scores for four shows, all based on movies. His work on The Full Monty, Dirty Rotten Scoundrels, and Women on the Verge of a Nervous Breakdown have all earned Tony Award nominations for Best Original Score, and his latest effort, The Band's Visit, starring Tony Shalhoub and Katrina Lenk, has received rapturous reviews. The musical recounts the small human dramas that ensue when Egypt's Alexandria Ceremonial Police Orchestra shows up in the wrong Israeli town, a dull desert hamlet where nothing much ever happens.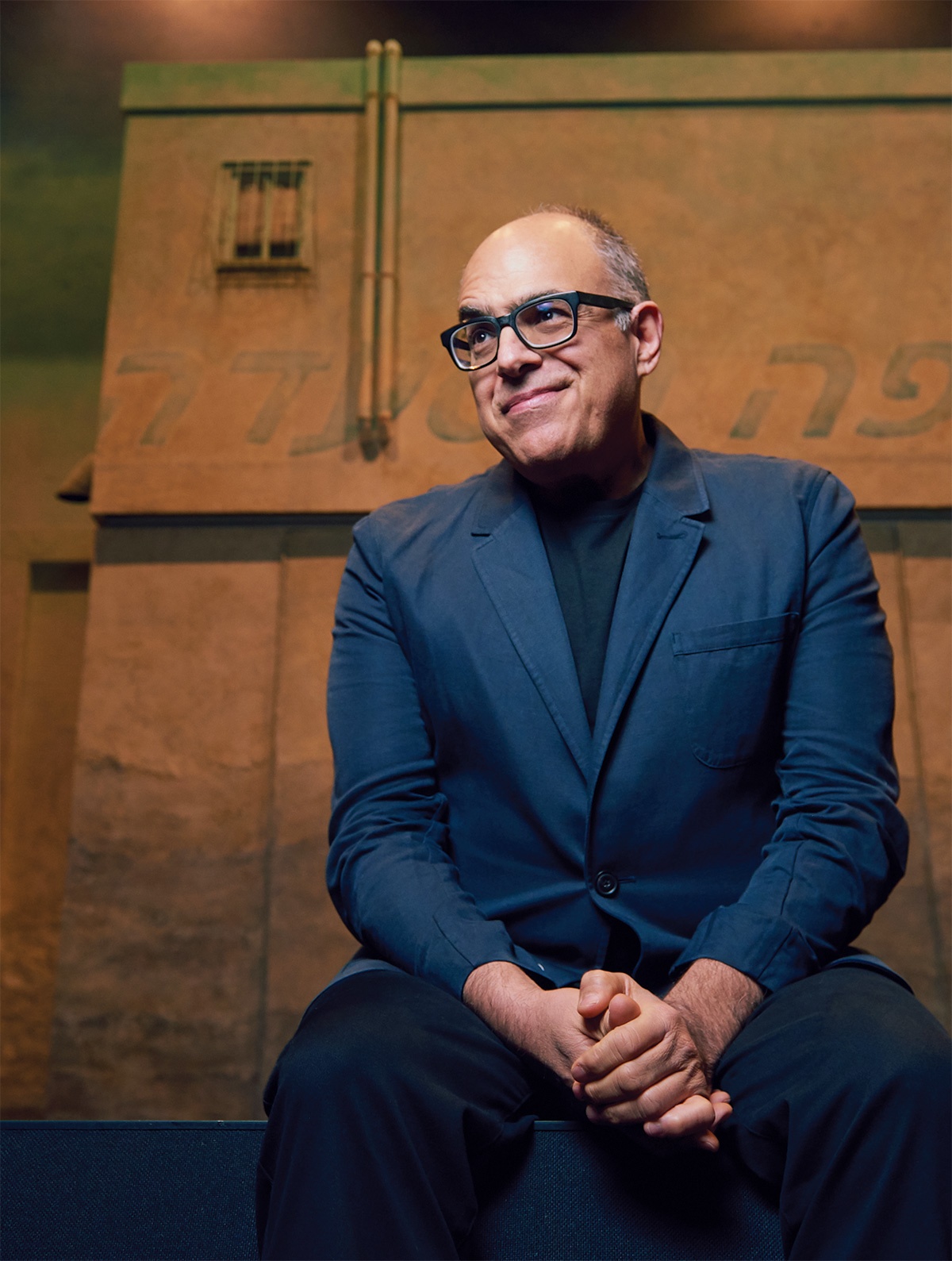 What inspired you to tackle this story? It was not a quick yes for me. I did see the [2007] movie and thought it was really beautiful. It was a quiet story, and it didn't follow the usual rules of character development and story. It's not manipulative. And it's about, among other things, how music is a connective force. And that's not really in the ballpark of most musical theater. When I said yes to it, I had an instinctive feeling that we could actually honor that [idea].
The focus on a band must have suggested its potential as a musical. Yes—except that you can see how some folks might say, "But it's Arabic classical music. Nobody wants to hear that." You could easily have had a show where the songs are the usual kind of Broadway dreck, and you'd lose everything that's important.
What music did you draw on for the score? This kind of Arabic classical music I've known since I was a kid—not because it was played around my house, [but] because I had a really strong curiosity for anything sound-oriented or music-oriented. So even when I was seven or eight years old and I was in Lebanon for the first time and heard this kind of music on the radio of the taxi I was in, I was really taken by it.
I've read that you play the darbouka [a hand drum] and the oud [a short-necked lute]. When I started writing the show, I started trying to play some of those instruments. The darbouka I play not very well. The oud I play really badly. I actually was able to write some of the music on the oud.
Did you ever get stuck working on the score? When I was writing, we kept talking about what can Tewfiq [the band leader, played by Shalhoub] sing. I wrote a bunch of songs for him signaling this re-ignition of desire to connect with a woman—pretty good songs. But after many tries, I just realized it has to be unexpected, like an artist dusting off his canvas that he hasn't painted in years. So I wrote him something in Arabic and a cappella, and that seemed to do the trick.
This show has really struck a chord with critics and audiences. I don't get it. I do know that we succeeded in making a show that is really very honest. It never wavers from the tone that we set.
There's no conventional happy ending, no big emotional payoff. There's not. And yet you're left with this strange feeling of deep humanity.