Class of 1948
Send your news to class secretary Jeannette Jones Pollard or directly to the BAM at alumni_magazine@brown.edu.
Jan, 2022
Gloria Markoff Winston writes: "Wow, can you believe we will be having our 74th reunion in 2022?! Will you join me in making this a very special celebration of the Spirit of '48? I would love to hear all about you, so let's catch up on 74 years. Here's a quick update from me, president of the Class of '48. I am retired in Providence, R.I., living at Laurelmead with many, many Brown professors and alums. I have three children, 12 grandchildren, and 22 great-grandchildren. Can you beat my great-grandchildren record?"
Jun, 2020
Gloria Markoff Winston writes: "I missed seeing all of my Pembroke classmates at our 70th reunion. I still live in Providence at Laurelmead Cooperative retirement home with many Brown professors and alums. My family member count now is 12 grandchildren and 17 great-grandchildren. I would love to hear from anyone from the class of 1948." Contact Gloria at 355 Blackstone Blvd., #530, Providence, 02906; gmwinston@yahoo.com.
Jul, 2019
Robing Them Right
Ginie Callas '48 has outfitted decades of honorary degree recipients
Read More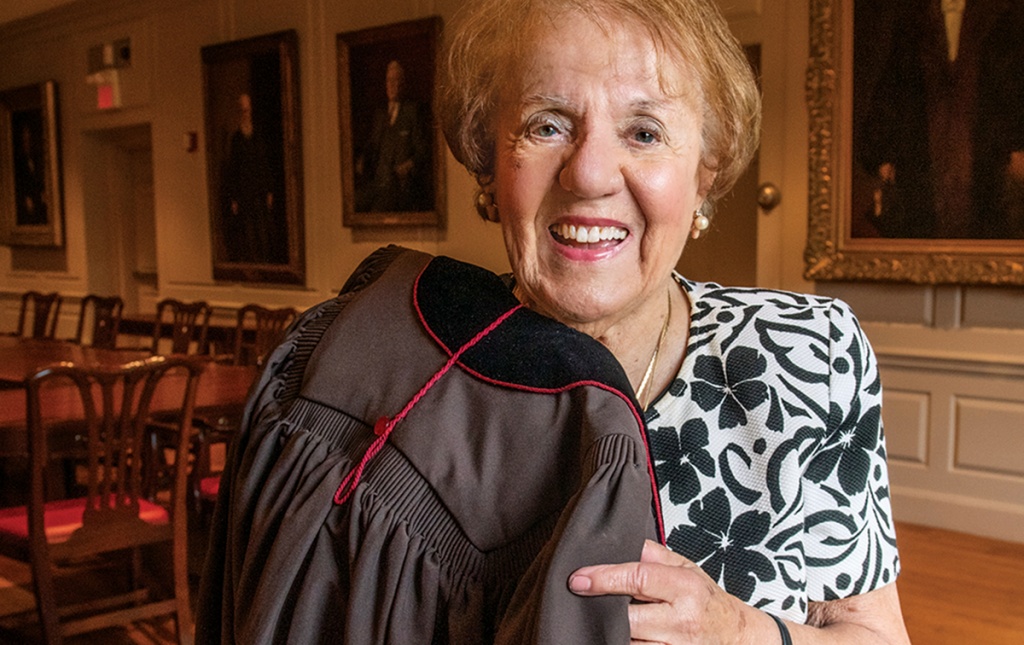 Jul, 2019
Gloria Markoff Winston writes: "Since 2008 I have been living at Laurelmead. I have spent my winters in Palm Beach, Florida, since 1982 and fully returned to Providence (no more 'snow birding') in 2015. I have everything I need in life except Florida sunshine so I take my vitamin D pills every day. I play duplicate bridge every week and join the poker game at night and still find time to volunteer at Miriam Hospital. Many of my life-long friends that I followed to Laurelmead are no longer here, but I am surrounded by new friends, many of whom are also members of the Brown family, including Paul Alexander '67, '69 ScM; Janet McWain Colby '60; Rosemary Mizener Colt '84 PhD; Abraham Ehrenhaus '45; Marilyn Silverman Ehrenhaus '49; Deborah Mulcare '68; John Schultz '62 ScM,'68 PhD; Daniel Siegel '57; Eugene Weinberg '51; Robert Wood '58; Louise Wood '75 MAT; and Lucinda Dohanian-Welch '00. We also have many esteemed Brown faculty members, past and present, including Lewis Lipsitt, Robert Davis, Laura Durand, Frank Durand, Francis McNelis, Gordon Wood, John Coleman, Annette Coleman, Robert E. Lanou, Richard Yund, and Nancy C. Rhodes, who was an associate director of admissions at Brown."
Jan, 2019
Wendy Shattuck's father, Merrill B. Shattuck '48, passed away on Sept. 24. (see Obits).
Jan, 2019
Jean Robertson Finn writes: "The furthest thing from my mind was attending my 70th reunion at the age of 91. However my son, Tom '78, was celebrating his 40th and convinced me to go. I stayed in Keeney Quad and it was convenient for most events. Although understandably the class of 1948 was poorly attended, Gloria Markoff Winston, our class president, and I bonded and attended several programs together and even marched down the hill. It was a wonderful weekend and I was so glad I went. At present, I'm living in an independent community, Waterman Village, in Mount Dora, Florida. I'm very pleased with all the accommodations and the activities available."
Sep, 2018
Mary O'Neill Hyde '13 AM (see Gloria Markoff Winston '48).
Sep, 2018
Class copresident Gloria Markoff Winston reports: "The Pembroke class of 1948 is still basking in the glow of our 70th reunion. Despite the fact that only a few of us could attend, it was an opportunity for many more to reconnect. Class officers Barbara Oberhard Epstein, Betty Montali McKenzie, and I spent countless hours on the phone calling classmates prior to reunion weekend. Unfortunately, many could not physically make the trip, but the phone conversations provided each of them with the opportunity to be connected in spirit. In addition to the wonderful phone calls, we sent classmates a letter requesting that they send back news about their lives, which we all enjoyed reading. Those in attendance were Ginnie Callas, Barbara Kent Elliott, Jean Roberston Finn, and me. A highlight of the weekend was that we enjoyed the company of one of our former Helena Hope Gammel Pembroke 1948 Scholarship recipients, Mary O'Neill Hyde '12, '13 AM. Mary came from her home in Massachusetts to join us for lunch. Mary is an Irish immigrant, who after having four children, attended Brown as a returning undergraduate (RUE) student. She served as a RUE counselor and mentor while at Brown. She completed her baccalaureate degree in history and went on to earn a master's in comparative political studies. The weekend was jam-packed with events, lectures, concerts, and dinners at the Hope Club, all culminating in the procession through the Van Wickle Gates and down College Hill. I was the class marshal. Thousands of degree candidates, faculty, and honorees lined either side of the street. People whistled and cheered and applauded, and the band played as alumni passed through the crowd, with our class very near the front."
From the November/December 2017 Issue
Send your news to class secretary Jeannette Jones Pollard or directly to the BAM at alumni_magazine@brown.edu.
Jack Crowley writes: "I have been retired from IBM for 29 years. Eight years ago, I finally ended up at The Village of Waterman Lake in Greenville, Rhode Island. Marion Jagolinzer Goldsmith '43 moved here in June 2016. She was assigned to the same table I was in the dining room. Since then Marion and I have become a pair at Waterman Lake and rehash our time at Brown."
Lucille Pieri Martin celebrated her 90th birthday in January with friends and relatives, including her four children, six grandchildren, and five great-grandchildren.
From the May/June 2017 Issue
Send your news to class secretary Jeannette Jones Pollard or directly to the BAM at alumni_magazine@brown.edu
From the September/October 2016 Issue
Lew Shaw writes: "Still going strong at 90!" Lew writes a column and profiles a musician each month for The Syncopated Times. He has held positions in corporate public relations, headed his own advertising agency, worked as a newspaper reporter, and taught college courses in creative writing, marketing, and problem-solving. He was instrumental in the formation of the Arizona Classic Jazz Society and has served on numerous boards, including president of the American Federation of Jazz Societies.
From the November/December 2014 Issue
Barbara Oberhard Epstein writes: "My classmate Gloria Markoff Winston and I are copresidents of our class, and we and our classmates salute Brown's 250th anniversary. I have always been active with Brown. Since graduation I have held many offices, been on the Associated Alumni, and every year I interview prospective students. My late husband, Herbert Epstein, was Brown '49. I am proud to say that our son, David Epstein '74, has followed with his devotion to Brown. While a student he was manager of WBRU. Since graduation he has cochaired the Brown Alumni Fund, received an Alumni Service Award, and been copresident of the Brown Club of Central New Jersey, which was the first alumni club to honor President Christina Paxson before she took office. We are truly a Brown family!"

Gloria Markoff Winston writes: "I look forward to celebrating Brown's 250th anniversary with my sisters Bernice Markoff Gourse '41 and Dorothy Markoff Nelson '35. Dotty in her 100th year led the Commencement procession in May. Dotty and I live in Providence and Palm Beach, Fla. We enjoy the very active Brown Club of Palm Beach. Bernice—'Bunny'—lives in Sarasota, Florida. I have 12 grandchildren and seven great-grandchildren. Eight grandchildren and four great-grandchildren live in Jerusalem. In addition to Brown, my family has many Williams College ties. I keep busy, volunteering at the Miriam Hospital in Providence and the Good Samaritan Cancer Institute in Palm Beach. I enjoy playing lots of bridge and trying to keep up with my ever-growing family."
From the July/August 2014 Issue
Lew Shaw received the Distinguished Arizonan Award from the Valley of the Sun Chapter of the National Football Foundation & College Hall of Fame in recognition of his extensive community service and long involvement with the foundation. A charter member, he served as executive director of the Valley of the Sun Chapter for 18 years. He was the recipient of the NFF Chapter Leadership Award in 1996.

Virginia Wilson Smith writes: "I met my husband, Howard Smith, on a blind date in 1947. We married in September 1948 and had 53 years together. Our four sons have produced only one grandchild: Caitlin, daughter of Douglas '71 and his wife, Julia Bonham Smith. Caitlin graduated from the University of North Carolina in 2011. She has been awarded a full tuition scholarship for a PhD in archeology by the University of Auckland, New Zealand, and is now living there. I'm so very proud of her."
From the May/June 2014 Issue

Gordon R. Pyper writes that he still has an active calendar.
From the November/December 2013 Issue

The Pembroke class of 1948 celebrated its 65th reunion during the 2013 Commencement weekend. Class copresidents Barbara Oberhard Epstein and Gloria Markoff Winston write: "We all had a great time meeting and greeting classmates at cocktails and dinner on Friday at the Hope Club. Saturday evening, we all met again at the Hope Club for our gala dinner. As always, this was an unforgettable event. After Saturday's luncheon in the Chancellor's dining room at Sharpe Refectory, the Pembroke class of 1948 held a class meeting. Those who attended were: Virginia Callas, Dorcas Hamilton Cohen, Betty Daly Connelly, Alice Forstall Dana, Barbara Oberhard Epstein, Phyllis Papani Godwin, Gloria Berger Golden, Barbara Solomon Goldstein, Adya Andreevsky Gram, Betty Montali McKenzie, Barbara Ammon Parker, Lenore Saffer Tagerman, and Gloria Markoff Winston.
"During the meeting, class officers were elected for the next five years. Elected as copresidents were Barbara Oberhard Epstein and Gloria Markoff Winston. Reelected were secretary Jeannette Jones Pollard, treasurer Betty Montali McKenzie, and nominating chair Tish Orr Daley.
Our Helena Hope Gammel Scholarship recipient, Jennifer Avery '16, attended our meeting and talked briefly. She comes from Bedford, Mass., and is a fine arts concentrator. She described her aims at Brown and RISD and thanked our class, saying she would be 'forever grateful for this opportunity.'
"We also received news from two previous scholarship recipients. Aazam Vahdatshoar '06 is working at Harvard in the stem cell biology laboratory and will receive a master's in biology from Harvard Extension School this May after taking night classes. She thanked our class for giving her this opportunity. Our other recipient, Leslie Jonas '96, also expressed her gratitude to our class and to Brown for an education that has enriched her life. After several years of building her career, Leslie opened her own design firm, Jonas Design (www.jonasdesign.com )."
From the September/October 2013 Issue
Shirley Walling Mayhew writes that Alice Forstall Dana and her daughter made a visit to Martha's Vineyard and took Shirley to lunch. She and Alice shared memories of the years spent at Pembroke together some 65 years ago.
From the March/April 2013 Issue
Richard O. Chakroff writes: "Are there any '48 BSME graduates still kicking? Please speak up!"
From the September/October 2011 Issue
Lucille Pieri Martin has two new great-grandchildren: Claire Elizabeth Thompson, born Nov. 9, and Beckett James Thompson, born Dec. 5.
From the November/December 2011 Issue
Edward Hamblin writes to the classes of '48 and '49: "A voice from the wilderness (actually the coast of Maine). As an elder GI, I entered Brown in 1946 in the class of '49. I accelerated and graduated in '48. As a consequence of the acceleration and engineering requirements, I hardly know anyone in '48 or '49—my loss. I applaud Brown for its rise to a first-rate university—the Ivies have set the bar in many areas. But I decry the cost of tuition, up over 100 times the cost of tuition in 1948 ($400); excess is everywhere. I hope Brown graduates will go somewhere other than to play the financial game—they are needed in other arenas. At age 92 I watch the scene of American activities with interest, amazement, and some trepidation. The Brown Alumni Magazine is well done."
Col. Paul A. Lucey writes: "Last June, the South Korean government invited a group of Korean War veterans to be guests for a week of memorials honoring those who served in the war." Paul and Lt. Gen. William Maloney '51 were among the guests. Both are proud alums of the Brown NROTC.
From the March/April 2011 Issue
Jack Howland (see John Mayhew '43).
Shirley Walling Mayhew (see John Mayhew '43).
From the January/February 2011 Issue
Jack Howland and Shirley Wesley Mayhew (see John Mayhew Jr. '43).
Evelyn Roberts Nichols writes that she enjoys the good life in a retirement village where she participates in bridge, golf, theater, and plentiful arts events.
From the September/October 2010 Issue
Jack W. Frankel recently returned from Tibet, where he lectured and collected herbs used in traditional medicine to test for activity against cancers and viruses. He is also organizing a large group of scientists who have been members of the American Society of Microbiology for more than 50 years. In honor of his many research contributions, the Jack W. Frankel Lung Cancer Conference Center has been built at the Univ. of South Florida Medical Complex.
From the July/August 2010 Issue
John Manyak and Janet Harvey Manyak recently celebrated their 60th wedding anniversary. They married a little over a year after their graduation. Janet earned a bachelor's degree in French and later worked at the United Nations; after earning a bachelor's degree in economics, John began his postgraduate studies at Columbia. They moved to Boston, where he completed his MBA at Harvard. Now they reside in Vero Beach, Fla., and Douglas, Mass., and enjoy frequent visits to Brown to see their granddaughter, Janett Bass '13. John and Janet have four children: Susan, James, David Manyak '75, and Nancy Manyak Bass '80. John and Janet also enjoy spending time with their seven grandchildren.
From the May/June 2010 Issue
Jim Lovell writes: "The Pembroke class of '44 is considering making me an honorary member because of my good record attending their annual luncheons with my wife, Flora Hall Lovell '44."
Paul Lucey is currently a Maine Troop Greeter in Bangor, welcoming incoming and outgoing troops at the Bangor International Airport.
From the March/April 2010 Issue
Lucille Pieri Martin writes that her third great grandchild, Chase Andrew Thompson, was born on Oct. 11.
From the January/February 2010 Issue
Evelyn Nichols sold her mountain home and lives in a retirement village in North Carolina. She enjoys riding horses, playing golf, and taking advantage of the cultural amenities the village offers.
From the September/October 2009 Issue
Charles F. Bassett, widowed twice, remarried on May 1 to his long-time friend Rita Nordquist, who has also been widowed twice. The couple resides at 244 Dellwood Rd., Rochester, N.Y. 14616.
John Campbell has lived in Charlton, Mass., since Oct. 2008. He writes that his wife, Achsah Shedaker Hinckley, was instrumental in making the move from Hardwick, where the couple spent more than 50 years. John writes: "This is one of the finest retirement communities anywhere … The resident community is warm, caring, and supportive. I'm very happy to be here. Unfortunately, Achsah passed away in March from pancreatic cancer."
From the July/August 2009 Issue
Jack Frankel writes that he recently returned from his fifth trip to Tibet, where he collected a wide variety of herbs used in traditional medicine. He also gave two lectures.
William Peterson '48 AM reports that he is cataloguing the Rockefeller Library's theater programs.
Mary McNulty Stoughton (see Priscilla Woodbury Watson '43).
From the May/June 2009 Issue
Lew Shaw and his daughter, Martha, have an award in their names by the Valley of the Sun Chapter of the National Football Foundation College Hall of Fame. The award recognizes an Arizona high school student-athlete who overcame adversity to participate in the sport. According to Chapter President Janie Riddle, "This award acknowledges Lew's 60 years of involvement with the National Football Foundation, including 18 years as chief operating officer of this chapter, and appropriately honors the memory of his daughter, Martha, an accomplished student and athlete and highly respected health care professional who lost her courageous 11-year battle to cancer last February."
From the March/April 2009 Issue
In October, Melissa Tinker Howland and Shirley Walling Mayhew shared adjoining rooms at Martha's Vineyard Hospital as a result of broken bones from falls at their West Tisbury homes. The two women also shared a dorm as incoming Pembroke freshmen 44 years ago. Visiting husbands Jack Howland and John Mayhew '43 (both wheelchair-bound for assorted problems) commiserated with each other as well. John said, "Welcome to the rusty years."
From the January/February 2009 Issue
Charles A. Kernitz writes that he is still kicking.
Nell Glaser Whipkey (see Matthew Salzler '02).
From the September/October 2008 Issue
Class secretary John Nowell reports: "Thirty-six men from the class returned for our 60th reunion along with an equal number of Pembrokers. It appears we set a few records for 60th reunion classes in the number attending, percentage contributing to the Annual Fund, and amount contributed—more than double our goal. Good reason for the sun to shine upon our activities for a great weekend together. At the class meeting, the following officers were elected for the next five years: Bob Huckins, president; Jim Elder, vice president and treasurer; John Nowell, secretary and activities chair."
Shirley Walling Mayhew and husband, John '43, write: "Our granddaughter Katie Mayhew, a sophomore at the Martha's Vineyard Regional High School, daughter of Deborah Mayhew '73 and niece of John Mayhew III '71, won the Sing-Off of the Boston Pops Orchestra after beating more than 250 applicants from across Massachusetts. She sang 'Being Alive' in front of the Pops orchestra at the Esplanade in Boston on the Fourth of July in front of a crowd of 500,000 people, and was watched by millions on TV."
From the May/June 2008 Issue
Don't forget to register for our 60th reunion May 23–25. Plans for the great weekend include a welcome reception, the Brown Bear Buffet, Campus Dance, a Saturday luncheon under the Maddock Garden tent, and dinner at the Hope Club before WaterFire. On Sunday we will march down the hill followed by the 50+ Luncheon. We look forward to seeing you there. If you haven't received a registration packet, please call reunion headquarters at (401) 863-7783.
From the January / February 2008 Issue
Class secretary John Nowell reports: "Save the dates, May 23-25, 2008, for our 60th Reunion. The Reunion Committee met on September 26, 2007, to review the schedule of events and set future meetings to complete details. Friday will begin with registration, an afternoon reception, and the traditional Brown Bear Buffet at the Sharpe Refectory, followed by Campus Dance. Saturday will feature breakfast at class headquarters, campus forums, lunch under a tent in the Maddock garden, class dinner at the Hope Club, then WaterFire in downtown Providence. The reunion will conclude with the Commencement procession Sunday morning, and a luncheon for the 50-plus classes at the Sharpe Refectory. To help you attend, an "angel" has donated a gift to pay for registration and all meals, and the University will provide lodging on campus. Details will be mailed later from the alumni relations office at Brown."
Justin Green, who looks forward to the 60th reunion, now lives in Knoxville, Tenn. He writes that he was drawn there to be near his daughter: "I remain in good health and am enjoying life with Ellie, my partner since 2003. We attended her 50th at Bryn Mawr last spring, and she will be joining me for the 60th. I hope we have a good turnout, and with a lot of luck I'd like to be around for the 70th. I keep busy giving lectures on politics and public policy to various groups and making occasional appearances on community TV. On Oct. 5 I attended the National Storytelling Festival in Jonesborough, Tenn. There I was able to hear Valerie Tutson '87, '90 AM, a founding member of the Rhode Island Black Storytellers. Because only the best tellers are invited to this world-famous festival, I expected much from her performance, and I was not disappointed. She is a great storyteller who puts both a great deal of feeling and humor into her tale telling."
Shirley Walling Mayhew (see John W. Mayhew '43).
From the July / August 2007 Issue
Eve Roberts Nichols writes: "I've been enjoying the beauty and ambiance of Penick Village, a lovely resort town, since May 2005. I spend my summers in the North Carolina mountains."
From the January / February 2007 Issue
Earl Bucci (see Scott Swanezy '77).
Jack W. Frankel just returned from a trip to Tibet, China, to collect herbs for testing against infectious diseases and cancer. He is working with others on preparing a television series on microbiology. He is a professor at the College of Public Health, University of South Florida.
From the September / October 2006 Issue
Class president Nancy Cantor Eddy reports: "A mini-reunion was held on May 27 at the Brown Faculty Club for thirteen classmates, plus two who graduated in 1949, Marjorie Logan Hiles and Henny Wenkart. Also present were two of the Pembroke class of '48 Helena Hope Gammell RUE scholarship recipients—Aazam Vahdatshoar '06 from Iran and Larysa Myrvoda '08 from Ukraine. Aazam talked about her future plans for graduate school in genetic research, and Larysa about declaring her concentration in commerce, organizations and entrepreneurship. Class president of Pembroke '49 Marjorie Logan Hiles also spoke about the class's recent sightseeing trip to Wash­ington, D.C., and to Concord, Mass. Others in attendance at the mini-reunion were Barbara Oberhard Epstein, Gloria Markoff Winston, Elaine Lipson Kroll, Breffney Feely Walsh, Constance Hurley Andrews, Michelina Rizzo, Muriel Simon Flanzbaum, and Lotte Van Geldern Povar '62 MAT.
Class secretary Constance Hurley Andrews expresses the class's sympathies to Jacqueline Archambault Smith on the passing of her husband, Russell T. Smith, DDS, who died on Feb. 16.
From the September / October 2004 Issue
Ernest S. Frerichs, president of the Dorot Foundation, was one of twenty-five individuals and foundations honored May 10 at the 25th anniversary celebration of the New Israel Fund, at the Hotel Pierre in New York City. Former president Bill Clinton gave the keynote speech.
From the July / August 2004 Issue
Jeannette Jones Pollard (see Bill Corrigan '58).
From the May / June 2004 Issue
Lew Shaw (see Gordon Morton '93).
From the March / April 2004 Issue
William M. Peterson '48 AM writes: "I am dramaturge for the Peccadillo Theater at the Bank Street Theatre in New York. It produces neglected American plays from about 1910 to 1960; recent performances have been of works by Eugene O'Neill, Dawn Powell, John O'Hara, and Dorothy Parker."
From the January / February 2004 Issue
Norma Truxell Green writes: "Now that the North Carolina mountains are such a tourist attraction, I would like to extend an invitation to call me when you visit."
Ruth Carew Laurent was honored on June 1 by the Community Church of Providence for her forty years as music director and organist. After more than 2,000 masses, Ruth is turning in her robe to devote more time to composing her own music. The church honored Ruth with a service of music she selected, along with a few of her own compositions.
From the March / April 2003 Issue
Breffny Feely Walsh reports: "Our 55th reunion, to be held May 23–26, is rapidly approaching. Registration is on Friday followed by dinner at the Faculty Club and the traditional Campus Dance. On Saturday the Pembroke class luncheon will take place at the historic Aldrich House. The men's luncheon will be held in the Chancellor's Dining Room at the Sharpe Refectory. Dinner on Saturday will be at Café Nuovo, which overlooks the renowned Providence Riverwalk. The Pops Concert ends the day. Sunday will include the traditional memorial service, an hour with President Ruth Simmons, and a trip to the Haffenreffer Museum on Mount Hope Bay, where we will enjoy a clambake. And finally, who can resist the Monday walk down College Hill—for many the highlight of the weekend? Complete details will be mailed in March. If you plan to stay off-campus, we recommend that you make reservations now. If you have any questions, contact reunion headquarters at (401) 863-1947 or reunions @brown.edu."
William M. Peterson '48 A.M. writes: "I'm now professor emeritus of English at Southampton College. I teach occasionally in the M.F.A. writing program. I also keep busy as dramaturge for the Peccadillo Theater Company at the Bank Street Theatre in New York City."
Richard Wise (see Todd Wehmann '94).
From the November / December 2002 Issue
Reunion chairs Nancy Cantor Eddy and John Nowell write: "Make plans to be with us for your 55th reunion May 23-26, 2003. Scheduled events include dinner at the Brown Faculty Club, Campus Dance, a class luncheon, dinner at Cafe Nuovo, the pops concert, a clambake at the Haffenreffer Estate, and the Commencement march. Look for your fall mailing. We welcome planning assistance. Any questions, call reunion headquarters (401) 863-1947; reunions2000@brown.edu."
Nancy Cantor Eddy and her husband, William, are the grandparents of triplets, Gianna Marie, Isabella Corinne, and Kelsey Lynne, born April 19. The parents are son Wayne and daughter-in-law Tina Eddy of Hopkinton, Mass. They also have a 4-year-old son, Matthew James Eddy.
From the September / October 2002 Issue
Nancy Cantor Eddy organized a mini-reunion for the classes of '45, '48, and '49, which was held on May 25 at the Brown Faculty Club. Twenty women were present. Nancy and fellow reunion cochair John Nowel write: "We have started making plans for our 55th reunion. We are doing all we can to make this a wonderful weekend, but you are the ones who can make a difference. Please mark the dates May 23Ð26, 2003, on your calendars and make plans to join us. If you have any questions or have suggestions for events, contact reunion headquarters at (401) 863-1947; reunions@brown.edu."
From the May / June 2002 Issue
Class president Nancy Cantor Eddy reports: Pembroke class of '48 has invited Pembroke classes of '45 and '49 to a mini-reunion Saturday, May 26, at noon at the Faculty Club.
John Logan's play Never the Sinner, winner of the 1998 Outer Critics Circle Award for Best Off-Broadway Play, ran for three days at the Blackfriars Theatre at Providence College in February.
From the November / December 2000 Issue
Jack W. Frankel, director of the Florida Department of Health's Tampa Branch Laboratory, was honored on Oct. 21, 1999, at the Pasteur Institute in Paris for his pioneering research in virus vaccine development. Jack, who was a colleague of Jonas Salk, provided the first commercially prepared polio vaccine for use in children and was the first investigator to present evidence that protective antibodies are produced following inoculation with measles and German measles vaccines. He is a professor at the University of South Florida College of Public Health.
From the September / October 2000 Issue
Pembroke class president Nancy Cantor Eddy, of Framingham Center, Mass., reports that on Saturday, May 27, the class held a combined mini-reunion luncheon with the classes of '47 and '49 at the Faculty Club. There were twenty-four present, including the Pembroke class of '48 scholarship student, Gloria Hill '01. Because of the overwhelmingly positive response, plans are underway to have another luncheon next year.
From the July / August 2000 Issue
Irving L. Barger writes: "I retired in 1989 as vice president of Aerojet Ordinance Co. I volunteer with the Costa Mesa Police Department and would like to hear from the old gang at Hegeman A."
Mary Elizabeth Burke Cagle, widow of Fred A. Cagle (see Obituaries), says that donations may be made in her husband's name to the National Parkinson's Foundation, P.O. Box 414158, Miami 33141; or to the Brown Annual Fund, Box 1976, Providence 02912.
From the May / June 2000 Issue
Editor's note: A class note in the March/April issue mispelled Connie Taylor Howard's name and included an incorrect mailing address.
Pembroke class president Nancy Cantor Eddy, of Framingham Centre, Mass., writes that she has arranged a mini-reunion luncheon that includes the classes of '47, '48, and '49. It will be held on May 27 at noon in the Faculty Club. Reserve a seat by calling Paula DeBlois, associate director of alumni relations, at (401) 863-1947.
From the March / April 2000 Issue
Class secretary Constance "Connie" Hurley Andrews reports: "In October I flew to the Netherlands to visit with a Dutch family in Kerkrade, which is near Maastricht. Ours is a friendship that began shortly after the Battle of the Bulge, when my husband, Elliott '47, was part of a unit that liberated the area. The friendship continued through the marriage of the family's eldest daughter in 1952 and her 40th wedding anniversary in 1992; a visit to Matunuck, R.I., by the youngest son and his wife in 1998; and my return there in 1999. From Kerkrade, I joined five friends in Amsterdam and on to Bruges and Paris. My companions included Jane Walsh Folcarelli '47 and Tish Helen Orr Daley. Altogether it was a fine trip.
"Connie Taylor Harvard and her husband, George '49, are great RV travelers. They spent nine weeks last summer at the ecumenical Chautauqua Institution in Chautauqua, N.Y., where their brains were dusted off and their spirits renewed. They slowly made their way to Cape Coral, Fla., stopping in Buffalo, and at RV resorts in Gatlinburg, Tenn.; Hilton Head, S.C.; and Titusville, Fla.
"Barbara Solomon Goldstein writes: 'The fertility gods have been smiling on the Goldsteins this year. Our daughter, Diane, gave birth to Abigail Elizabeth Goldstein on June 18, and our daughter-in-law, Helene, gave birth on Aug. 28 to Ilana Naomi Goldstein, bringing the total to five grandsons and two granddaughters. On Aug. 22, 1998, our son, Neal Stanley Goldberg '82, married Ana Querro. They live in Glendale, Calif., where he works at Disney Studios and she is a community activist.'
Alan Flink writes: "I survived the 50th reunion and am still practicing law regularly at Edwards & Angell in Providence. In November I was elected to the board of Rhode Island's Common Cause, and I received a public-service achievement award for being a 'consistent champion of merit selection of all Rhode Island judges.' "
William M. Peterson, of Southampton, N.Y., writes that he retired last year from Long Island University's Southampton College and is now teaching literature as professor emeritus. Last January he gave a paper at the Eugene O'Neill conference in Bermuda.
From the July / August 1999 Issue
Report from class secretary Constance Hurley Andrews: "At the call of the president, Nancy Cantor Eddy, officers and reunion committee members of the women's class met for lunch at the Brown Faculty Club on March 12. On Saturday of Commencement weekend, we had an off-year reunion luncheon, same place, with our class scholarship recipient, Elizabeth Corey '00 R.U.E., as our guest."
Jack Lawrence, Weston, Conn., reports that he and his wife, Dr. Connie Lawrence, welcomed their fourth grandchild on Feb. 9. (see Pamela Lawrence Endreny '86).
Louise "Mac" Tansey McLaughlin and her husband, Jim '46, have returned to the United States after living abroad for more than thirty years. They are checking out various places in which to settle down. Louise writes: "During our years overseas, we've worked in the U.S. Virgin Islands, El Salvador, Spain, Russia, Lebanon, and Italy, where we own a farmhouse in Cortona, Tuscany. Our children and grandchildren are spread across the country, so we are getting plenty of advice as to where or where not to resettle. We enjoyed reading about the 50th reunion of the class of '48, courtesy of Ginnie Drake Case, and are delighted to hear about so many dear classmates, their lives, and their activities."
Budd Schwartz, Westport, Conn., flew to Florida on Jan. 25 to visit classmate and roommate Donald Haas and his wife, Florence. Their other roommate, Bob Hirschenbaum '49, drove up from Boynton Beach, Fla., with his wife, Harriet, to join them. Budd writes: "Don and Florence had a lovely party on Jan. 30 to celebrate their 50th wedding anniversary and repeat their marriage vows. Everybody had a wonderful time."
From the May / June 1999 Issue
Ernie Frerichs writes to say that on Nov. 22 he was presented with Hesed ve-Emet,Studies in Honor of Ernest S. Frerichs, edited by Jodi Magness, professor of classical and Near Eastern archaeology at Tufts University, and Seymour Gitin, director of the Albright Institute of Archaeological Research in Jerusalem. The presentation was made by friends, colleagues, and former students at the annual reception of Brown's religious studies department and Judaic studies program. Ernie, executive director of the Dorot Foundation in Providence, is a former dean of Brown's graduate school, former chair of the religious studies department, and former director of the Judaic studies program.
Norman Robinson (see John A. Ward '59).
From the March / April 1999 Issue
Report from Class Secretary Constance Hurley Andrews: "In October, following their 50th reunion, Dorcas Hamilton Cohen and her husband, Sol, met up with me, entirely by coincidence, during a two-week Elderhostel in Ireland. We have started collecting photos for the 55th reunion album."
From the January / February 1999 Issue
John H. Campbell, Hardwick, Mass., writes: "My wife, Achsah Shedaker, and I have enjoyed travels abroad this spring and summer. In May we flew from O'Hare to St. Petersburg, Russia, with our former rector and eight other courageous souls. The city, regrettably, is in deplorable physical condition. Museums, cathedrals, and palaces, however, are every bit as beautiful as reputed. For us, it was literally a once-in-a-lifetime experience; the highlight was the short (two hours) visit with the babushka whom Achsah helps to support through the Telios Foundation. Needless to say, Russia's political and economic woes are more meaningful to us than would be the case had we not gone. In July, we again traversed the Atlantic to the U.K., where we walked in Yorkshire and in Wales; we'd done the same three years earlier in England's Lake District. In our opinion, there is no better way to appreciate the people and the countryside. Good hiking shoes and healthy appetites are a must; we always return in good shape, physically and mentally."
From the November / December 1998 Issue
Lester Rand submitted a poem about his recent 50th reunion. In one stanza, he writes: "But quickly recollections here and there did appear/ And time miraculously slid backward year by year./ In a short while the long interval was somehow compressed/ As friends and acquaintances of long ago were rather quicky assessed."
From the September / October 1998 Issue
The 50th reunion weekend, May 22-25, was a wonderful success. For the women, it was led by Pembroke class president Nancy Cantor Eddy, reunion chairperson Betty Montali Smith, and their large committee. Ideal weather greeted the 145 Brown and Pembroke alumni who attended, which represents 28 percent of the class - an all-time record for a 50th reunion. There were seventy-five women from all over the country at the Pembroke Hope Club luncheon on Saturday. One even came from Argentina.
We elected class officers for the next five years: Nancy Cantor Eddy, president; Breffny Feely Walsh, vice president; Constance Hurley Andrews, secretary; Barbara Baker Johnson, treasurer; Janet French Laughlin, reunion chair; and Constance Hurley Andrews, Michelina Rizzo, and Breffny Feely Walsh, nominating committee. Dues were increased to $25 per year. Two of the thirteen students supported by the Pembroke Class of 1948 Scholarship, Lydia English '85, an associate dean at Brown, and current recipient Elizabeth Corey '98, spoke to the gathering.
Friday night there was a reception at reunion headquarters, Alpha Chi Omega, followed by the wonderful Brown Bear Buffet and Campus Dance. On Saturday, the Commencement forums were followed by dinner at the Squantum Club and the Pops Concert with Ray Charles. Highlights of the weekend were breakfast at the Faculty Club on Sunday morning with Brown's 17th president, E. Gordon Gee, and the alumni waterfront festival at Waterplace Park. The cocktail buffet at Café Nuovo, hosted by Don Patrick, was wonderful. And of course there was the procession through the Van Wickle Gates and down College Hill, with the crowd cheering all the way to the meeting house. We will remember our 50th reunion for a long time.
- Nancy Cantor Eddy, class president
50th reunion attendees included: Constance Hurley Andrews, Aline Archambault, JuneAnne Mullane Aumand, George Ball, James Bartley, Virginia Silva Baxter, Pauline Chartier Bergevin, Richard Bishop, George Bland, Norma F. Borthwick, Chris Brainard, Philip Bray, Robert Britton, Earl Bucci, Gloria Bean Buckberg, Ann Henry Buffum, Clayton Burtt, Willard Butcher, Virginia Callas, Marie G. Capalbo, Irwin Chase, Robert Chase, Dorcas Hamilton Cofer, Aaron Cohen, Robert Conley, Elizabeth Daly Connelly, Marie Monaco Conway, Paul Cook, Ruth Itschner Cooper, Roberta Connolly Coyne, Lois Cole Creighton, Royce Crimmin, Samuel Crooks, Kenneth Crowe, John Crowley, Roswell Cummings, Helen Orr Daley, Alice Forstall Dana, Barbara Davis, Mary Hall Deadrick, John Decker, Gloria Cohan Dinerman, William Eastham, Nancy Cantor Eddy, James Elder, Barbara Kent Elliott, Robert Elsner, Barbara Oberhard Epstein, Emmett Esary, Albert Feldman, Muriel Simon Flanzbaum, Alma Jackvony Fontana, Anthony Fontana, John Joseph Fraizer, Ernest Frerichs, Marcia Lisiecki Gaines, Helena-Hope Gammell, Paul Garabedian, Marvin Geller, Phyllis Papani Godwin, Gloria Berger Golden, Barbara Soloman Goldstein, Alden Goodnow, Adya Andreevsky Gram, Ernest Greenberg, Howard Arthur Greis, Elizabeth Walsh Hill, Leila Burt Holden, Marvin Seymour Holland, Constance Taylor Howard, Robert Huckins, William Hughes, Barbara Baker Johnson, William Johnston, Lester Karstadt, James Kindelan, Elaine Ambrifi Kirby, Barbara Canning Klimm, Elaine Lipson Kroll, Janet French Laughlin, Ruth Carew Laurent, John Lawrence, Paul Lehan, Samuel Leonard, Morton M. Lewis, George Lima, Frederick Lohse, Emery B. MacFarlane, Terence Mahoney, Janet Harvey Manyak, Morton Marks, Annette Caust Martin, Lucille Pieri Martin, Ruth Gadbois Matarazzo, Anne Swenning Mathews, Gordon McGovern, Irving Miller, Muriel Mulleedy Mulgrew, John Murphy, Mary Mycek, Helen McCauley Norton, John Nowell, Lou O'Brien, Gerald Olin, Marie Fisher Ostergard, Barbara Ammon Parker, Donald Partrick, Richard Philbrick, Jeannette Jones Pollard, Lotte vanGeldern Povar, Joan Connelly Ramsaur, Lester Rand, Teresa Renola, Alfred S. Reynolds, Michelina Rizzo, Norman Robinson, Robert Rothman, Stuart Ruth, Leon Sadow, Burton Samors, Selma Herman Savage, Budd Schwartz, Robert Siff, Jacqueline Archambault Smith, Elizabeth Montali Smith, Lloyd Spindell, Thelma Andrews Spriggs, Barbara McElmeal St. Martin, Mary McNulty Stoughton, Harrison Sussman, Lenore Saffer Tagerman, Margaret McHugh Thibodeau, Austin Thompson, Patricia E. Tierney, Florica Cicma Van Epp, Vera Cardesi Vine, Breffny Feely Walsh, Phyllis Fine Weinberg, Robert J. Welch, Patricia Westbrook, Frank White, Arvid Carl Willen, Gloria Markoff Winston, and Richard Wise.

Elizabeth Daly Connelly, Wellesley, Mass., was an English teacher in Holliston, Mass., for twenty-three years. She has four children. She sees JuneAnne Mullane Aumand of Greenfield, Mass., and Tish Orr Daley of Pawtucket, R.I. Elizabeth, who went to Tuscany, Italy, with the Brown Travelers, audits art history classes at Wellesley College and plays golf.

Bettie Lou Carpenter Conyngham, Shavertown, Pa., has traveled extensively with her husband, who is a salmon fisherman. They recently visited the West Indies, England, and Scotland. They have four children, including Sarah '83, and seven grandchildren.

Barbara Davis, Lexington, Mass., obtained a master's in library science in 1952 and was

a technical-information-service manager for Cabot Corp. for thirty-nine years. She has been active in the American Chemical Society, where she served as secretary and chair for the division of chemical literature. A past president of the Boston Chapter of the Special Libraries Association, Barbara is a volunteer at the Lexington Senior Center and worked for five years at the Buckman Tavern Book Shop. She remains active in Republican politics, serving as a delegate to the state convention in Worcester, Mass., and treasurer of the Women's Republican Club in Lexington. She swims three times a week, and has traveled to Russia, Scandinavia, England, Australia, New Zealand, Japan, and Hong Kong.

Perla Raijiman de Arditi lives in Buenos Aires, Argentina, with her husband, Felix, who owns New Pharma, a laboratory for pharmaceutical products. Their son, Gustago, is an architect, and their daughter, Deborah, works for a laboratory. They also have three granddaughters. Perla taught English for thirty-five years at the University of Buenos Aires and is now retired. For twenty years, she interviewed prospective Brown students from Argentina.

Gloria Berger Golden, Cranston, R.I., has been sales consultant at Finelle Cosmetics for sixteen years. She has three children and three grandchildren.

Mary Eng Hom lives in Fall River, Mass. Her husband, Danny, died eight years ago. She works four days a week at her son's restaurant, Mark You. She has two sons, a daughter, and a grandson.

Louise Stewart Lane, Richmond, Va., has two sons. A writer for twenty years, she has been published in the Wall Street Journal and written three children's books.

Constance McIlwain Michael, Milwaukee, Wis., is married to Bayard Michael, a lawyer. She is president of College and Endowment and has traveled to Europe several times. Constance has interviewed prospective Brown students for many years.

Kendrick Robertson Nuttall lives in Madisonville, Ky., has four children and seven grandchildren, and is retired. She was a part-time design consultant and now serves as a museum docent, travels, plays bridge, and works at her church.

Ann Clarke Palmer, Madison, Wis., has a daughter and two grandchildren. She is retired from her position in the admissions office at Edgewood College in Madison. Previously she was an actuary and secretary for Huttleson Associates, also in Madison.
From the July / August 1998 Issue
Ted Bluhm, Webster, N.Y., has published six books in the field of political science. He has been retired since December 1992 and continues to write in his field, but has also ventured into novel writing. Ted recently finished an adventure-mystery and is looking for a literary agent. Ted writes: "Elly and I travel a lot and enjoy visiting our three children and seven grandchildren."
Perla Raijman de Arditi lives in Buenos Aires, Argentina.
Gloria Cohan Dinerman writes: "I'm still playing a fierce game of tennis. I had a heavy business-related travel schedule last year, including stops in Seattle, Anchorage, Copenhagen, and other points north and west. I'm looking for someone who has done a Brown travel trip; any recommendations?"
Barbara Oberhard Epstein, Newport, R.I., lost her husband, Herbert '49, in 1984. She has a "significant other," Zal Newman '50. Barbara's son, David '74, is married to Tamara Jacobs and is an investment banker with Bentley Association in New York City. He won the Brown Alumni Service Award in 1994, when he was co-chair of the Brown Annual Fund. David and Tamara have one child, Avery, 6. Barbara's other son, Frederick, lives in Tempe, Ariz., and works as the manager of information technology for the Olin Corp. and has two children, Sam, 10, and Danny, 7. Barbara's daughter, Debbie Reissman, is married with two children, Tyler, 11, and Hannah, 8. Andreas is a sales engineer in Spokane, Wash. They live in Longmeadow, Mass. Barbara keeps very busy as a trustee of the Bank of Newport and the chair of the audit committee. She is chair of the Public Housing Authority, trustee of Newport Hospital, honorary member of Rotary International, trustee of Touro Synagogue, on the board of the society of friends of Touro Synagogue, on the board of directors of the Newport Council of Navy League, and life member of the Naval War College Foundation. Barbara travels with Lenore Saffer Tagerman. In 1997 they went to several national parks. Every year Barbara takes her whole family (thirteen people) to Club Med in Port St. Lucie, Fla., for a week. (This note was submitted by Nancy Cantor Eddy.)
Jean Robertson Finn writes: "We are enjoying the good life at Carolina Trace in Sanford, N.C. Give us a call and visit. You won't want to leave. Our five children have produced five wonderful grandchildren so far. Unfortunately, three are in California - not close."
Alma Jackvony Fontana, East Greenwich, R.I., worked on the 50th reunion yearbook with husband Tony, Dorcas Hamilton Cofer, and John Nowell.
Justin J. Green retired to Prescott, Ariz., in 1991. He keeps busy writing a weekly political column for the local daily newspaper and working on a weekly political television talk show. He also plays racquetball three days a week and surfs the Web regularly.
Edward W. Hamblin, Peterborough,N.H., writes: "After graduating, I spent twenty-five years in large and small companies as an engineer and manager. Ithen went into vocational education for eight years and home health administration for six years. I'm now retired and do a lot of volunteer work for the homeless. I'm also working in the area of social justice and trying to get ultra-conservative New Hampshire to support a liberal agenda." Edward and his wife, Becky, have three daughters "scattered around the U.S."
John I. Hillyer, Asheville, N.C., is the co-author of The Mountains-to-Sea Trail: Western North Carolina's Majestic Rival to the Appalachian Trail (Outcomes Unlimited Press). John is a master woodcarver and teaches two classes in woodcarving; his wife, June, teaches weaving. John's friend and former roommate, Bill Roach, reviewed the book in the Florida Times-Union. Bill is professor emeritus of journalism and communications at the University of North Florida and a longtime camper. He lives in Jacksonville, Fla.
Robert G. Huckins retired from Smith Barney in July 1997 after forty-five years in the investment business. He also resigned from various civic responsibilities, including chair of the board of Roger Williams Medical Center and chair of the executive board of the Business Development Co. of R.I. Last July, Robert and his wife, Dianna, sold their horse farm in Chepachet, R.I., where they had lived for forty years. They relocated to Escondido, Calif., near their son, R. Gordon '79, who lives in San Diego. Robert and Dianna are in the process of designing and constructing a retirement home overlooking the San Pasqual Valley and the San Diego Wild Animal Park.
William S. Johnston writes: "Having sold my own firm and retired four years ago, I found I had waited too long to do so, as my wife of forty-seven years, Catherine, passed away April 27, 1997. I have sold my home in Scarborough, N.Y., and intend to move back to my old home in Thomaston, Conn."
Irene Wojcik LaRochelle lives in Baton Rouge, La., with her husband, John, a research chemist. Their daughter Marie Firmenich lives in Switzerland with husband Philip and daughter Nadete, 21/2. Irene and John's eldest daughter, Laddie Hall, lives in San Francisco with husband Ted and son Christopher, 17. Irene and John's son, John, and wife Marita, live in Austin, Tex., where he is in the insurance business. They have a son, Andrew, 9. Son Steven and wife Pat live in Baton Rouge, where Steven works for Health Sphere, a management and consulting firm. They have two children, Rebecca, 18, and Paul, 17. (This note was submitted by Nancy Cantor Eddy.)
Robert W. Leeds's wife, Patricia, passed away Dec. 23, 1996. He retired to Albuquerque, N. Mex., from White Plains, N.Y., in December 1986.
Frederick W. Lohse Jr., Attleboro, Mass., writes: "My wife and I have two children, Frederick III and Gwendolyn. Fred went to University of Massachusetts at Amherst and has two graduate degrees from Harvard. He lived in Japan for two years. Gwen went to Smith College. She is a consultant with Coopers & Lybrand in Washington, D.C. I owned and operated Standard Atomizer Co. Inc. for nearly forty years. We manufactured atomizers and pumps for the perfume industry."
Emery B. MacFarlane, Saratoga, Calif., has spent forty years as an educator, both in the private and public sectors.
Evelyn Roberts Nichols spends May through October in a North Carolina mountain home, playing golf, hiking, gardening, and doing lots of fund-raising for a hospice. In the winter, she lives in Fayetteville, in the sandhills of North Carolina. Evelyn travels at least once a year; she was in Africa with the Brown Travelers in January.
Skip Fisher Ostergard, Moreland Hill, Ohio, is still working as a real estate agent. Skip writes: "I'm the mother of five, grandmother of nine. Traveling overseas is my passion. Eighteen trips so far."
Donald G. Partrick, Islandia, N.Y., writes: "I'm having a great time working in real estate, hunting, fishing, building a wild-life preserve, coin collecting, body surfing, and working out." Donald, an author, is also involved in martial arts, traveling, and investing.
Lotte Van Geldern Povar, Boca Raton, Fla., writes: "Morris and I find retirement fascinating.We play tennis, swim, read a lot, and take courses at Florida Atlantic University."Daughter Gail (Cornell '72, Vermont '76 M.D.) lives in Bethesda, Md., with her husband and two children. SonTedd (Lake Forest '74, North Carolina '75 M.P.H.) is a city manager and consultant on staff at the University of Virginia. He lives in Richmond, Va., with his wife and four children.
Burton I. Samors saw Budd Schwartz en route to the Cape last summer. Burton writes: "Budd is retired, but taking courses in order to stay sharp. He still plays a lot of good tennis." Burt also speaks to Paul Abramson '49 and Herb Iselin '42 about Brown sports, especially football. "We are usually disappointed [by the football team]," Burt adds, "but they are better than they used to be." Burt lives in Providence.
Elizabeth Montali Smith, Warren, R.I., wrote the following prior to the reunion: "Soon we'll have the opportunity to march through the Van Wickle Gates and down the Hill at our 50th reunion. Isn't it great to think that some things never change in this topsy-turvy, ever-changing world? This will be it! Live! No TV or music personalities, but women and men who have experienced all that life has offered. It has been unique to each one of us because we had those four special years to learn and achieve at Pembroke and Brown, no matter what happened during our lifetimes."
Florica Cicma Van Epp and her husband, Jim '46, Wilmington, Del., are well and happy. They celebrated their 50th wedding anniversary on March 13. Their son, James, manages the instrument lab at Brown.
From the May / June 1998 Issue
Nancy Cantor Eddy and her husband, Bill, spent a weekend in February at a "wonderful" mini-reunion with classmates she hadn't seen in fifty years. The gathering took place at the Hardwick, Mass., home of Achsah Shedaker Hinckley and her husband, Jack Campbell, a lawyer whom she married two years ago. Achsah and Jack will be in St. Petersburg, Russia, for two weeks in May, and in July they will embark on a weeklong hiking trip in Yorkshire Downs, England, followed by a week in Wales. They hope to attend the 50th reunion.
Also present at the mini-reunion were Jane Weinert Nichols and her husband, Alan '47. Jane and Alan live on fifteen acres of land in Sandwich, N.H., with their black Labrador retriever. They have three daughters and six grandchildren. In May they will take an eight-day canal trip, beginning in Wrenbury, England, and then head to Scotland for a week. They will be joined by Bob Gifford '46, husband of the late Jane Luerssen Gifford. Nancy, Jane Nichols, and Jane Gifford were roommates in Pembroke's East House dorm during their freshman year.
Nancy and Bill announce the birth of their second grandchild, Maxwell James Eddy, on Feb. 10. Maxwell's father, Wayne, is Nancy and Bill's youngest son. Wayne is president of Work and Leisure, a company that sells orthopedic and safety equipment, in Hopkinton, Mass. Nancy is pleased to announce that her grandniece, Courtney Naliboff of Vienna, Maine, was accepted to Brown early action and plans to enter in the fall.
Selma Gold Fishbein, Providence, is a bookkeeper for her husband, Joseph, who is a dentist. Selma and Joseph have four children and twelve grandchildren, the oldest of whom is a freshman at Harvard. Their oldest daughter, Shari Fishbein-Mandel, is married and has four boys. Their son, Keith '76, '80 M.D., is a cardiologist in New Jersey. He is married to Nancy Feldman '76, an ob-gyn, and they have three children. Selma's daughter Janni Slotkis is married and has three children, and her youngest daughter, Amy Waisel, is married and has two children.
Irene Wojcik Larochelle and her husband, John, live in Baton Rouge, La. John is retired, and the couple spends time visiting their two sons and two daughters. In September 1996 they spent a week in La Rochelle, France, where John's family is from.
Evelyn Roberts Nichols, Mars Hill, N.C., is a nurse and still active with Hospice. She reports that she recently took a "fantastic" two-week trip to Kenya with the Brown University Travelers and Professor Nancy Jacobs. Evelyn says Jacobs was a "wonderful, informative leader" and recommends the experience to others.
Lenore Saffer Tagerman, Belmont, Mass., went on an African safari in February 1997. In October, Lenore and Barbara Oberhard Epstein visited Bryce and Zion National Parks, the Grand Canyon, and Sedona, Ariz. Lenore also traveled to Australia and New Zealand for three weeks in December and to Costa del Sol, Spain, in March. She was headed to Monterey, Calif., in May and to Turkey at the end of the summer. Lenore, who plans to attend the 50th reunion, is an active tennis player and recently took up bridge and golf.
Thelma Chun-Hoon Zen is recovering from a long illness and doing much better. She has four children: Eric, a lawyer; Mark, a psychiatrist; Burke, a teacher; and Kara. - Nancy Cantor Eddy, president
From the March / April 1998 Issue
We trust your calendar is marked for our 50th reunion weekend, May 22-25. The committee has planned a very special time and is looking forward to a large gathering. The reunion will offer a great opportunity to renew old friendships, exchange life tales, and once again walk through the Van Wickle Gates. Don't miss it. If you have any questions, call reunion headquarters at (401) 863-1947. - Breffny Feely Walsh, secretary
Ernest S. Frerichs, Providence, was awarded the first Charles U. Harris Award at the annual meeting of the American Schools of Oriental Research (ASOR), the major scholarly society for Near Eastern archaeology. The award was given in recognition of Ernie's long-term and outstanding service as an ASOR officer and trustee.