Class of 1972
Jun, 2023
Samuel "Skip" Halpern writes that this summer, he'll teach a "special studies" course at the Chautauqua Institution based on his book, Wellsprings of Work: Surprising Sources of Meaning and Motivation in Work . The draft course description is: This course explores under-unappreciated sources of meaning in work, amidst the pressures and pitfalls of capitalist society. While acknowledging how work can bring you down, the focus is on psychological and spiritual drivers that lift you up. It applies to all types and stages of careers (early, mid, late, after), and spans philosophy, psychology, law, investing, religion and arts.
Jun, 2023
Michigan Lawyers Weekly named James "Jay" Cunningham to its 2022 class of "Leaders in the Law." Jay is a partner with Williams, Williams, Rattner & Plunkett, P.C., in Birmingham, Michigan, where he oversees one of the state's most highly respected family law practices. The honor recognizes attorneys for their significant accomplishments or achievements in the practice of law, outstanding contributions to Michigan's legal profession, leadership in improving the justice system, seeking improvements to the legal community and the community at large, and setting an example for other lawyers.
Apr, 2023
Mark Jacobs writes: "I was so pleased to come across the Brown archaeological site on our recent visit to Petra, Jordan, as part of a 16-day Middle East trip with my wife Janet."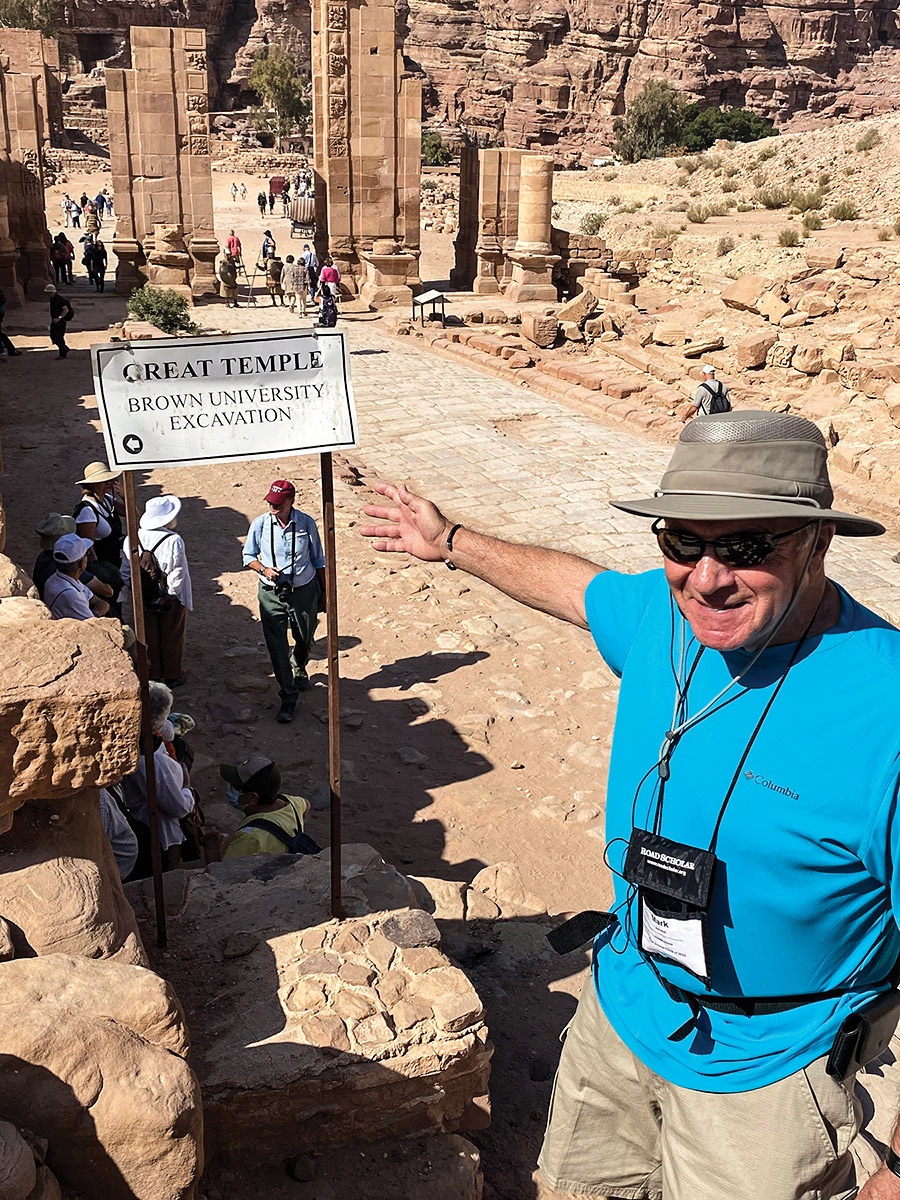 Apr, 2023
Songs for Social change
Read More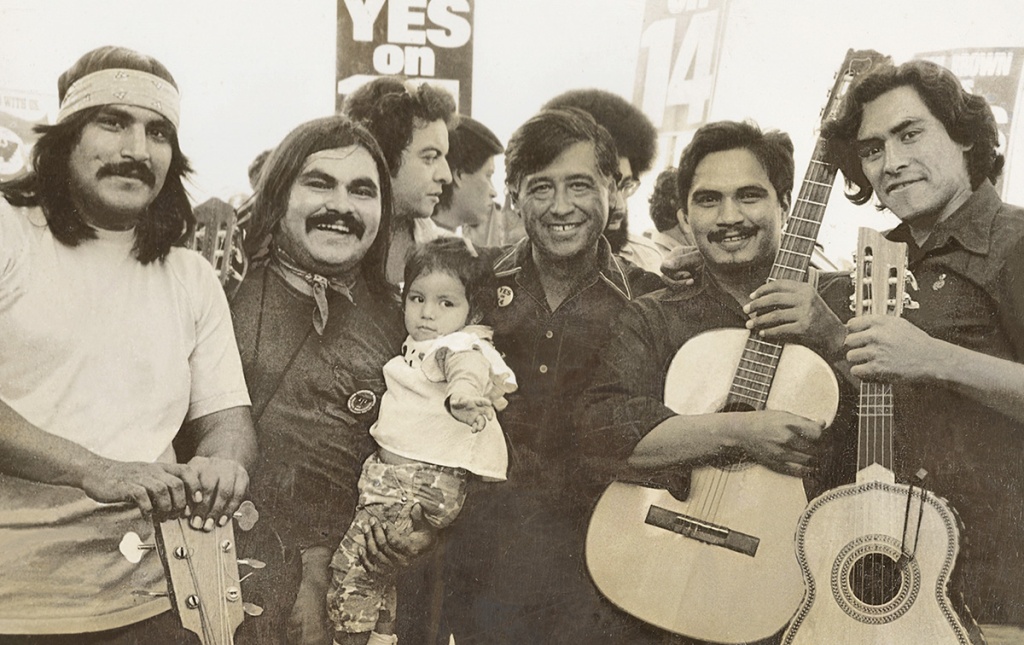 Jan, 2023
Oliver Cromwell writes that he continues to be active as president of Bentley Associates, a boutique investment banking firm of two dozen managing directors, which he founded 32 years ago. Like many New Yorkers, he is working remotely most of the time with only occasional visits to the Manhattan office. He was very disappointed to miss the 50th Reunion because of a Paxlovid rebound positive COVID test as he was about to drive to Providence. He had been to every prior Brown reunion (as well as every high school and business school reunion).
Nov, 2022
Paul Espinosa writes: "I've been a longtime producer of documentaries for PBS. My latest film, Singing Our Way to Freedom, will be presented nationally on PBS stations around the country as part of National Hispanic Heritage Month beginning September 1."
Jun, 2022
Samuel (Skip) Halpern published Wellsprings of Work, subtitled, Surprising Sources of Meaning and Motivation in Work. Samuel writes: "Unlike the extensive literature bemoaning how work brings you down, Wellsprings explores a dozen sources of fulfillment to lift you up. It's aimed at students and anyone early in a career, as well as Baby Boomers, wondering what their work lives really amounted to and what to do for an encore. Wellsprings uses episodes from my own career in investing and law—dealing with Warren Buffett, Bernie Madoff, the 2008 financial crisis and investing funds for professional athletes (baseball, tennis, and hockey players), Inupiat Eskimos, and hundreds of millions in China—as springboards for exploring purpose and value across a wide range of fields."
Apr, 2022
Preston Atwood writes: "I am 99 years old and living in a senior condo not far from campus. Many of the residents are Brown-connected. I'm still in pretty good shape. My son David '72 gets up from Washington quite often. My very nice caregiver gets me around some. Writing my memoir kept me busy for a while. Life goes on with its little pleasures and big memories."
Jun, 2021
Mary Bennett of Charlottesville, Va., retired from the Virginia Department of Transportation's research division last October. She writes that she and her partner, Andrew Hershey, celebrated her 70th birthday in January with a Zoom birthday gathering complete with candle blowing-out and shared by longtime friends that included former residents of 382 Brook Street in Providence: Dr. Joel Betesh, whose medical career in Philadelphia has included internal medicine, geriatrics, informatics, online medical records rollout, and lately Zoom appointments with people just after they test positive for COVID-19; his wife, Joan Katz Betesh, poked her head in but was busy with one of her many retirement activities; Jane Desmond, poet and professor of anthropology at University of Illinois at Urbana-Champaign, whose specializations include animal-human studies; Susan Hansen-Flaschen, who retired a few years ago from a career in Philadelphia as a high level nurse managing treatment of HIV/AIDS patients in very vulnerable populations; her 382-visiting husband, Dr. John Hansen-Flaschen '72, a pulmonologist and emergency medicine specialist, was not present, probably being on a frontline for COVID-19 treatment planning; Lucy Harris, who retired not long ago from a career in hospital management with Kaiser Permanente in the San Francisco/Oakland area; M. Carol Millican '72 of Los Angeles, who has retired from a prolific career in animation; and Barbara Streeter, a child therapist and education manager who is starting to wind down her career at the Hanna Perkins Center for Child Development. Lucy Winner was not able to attend as she's super busy as a professor and mentor in arts and media at Empire State College in New York City. For my birthday, I bought six dozen cupcakes (70 plus 2 to grow on) and passed them out to friends around Charlottesville, including Robert Hueckstedt '77 (started as class of '73, finished later due to a trip to India where he learned to play the tabla), Sanskrit professor at the University of Virginia, and his wife Nazen Merjiam, who was a librarian at the Rock when he met her in the '70s. I was inspired by Joan Katz Betesh, who brought cupcakes to Joel's local friends pre-Zoom party when he turned 69 in October 2020."
Apr, 2021
Jeff Paine writes: "After 40 years in high tech marketing, I decided it was finally time to embrace irrelevance and retire so we sold our Noe Valley view home in San Francisco in November and moved to our forever house in the resort town of Hossegor on the southwest Atlantic coast of France in December. Once easy travel is back, visitors are absolutely welcome (Biarritz Airport is not far away). Just write or email me at: 1276 Avenue du Touring Club de France, 40150, France or jeffreytpaine@gmail.com."
Apr, 2021
Paul Backalenick published his second novel, Carrie's Secret, a dark psychological mystery praised as "surprising" and "compelling" by Kirkus Reviews. See more at PaulBackalenick.com.
Jan, 2021
Jim Gronefeld writes: "After retiring from banking, my wife, Kathy, wrote and published a children's book, Samson the Shelter Dog and His Enormous Wish. It's available on Amazon. She now plans a series of Samson books. Me, I golf poorly once a week."
Jun, 2020
Jeff Paine writes: "After two-plus years of hard work, my wife and I have just converted much of the ground floor of our house in Hossegor, France, into a modern, private, two-bedroom holiday rental apartment. Good chance that I may be there this summer as well and we can catch up in person. I will put together a special Brown welcome package if you let me know you're coming over email or at bit.ly/2L4LuFq." Contact Jeff at jtpaine@att.net.
Jun, 2020
William Liddicoet writes: "On Oct. 19, 2019, a dogwood tree was dedicated in the memory of Richard B. Noonan, who passed away on May 26, 2019. The ceremony was presided over by Chaplain Janet Cooper-Nelson and in attendance were his sister Jean Noonan Mojo, his daughters Kendra and Brooke Noonan, and friends and classmates Rulon Anderson, Daniel Cummings, Chas Gross, Samuel Halpern, Robert Hayes, Fred Radway, Richard Ramsay '71, and myself. The tree is planted in Patriots Court and is marked by a plaque bearing a quotation from W.B. Yeats: 'Think where man's glory most begins and ends, and say my glory was I had such friends.' We hope all Dick Noonan's friends, classmates, and fraternity brothers will take a moment to visit his memorial when next on campus."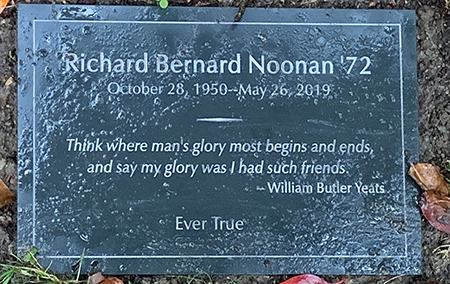 Sep, 2019
Bill Armitage '74 ScM and Dave Baldauf completed a coast-to-coast drive in Dave's Tesla. Dave dropped Bill in San Francisco to visit with his daughter Amelia '15, and completed the return trip solo. Their trip was somewhat of a reprise of their dash from the Ratty to the Kennedy Space Center (accompanied by classmate Bill Davies '77 ScM) to watch the night launch of Apollo 17.
May, 2019
Robert Chapman, Nick Cerjanec, Eugene Su, Frank Sun and Steve Weinstein, all former roommates, convened for a three-day mini-reunion hosted by Dr. Chapman and his wife Andrea in Lakeland, Florida. Christy Carter-Su '72, wife of Eugene, also attended. Some participants had not seen each other since graduation. A great time was had by all.
Mar, 2019
Eric Nadel published an illustrated book of limericks titled LIM-ERIC!: Whimsical Rhymes from the Voice of the Texas Rangers and his Friends. It is available exclusively on Amazon and directly from Eric. This is his fourth book since 1997. He just completed his 40th year as the radio voice of the Texas Rangers.
Mar, 2019
Paul Gregutt writes: "Working with my old WBRU buddy Moe Shore '72, I've recorded and posted a music video portraying the human cost of homelessness: https://youtu.be/Bd8Yhft6MUA. Interested charities are invited to use it for fundraising and or general awareness raising activities. I continue in my 20th year as a contributing editor for Wine Enthusiast magazine, currently reviewing and reporting on the wines of Oregon and Canada. I also write the Oregon section of the Hugh Johnson Pocket Wine Guide. I live just outside of Walla Walla and maintain an active performing schedule, both solo and with a variety of musician friends. I invite long lost friends to contact me via Facebook."
Jan, 2019
Jeffrey L. Purvin writes: "After a long career in business, I'm working full-time with my wife, Francesca, on the University of Fashion website, where she's handling the fashion end and I'm handling the business end. It's been a great way for me to learn some new skills and keep my brain sharp in retirement. I'm taking a break from music after rejoining my Brown bandmate, Mark Blumenkranz '72, '75 MD, '76 MMSc and the Fabulous Kangaroos a few years ago in Silicon Valley. I've stayed in touch with many of my other Brown classmates, including Mike Byers '71, Noah Dorsky '74, Peter Mansfield '71, Eric Oliner '72, and Peter Reinke."

Jan, 2019
Jerome B. Zeldis '72 ScM is the chief medical officer of Sorrento Therapeutic and president of its TNK division. Prior to that he was the chief medical officer of Celgene Corp and helped create its medical infrastructure. He writes: "To date I have helped develop nine FDA approved drugs and in doing so helped prolong the lives of hundreds of patients with serious medical conditions."
Jan, 2019
Timothy J. Thurlow retired in 2014 as senior enforcement attorney with the U.S. EPA and became a docent for the Chicago Architecture Center and the Frank Lloyd Wright Trust.
Jan, 2019
Alan C. Sparrow announces his retirement in June 2020, at which point he will have been head of school at Rowland Hall in Salt Lake City for 28 years.
Jan, 2019
Robert B. Shanks writes: "After retiring from Raytheon as vice president of legal international and Washington operations, I managed to flunk retirement. I returned to work as general counsel of the Peace Corps in late 2017. My family is well: Marge is still at the Federal Reserve; daughter Gracie and son-in-law Tim are in Boston; and youngest son Brennan is with a start-up in Los Angeles. Older son Bruce, daughter-in-law Christa, and two grandchildren are in San Diego."
Jan, 2019
Alexander T. McMahon returned to New Mexico six years ago. Following 30 years in business, Alexander writes: "I've returned to my first vocational love, education, and am teaching business classes at Southwestern Indian Polytechnic Institute. At SIPI I also spent two years supporting the Board of Regents, four years as principal investigator of a large NASA grant, and have written grant applications that brought money to SIPI. We live in Placitas, just north of Albuquerque, and our two sons live near where they grew up in California."
Jan, 2019
James T. Colby III writes: "Just passed 11 years at VanEck constructing and managing Muni ETFs. With triplet boys now high school seniors, I foresee several more years in the investment universe ahead as the cost of college education seems to rise at a disproportionately higher rate than my annual earnings."
Nov, 2018
Oliver D. Cromwell '72 writes that the firm he founded 28 years ago, Bentley Associates L.P., where he continues to serve as president, received two awards in late June. The Assoc. for Corporate Growth named Bentley the Investment Banking Firm of the Year and M&A Advisor selected the firm as the Boutique Investment Banking Firm of the Year. Oliver notes that he continues to actively work at the firm.
Jul, 2018
Stephen Raney has a new website called The Guardian of Earth (stephenaraney.wixsite.com/website). He has thus far posted four works, including two installments of a series on surveillance and control.
Jul, 2018
J. B. Doherty (see Kay Berthold Frishman '65).
Jul, 2018
Kay Berthold Frishman writes: "I am busy and happily retired. Life goes along way too fast. Ron and I spent the month of February in San Miguel de Allende, Mexico. We also recently met up with David Brody '64, Tom Childs '75, and J. B. Doherty '72."
May, 2018
Carla Smith Lejade writes: "I now split my time between Santa Barbara, California, and Maine. Often I traverse the country on back roads, exploring the amazing U.S.A. So far, 18 trips and counting. I guess I like road trips. I was always a frustrated architect, so I finally built a home and commercial vacation rental last year, El Zapato, with Santa Barbara's eclectic architect (jeffsheltonarchitect.com). I would love to see Brown alumni at El Zapato. It is a great place to escape the cold and visit sunny Santa Barbara."
Apr, 2018
Susan Yelavich was awarded a Bogliasco Fellowship for the month of February 2018. The residency, in the hill town of Bogliasco outside Genoa, Italy, will allow her to finish Thinking Design through Literature due out next year from Routledge. Her book draws on fiction, essays, and poetry to reveal how design and architecture perform in daily life.
Apr, 2018
Jeffrey T. Paine writes: "I have accepted the vice president of marketing position at Pica8, a well-funded networking software startup in Palo Alto, California. Concurrently, we have purchased our retirement holiday home in the French beach town of Hossegor, located about 15 miles north of Biarritz, and I'm now wondering when I will ever get to use it. My youngest daughter, Chantal, graduated from Oxford (she was also accepted at Brown), and my eldest, Giselle, is in the last year of her master's degree in environmental history at Sciences Po in Paris."
Apr, 2018
Dennis Butcher retired after 37 years in a general internal medicine practice in Jackson, Wyo., which included working one year in New Zealand. He writes that he intends to fill his free time with visits to his daughters and two granddaughters, fly-fishing, travel, and reading.
Apr, 2018
Preston Atwood '44 and his wife, Lois, celebrated their 71st wedding anniversary on Dec. 28. They live in a condo populated largely by Brown-connected people half a mile off the Brown campus. Their son David '72 retired from the U.S. Foreign Service and is working with USAID.
From the November/December 2017 Issue
Paul Backalenick (see Irene Margolis Backalenick '47).

Dennis Butcher '73 AM writes: "I have retired from 37 years of practicing general internal medicine in Jackson, Wyoming. My time is quickly filling up with hikes, fishing, home projects, and visiting my two granddaughters in Blacksburg, Virginia. My wife and I will be spending a few months this winter in a warmer place than Jackson."

Sharon Stern Gerstman became the 120th president of the New York State Bar Association in June. She is Of Counsel to Magavern Magavern Grimm LLP in Buffalo, New York.

Edward Guiliano writes: "Having decided 17 years as a university president at the New York Institute of Technology was enough, I began the current academic year on 'sabbatical.' First time I have not been in New York at the beginning of September since Brown days. I'm looking forward to redefining 'sabbatical' annually and developing some Brown activities."

Peter Reichertz started the process of retirement in January. He is now Of Counsel at Sheppard Mullin in Washington, D.C. He is taking Spanish lessons, travelling, and trying to enjoy life.

Doug Sisk writes: "Our daughter, Hannah Sisk '13, and Ben LeVeque '13, '14 ScM, were married on May 12 in Philadelphia. Many Brown alums attended, and we could not have had a better day. Congrats to Hannah and Ben."
From the July/August 2017 Issue
From the May/June 2017 Issue
From the March/April 2017 Issue
John Nicholas Datesh writes: "2016 turned out to be a good year. I had some repair work done and finished my fifth and sixth novels: The Body in the Bog and The Last Three Minutes, a mystery and a ghost story respectively."
From the September/October 2016 Issue
Ruth C. Loew writes: "My husband, Rabbi Robert Tabak, and I have become grandparents. Liora Judith Tabak is the daughter of our son Gabe and daughter-in-law Ruth Brown Tabak '06."
From the July/August 2016 Issue
Ellen Griffith Cohen received a kidney from her brother, Ben, on Jan. 21. Also present for the surgery and providing support were Ben's wife and daughter, and Ellen's brothers, Stanley Griffith '68, and Don Griffith '74, and their wives. Ellen writes: "All, including my new kidney, are doing well. I plan to continue advocating for earlier prevention and detection of kidney disease, and better care for kidney patients."
Bob Shanks writes: "I will be retiring from Raytheon this summer after 13 years with the company. My wife, Margie, is still with the Federal Reserve in Washington, D.C. Our daughter, Gracie, is engaged to be married in September; our younger son, Brennan, is in Thailand working on advanced scuba diving certification; our eldest, Bruce; his wife, Boo; and our two grandchildren, Haley, 7 and Calvin, 5, are all well and living in San Diego. I am looking forward to spending more time with all of them."
Tim Strotman writes: "In early April, Nancy and Stephen Dowdle entertained Hannah and Kevin Murnighan; Mary and Jim Rianoshek; and my wife, Kathy, and me at their Northfield, Illinois, home. We caught up with news around a delightful dinner and reminisced about Brown friends and stories. The evening's success spawned a flurry of e-mails to a broader group, and plans for the next reunion are underway."
From the May/June 2016 Issue
H. Carleton Clinch was elected to the Glen Rock (N.J.) Savings Bank board of directors. He writes: "Founded in 1922, GRSB is one of the oldest mutual savings banks in New Jersey. It recently completed the acquisition of Llewellyn Edison Savings Bank." Carleton practices law and lives in Ridgewood, N.J., with his wife, Janel. They have two children and two grandchildren.
From the March/April 2016 Issue
Jonathan Bigelow writes: "My company, KnowledgePoint360 Group—an international provider of medical communications, strategic consulting, and benchmarking services—was sold in late 2014 after a long run of strong growth. Am now consulting and serving on boards in the communications and pharma services areas, and speaking on health policy issues."
Richard Campagna writes that he is temporarily out of "existential retirement" and will teach next year at Coe College and the Univ. of Iowa. He received a lifetime achievement award in adult education and writes that the plaque reads, in part: "His implementation of public speaking engagements, teaching while engaging in political campaigning, choice of non-traditional pedagogical venues, no-nonsense straight talking, novel teaching techniques, multiple adjunct professorships, existential/experiential methodology, guest appearances, music, humor, gentle irony, educational musical road trips, innuendo and gratuitous peer counseling have all yielded remarkable results over four decades and on every continent of the world."
Skip Halpern retired after 35 years as an institutional investment consultant and litigation lawyer, specializing in public fund investing and the Employee Retirement Income Security Act. He and his wife, Barbara, split their time between downtown Washington, D.C., and their legal residence in Virginia's Shenandoah Valley, just outside the town of Luray.
John Jaworski retired in October, after 42 years as a teacher and guidance counselor at his high school alma mater. He writes: "I continue to be a high school basketball and soccer official north of Boston, as well as an individual skills instructor for basketball youth throughout the North Shore area of Massachusetts."
Peg Grimes Nicholson started a new job as a family nurse practitioner in a rural clinic in northern Nevada. She writes: "My writing career is on hold, but you can find my novels on Amazon."
Eric Scherzer (see Daniel Leventhal '07).
Charles Stephenson (see Matt Aks '11).
From the January/February 2016 Issue
Carla Smith Lejade moved to Santa Barbara, Calif., where she writes: "I will be opening a super fun and whimsical vacation rental house called El Zapato on downtown Garden Street. Brown alumni are especially welcome. It is a Jeff Shelton Architect creation, covered with lobster tiles from my real home state of Maine. I must acknowledge my beloved husband, Bruce Henderson '71 (now deceased), who encouraged me to follow this dream and made it possible."
Philip Lu writes: "Two years ago my wife and I moved back to suburban Chicago after 10 years in Madison, Wisc., where I got a master's in special education and taught special ed at the high school level."
Susan Antonio Pacheco (see David Pacheco '07).
Jim Rianoshek writes: "I'm executive director of Boulder County CareConnect in Colorado. We provide our community elders who want to age in place with security, comfort, and independence. Keeping in touch with Vince Chao, Robbie Cohen, Mark Pecker, Tim Strotman, and Bob Wieck. Mary and I celebrated 46 years of marriage in late December."
From the September/October 2015 Issue
Richard Campagna writes that he is in an "existential retirement" in Iowa City, where he and his family have lived for the past 25 years. On Nov. 6, he will host an "all-day, multi-venue, multi-disciplinary, multimedia seminar. It will focus on the philosophy of optimistic, spiritual existentialism—a philosophy I created as an undergraduate at Brown and have practiced and experienced my entire adult life." The seminar is free to attend.

Carla Smith Lejade writes: "I've moved to Adult Disneyland—Santa Barbara, California—and am building a mixed-use house downtown. I still live half in Maine, half in California, and enjoy life on both coasts. Kids are off to the far corners of the earth."
From the May/June 2015 Issue
Samuel Halpern plans to retire after many years of working with the fiduciary and financial aspects of institutional investing by private and public pension funds. He writes: "In 2011 we sold our firm to a publicly traded company, and now it's time for a new stage, namely, part-time work as an expert witness and lots of time for other pursuits. We've moved to the Shenandoah Valley in Virginia but keep an apartment downtown in Washington, D.C., too."
From the March/April 2015 Issue
Rebecca Cornwall Galkiewicz writes: "Eleven friends from the classes of '71, '72, and '73, plus four spouses, met for a reunion in October. They gathered in Leesburg, Va., for a weekend of conversation, sightseeing, and singing. Attending were Dabney White Dixon '71, Bob Galkiewicz '71, Jay Gartrell '71, Andy Harrington '71, George Howard '73, Grayson Kirtland '73, Ellen Gruenberg McGeorge '73, Christine Peterson '72, Chris Wencker Schomaker '72, and Chris Stowell '71. Becky adds: "It's been 40-plus years since we were all together, but the years simply vanished! It was fun catching up with one another."
Cliff Saper and Christy Bowman announce the Sept. 25 birth of their second grandchild, Mackena Rose. They were joined at Thanksgiving by their son, Ben '07, to celebrate the expanded family.
Eric Scherzer (see Adam Leventhal '01).
Ken Weiner, a retired partner at K&L Gates, has been invited to a summit meeting in Washington, D.C., on the future of the National Environmental Policy Act (NEPA). Cambridge Univ. Press is publishing his most recent article, "Are the NEPA Rules Immutable? An Opportunity for Presidential Leadership on the Environment."
From the January/February 2015 Issue
Richard V. Campagna is a retired attorney consultant and professor living in Iowa City, where he and his family have lived for the past 25 years.
Gerald Eaton retired from the Public Service Co. of New Hampshire in July 2012. He writes: "I now deliver car parts in the afternoon."
Jeffrey Paine writes: "With my youngest daughter, Chantal, off to Oxford in October we are now empty nesters (my eldest is in her last year at the Institute de Science Politique [SciencePo] in France). In June I became vice president of marketing and business development for Saisei, a networking software start-up based in Sunnyvale, Calif. No time to relax just yet."
Douglas Price works with the World Wrestling Entertainment show Total Divas with Natalya Neidhart and T.J. Wilson. He appears as an expert on the Vibrawav fitness platform. He has an office in Clearwater, Fla. where he treats Hulk Hogan and Luke "The Bushwhacker" Williams.
From the July/August 2014 Issue
Lawrence Rosenberg (see Dan Rosenberg '09).

Doug Sisk works as an appellate mediator in private practice in Philadelphia. He also lectures frequently on mediation, federal appellate law, and other forms of alternate dispute resolution. He invites those interested in learning how mediation can assist them to get in touch.
From the May/June 2014 Issue
David Atwood (see Preston Atwood '44).
Cliff Saper and Christy Bowman are the grandparents of Milo, born Nov. 11, 2012. Cliff and Christy live in Evanston, Ill., where Cliff is executive director of outpatient programs at Alexian Brothers Behavioral Health Hospital and Christy plays basketball in the senior games.
Lawrence Rosenberg (see Dan Rosenberg '09).
From the March/April 2014 Issue
Anthony Caldamone '75 MD (see Michaela Corrente '09).
Samuel Halpern writes: "All is well. After helping launch a niche institutional investment consulting firm in 1986, my business partners and I sold the business a couple of years ago. I now remain as president of the East Coast branch of Gallagher Fiduciary Advisors. My wife, Barbara, and I have established residence along the Shenandoah River outside of Luray, Virginia, but keep an apartment in downtown Washington, D.C. Our two kids are married, and we have two grandchildren."
Peter S. Reichertz practices food and drug law at Sheppard Mullin in Washington, D.C; he has worked there for eight years.
Susan Rodgers, professor of anthropology at Holy Cross, was recognized as the 2013 Massachusetts Professor of the Year by the Carnegie Foundation for the Advancement of Teaching. She has been in Holy Cross's sociology and anthropology department since 1989. Susan writes: "I absolutely love teaching in a liberal arts college. I continue to study Indonesian literature and arts and to curate museum exhibitions in textiles."
Paul Rosenberg and his wife, Megs, announce their move to Vermont. They enjoy visits from old friends.
Jan Weinstein was installed as the 46th president of the North Suburban Bar Assoc. on Sept. 24. She was sworn in by Chief Justice of the Illinois Supreme Court Thomas Kilbride.
From the November/December 2013 Issue
Edward Guiliano received a rare honorary doctorate in June from the Chinese government and Nanjing Univ. of Posts and Telecommunications. He is now in his 14th year as president of New York Institute of Technology. "There is a building with my name on it on Broadway at 60th St. in Manhattan," he writes, noting that all of this was unimaginable to him as an undergraduate.
Bob Rench (see p. 53, Engagements & Weddings, Annie Elizabeth Hatch '06).
From the September/October 2013 Issue
Lewis Kostiner's photographic book Choosing Fatherhood: America's Second Chance received a bronze medal award from the Independent Publishers Book Awards for 2013. In addition, Lewis has been chosen by the U.S. Department of Justice to be a judge for its photographic competition, through the White House, in the 2013 Fatherhood Challenge.
From the May/June 2013 Issue
Alexander McMahon writes: "My wife, Ellen, and I returned to New Mexico last summer and live in Placitas, just north of Albuquerque. I'm an adjunct instructor in business technologies at the Southwestern Indian Polytechnic Institute, teaching macroeconomics and tribal leadership, writing a new class in tribal entrepreneurship, and working as grants officer for the SIPI Board of Regents, whose members represent the principal tribes from which SIPI draws students."
From the March/April 2013 Issue
Karen Leggett-Abouraya announces the publication of her first children's book, with coauthor and illustrator Susan L. Roth, entitled Hands Around the Library: Protecting Egypt's Treasured Books.
Jeff Paine writes: "I started a new posting as vice president of product marketing for Endace, arguably the most successful high-tech company to come out of New Zealand, so I am getting to know the nonstop Air New Zealand Flight from San Francisco to Auckland quite well. Meanwhile, my eldest daughter, Giselle, is loving her first year at Science Po, one of the Grandes Ecoles in France, and my wife, Maggie, is now the U.S. representative for Allande, the last line of French lingerie designed and made in France."
Ralph Vuono (see George Siberry '88).
From the January/February 2013 Issue
James P. Cunningham, partner in the Birmingham law firm of Williams, Williams, Rattner & Plunkett P.C., has been appointed to the board of trustees of Detroit's Charles H. Wright Museum of African American History.
Joan Zahorjan (See Engagements & Weddings, Shannon O'Hern '06).
From the November/December 2012 Issue
James P. Cunningham has accepted a mayoral appointment to the board of directors of the Charles H. Wright Museum of African American History in Detroit. Jay also accepted an invitation to join the International Academy of Matrimonial Lawyers. He is a past president of the American Academy of Matrimonial Lawyers, Michigan Chapter, and the Oakland County Bar Association.
Jeff Paine joined Endace as vice president of product marketing, and will be working in its new U.S. headquarters in Sunnyvale, Calif. He also saw his eldest daughter, Giselle, off on a flight to Paris. She will be a freshman at Sciences Po, one of the grandes écoles, in France.
From the September/October 2012 Issue
Brenda Lockhart Springsted writes: "As a historical archaeologist, I have become interested over the years in historic ceramics, most recently the ceramics movement in Trenton and New Jersey. Our local museum mounted a display of Trent Tile Master Molds this summer."
Kenneth Weiner, a nationally recognized environmental lawyer, retired as a partner from K&L Gates at the end of 2011. An advisor to presidents, governors, corporations, and citizen groups, Ken founded the environment, land use, and natural resources practice at Preston Gates and Ellis, which in 2007 combined with Kirkpatrick & Lockhart Nicholson Graham to create the 2,000-lawyer global law firm of K&L Gates.
Lance Williams, a reporter at the Center for Investigative Reporting in California, won the 2011 George Polk Award for medical reporting. With two colleagues, he wrote a series of stories on how a California hospital chain boosted Medicare payouts by claiming that patients suffered from rare medical conditions. The stories were published in California newspapers, and a TV version appeared on PBS NewsHour.
From the May/June 2012 Issue
Robert Wieck (see Engagements & Weddings, Kate Dumouchel '05)
Jerome Zeldis '72 ScM (see Births & Adoptions, Cara Zeldis Snyder '04).
From the March/Aptil 2012 Issue
Shaun Curran is an associate with the Lukmire Partnership, an architectural firm in Arlington, Va.
D. Paul DiMaggio writes: "In case Jay Vesce '87 MD and Steven Wagner do not write in to defend themselves, I have been in contact with them frequently, and they seem to be doing fine in the Virginia and North Carolina areas. Maybe this accusation will get them to write in."
Ruth Loew lives just outside Philadelphia, works for Educational Testing Service in Princeton, N.J., and is married to Rabbi Robert Tabak. None of her three sons went to Brown, but her eldest, Gabe, is engaged to Ruth Brown '06.
Douglas Price appears in Hulk Hogan's autobiography, My Life Outside the Ring, a New York Times bestseller. Doug treats professional wrestlers at his chiropractic clinic in Tampa, Fla.
Jerome B. Zeldis writes: "After 12 years of heading both clinical research development and medical affairs, I founded Global Health Division at Celgene Corporation, focusing on providing access of medicine to those who can least afford it and creating new medicines for diseases associated with poverty. Previously, I was responsible for taking five drugs to market."
From the January/February 2012 Issue
Carla Smith Lejade writes: "I retired in 2007 to take care of my beloved husband, Bruce Henderson '71, and since losing him I have lived between California and Maine and traveled a lot. I am serving on a cancer board and enjoying my grown kids. Would love to hear from any old friends. We have had a few very fun Brown reunions in Harpswell, Maine."
Mibs Wilson writes: "After years of juggling multiple names, the Patriot Act forced me to choose one. So, although I remain happily married to Mark Rosenbaum, with his blessing and my children's grudging permission, I am back to just Mary-Ann Wilson (Mibs to my classmates and friends)."
From the November/December 2011 Issue
Douglas Shepord writes: "The iHangr, my invention for the iPad, is being launched in collaboration with Kickstarter, a unique community funding website. I developed the iHangr with help from G. Eric Johansen, whose engineering firm E.T. Techtonics has specialized plastic expertise." The iHangr can be found at www.ihangr.com
From the July/August 2011 Issue
David Atwood is retiring as director of USAID's Office of Sustainable Development for Africa this summer after four years in the Peace Corps in Africa and 30 years with the U.S. Agency for International Development, including 24 in the Foreign Service. He and his wife, Nancy, and son and daughter now live in Arlington, Va.
Craig B. Phinney writes: "I finally took myself off the road after 40 years working in the ski and outdoor recreation business. My time is now spent working as a full-time substitute teacher in our local school system. My wife, Jamie Lynn, administers the retirement programs for National Grid in the United States; my older son, Brandon, is a research scientist in New Mexico and my younger son, Trevor, graduated from medical school in May. Life is good."
Peter Szura is a part-time education and outreach staff person in the office of the Butler, Pa., chapter of the National Alliance of Mental Illness. He is still at Boscov's Department Store full-time. He adopted a Chesapeake Bay retriever.
From the May/June 2011 Issue
Margaret Ruth Little's eighth book, Carolina Cottage: A Personal History of the Piazza House, was published recently and has been blogged in the upcoming Southern magazine Garden and Gun. The book is her newest work of architectural history. She writes: "It is different, because it is an academic book written in the first person." Learn more about the book at: www.upress.virginia.edu/books/little.HTM or at http://gardenandgun.com/blog/cottage-carolina.
From the January/February 2011 Issue
Scott Briggs (see Engagements & Weddings, Nick Zakrasek '06).
Vincent S. Chao retired after seven years in the private sector and 30 years as teacher and principal in the San Francisco public school system and a civic leader. He plans to continue his volunteer activities, including being an international-election monitor, and to travel. His son, Maxwilliam, applied to Brown early decision this fall.
Allin V. Walker retired from managing nonprofits and political campaigns. He and his artist wife, Margaret, are creating a soulful place of wabi-sabi at the Woodwalk Gallery in Door County, Wis.
From the September/October 2010 Issue
Oliver D. Cromwell and his wife, Sheila, attended the Brown Commencement festivities this year to watch their daughter, Ashley M. Cromwell '10, graduate. He writes: "Among Ashley's many activities, she served for two terms as president of the Bruin Club, one of the largest student volunteer organization on campus, and was co-head of A Day On College Hill (ADOCH) as a sophomore. After graduation Ashley will be among the 4,000 new teachers who have been accepted for this year's Teach For America program from the 45,000-plus applications. Our son Spencer, who also was at Commencement, will be a junior at Yale, where he is actively involved in various music activities."
Robert Mair '75 ScM, '79 PhD (see Dylan Brown '03).
From the July/August 2010 Issue
Stephen Cowell, CEO of Conservation Service Group, in Westborough, Mass., received the 24th Annual Affordable Comfort Inc. award for distinguished service and ongoing dedication to the residential energy retrofit industry. Currently he is working with Brad Penney on the Home Star proposal, a consumer rebate program for home energy efficiency upgrades.
From the May/June 2010 Issue
Jean Braucher's daughter Emma '14 was accepted early decision to the class of 2014. Emma spent the last two summers in Latin America and plans to study history, anthropology, and Spanish, with a Latin American focus. Jean's son, Rob, is a junior at Wesleyan, where he is editor-in-chief of the newspaper and studying history and sociology. Jean writes that she is in her 12th year as a law professor at the Univ. of Arizona. She is completing work on a contracts casebook with a team of professors from the Univ. of Wisconsin and will continue to write law review articles about consumer bankruptcy and issues in software contracting. She is reading the compelling book Shadows at Dawn by history professor Karl Jacoby '87 and highly recommends it.
John Datesh Jr. moved to Naples, Fla., and intends to write and e-publish through LoiseauDevelopment.com and his blog at EmptyGlassFull.com.
Eileen M. Rudden was a 2009 Fellow of the Broad Superintendents' Academy. She is now an executive in the Chicago public school system.
From the March/April 2010 Issue
Lois Abromitis Mackin '72 AM, '77 PhD is starting a business doing genealogy research, consulting, writing, speaking, and teaching. She was elected to the board of directors of the Minnesota Genealogical Society, where she serves as education chair.
From the January/February 2010 Issue
Oliver Cromwell (see Laura Martin '04).
Susan Farrell is a senior director with PFC Energy, a consulting company in Washington D.C. She is a frequent speaker on the impact of the great recession on oil and gas markets and investments.
From the November/December 2009 Issue
Lance Williams left the San Francisco Chronicle to work as a reporter at the Center for Investigative Reporting in Berkeley. The center is forming an investigative team to cover California politics and government. With Mark Fainaru-Wada, Lance wrote Game of Shadows: Barry Bonds, BALCO and the Steroids Scandal That Rocked Professional Sports. Williams has been a reporter in California for 34 years. He has been recognized for his work with a George Polk Award, a Scripps Howard First Amendment Award, and a Gerald Loeb Award, among other honors.
From the September/October 2009 Issue
Carleton Clinch and his wife, Janel, announce the wedding of their daughter Justine (Conn. College '04) to Jordan Kaufman (George Washington '04 and Columbia '06) at the Light House at Chelsea Piers in Manhattan on Sept. 26, 2008. Other Brunonians in attendance were Craig Novak, Jonathan Fauver, and Andy Kislevitz '73.
Shaun B. Curran is currently living in Alexandria, Va., and is working as an associate with the Lukmire Partnership, an architecture firm in Arlington, Va.
Gary Mooney recently had lunch with Willard Woolbert on Philadelphia's Main Line. Gary writes: "Some of the Buxton House crowd in our junior year have lost touch with us and we wondered where John and John and Peter and others have wandered off to in the past few years. We haven't moved in decades, so send us an update note."
From the July/August 2009 Issue
Harriet Hanzel Cole (see Jonathan and Lisa Cole Olin '99).
Doug Littlefield writes that his new book, Conflict on the Rio Grande: Water and the Law, 1879–1939, has just been published by the Univ. of Oklahoma Press. Doug runs a historical consulting business in Oakland, Calif., providing research, writing, and expert witness services in support of water rights, land use, and other environmental litigation.
Zylpha Pryor-Bell writes: "I recently published my first book, Be Born Again. It is available under my name at Amazon.com."
David Speth left Dow Chemical in 2004 and now does engineering development at the Edison Welding Institute. He enjoys biking in central Ohio.
From the May/June 2009 Issue
Laura Leff Becker '72 AM writes: "Life continues to be good. I taught college history for a decade then opted to work part-time in my husband's home-based business, teaching religious school music while raising the boys in Coral Springs, Fla. At this point, we are proud empty-nesters: Geoff finished MIT and works as a financial trader in Philadelphia, while Nate is set to graduate from Yale. A year and a half ago, I returned to full-time employment and now teach history and serve as director of college preparatory (secular) studies at Weinbaum Yeshiva High School in Boca Raton, Fla. I still enjoy tennis, choir directing, and interviewing wonderful candidates for Brown."
Gertrude Hodes Galynker moved to Asheville, N.C., and works for Prudential Lifestyle Realty after working for Pfizer in New York.
Justin Mahon writes: "Gina and I are still coming to grips with our old house now that the kids are grown and she has started a gardening business. I have been doing water supply and sewer projects for Malcolm Pirnie Inc. for the last 30 years."
From the January/February 2009 Issue
David Atwood (see Preston A. Atwood '44).
Mollie Sandock and her husband, Jim Brokaw, have moved to Brunswick, Maine. Mollie took early retirement after 23 years as an English professor at Valparaiso Univ., in Indiana, and Jim is telecommuting to his job as a computer programmer in Illinois. Mollie is also auditing biology courses at Bowdoin, volunteering, and exploring the Maine coast. Next year she is hoping to teach part-time.
From the November/December 2008 Issue
Linda Hayward '72 AM (see James Hayward '01).
Doug Sisk continues to serve as director of mediation for the Pennsylvania Superior Court. He is also on the joint house senate advisory committee on alternative dispute resolution.
From the September/October 2008 Issue
Josef Mittlemann (see Daniel Mermel '03).
Joan Wernig Sorensen (see Fraser Lang '67).
Christopher G. Wren, an assistant attorney general with the Wisconsin Department of Justice, received one of six "Best Brief" awards from the National Association of Attorneys General at its 2008 summer meeting, held in Providence. He won for a reply brief filed at the petition stage in Wright v. Van Patten, 128 S. Ct. 743 (2008). The annual award, judged by a panel of experienced U.S. Supreme Court practitioners, honors excellence in brief writing in the U.S. Supreme Court by state attorneys.
From the July/August 2008 Issue
Michael Lazaroff writes: "It is hard to believe that it has been more than 35 years since I graduated from Brown. During this time I had a very successful legal practice, a very active role in Missouri and national Democratic party politics, a spectacular and very public fall from grace, nearly ten years of a business career, and now own and operate Jazz Cruises, LLC, the producer of full ship charter cruises highlighting the world of jazz. We have just launched the Playboy Jazz Cruise, which has Herbie Hancock and Marcus Miller as the headliners. We do smooth jazz cruises and contemporary jazz cruises, and have had offerings in the Pacific, the Caribbean, and Europe. I even did a cruise highlighting the music of Elvis Presley. I love doing the cruises; it is not only fun, but also rewarding, as we really make people happy and allow them to enjoy the wonderful music in a very spectacular setting."
Susan Antonio Pacheco writes: "My husband, Bill Burkhardt, and I enjoyed the 35th reunion in 2007. It was an especially joyous occasion as I marched down the hill for the first time and joined my son, David Antonio Pacheco '07. It has been an eventful year for me. Bill and I were married in May 2007. My daughter, Cristina Antonio Pacheco '00, '04 MD, and her husband, John Christopher Kawaoka '00, '04 MD, had their first baby in August shortly after Cristina finished her residency through Brown Medical School. As a Rhode Islander, I have continued to enjoy many visits to Brown through my daughter's and son's years at the University, as well as alumni activities. Now I'll get to wait for my granddaughter, Madeleine Mae Kawaoka, to perhaps join the class of 2029. I continue to enjoy my practice of family law and elder law in East Providence."
Eileen Rudden and Joshua Posner '71 write: "Charlie Posner '11 is playing on the Brown tennis team. Sam '03 and Joe '07 are both young creatives living in Brooklyn."
From the May/June 2008 Issue
John Hansen-Flaschen received the 2008 Praxis Award in Professional Ethics from the College of Liberal Arts & Sciences at Villanova Univ. on April 2, 2008. He is currently the chief of pulmonary, allergy, and critical care medicine in the University of Pennsylvania Health system. He has published more than 50 articles in medical journals, and his clinical research has led to new lifesaving therapies for critically ill patients.
Diane Kell writes: "In the past four years I've been widowed, then remarried, a lot more suddenly than I expected, to Russel Stolins, a textbook writer and graduate of UC Berkeley. He is such a prince—I didn't have time for frogs. I am working as communications and marketing coordinator for Lew Allen Contemporary, the best contemporary art gallery in Santa Fe, N.M. I have three grandchildren, all of them adorable, of course!"
Craig B. Phinney and wife, Jamie Lynn, have been married for 28 years and still live in Skaneateles, N.Y. Craig is a substitute teacher in the local middle school. His oldest son, Brandon, 26, is doing drug research at VCU in Richmond, Va., and son Trevor, 22, is married and expecting a baby in July. Trevor is in his seventh month of medical school at Lecom in Erie, Pa. Craig writes: "Life is good."
From the March/April 2008 Issue
Donald Abrams is the director of clinical programs at the Osher Center for Integrative Medicine and the secretary of the Society of Integrative Oncology. He co-edited a textbook on integrative oncology that Oxford Univ. Press will publish this year.
Dennis Butcher '73 AM is entering his 27th year of general internal medicine practice in Jackson, Wyo.
Tom Mills joined Gallagher & Kennedy P.A. as Of Counsel on September 1. He previously served in Gov. Bill Richardson's administration as deputy secretary of the energy, minerals and natural resources department, then as general counsel to both the economic development and tourism departments. "It was a great career chapter!" he writes.
Elaine Rich's book, Automata, Computability and Complexity: Theory and Applications, was published last fall. It's a textbook for a class she has been teaching at the Univ. of Texas for the last several years.
Steve Robinson is managing offices for his law firm in Shanghai, Beijing, and Hong Kong. He has seen a few alums and is always happy to help visitors understand China.
Coleman Sachs writes: "My wife, Shana, and I were very pleased that Brad Penney, Jerry Zeldis, Lani Sinclair '71, Eric Snyder '04 and Cara Zeldis Snyder '04, and Jeffrey Snyder '02 could join us for the bar mitzvah of our youngest son, Avi, in Fairfax, Va., on October 27. Even greater than our pleasure at celebrating with fellow Brunonians was our knowledge that we had finally gotten through the last of the bar and bat mitzvahs before we turned 60."
Scott Tripp left the U.S. Department of State after 26 years as a special agent in the bureau of diplomatic security and moved to the National Security Agency as special agent in the counterintelligence division and then on to central intelligence, where he now works.
Allin Walker and his wife, Margaret, moved their Woodwalk Gallery into a restored 1890s Wisconsin barn near the entrance to Horseshoe Bay Farms. The barn/gallery is a dramatic venue for Margaret's landscapes and the works of 30 regional artists.
Jerome Zeldis (see Cara Zeldis '04).
From the January / February 2008 Issue
George Billings (see Bernie Bell '42).
Robert J. Enright writes: "I returned too late from a race in Gyor, Hungary, to attend the 35th reunion. In early May I went to a seminar in Providence and took advantage of a mild sunny afternoon to jog up College Hill to familiar sounds and sites on the Green. Music played loudly; tables were set up to distribute manifestos; some people strolled through purposefully from all directions; others stood or sat on the grass in loose clusters; Frisbees glided back and forth. I flashed to having bumped into the late Rosalie Colie, who made a mark on me that was more like an indentation—I helped her lug the manuscript of what became a book of essays on Shakespeare. The neighborhoods around the campus retain their considerable charm; that will never change. I have long since reached this conclusion about my four years: largely wasted, but unavoidably so. I competed for Team USA in the World Long Course Duathlon Championships in Richmond, Va., in late October."
Leslie Winner was named the executive director of the Z. Smith Reynolds Foundation in October 2007. The foundation is one of North Carolina's largest and most influential private foundations and makes grants for community economic development. Leslie was previously the vice president and general counsel of Univ. of North Carolina.
Susan Yelavich writes: "Five years and 509 pages later, my book Contemporary World Interiors has been published by Phaidon Press. Now that I can lift my head up again, I'm researching a new book on the relationship between architecture and textiles. I continue to teach design history and criticism at Parsons the New School for Design, and after 32 years in the city I've become a provincial New Yorker. My husband, Mike, and I celebrated our 28th anniversary this year and our son, Henry, graduated from Bard and works as an editorial assistant at Rizzoli. I missed our 35th reunion, but would love to catch up with classmates informally."
From the November / December 2007 Issue
Richard Campagna and family are on the road again. Richard is traveling the country and the world speaking about his two recent books, The Optimistic Existentialist and Existentialism and Personal, Professional and Political Freedom.
Susan Antonio Pacheco (see John Kawaoka '00).
James Winkler of Winkler Development Corp. opened the DeSoto Project, a multi-use art hub for galleries and nonprofits in a historic complex in Portland, Ore.
From the September / October 2007 Issue
Joanne K. Hilferty, president and chief executive officer of Morgan Memorial Goodwill Industries of Boston, a nonprofit retail and job-training organization, has been elected to serve on the Associated Industries of Massachusetts board of directors.
Jeff Paine writes: "With the kind permission of my wife, Margaret Parkinson, and daughters, Giselle, 13, and Chantal, 11, I have taken on the travel-laden role of global product director for a major UK-based Web media company called Vividas. Now I get to combine career number one (feature films) with career number two (high-tech marketing executive) and spread it out over offices in the San Francisco Bay Area, Los Angeles, and London."
Robert Rabbino and Anne Adams Rabbino '71 write: "Our daughter Debbie Rabbino '00, married Kevin Bhatt (Princeton '00) in September 2006. We love Kevin and are very happy that both our daughters (also Anne Rabbino '05) are living and working in New York City."
From the July / August 2007 Issue
Sydney Hanlon, honorable judge of the Boston Municipal Court, Dorchester Division, was one of two recipients of the first Kevin Duggan Community Service Award, held in the Mass. State House on May 18.
From the May / June 2007 Issue
Barbara Hurst (see Oliver Hurst-Hiller '98).
Doug Sisk writes: "After a short venture into private practice, I returned to what I know best, and in September 2006, became director of mediation for the Superior Court of Pennsylvania. I am excited to be part of this new program for resolving cases after a trial has taken place. Yes, people do mediate even after a verdict."
Lance Williams writes; "My San Francisco Chronicle colleague Mark Fainaru-Wada and I have been sentenced to eighteen months in federal prison for refusing to disclose the names of the confidential news sources who aided us in reporting on the BALCO sports steroids scandal for the Chronicle and for our book, Game of Shadows. In May, a U.S. grand jury subpoenaed us to testify about our sources, and we were found in contempt of court when we refused. We are free pending appeal. In December we received the PEN-USA literary organization's First Amendment Award."From the March / April 2007 Issue
Paul Backalenick (see Irene Margolis Backalenick '47).
From the January / February 2007 Issue
Donald Abrams has been named director of clinical programs of the Univ. of California at San Francisco's Osher Center for Integrative Medicine. Donald, a UC San Francisco faculty member for twenty-three years, was formerly a professor of clinical medicine.
Andy Coburn (see Sean Conta '00).
Robert Elfering writes: "Coreen and I are celebrating our 30th anniversary on our first Caribbean cruise. Hoping to attend the class reunion in 2007. We've been out of touch with classmates but would like to reconnect."
Meg Fidler (see Julie Balzer '98).
From the September / October 2006 Issue
Gary Kennedy spoke in the algebraic geometry seminar at Brown in April, describing his recent research in quantum cohomology. His visit was hosted by Professor Dan Abram-ovich. He also delivered a lecture, "Bend, Pinch, Break, and Count," to the mathematics department undergraduate group. Gary and his wife, Jan Trexler, live in Mansfield, Ohio, where he teaches at Ohio State. Their children, Stephen and Sylvia, live in Columbus.
Carol Marble Thatcher (see Lillian Carneglia Affleck '44).
Christopher G. Wren was appointed solicitor general within the Wisconsin's Department of Justice on May 1. He will serve as the department's contact for requests from other states' attorneys general to participate as amicus curiae in federal court cases and oversee the state's participation as amicus curiae in civil cases in Wisconsin state appellate courts.
From the May / June 2006 Issue
Albert Corbett (See Ryan Baker '00).
Lisa Sarasohn writes: "Ta-da! The fruit of many years of research and writing, The Woman's Belly Book, is now in print. Published by New World Library and subtitled Finding Your True Center for More Energy, Confidence, and Pleasure, the book details practical, playful ways to reclaim the body's center as our source of vitality, passion, creativity, intuition, and sense of purpose. Do I draw on my experience at Brown? You bet. My concentration in biology comes in handy as I guide readers through the belly's physiology and somatic psychology. Courses in Buddhist and Taoist classics prepared me to appreciate Asian cultures' regard for the soul power concentrated in the body's center; my practices as a yoga instructor and bodywork therapist build on that early foundation. My hope for this book? I see women of all ages using it to develop dazzling body confidence, radiant health, and unshakable self-esteem. If you'd like more information, visit loveyourbelly. com; better yet, e-mail me!"
From the November / December 2004 Issue
James P. Cunningham is outgoing president of the Oakland County (Detroit) Bar Association. With more than 3,400 members, it is the largest voluntary bar association in the state, and one of the largest in the country. Judith Gracey '81 is the incoming president.
Jim Rianoshek writes: "All three kids are attending high school and Mary is as great as ever. I am executive director of Attention Homes in Boulder, Colo.—shelters providing care for troubled teens. I sold the gerbil ranch and rodeo biz." Wendy Strothman (see Frederic M. Alper '60).
From the September / October 2004 Issue
Paul Backalenick writes: "After working on Wall Street during 9/11, I started my own company building Web sites for small businesses (Nexxite). Most of my clients are consulting firms, other professional services firms (attorneys, accountants, etc.), artists, and fashion companies. I love creating for the Internet and business is growing steadily."
George H. Billings has joined the board of directors of Avid Technology. He is president of Billings & Co., a management consulting firm specializing in strategic and operating services for hi-tech companies experiencing major growth opportunities.
Richard Campagna accepted the Libertarian Party's presidential nomination at its national convention in Atlanta in June.
Ernest Evans (see Hank Vandersip '56).
Stephen A. Glassman was chosen by Governor Edward Rendell to chair the Pennsylvania Human Relations Commission.
Richard B. Noonan was appointed superintendent of the Madison, N.J., schools by a unanimous school board vote. He was chosen from among forty-one candidates and will lead the K–12 district through a bond referendum in April 2005.
Scott C. Reuman writes: "A musical sculpture of mine was purchased by the Arkansas Art Museum as part of their 'Toys Designed by Artists' exhibition. It is now on permanent display in their Little Rock facility. That sculpture and other current work can be seen at my Web site: www.conundrumdesigns.com. The creative world continues to provide challenges and rewards."
David Weaver writes: "My wife, Nannette, and I are pleased (and surprised) to announce the birth of our third child, Michael, a bouncing ten-pounder like his sister, 6, and brother, 8. We live in historic San Juan Capistrano, Calif., where I have my architecture practice. In a while, Nannette will continue her part-time molecular biology research at UCLA."
From the July / August 2004 Issue
Marshall Ransom has retired after thirty years with the public school system in Daytona Beach, Fla., and now teaches math at Georgia Southern Univ. in Statesboro."My four wonderful children are great," he writes. "Two of them are in college (at Georgia State and Daytona Beach Community College), and the twins are in tenth grade in Daytona."
Louise Stanton writes: "I am the author of The Breast Cancer Notebook: The Healing Power of Reflection, which is based on my work as a licensed clinical social worker facilitating groups for women with cancer. I live with my son in Santa Monica, Calif., where I am in private practice as a psychotherapist."
From the May / June 2004 Issue
Donald D'Antuono (see Anne Cooney D'Antuono '46).
Jonathan Harris (see Shelby Freedman '00).
Carol Millican writes that Penny Bienenfeld Purwin (see Obituaries) died in November, after a long struggle with multiple sclerosis. "On a happier note," Carol writes, "I am pleased to report that I received an Emmy award last May for my work as a director on the TV series Rugrats. I work at Klasky-Csupo, the company that produces Rugrats. There are two other Brown alumni here—John Andrews '77 and Aldin Baroza '86."
Dianne Audrick Smith writes: "Starting a development company at age 50-plus is more than I ever imagined. But it's growing, and this challenge is well worth the effort."
Brenda Lockhart Springsted writes: "After five years in Princeton, N.J., we have moved into a lovely older home in Trenton. Our children are grown. Simone is a teacher in Minnesota and married; Leidy is a senior at Colgate; and Elspeth is a freshman at St. John's College."
Sallie Lloyd Wolf has been awarded a four-week residency at the Ragdale Foundation, an artist community in Lake Forest, Ill. She is a visual artist from Oak Park, Ill.
From the March / April 2004 Issue
Robert G. Mair '79 PhD has been elected a fellow of the American Psychological Association. He is a professor of psychology at the Univ. of New Hampshire.
Josef Mittlemann, adjunct lecturer in engineering at Brown, received the Undergraduate Council of Students Award for Excellence in Teaching for his seminars.
From the January / February 2004 Issue
Eileen Rudden has been appointed vice president of the enterprise communications applications division of Avaya Inc. She is also president of the Brown Alumni Association.
Jim Shumacker writes: "After first practicing law and then becoming a Unitarian minister, I returned to Indianapolis in 1999 to develop an expertise in career counseling and life coaching. Last December I married my childhood sweetheart, Cathy."
From the November / December 2003 Issue
Richard V. Campagna, of Coralville, Iowa, is seeking the Libertarian Party's nomination to run as vice president of the United States in 2004.
Harriet Hanzel Cole (see Lisa Cole '99).
From the September / October 2002 Issue
Paul T. Espinosa was inducted into the National Association of Hispanic Journalists' Hall of Fame in June. Espinosa is an internationally acclaimed filmmaker whose documentary and dramatic work has focused on U.S. and Mexican issues along the border. Prior to forming his own company, Espinosa Productions, in 1997, Espinosa served as executive producer for public affairs and ethnic issues for KPBS-TV in San Diego and as the senior producer and director of the KPBS Office of Latino Affairs.
From the July / August 2002 Issue
Sharon Stern Gerstman has coauthored New York Civil Practice Before Trial (James Publishing) with Michael Barr, Myriam Altman, and Burt Lipshie.
Susan Antonio Pacheco, of Cumberland, R.I., received a recognition award from the Portuguese American Women's Association for her ten years of leadership as president and cofounder.
From the May / June 2002 Issue
Report from reunion headquarters: "Reunion plans are complete. We hope to see you at Brown for a great weekend May 24-27. Join us at your class events, Campus Dance, the Pops Concert, and the Commencement March. Register at alumni.brown.edu. If you haven't received your reunion mailing, please contact (401) 863-1947; reunions@ brown.edu."
Dianne Audrick Smith writes: "I've joined forces with my brothers to form Ames Street, a real estate development company. After twenty-two years in California, it feels great to return home to start this family company."
From the September / October 2000 Issue
Edward Guiliano was appointed president and C.E.O. of the New York Institute of Technology. He was previously the college's provost and vice president for academic affairs.
Joan Wernig Sorensen '72 (see Hank Vandersip '56).
From the July / August 2000 Issue
H. Carleton Clinch writes that he practices law in Ridgewood, N. J., where he specializes in real estate, estate planning, and the representation of not-for-profit corporations. Among his clients are the Bergen County YWCA, the Crossroads chapter of the American Red Cross, and West Bergen Mental Healthcare. Carleton and his wife, Janel, celebrated their 25th anniversary by driving through Ireland, where Carleton found a record of his ancestor, Patrick Clinch, who graduated in 1641 from Trinity College in Dublin. Carleton's son, Henri Court, finished his sophomore year at Union College and was elected president of Phi Delta Theta there. His daughter, Justine, will start her freshman year this fall at Connecticut College, where she plans to play soccer.
Joseph Glenmullen wrote Prozac Backlash: Overcoming the Dangers of Prozac, Zoloft, Paxil and Other Antidepressants with Safe, Effective Alternatives (Simon & Schuster). Joseph, a clinical instructor in psychiatry at the Harvard Medical School, is on the staff of Harvard University Health Services and is in private practice in Harvard Square. He lives in Cambridge, Mass., with his wife and three children. Find him on the Web at www.glenmullen.com.
Douglas A. Price, of Tampa, Fla., is a chiropractic physician who recently joined Camber Clinics, a multidisciplinary group that has offices in California and Florida. He writes: "It is a wonderful opportunity for me to continue working with my ofascial pain conditions using Janet Travell's model in an M.D.-D.C. practice." Doug is copresident of the Brown Club of Tampa Bay.
From the May / June 2000 Issue
Jeff Paine, of Palo Alto, Calif., writes: "I elected to start the new millennium by accepting the job of vice president of marketing for Syndeo Corp. (www.syndeocorp.com). Syndeo's software will allow DSL and cable-service providers to integrate your phones, PCs, Palm Pilots, AOL instant messengers, and more into a single phone and messaging system with CD-quality audio."
Lance Williams, of Berkeley, Calif., was named journalist of the year by the northern California chapter of the Society of Professional Journalists. A reporter for the San Francisco Examiner, he was honored particularly for his series of articles revealing that at least 100 surgery patients around the country suffered debilitating infections linked to physicians' unwitting use of ordinary medical sutures allegedly contaminated with infectious bacteria.
From the March / April 2000 Issue
Josef Mittlemann writes that he and his wife, Marsy, have moved to Cambridge, Mass., where he is getting his M.Ed. at Harvard. This year will bring his family a triple millennium graduation when he graduates from Harvard; his son, Justin '00, graduates from Brown; and his daughter, Juliet, graduates from Loomis Chaffee and starts her first year at Brown. After graduation, Joe will either teach, go for his Ph.D., or start a social-enterprise foundation to help start-up entrepreneurs with projects that have a social purpose.
Michael W. Schmit writes: "I studied at Brown for just three short semesters, but I cherish my connection to such a first-class university, as well as my many friends from the football team and Phi Delta Beta. I left Brown early to pursue a career in wildlife management with the Pennsylvania Game Commission and haven't looked back since. I enjoy my role as deputy executive director and look forward to every new day. Enjoy the reunion; I wish I could be there."
Laurinda Spear (see John Henderson '46).
From the November / December 1999 Issue
Ed Lazowska reports that he and other classmates and friends are deeply saddened by the death of John Gannon '70, '72 Sc.M. John died in his sleep of cardiac arrest at his home in Silver Spring, Md., on June 12. John, who received his Ph.D. from the University of Toronto in 1975, was chair of the department of computer science at the University of Maryland and was an internationally recognized teacher and researcher. He was married to Nancy Garrison '70, a Yale Law graduate who works at the U.S. Department of Justice. Ed writes: "I last saw John in late May at Brown, at a symposium in honor of Andy van Dam's 60th birthday. More than 200 of us had a wonderful time honoring Andy and acting nineteen again." Van Dam spoke at John's memorial service, along with Ed, who is also a Toronto Ph.D. and chair of the department of computer science and engineering at the University of Washington. The University of Maryland has established a scholarship in John's name; contributions may be made to the University of Maryland Foundation and sent to the Department of Computer Science, University of Maryland, College Park, Md. 20742. John, who was raised in Rhode Island, also is survived by his brother, Rick, of Foster, R.I.
From the September / October 1999 Issue
Buffalo, N.Y., lawyer Sharon Stern Gerstman has been elected a member-at-large of the New York State Bar Association's executive committee. Since 1981 she has been principal law clerk and matrimonial referee of the State Supreme Court, Eighth Judicial District. She is an adjunct professor at the University of Buffalo Law School and has taught at the University of Missouri-Kansas City School of Law and the University of Toledo College of Law. Sharon has spoken at numerous continuing legal education programs and has written articles for the New York State Bar Journal, Journal of the American Academy of Matrimonial Lawyers, and Family Advocate. She and her husband, Daniel, have a son, Ari Benjamin.
Joan Wernig Sorensen (see Hank Vandersip '56).
From the July / August 1999 Issue
Charles B. Wolf has been elected to the executive committee of Vedder, Price, Kaufman & Kammholz. He is a partner in the law firm's labor, employment, and employee-benefits practice. Charles concentrates on the full range of traditional labor, employment, and benefits matters, including litigation. He was recognized by the National Law Journal as one of the nation's top forty lawyers in the employee benefits field.
From the May / June 1999 Issue
Tania Bouteneff writes: "Last April I brought home from Russia my newly adopted daughter, Kristina, 51é2. Eight months later we celebrated our first Christmas together. What a joy it is! Being a single, older mom, I'd be happy to talk with anyone considering adoption, particularly of an older child. What a marvelous journey it's been!"
Jeff Paine recently started his new Silicon Valley posting as vice president of marketing for Magellan Network Systems, based in Sunnyvale. Magellan develops and markets carrier-quality telecommunications services platforms, applications, and back-office management products for phone companies worldwide. Jeff writes: "Please note that Magellan Network Systems does not make global positioning systems nor does it participate in the mutual fund market, though my Web site - www.magellan.com - gets thousands of daily hits for them."
Karl Schrick lives in Blairstown, N.J., with his wife, Cindy, and daughter, Jessie, 15. He is currently employed by Trans World Marketing in East Rutherford, N.J. Though he has finally retired from playing soccer, he still manages to coach in a local youth league. Karl and Cindy held their third annual April Fools Run for Rett Syndrome to raise money to find a cause and cure for the condition. Jessie was diagnosed with Rett Syndrome at age 4. If you want to learn more about Rett Syndrome and the April Fools Run, check out their Web site at www.rettrun.com.
From the March / April 1999 Issue
Albert Corbett (see Steven Ritter '85).
From the January / February 1999 Issue
Gerald Eaton (see Mary and Ken Eaton '33).
Roy T.R. McGrann received his Ph.D. in mechanical engineering from the University of Tulsa. During the 1998-99 academic year, he is a visiting assistant professor in the mechanical engineering department at SUNY-Binghamton, teaching machine design, vibration analysis, and materials-science. His research focuses on thermal spray coatings. "My wife, Lee, and I will commute on holidays between Binghamton and Tulsa," he writes. "She is owner/trainer at Runnymede Stables (Glenpool, Okla.), which specializes in three-day eventing. My daughter, Stephanie, is attending Colorado State University. My stepson, Sean Johnson, competes at the preliminary level and is beginning work as an apprentice horse trainer in Florence, Ala. My stepdaughter, Kelli, a drummer in her high school band, is starting work as a fashion model."
Nancy Patricia Pope is assistant dean of the graduate school of arts and sciences at Washington University in St. Louis and still teaches in the English department.
From the September / October 1998 Issue
Jean Braucher spent the 1997-98 academic year as a visiting professor at Cornell Law School. In August, she moved to Tucson, Ariz., to join the permanent faculty at the University of Arizona College of Law. Her husband, David Wohl, has started his own business in community development finance. Their children, Robert and Emma Wohl, are in the fourth and first grades, respectively, and quickly becoming experts on Sonoran desert flora and fauna.
Barbara Kennedy Gibbs received the 1998 YWCA Salute to Career Women of Achievement Award, which is given annually to a group of women leaders. Barbara has served as director of the Cincinnati Art Museum for the past three-and-a-half years. Previously, she was director of the Crocker Art Museum in Sacramento for eleven years.
Wendy Strothman gave a speech titled "On Sameness and Independence in Publishing and Bookselling" at the 1998 New England Book Awards Ceremony in April. Wendy is the executive vice president for the trade and reference division at Houghton Mifflin in Boston.
Charles B. Wolf has been named one of the nation's top forty attorneys in the employee benefits field by the National Law Journal. He is a partner at Vedder, Price, Kaufman & Kammholz in Chicago.
From the July / August 1998 Issue
Ellen B. Griffith married former opposing counsel David J. Cohen "after a suitable interval of fifteen years from our original court confrontation," she writes.
Valerie M. Parisi '75 M.D. was named chairwoman of the department of obstetrics and gynecology at the University of North Carolina at Chapel Hill's School of Medicine. Previously, she was chairwoman of the department of obstetrics, gynecology, and reproductive medicine at SUNY-Stony Brook.
Coleman Sachs writes: "My wife, Shana, and I were pleased that Brad Penney, Andrew Lantner, and Jerry Zeldis could join us for the bar mitzvah of our oldest son, Zeke, in Fairfax, Va., on March 14. Although the yarmulkes and table decorations were predominantly green, their presence made it more of a Brown event."
From the May / June 1998 Issue
Deborah Lisker started a new part-time job in January at Berwind Corp. in Philadelphia. "Ed, Hilary, Benjamin, and I enjoyed the 25th reunion last May.We visited Pat Myskowski '74 Sc.M., '75 M.D. and her family over the summer, after seeing them at the reunion."
Andrew N. Price, South Burlington, Vt., was named president of Champlain Enterprises Inc., operator of USAirways Express/ CommutAir. Andrew has been in the airline industry for twenty-three years and previously worked for Trans World Airlines, Air North, and Piedmont Express before joining Champlain in 1992.
From the March / April 1998 Issue
Jonathan Kertzer (see Pam Gerrol '87).
Susan Yelavich was the cocurator of Design for Life: A Centennial Celebration, an exhibit that ran until January at the Cooper-Hewitt Museum in New York City.
Obituaries
Jun, 2023
James H. Winkler '72, of Portland, Ore.; Nov. 22, from complications of an infection. He was president of Winkler Development Corp., a real estate development and investment company responsible for several projects in the Pacific Northwest. He was recognized for his vision, expertise, and embrace of innovative development techniques. He received several awards during his career, including an Urban Land Institute Global Award for Excellence, the highest recognition in the real estate field, for his transformation of a former hospital in North Portland into Adidas Village, the Adidas America headquarters. He served as a trustee of Portland Art Museum for over 25 years, Cedar Sinai Park, several other arts and Jewish organizations, and the OHSU Foundation. Phi Beta Kappa. He is survived by his wife, Susan; daughter Julia Winkler Jacobson '06; sons Jordan '05 and Jacob '09; two daughters-in-law; a son-in-law; four grandchildren; three sisters; a brother; and several nieces and nephews.
Apr, 2023
Charles S. "Chip" Young III '72, of Jamestown, R.I., formerly of Westport, Conn.; Aug. 24.
As a young child, he underwent open-heart surgery at Children's Hospital of Philadelphia. He was a high school star athlete in soccer, basketball, and baseball. At Brown, he played on the varsity soccer team and was named an All-American in his sophomore year. He was named All-Ivy all three years of his collegiate varsity career and in 1983 was inducted into the Brown University Athletic Hall of Fame. After graduation, he went to England in the hope of breaking into professional soccer there but was unable to gain a foothold in the English game. On his return to the U.S., he launched a career in sports journalism and then communications, utilizing his extraordinary writing skill, affable personality, and big-picture strategic capacities to guide the media outreach of a succession of environmental organizations, among them Rhode Island's Save the Bay and the University of Rhode Island Coastal Resources Center. He was later named a senior fellow of the URI Coastal Institute. He was a coauthor of the weekly opinion column Philippe & Jorge's Cool, Cool World, which ran in the Providence Eagle, the Providence Phoenix, Motif Magazine and other publications for more than 40 years, commenting on the absurdities of the world and often poking, prodding, and mercilessly pillorying politicians and celebrities both local and global. He was also a contributor to NBC10. He is survived by his companion, Beverly Black; two sisters; and a half-brother.
Apr, 2023
Paul Rosenberg '72, of Shelburne, Vt., formerly of Cincinnati; July 10, 2020, of cancer. After Brown, he earned a law degree from the University of Cincinnati and began a career as counsel to academic medical centers. He led legal departments and mentored colleagues at research hospitals, including the University of Rochester, Johns Hopkins University, Duke University, and the University of Florida. His final professional engagement was as counsel to ValueOptions in Norfolk, Va. He retired to Vermont in 2013 and became active in Everybody Wins! Vermont, a
program that pairs adult reading mentors with students throughout the state. He is survived by his wife, Megs; two daughters; a brother and sister-in-law; and six nieces and nephews.
Jan, 2023
Denise Duensing Poler '72, of Memphis; June 2. She had a lifelong career at AT&T. She volunteered at many animal shelters and enjoyed running, participating in many races to fundraise for animals. She is survived by her mother, two sisters, a brother-in-law, and four nieces and nephews.
Oct, 2022
Charles J. Ritter '72, of Port Charlotte, Fla., formerly of Jamestown, R.I.; May 12, of complications following open heart surgery. He worked as a customer support engineer at Marc Analysis Research Corp. in Providence. He left MARC in 1977 and founded Jordan, Apostal, Ritter Associates (JAR) in North Kingstown, a high technology research development and design support firm specializing in providing expertise in advanced computer methods for structural and interdisciplinary engineering analysis. JAR had undertaken many notable projects that Charles contributed to, including collaboration with Morton Thiokol in the redesign of NASA's Space Shuttle solid rocket booster after the Challenger accident and structural analysis of the Hubble Space Telescope for PerkinElmer Corp. In addition, he was JAR's sole investigator for other notable projects including ABIOMED's artificial heart flexible diaphragm simulation and finite element analysis of the rotary joints that orient and rotate the antennas on the James Webb Space Telescope. For the last two decades his focus was on the structural and thermal finite element analysis of complex lithium-ion battery designs and the structural analysis of autonomous and unmanned underwater vehicles. In his younger days he was athletic and enjoyed skiing and bicycling, including 50-mile bicycle rides with the Narragansett Bay Wheelmen. He owned two Italian racing bicycles and also had a weakness for Porsche vehicles. He enjoyed sailing with his son and participating in races around Conanicut Island. He was an avid collector of antique oriental textiles. Because he often traveled to Japan for work in the 1980s, he and his family built a pole house, like those they'd seen in Japan, from a kit. The house, in Jamestown, R.I., where they lived for 29 years, was cited in Historic and Architectural Resources in Jamestown, Rhode Island, a publication of the Rhode Island Historic Preservation & Heritage Commission. It was also featured in a 2016 article published in the Providence Journal. His demanding professional life and frequent business trips did not leave much time for community activities but he did serve for several years on the board of the East Passage Neighborhood Association, and he was part of a team of volunteers who built a community playground for Jamestown children. He regularly donated money to support the Jamestown Philomenian Library and the Jamestown Volunteer Fire Department. He was a member of the American Society of Mechanical Engineers (ASME) and served a term as president of ASME's Providence chapter. He is survived by his wife, Teresa; a daughter and son-in-law; a son and daughter-in-law; a granddaughter; a sister; two brothers; and extended family.
Oct, 2022
Paul Rosenberg '72, of Shelburne, Vt., formerly of Cincinnati; July 10, 2020, of cancer. After Brown, he earned a law degree from the University of Cincinnati and began a career as counsel to academic medical centers. He led legal departments and mentored colleagues at research hospitals, including the University of Rochester, Johns Hopkins University, Duke University, and the University of Florida. His final professional engagement was as counsel to ValueOptions in Norfolk, Va. He retired to Vermont in 2013 and became active in Everybody Wins! Vermont, a program that pairs adult reading mentors with students throughout the state. He is survived by his wife, Megs; two daughters; a brother and sister-in-law; and six nieces and nephews.
Aug, 2022
Paul L. Tariot '72, of Georgetown, Mass., formerly of North Andover, Mass.; Mar. 28. He was a retired attorney. Most recently he dedicated his time to volunteer activities such as the SHINE Program (Serving Health Insurance Needs of Everyone), offering tax preparation guidance to Medicare recipients. While living in North Andover he served as a member of the town's Conservation Commission and was active in annual town hall meetings. He is survived by his wife, Nancy; two daughters; a son; a daughter-in-law; a son-in-law; four grandchildren; two brothers; and several nieces and nephews.
Aug, 2022
James H. Gibbs '72, of Mystic, Conn.; Feb. 22, after a long illness. After graduating from the University of British Columbia's School of Architecture, he moved to Los Angeles and began working at Frank Gehry Associates. Career moves included work with Z.G.F. Associated in Portland, Ore., working on downtown streetscape improvements; Lyme, Conn., working with Inter-Design on local landmarks; and finally to Mystic in the early 1990s, where he opened his own firm. He contributed to parks and infrastructure improvements and wrote historical resources surveys for the towns. Sailing was an important part of his life since childhood and he became an original member of the Corinthian Yacht Club and longtime member of the Ram Island and Masons Island Yacht Clubs. He is survived by his wife, Pamela; a son; a sister; and two brothers.
Aug, 2022
Gary L. Costlow '72, of Johnstown, Pa.; Feb. 15. He graduated from Villanova Law School in 1975 and returned to Johnstown to practice law. He was admitted to the Bar of the United States Supreme Court and argued cases before the Pennsylvania Superior Court and the Pennsylvania Supreme Court. He was the solicitor for Richland Township, Richland Township Planning Commission, Cambria Township, Greater Johnstown Career and Technology Center, and the Forest Hills Municipal Authority. He was a member and former president of the Cambria County Bar Association and a member of the Southern Alleghenies Museum of Art. He was an avid reader and enjoyed creating and reciting limericks. He is survived by his wife, Margaret, and three daughters.
Jun, 2022
Guy R. Buzzell '72, of Providence, R.I.; Dec. 23. He had a career in banking and finance at Peoples Bank, Old Stone Bank, Advest, and Merrill Lynch, from which he retired in 2021. He was an avid reader and was looking forward to participating in the Providence Athenaeum and the Lifelong Learning Community, both of which he joined just before his passing. He enjoyed going to the mountains and beaches with his wife, Bonnie Good Buzzell '72, who survives him. He is also survived by a son and daughter-in-law and a brother.
Apr, 2022
Henry Swirsky '72, of Lincroft, N.J.; July 24, of cancer. He worked as a printing industry consultant with JS Eliezer & Associates until his retirement in 2020. He enjoyed cycling, jogging, and spending time with family. He is survived by his wife, Ann; a daughter; and brother Barry '78.
Apr, 2022
William Graham '72, '75 MD, of Phoenix; Oct. 24. He was a graduate of Brown Medical School's first class and became an infectious disease specialist, practicing in both West Virginia and Phoenix. In retirement he was labeled with the title Pickle Man at Madison Heights Elementary School and Litter Guy on Central Avenue's Bridle Path, a hobby that resulted in a local artist painting him on his route. He also volunteered to read in the middle school English classes. He is survived by a daughter, a son, a grandson, and a brother.
Jan, 2022
George H. Billings '72, of Falmouth, Mass.; Aug. 20, of cancer. After Brown he earned an MBA from Harvard Business School and began working in the cellular communications and satellite television industries. He moved to Washington, D.C., and joined a management analysis firm specializing in strategic planning and finance and marketing. A position as senior advisor of corporate development for COMSAT followed. In 1980, he was named vice president for business development of COMSAT's subsidiary, Satellite Television Corp., and later was founder and president of Billings & Co., a management consulting firm serving both Fortune 500 and development stage companies. He was a pioneering executive in the satellite TV industry in the U.S. and Latin America. He served on the boards of directors of several private and public companies and was a former director of Avid Technology, Cambridge Strategic Management Group, Cignal Global Communications, Symmetry Communications Systems, and Melior Innovations. He was a supporter of the schools he attended and served on the annual giving board of Phillips Academy at Andover. At Brown, he was a trustee, president of his class, was elected secretary and president of the Brown Alumni Association, cochairman of the Brown entrepreneurship initiative, and was a member of the Brown Annual Fund Executive Committee. In 2002 he was the recipient of the Brown Alumni Association's Service Award, and in 2008 he received the Brown Bear Award. On the day of his death, President Paxson conferred on him the honorary degree of Doctor of Humane Letters and presented him a doctoral hood. He was a lifelong member of the Quissett Yacht Club and active board member of Quissett Harbor House Land Trust. He participated on the board of overseers of the Marine Biological Laboratory in Woods Hole and supported local environmental organizations. He is survived by a sister, two brothers, four sisters-in-law, a brother-in-law, and several nieces and nephews.
Aug, 2021
William C. Moskosky Jr. '72, of West Greenwich, R.I.; Feb. 27. He was a supervisor at the Rhode Island Department of Health WIC program from 1978 to 2005. He was a Fourth Degree Knight at the Msgr. Blessing Council, an Eagle Scout, a Eucharistic minister at Rhode Island Hospital, a lecturer at Saints John and Paul Church in Coventry, and a member of the Rhode Island Ski Patrol. He was also a member of the West Greenwich School Committee and the Rhode Island Emergency Management Agency. He is survived by his wife, Catherine; a daughter and son-in-law; and a son.
Jun, 2021
Richard E. Whikehart '72, of Philadelphia; Nov. 3. He spent many years of research in clinical psychiatry and was department head of psychiatry at Abington Hospital in Philadelphia, along with operating a private psychiatric practice.
Apr, 2021
Stowe H. Tattersall '72, of Edgartown, Mass., Vero Beach, Fla., and Lawrenceville, N.J.; Nov. 25, after a three-year battle with pulmonary fibrosis. He had been an assistant vice president in the private clients group of Bankers Trust Company in New York. He is survived by his wife, Peg; a daughter and son-in-law; a sister and brother-in-law; and a nephew.
Apr, 2021
Donald S. McCullough '72, of Boothbay, Me.; Sept. 29. He worked at Rolex, where he was top salesperson for many years. He enjoyed spending as much time as he could aboard his boat and was a member of the New York Yacht Club, the Cruising Club of America, and Lincoln County Rifle Club. He is survived by his wife, Kathy; two stepsons and their spouses; five grandchildren; and three sisters, including Sandy McCullough '67.
Jan, 2021
Paul M. Rosenberg '72, of Shelburne, Vt.; July 10, of cancer. He earned a law degree at the University of Cincinnati in 1978. There he began his career as counsel to academic medical centers during an era of recurrent changes in nonprofit healthcare. In the interim years, Paul led legal departments and mentored colleagues at research hospitals, including the University of Cincinnati, the University of Rochester, Johns Hopkins University, Duke University, and the University of Florida. His final professional engagement was counsel to ValueOptions in Norfolk, Va. He retired to Vermont in 2013 and became active in Everybody Wins! Vermont, which pairs adult reading mentors/buddies with students throughout the state. In addition to mentoring students and chairing the organization's board, he was an enthusiastic participant in its annual fundraising "Race to the Top" of Mt. Mansfield. He is survived by his wife, Megs; two daughters; and a brother and sister-in-law.
Jan, 2021
Carol Braun Pasternack '72, of Santa Barbara, Calif.; Feb., after an eight-year battle with brain cancer. She joined the faculty at the University of Wisconsin for a few years before becoming a faculty member of the English department at UC Santa Barbara, from which she retired in 2013. During her last two years at UCSB she served as dean of summer sessions. While in the English department, Carol chaired the medieval studies program and mentored countless students. She took great pride in her students, some of whom remained close friends decades later. She enjoyed cooking, hiking, swimming, and skiing. She is survived by her husband, Kenneth Pasternack '71, and a daughter.
Nov, 2020
Carol Ann Marble Thatcher '72, of Toronto, Canada; June 9. She worked in the electronic publishing field, including positions at Quicklaw, InfoGlobe, and Infomart, then held management positions at CGI and the Ontario Ministry of Health. She volunteered for Out of the Cold, sang with the Toronto Classical Singers, and enjoyed gardening, traveling, and playing bridge. She is survived by her husband, Adrian; a sister and brother-in-law; two brothers and sisters-in-law; and nine nieces and nephews.
Sep, 2020
James M. L. Williams '72, of Lewiston, Me., formerly of Princeton, N.J.; Feb. 7, of sudden cardiac arrest. He spent most of his career in the wine business, first in Germany and later in New York and New Jersey. He retired in 2007 as technical services specialist of the Princeton University Library. He was also an avid birder and bird photographer, a 40-year member of New Jersey Audubon Society, and joined the Stanton Bird Club on moving to Lewistown in 2007. He traveled extensively in his birding adventures and enjoyed bowling and playing Scrabble. He is survived by a sister and cousins.
Sep, 2020
Daniel M. Babcock '72, of Yorktown Va.; Dec. 29, after a courageous battle with ALS. After Brown, he graduated from the Dental College of Georgia and established an orthodontic practice in 1978 that continued for 41 years. In recognition of his geology major at Brown he became an environmental conservationist. He was also a self-taught beekeeper, carpenter, and chicken and oyster farmer. He enjoyed skiing, sailing, fishing, crabbing, and traveling. He and his wife visited more than 50 countries and all seven continents. He is survived by his wife, Pearl; two daughters and sons-in-law; a son; and three grandchildren.
Jun, 2020
Mark J. Rosen '72, '75 MD, of Great Neck, N.Y.; July 3, 2019. His distinguished career in pulmonary and critical care medicine spanned more than four decades. His research and administrative accomplishments at New York City and Long Island hospitals were many. Over the course of his career he was director of critical care at Mount Sinai Hospital, director of pulmonary medicine and critical care at Beth Israel Hospital, and chief of pulmonary critical care and sleep medicine at North Shore University Hospital. During his tenure with the American College of Chest Physicians, he served as president, medical director, and director of global education and strategic development. He was the recipient of numerous awards. He played guitar and his bands played at parties and special events at Brown from 1968 to 1975. He is survived by his wife, Lenie; two daughters; and three grandchildren.
Jun, 2020
Anne C. Mazonson '72, of Rockville, Md; Jan. 14, after a 12-year struggle with ovarian cancer. She taught music at elementary schools in Massachusetts and at Moses Brown School in Providence. In 1987, she graduated from the University of Maryland Medical School, where she was elected to Alpha Omega Alpha. After that she was a psychiatrist in the Bethesda-Rockville area for 30 years. She was a longtime member of Adat Shalom Reconstructionist Congregation in Bethesda, where she read Torah and sang in the choir. Phi Beta Kappa. She is survived by a daughter, a son, and sister Martha Scarborough '78.
Jun, 2020
Beverly W. James '72, of Pittsburgh; Jan. 23. She served as associate minister to the Pittsburgh Presbytery and a minister of the Word and Sacrament in the Presbyterian Church for 39 years. She began her service as a mission volunteer in Thailand teaching English as a second language for five years before she entered the Pittsburgh Theological Seminary. She was the moderator of the Pittsburgh Presbytery for two terms, in addition to being an adjunct faculty member at Pittsburgh Theological Seminary, the University of Pittsburgh, and La Roche College. She was also an accomplished violinist and avid reader and enjoyed spending time at the beach with her family. She is survived by two daughters, a granddaughter, two brothers, and nieces and nephews.
Apr, 2020
Reid Coleman '72, '75 MD, of Columbia, Md.; Dec. 2. He practiced internal medicine for more than 20 years in Providence. In 2001 he became the medical director at Lifespan Health System, where he remained until 2011, when he became chief medical information officer for Nuance Communications. Throughout his career he continued to teach residents and students in the Brown system. He received many teaching awards and retired in 2017. He enjoyed traveling, woodworking, and playing bridge. He is survived by his wife, Katherine.
Jan, 2020
James J. Hughes '72, of Brielle, N.J., formerly of New York City; Sept. 17. He received his MBA from NYU and worked on Wall Street before transitioning to the FDIC, where he worked for many years. In retirement he served as a civil mediator at the Monmouth and Ocean County courthouses. He was a member of Brown's football team. He is survived by his wife, Angela; two sons; a stepdaughter; two sisters; and a brother-in-law.
Nov, 2019
Glenn Normile '72, of Marcellus, Mich.; June 26. Upon graduation, he worked for Brown's department of public safety and later served as the director of public safety at Wheaton College (Mass.), Haverford College (Pa.), and Knox College (Ill.). He was past president of the Lower Merion, Pa., Little League, as well as a coach for many years. He enjoyed bringing people together and being a part of Alpha Delta Phi. He is survived by his wife, Kathleen; two children; and three grandchildren.
Nov, 2019
Richard B. Noonan '72, of Chatham, N.J.; May 26. He was a former superintendent of schools in several New Jersey districts. For 17 years he was an adjunct professor of education at Caldwell College. He went on to teach at the Workshop School's Writing Center in Philadelphia. In 2017 he was involved with the Science Leadership Academy, where he taught and helped to develop the city internship program for high school students. He enjoyed outdoor activities and at age 50 became a marathoner, completing 13 marathons. He also enjoyed skiing, hiking, and canoeing. He is survived by his former wife, Pam Phillips Noonan '82; two daughters; four siblings; and several nieces and nephews.
May, 2019
Thomas L. Misuraca '72, of Grosse Pointe, Mich.; Jan. 9. He was a law partner at Garan Lucow Miller P.C. in Detroit, practicing product liability law, medical malpractice, and insurance defense. He retired in 2016. He was a member of the Michigan Bar Assoc. and the Detroit Athletic Club. He enjoyed sailing and biking and spending time with family. He is survived by his wife, Maria; two daughters and sons-in-law; two sons and daughters-in-law; and six grandchildren.
Jan, 2019
Frederick L. McElroy '72, of Bloomington, Ind.; July 11. He was professor emeritus of Indiana Univ. He was appointed assistant professor in 1987, promoted to associate professor in 1993, and named director of graduate studies in the new department of African American and African Diaspora Studies in 1999. He created, developed, supplied, and taught nine graduate and undergraduate classes in African American literature at Indiana Univ. over the course of his career. He is survived by his wife, Galelyn; daughter Ada McElroy-Tally '05; a son; a daughter-in-law; a son-in-law; three sisters; and two brothers.
Jan, 2019
James R. Lecky '72, of Falls Church, Va.; Aug. 3. He worked for the federal government for 31 years and was a consultant for Centra Technology for eight years. He was a member of Phi Kappa Phi and active at Knox Presbyterian Church, where he served as an elder, teacher, and occasional preacher. He is survived by his wife, Barbara; two sons; a daughter-in-law; a sister; and a brother.
Jul, 2018
H. Carleton Clinch '72, of Ridgewood, N.J.; Feb. 9. He was an assistant prosecutor for Bergen County in Hackensack, N.J., and then left to join his father in private law practice. He was chairman of the American Red Cross and involved in several community organizations. He is survived by his wife, Janel; two children; three grandchildren; and a sister.
Apr, 2018
Josef Mittleman '72, of New York City; Nov. 29, from injuries sustained in a bicycle accident. An engineering professor and real estate developer. He developed such New York City luxury high-rises as The Paladin, The Grand Sutton, and Silver Tower; was responsible for redeveloping the World Trade Center; and maintained an adjunct lecturer position in engineering at Brown. He began working as a leasing and sales broker with Cross & Brown of New York in 1972 and in 1978 was promoted to vice president and subsequently a partner with Cohen Brothers. He founded his own real estate development and management company, Empire Realty Group, in 1984. From 1993 to 1996 he and his family lived in Paris, where he was president of the Brown Club of France. After returning to the United States and earning a master's degree in education from Harvard, he joined the Brown faculty as an adjunct lecturer in the Division of Engineering. He taught and designed business management, decision-making, real estate, and entrepreneurial courses. He received the 2003 Undergraduate Student Council Teaching Excellence Award and was appointed to the President's Advisory Committee. In 2004 he became COO of Silverstein Properties, where he worked to improve the company's internal structure and was responsible for redeveloping the World Trade Center. He used that project as an example of organization, politics, entrepreneurship, and business practice for his engineering classes. He left Silverstein Properties in 2006 and returned to teaching full-time at Brown and writing two books. He enjoyed collecting art and donated some pieces of his collections to the Metropolitan Museum of Art in New York. He is survived by his wife, Marsy; a daughter, Juliet Mittleman '04; a son, Justin '00; and a sister.