GS Class of 1967
Aug, 2022
Fresh Ink for September–October 2022
Books by Nancy Rubin Stuart '67 MAT, Tory Henwood Hoen '06, and David Shields '78
Read More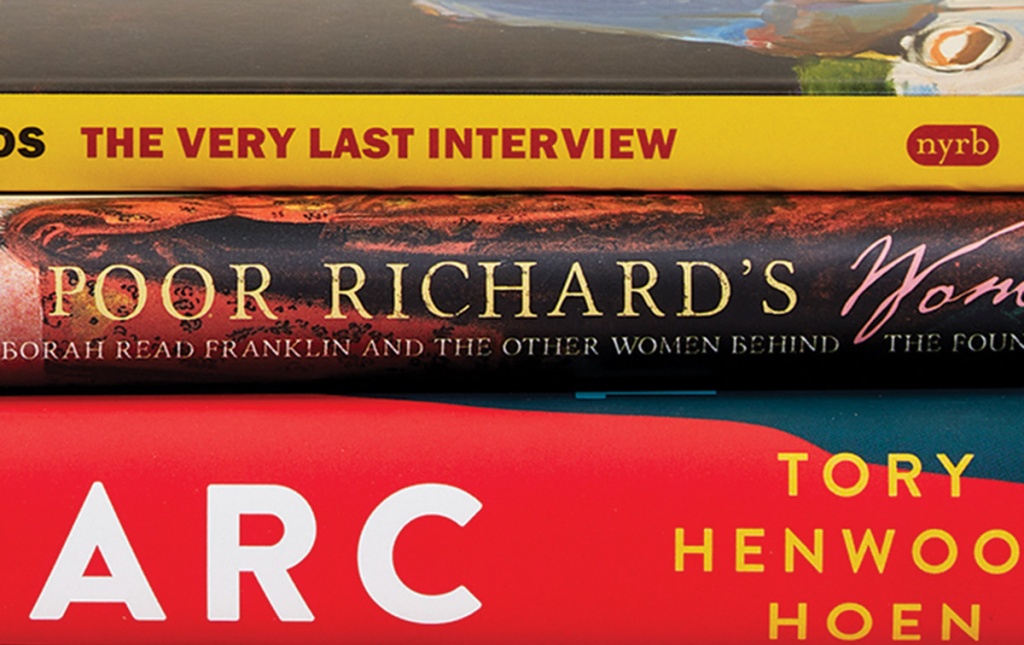 Jan, 2019
Wendell S. Brown III '67 ScM writes: "As my father used to say, 'I'm still in the harness,' which for me is a labor of love at UMass Dartmouth. My wife, Leslie, and I take time to visit our new grandson, Preston Tyler, and his parents Dylan '03 and Alexandra Athos Brown '03 in San Francisco a couple of times a year. While there we visit my other grandsons, August and Oliver, and their parents, my son Adrian and his wife, Mandy."
Obituaries
Aug, 2023
Herbert G. Schlegel '67 MAT, of Beverly, Mass.; Mar. 2. He taught at Manchester High School for 38 years and was head of the math department. In addition to his teaching, he also was coach of the math team and served as a class advisor. He was varsity coach of the basketball, baseball, and softball teams for many years. He was active in the community coaching youth sports and served as president of the North Shore Skating Club. He enjoyed reading and trivia. He is survived by two sons and daughters-in-law and nine grandchildren.
Aug, 2023
Dennis E. "Tunky" Murphy '67 AM, of Round Rock, Tex.; Dec. 4. After Brown, he moved with his family to Iowa for a position as an assistant English professor at Drake University. He left Drake for a position at Batten, Batten, Hudson & Swab, traveling the country delivering management seminars. He later joined Professional Training Associates (PTA), which specialized in monthly newsletters for workplace leaders. In 1980, he moved to Round Rock and established a branch of PTA, eventually becoming its sole owner. In the 1990s, he created and published Hard@Work, Inc. He was an active member of the Congregational Church of Austin, United Church of Christ and served as deacon, trustee, treasurer, and choir member. In retirement, he volunteered with Meals on Wheels and was an intake counselor at the Round Rock Serving Center, where he enjoyed helping serve Christmas meals. He also enjoyed astronomy, gardening, shortwave radio operating, and playing golf. He is survived by his wife, Norma "Nodie" Nice Murphy '67 AM, '75 PhD; a daughter; two sons; five grandchildren; and a sister.
Aug, 2023
William R. Powell '66, '67 ScM, of Horseheads, N.Y.; Jan. 30. In 1972, he joined the West Virginia University faculty teaching mechanical engineering and mechanics. He joined Corning Inc. in 1981 and moved to New York. He retired as a senior engineering associate in 2002 but continued his relations with Corning as an engineering consultant until 2017. He authored numerous publications and was the holder of 11 patents. He was an elder in Big Flats Presbyterian Church, a past president of the Big Flats Lions Club, and a board member for the food bank, and he applied his engineering skills to build accessibility ramps for homes. He also enjoyed traveling. He is survived by his wife, Barbara; two sons, including Jeffrey '01; two sisters; a brother; two sisters-in-law; and many nieces and nephews.
Jun, 2023
C. Wayne Williams '67 AM, of Glenmont, N.Y.; Nov. 5, after an extended illness. He devoted his entire career to higher education and served in multiple capacities at the New York State Education Department, Mid-America Universities International, Brown, and Excelsior College, where he served as Excelsior's first president. He also served on the board of trustees for the Albany Institute of History and Art. He is survived by his wife, Deborah Sopczyk; a brother; two sisters-in-law; a brother-in-law; and eight nieces and nephews.
Apr, 2023
Wan Sang Chung '67 ScM, of Wilmette, Ill.; Oct. 19. He worked at NASA and Lens-Kote, specializing in vacuum coating of surfaces, and had a passion for investing in the stock market. He is survived by his wife, Jasun; three children; and two grandchildren.
Jan, 2023
Kathleen Morris Geiersbach '67 AM, of Hyde Park, Vt.; April 30, of pancreatic cancer. She taught Latin and Greek at Rocky Hill Country Day School (R.I.) for 25 years, advancing from director of studies to head of Upper School. In 1992 she became academic dean at Fountain Valley School in Colorado Springs and, in 1997 was the founding head of Hidden Springs Community School in Boise. She and her family then moved to Vermont and she worked as a data analyst at Holy Family Hospital until retiring in 2006. She volunteered in Hyde Park and helped computerize the book collection and circulation department of Lanpher Memorial Library. She was a founding board member and treasurer of Lamoille Neighbors, a nonprofit dedicated to helping the elderly remain in their own homes as long as possible. She received the Hyde Park "Spirit of Community" award in 2021 for her volunteer work. She enjoyed gardening and cooking and is survived by her husband, Ken.
Jan, 2023
Richard B. Arnaud '67 AM, '69 PhD, of Concord, Mass.; June 28. After graduating from the University of Rochester, he attended Brown and met his future wife while working in the Brown Bookstore. Following Brown, he taught at the University of Minnesota. After returning to Massachusetts to teach at Wheaton College, he left academia for software engineering and worked on new and emerging technologies at Digital Equipment Corp., Polaroid, and Fidelity. An unexpected offer from the Suez Canal Authority to work on the LORAN tracking system in Ismailia, Egypt, gave him the opportunity to share his enthusiasm for travel and for learning about other cultures and languages with his family. After his retirement, he used his technical skills to support nonprofits and focused his free time on local and national political campaigns. He was an avid cyclist. He is survived by his wife, Joanne Appleton Arnaud '73 PhD; a daughter; a son; a sister-in-law; a brother-in-law; and two nephews.
Jan, 2023
Juan M. Alonso '67 PhD, of Cambridge, Mass.; July 10, of Parkinson's disease. He taught world literature and creative writing at Tufts University from 1962 to 2014. He was a fiction writer and published several novels based in Boston. He enjoyed playing squash. He is survived by a daughter and a son.
Jan, 2023
Kathleen Quinton Flynn '59, '67 MAT, of Smithfield, R.I.; June 18. She was a high school English teacher in the Providence School System for more than 60 years. She enjoyed spending time with her family on Cape Cod, reading, shopping, and traveling all over, especially to Europe. She is survived by her husband, Michael; a daughter; two sons and daughters-in-law; and five grandchildren.
Oct, 2022
Paul L. Estes '67 MAT, of Plymouth, N.H.; Apr. 23. After graduating from Bowdoin College he worked for a year at General Electric in N.Y. He then served in the U.S. Army Signal Corps from 1960 to 1964 and met his wife while stationed in Germany. He was discharged and began graduate work at Brown. After Brown, he taught high school mathematics in North Attleboro, Mass. He later matriculated from the University of New Hampshire with a PhD and began teaching at Plymouth State University (PSU) until his retirement in 2006 with the title of emeritus professor. He was active in the medieval forum and published papers and gave presentations on the role of Arabic philosophers in medieval mathematics history, on mathematics education, and on writing across the curriculum. He spent sabbaticals in Munich and Hamburg, Germany, studying comparative methods of mathematics education and advocating for the adoption of both the metric system and more holistic mathematics pedagogies to help reduce math anxiety and increase mathematics literacy among students in the United States. He and his wife, who taught German at PSU, endowed three scholarships at the university for the study of German and mathematics. He was an athlete and hiked all of New England's four-thousand-footers, several of Colorado's "fourteeners," and the John Muir Trail in California. He canoed the Allagash (Maine) and Buffalo (Arkansas) rivers, rafted the Grand Canyon, played on local basketball and hockey teams, ran road races, skied and snowshoed, and excelled in a regional racquetball league. He is survived by his wife, Gisela; a daughter; a son; a grandson, a brother and sister-in-law; three half-sisters; and nieces and nephews.
Aug, 2022
John Meretta '66, '67 MAT, of Cincinnati; Mar. 2, of lung cancer. He taught math at Samuel Ach Junior High School in Cincinnati before deciding to move to St. Croix, U.S.V.I., in 1970. There he taught middle school math for several years before changing career paths and purchasing a fixer-upper apartment building in 1976. As owner and resident manager, he transformed the complex, which he named Bay Garden Apartments, into a successful business. He soon added another property to his portfolio, Bay Court Apartments, and with entrepreneurial spirit also created side businesses that included repairing copy machines and installing burglar alarms. After more than 20 years living and doing business in St. Croix, he sold off his assets and moved back to Cincinnati, where he purchased and managed multiple rental properties. He enjoyed the arts, especially attending the symphony and opera, and was an avid fan of the European masters. He also enjoyed the outdoors, especially waterskiing. He is survived by two daughters and their spouses, including Julia Meretta Keller '89; five grandchildren; and two siblings.
Apr, 2021
David M. Nicholas '67 PhD, of Clemson, S.C.; Nov. 10. He taught at the University of Nebraska-Lincoln from 1967 to 1989 and retired from Clemson University in 2006 as the Kathryn and Calhoun Lemon Professor Emeritus of History. In retirement he continued to teach at Osher Lifelong Learning Institute in Clemson, including classes in classical music. He was an accomplished classical pianist and playing the piano was one of his favorite hobbies. He is survived by his wife, Marlene; a daughter; a son and daughter-in-law; three stepchildren; and eight grandchildren.
Apr, 2021
Francis Crowley '67 MAT, of Portsmouth, R.I.; Aug. 14, 2019. He was a teacher with positions at Cranston West and Moses Brown schools, and later at Roger Williams and Rhode Island College. In 1970 he entered the private sector and began a 20-year career with CIBA-GEIGY Corporation, from which he retired in 1991 as a corporate director. After retiring, he entered Portsmouth Abbey Monastery and taught in the science and Christian Doctrine departments. For 15 years, Brother Francis also served as the community's master of ceremonies, overseeing the liturgies and celebrants and altar servers. He is survived by two daughters, a son-in-law, and a sister.
Jan, 2021
Gerard H. Martineau '67 ScM, of Falmouth, Mass.; June 26, one day short of his 83rd birthday. He was a physics instructor at Portsmouth Abbey School in Portsmouth, R.I., for eight years. He later worked at Woods Hole Oceanographic Institution and for the United States Air Force radar site PAVE PAWS Cape Cod. Finally, he worked at the Naval Undersea Systems Center in Newport, R.I., retiring after more than 20 years. He was an avid supporter of the arts and frequently attended classical music concerts both in Boston and Cape Cod. He is survived by two sisters-in-law, a niece, and a nephew.
Mar, 2019
Judith Naughton Mitchell '67 AM, of Providence; Dec. 2, from myelofibrosis. She joined the faculty of Rhode Island College in 1972 and retired from teaching as professor emerita, though she continued as an adjunct for several years in retirement. During her years as RIC she taught a range of courses, wrote for publications and professional journals, presented papers at numerous conferences, and provided workshops for teachers and other educators in Rhode Island and throughout New England. From 1990 to 1999 she held a joint appointment in secondary education, where she was instrumental in the training of student teachers. She was the recipient of the 1987 Paul Maixner Distinguished Teaching Award for Arts and Science. She retired from RIC and was called to the ministry. In 1992 she was ordained to the Episcopal priesthood. In 1993 she was the rector of The Church of the Advent in Pawtucket, R.I., followed by the position of rector of St. Matthew Church in Barrington, R.I., where she served for 10 years. After Barrington she was Priest in Charge of Saint John the Divine in Saunderstown, R.I. She retired due to health issues, but returned to be Vicar of St. James Church in North Providence and Priest in Charge at All Saints Memorial Church in Providence before her death. She is survived by her husband, Raymond; five children; three grandchildren; her parents; and five siblings.
Jan, 2019
Patricia Malafrone Caizzi '67 MAT, of Bristol, R.I.; Aug. 4, after a long illness. She was a retired English teacher. In retirement she enjoyed reading, traveling, and playing duplicate bridge. She is survived by her husband, Frank; two daughters, including Carolyn Caizzi '02; a son; four grandchildren; and a brother.
Jan, 2019
Geoffrey H. Spranger '55, '67 MAT, of Middletown, R.I.; Aug. 2, following a brief illness. While at Brown he was captain of the sailing team and during summer breaks he was a sailing instructor at Bristol and Barrington Yacht Clubs. Following graduation, he was hired as an English/social studies teacher, sailing coach, and dorm master at St. George's School in Middletown, where he remained on the faculty until 1971. In 1958 he purchased a Hereshoff Class S-Boat, which he raced for 10 years, winning the class championship in 1968. In 1971 he left teaching to become an associate editor at Sail magazine, where he remained until 1979. He then accepted the position of editor for The Practical Sailor, steering the publication until 1987. In his final working years, he was the salesroom manager at Jamestown Distributors, retiring in 1998. Highlights of his sailing and racing career include being a member of the Newport to Bermuda Race crew in 1964, reporting on racing for the America's Cup for the Newport Daily News, and acting as copublisher of the America's Cup Report in 1980 and 1983. His last boat, a custom yacht he spent 10 years building, allowed him and his wife to cruise and race for more than 40 years. He is survived by his wife, Betsy; a daughter; a son; and five grandchildren.
Nov, 2018
Joseph N. Scionti '67 PhD, of North Dartmouth, Mass.; July 1. He was a history professor at UMass Dartmouth and recipient of the Leo M. Sullivan Teacher of the Year award in 1971. He lectured and enjoyed Celtics basketball and traveling. He is survived by his wife, Elsa; a daughter; a son; a daughter-in-law; a granddaughter; and a great-granddaughter.