GS Class of 1970
Jan, 2023
Carol Bonomo Albright '70 AM published her novel Hold Up the Head of Holofernes. It is available on Amazon and Barnes & Noble or at independent bookstores.
Jan, 2023
In 1958, Dr. Lois Hodgins Monteiro '70 PhD married George Monteiro '54, '64 PhD, and he later became a faculty member in the English department. After Lois received her PhD she was a faculty member in bio-med until she retired. "Apart from Martha Sharp Joukowsky '58 PhD and Artemis Joukowsky '55, I think that we might be the only other couple with '58 affiliations who made their lifelong professional lives at Brown, quite an accomplishment. Please let me know if you know otherwise. Furthermore, son Stephen '90 and daughter Kate Monteiro '87 AM graduated from Brown."
Jan, 2021
Stephen J. Tillman '70 PhD published his second novel Leopard's Revenge, a fantasy spy novel. It is available at amazon.com or barnesandnoble.com.
Oct, 2020
Fashion Soldier
Glamour and heartache in a memoir from André Leon Talley '73 AM
Read More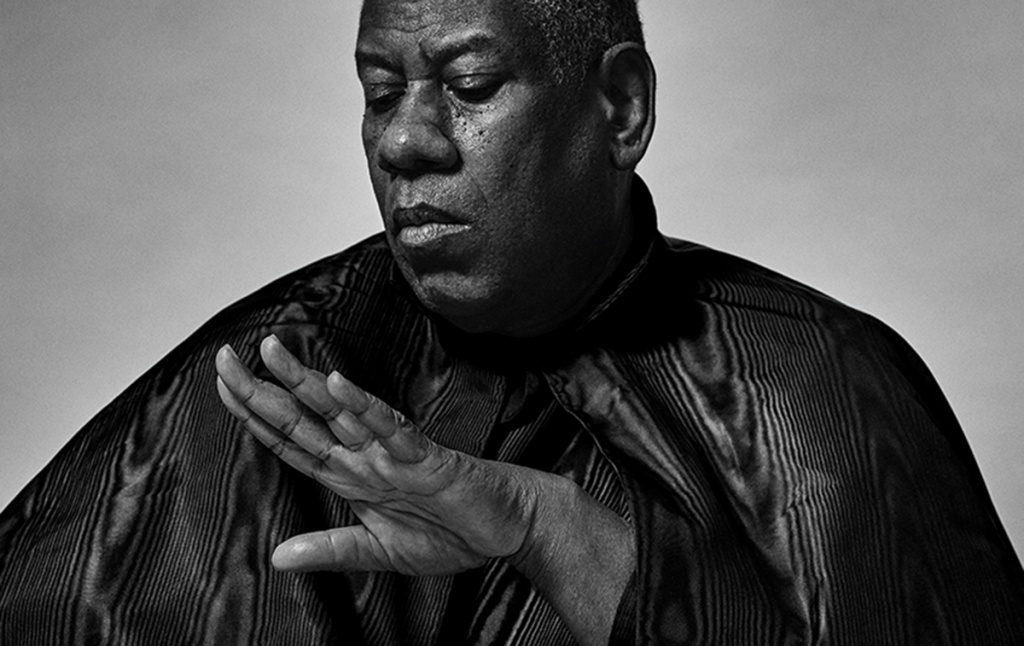 Jan, 2020
Christopher Hewitt '65 AM, '70 PhD, had his book Catching Terrorists in America: From Martin Luther King Jr.'s Murder to the Boston Marathon Bombing published in 2019. He writes that this will be his last book as he spends most of his free time playing with his four-year-old granddaughter. Contact him at hewitt@umbc.edu.
Sep, 2019
Paul Raymond Michaud '70 AM writes about the unexpected death of his wife of 34 years, Annie Héon Leclerc. "We lived a life of love, separately but together, like our heroes Jean-Paul Sartre and Simone de Beauvoir, in two separate apartments overlooking the Château de Saint-Germain-en-Laye in the western suburb of Paris. I am moving into Annie's apartment joined by our pet chartreuse Mélisande." Contact Paul at Domaine de Montval, 37, avenue Auguste Renoir, F-78160 Marly-le-Roi, France; paulmichaud@free.fr.
Obituaries
Oct, 2022
Diane Lafazanis Dulude McKenzie '69, '70 MAT, of North Bend, Wash.; Mar. 4, of multiple myeloma. After receiving her master's degree from Brown, she joined the U.S. Air Force. She retired in 1998 as a lieutenant colonel. Ever strong in her faith, she read the Bible from cover to cover almost on an annual basis. She is survived by her husband, Rick.
Aug, 2022
Bradford K. Davis '70 AM, of Williamstown, Mass.; Mar. 17. He dedicated a 40-year career to progressive high school education at the Buxton School, where he served as teacher, administrator, coach, and mentor. He enjoyed gardening, sailing, sketching, and traveling to Europe. He is survived by his wife, Elizabeth; two daughters and sons-in-law; two sons and daughters-in-law; and nine grandchildren.
Jan, 2022
Richard R. Brockhaus '70 AM, '71 PhD, of Rockville, Md.; Aug. 12. He taught philosophy at Bucknell University before moving to Maryland to teach calculus and physics at Landon School in Bethesda for 30 years. He is survived by his wife, Ann; a daughter; a son; two stepdaughters; five grandchildren; and a sister.
Jun, 2021
P. Dwight Sherman Jr. '70 PhD, of Johnson City, Tenn.; Dec. 20. In 1968, he began working at Union Carbide Chemical Company in South Charleston, W.Va. He served in various roles, advancing to lead the Union Carbide South Charleston Technical Center site. When he retired, he was serving as Union Carbide's link to the West Virginia legislature, public, and media as director of public affairs. He retired in 2001. He also held board positions at the United Way of Central West Virginia from 1993 to 2011 and served as vice chairman of the board of directors for MATRIC, a West Virginia-based technology development organization that he helped found. He is survived by his wife, Marilyn; two daughters and sons-in-law; two grandchildren; a sister; a brother; and several nieces and nephews.
Apr, 2021
Lawrence R. Ernst '70 PhD, of Silver Spring, Md.; Nov. 4. He spent the majority of his career as a mathematical statistician for the Census Bureau and the Bureau of Labor Statistics. He is survived by his wife, Gail; a daughter and son-in-law; a son; and two granddaughters.
Nov, 2020
Virginia J. Dunmire '70 MAT, of Prairie Village, Kans.; Apr. 23, of cancer. She taught history and later became the admissions director at Chatham Hall Boarding School for Girls in Chatham, Va. She enrolled in the University of Virginia School of Law and earned her JD degree in 1979. She was the first female editor of the Virginia Law Weekly. She joined the law firm of Spencer Fane Britt & Brown in Kansas City, eventually moving on to the legal department of Commerce Bank. She is survived by two brothers, a sister-in-law, and many nieces and nephews.
Nov, 2019
Benjamin Wolkowitz '70 PhD, of Chilmark, Mass., and Madison, N.J.; Aug. 2, of pancreatic cancer. He was a retired Morgan Stanley managing director. He had served as the vice chair of the Futures Industry Association, vice president of the Federal Reserve Board, and section chief of the Division of Research and Statistics. Most recently he served as a Madison Borough Councilman for two terms. He is survived by his wife, Lois; a daughter; a son; and four grandchildren.
Nov, 2019
Richard A. Derrig '64 ScM, '70 PhD, of Providence, Feb. 8. He was a visiting professor at Fox School of Business at Temple University and was an adjunct professor at the Wharton School at the University of Pennsylvania. He taught graduate and undergraduate mathematics at Villanova University, Wheaton College, and Brown University for a total of thirteen years. In 2004, he established and was president of OPAL Consulting LLC, providing research and regulatory support to the property-casualty insurance industry. Over the course of his career he authored more than 60 books and papers and conducted professional presentations at universities across the globe. He was the recipient of several prizes and awards. Only just recently fully retired, he was senior vice president of the Automobile Insurers Bureau and a vice president of the Insurance Fraud Bureau, both of Massachusetts. Through the years, he remained a loyal alumnus of Brown and an avid Brunonian sports fan attending Brown football and hockey games since 1967. He was also a dedicated commencement forum attendee, an avid participant in the Brown Travelers Program, and honored to be an alumni marshal for the Graduate School in the 2003. By far, his favorite Brown moment was his granddaughter becoming a member of the Brown Class of 2020. He is survived by his wife, Nancy; two children; a son-in-law; and granddaughter Tess Rossi '20.

(Below image of Richard A. Derrig '64 ScM, '70 PhD and granddaughter Tess Rossi '20 in front of Van Wickle Gates)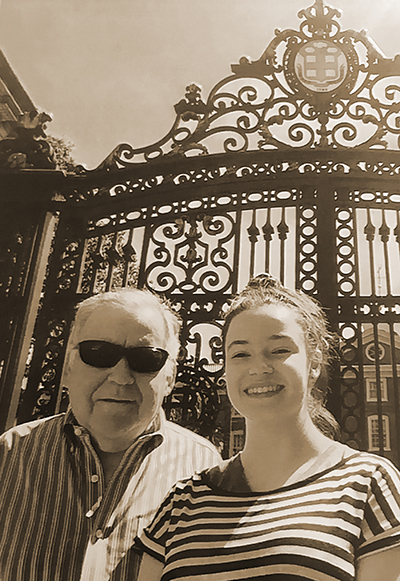 Nov, 2019
Joel S. Silverberg '63, '70 ScM, '76 PhD, of Providence; Aug. 11, of lymphoma. After earning degrees in music, electrical engineering, and biomedical engineering, he received a postdoctoral certificate from the Institute for Retraining in Computer Science and held faculty positions at Vassar College, Boston University, Roger Williams University, and Brown. In retirement he pursued his long-standing fascination for navigational mathematics and the practical mathematics of the 17th and 18th centuries, writing several papers and conference presentations. He enjoyed singing and playing several instruments. He was an avid sailor and liked birding. He is survived by his wife, Patricia Brennan '75; a daughter; a sister; and a niece and nephew.
Sep, 2019
Charles W. Higginbotham '70 PhD, of Lexington, Mass.; Apr. 2, from complications of Parkinson's. He worked in the field of academic computing for GT&E and as a consultant to several universities, including the University of Alaska Fairbanks. In 1979 he joined the faculty of Rensselaer Hartford and retired as associate professor in 1996. He was a member of First Church of Christ Congregation in Middletown, Conn., where he sang for many years in the senior choir. He was a fan of the Boston Red Sox and enjoyed sailing, skiing, tennis, crossword puzzles, and genealogy. He is survived by his wife, Louise; a daughter; a son, Andrew '97; three grandchildren; a sister; and several nieces and nephews.
Jul, 2019
Mark B. Moffett '70 PhD, of North Kingstown, R.I., formerly of Waterford, Conn.; Mar. 14. He was a physicist for the Naval Undersea Warfare Center in New London and Newport and later was an assistant professor of ocean engineering at URI. For the majority of his career he worked as a civil servant for the U.S. Navy and secured four patents in designs for sonar systems for the government. He was a member of the Institute of Electronic and Electrical Engineers, Sigma Xi, and a fellow of the Acoustical Society of America. He served on the board of trustees for the Waterford Public Library. An avid musician, he was in numerous community bands, quartets, and various ensembles. He was a longtime member of the Westerly and Lafayette Bands and a founding member of the Waterford Community Band. He enjoyed exercising, swimming, running, and the Boston Red Sox. He is survived by his wife, Marilyn; three daughters and their spouses; a son and his wife; nine grandchildren; and a brother.
May, 2019
Robert J. Tracy '70 ScM, of Blacksburg, Va.; Jan. 6. After a postdoctoral fellowship at Harvard, he taught at Yale from 1978 to 1986 and then assumed a professorship at Virginia Tech. He was chair of the department of geosciences at Virginia Tech from 2005 to 2008 and was director of the Museum of Geosciences. He was active in the Geological Society of America, the Mineralogical Society of America, and Sigma Xi. He is survived by his wife Patricia; a sister and brother-in-law; a brother and sister-in-law; a niece; and a nephew.
Nov, 2018
Jeffrey O. Young '70 PhD, of Chapel Hill, N.C.; June 21. He was a professor at Ohio State Univ. until 1972, when he joined the staff of Campus Crusade for Christ. He held several positions with the organization, including a campus directorship at Missouri State Univ. and a year at the Univ. of Abidjan in Cote d ' Ivoire, West Africa. He retired from missionary work in 1982 and moved to Chapel Hill to begin a 35-year career as a computer scientist researching atmospheric models for the U.S. Environmental Protection Agency. He retired in 2017. He became an ordained minister in 2015 to officiate at his grandson's wedding. He enjoyed running, biking, and playing the guitar. He is survived by his wife, Sharon; a daughter; two sons; two daughters-in-law; a son-in-law; eight grandchildren; and six great-grandchildren.
Nov, 2018
E.S. Purandara Das '70 PhD, of New York City; June 24. He was a retired vice chairman of Merrill Lynch and a former Brown Trustee. He is survived by his wife, Kuntala; three sons; and two granddaughters.