GS Class of 1977
Jan, 2023
Les Servi '77 ScM writes: "I don't remember the last time I sent in an update. I was elected president of the Military Operations Research Society. My day job, however, is chief scientist in cyber operations research at the MITRE Corporation."
Jan, 2020
On October 26, the Brown University Corporation dedicated a memorial to Trustee Ken McDaniel. The memorial is an engraved concrete block lining a brick walkway in the Maddock Alumni Center gardens. Ken died on June 11, 2019, just 16 days after celebrating his 50th class reunion (See Farewell, BAM Obituaries, September/October). Following the dedication, the Class of 1969 presented a 154-page book created and published by his classmate Thelma Austin. The title is A Faithful Servant: Biographical Tribute to Kenneth Harrison McDaniel, 1947-2019. In addition to his biographical summary, the book features 24 tributes. Tributes were from President Christina Paxson and seven current and emeriti trustees, including Bernicestine McLeod Bailey '68, Harold Bailey '70, Sheryl Grooms Brissett Chapman '71, Spencer Crew '71, Galen V. Henderson '93 MD, Susan Adler Kaplan '58, '65 MAT, and Preston Tisdale '73. Nine classmates who contributed were Linda Abbott Antonucci, Phyllis Cunningham-Hutson, Gail DeCosta, Ido Jamar '74 ScM, '77 PhD, Anderson Kurtz, class president Joseph Petteruti, Theodore Sherrod, Wesley Smith, and Randall Ward. Two other alumni also contributed: Glenn Dixon '70 and Russell Malbrough '98. Others who contributed were professor Françoise Hamlin, Reza Clifton, Paul Simas, Stanley Thompson, and Rev. Adam Young. Copies of the book were presented to President Christina Paxson; Ken's wife, Susan McDaniel; and the John Hay Library. All alumni are encouraged to have their autobiographies and biographies archived in the John Hay Library.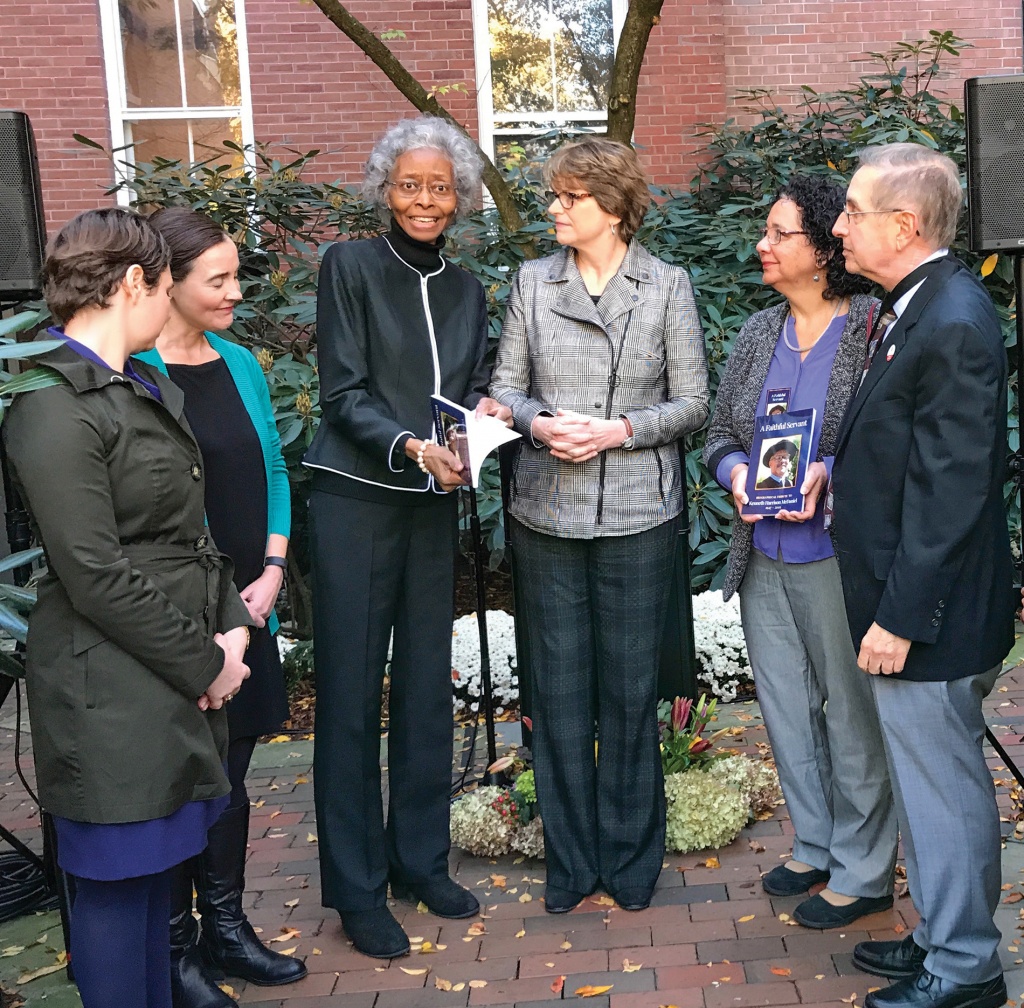 Sep, 2019
Bill Armitage '74 ScM and Dave Baldauf completed a coast-to-coast drive in Dave's Tesla. Dave dropped Bill in San Francisco to visit with his daughter Amelia '15, and completed the return trip solo. Their trip was somewhat of a reprise of their dash from the Ratty to the Kennedy Space Center (accompanied by classmate Bill Davies '77 ScM) to watch the night launch of Apollo 17.
Nov, 2018
Elena Barcia '77 AM released a translation of Miguel de Unamuno's Niebla in August 2017. It was published by Northwestern Univ. Press. Elena writes: "It is a humorous and thought-provoking revolutionary novel, an early example of modernism's challenge to the conventions of 19th-century realist fiction." Elena works as a film translator and has translated hundreds of films for Hollywood, as well as serving as a translation consultant for directors like Alejandro Iñárritu.
Obituaries
Jun, 2023
Oldegard Wahnon '77 AM, of Philadelphia; Nov. 1. He was a third and fourth grade teacher in the Providence, R.I., school district for more than 30 years. He is survived by his wife, Maria; three children, including Sandra Wahnon Lopes '89 and Carla Wahnon '91; a grandchild; and four siblings.
Jun, 2023
Stuart H. Zamlong '72 ScM, '77 PhD, of Clifton Park, N.Y.; Jan. 15. He taught math at several universities and worked in the financial services division of New York State before becoming certified as an actuary. He enjoyed playing checkers and chess and was an avid Yankees fan. He is survived by a brother and nieces and nephews.
Jun, 2022
Bruce P. Sparks '77 MAT, of North Haven, Conn.; Nov. 20. He was a high school English teacher and had a career in the printing industry at the former Columbia Press, Herlin Press, and Keno Graphic Services. He enjoyed literature, music, and fishing. He is survived by his wife, Debbie, and many nieces and nephews.
Jun, 2022
Kathleen Roy Cummings '77 AM, of Chicago; Dec. 15. She taught architectural history at Northwestern University, lectured at the Art Institute of Chicago, and authored books and articles about Chicago architecture. She enjoyed visiting and walking through the National Parks and sitting on Lake Michigan beach reading a book. She is survived by her husband, Dan, and two daughters.
Jan, 2022
Ruth H. Pater '77 PhD, of Bethesda; formerly of Yorktown, Va., and Windsor, Conn.; June 27. She taught undergraduate chemistry at Southeastern Massachusetts University and did postdoctoral work at Brown before entering the private sector as a chemist at United Technologies Research Center in Hartford, Conn. In 1980, she joined NASA as a senior polymer scientist, first at the Glenn Research Center in Cleveland, and then at Langley Research Center in Hampton, Va., where she worked until her retirement in 2013. During her tenure with NASA she achieved global recognition and in 1981 the Society for the Advancement of Material and Process Engineering chose a paper she had coauthored on epoxy resins as its paper of the year. She was the recipient of numerous awards, including the NASA Exceptional Scientific Achievement Medal, the 2005 NASA Commercial Invention of the Year Award, and a Floyd L. Thompson Fellowship to conduct research at the Tokyo Institute of Technology for a year. In addition she held more than 20 U.S. and foreign patents. She enjoyed gardening, cooking, hiking in Shenandoah National Park, and listening to opera. She is survived by three daughters, seven grandchildren, a sister, and two brothers.
Nov, 2021
Thomas Souza '77 MAT, of Norwood, Mass.; May 18. He was fortunate to have traveled the world through his many years of work as a travel executive but enjoyed being on the deck of his house on Cape Cod the best. He is survived by two children, a sister and brother-in-law, and three brothers and sisters-in-law.
Nov, 2021
Lois Palken Rudnick '77 PhD, of Santa Fe, N.Mex.; June 6, of multiple myeloma. A graduate of both Brown and Tufts, she taught at UMass Boston and chaired its American studies program for 25 years. She had a fierce drive to build a more equitable society through teaching, advocacy, and activism. She was a believer in the power of people to make it in this country and do better, and while teaching a class on immigration issues, she took her class on a field trip to the Statue of Liberty to help students visualize the feeling of entering a new world. Past students remember her singing and dressing up to teach. After moving to New Mexico, she immersed herself in the culture and became a driving force of Interfaith Coalition for Public Education in Santa Fe. She was fascinated by Mabel Dodge Luhan and authored several books, including The Suppressed Memoirs of Mabel Dodge Luhan. In addition to being a community activist, an author, and a teacher, she in recent years began channeling the spirited power of Wonder Woman, including wearing a Wonder Woman bracelet and robe. She continually pushed to empower others. She is survived by her husband, Steven; daughter Deborah Rudnick '94; a granddaughter; a sister and brother-in-law; and a brother and sister-in-law.
Aug, 2021
Robert J. Brinkmann '77 AM, of Easton, Md.; Feb. 12. He graduated from Loyola Law School, Loyola Marymount University in 1980, and practiced law. He is survived by his wife, Lisa; three children; and three sisters.
Apr, 2021
Aida M. Botelho '77 AM, of Fall River, Mass.; Nov. 6. She taught in the Providence school system for 36 years and dedicated her life to caring for her parents and siblings. She is survived by a sister and many cousins.