GS Class of 1989
Jun, 2022
Robert Mueller '89 AM, '95 PhD, announces the publication of his book, Hereafter Knowing in Sonnets and Their Similars, with Lexington Books, an imprint of Rowman & Littlefield. The book is a literary study with forays into philosophy and theology.
Jan, 2022
The Royal Swedish Academy of Sciences announced that Guido W. Imbens '89 AM, '91 PhD, a Stanford University economist, is one of three recipients of the 2021 Nobel Prize in Economic Sciences. He and his colleagues were awarded the prize in recognition of their methodological contributions to the analysis of causal relationships. The Academy's chair noted that "their work has revealed ways in which natural experiments—experiments that divide people into treatment and control groups naturally, without any scientific intervention—can answer important questions for society."
Nov, 2019
Eileen Angelini '89 AM, '93 PhD writes: "After an amazing year as the 2018-2019 Whichard Distinguished Visiting Professor in the humanities in the Thomas Harriot College of Arts and Sciences in the department of foreign languages and literature at East Carolina University, I am thrilled to begin my new position as the associate dean of the School for Graduate Studies at SUNY Empire State College."
Sep, 2019
Dual Mayors
Brown alums take the reins in Greece's two largest cities
Read More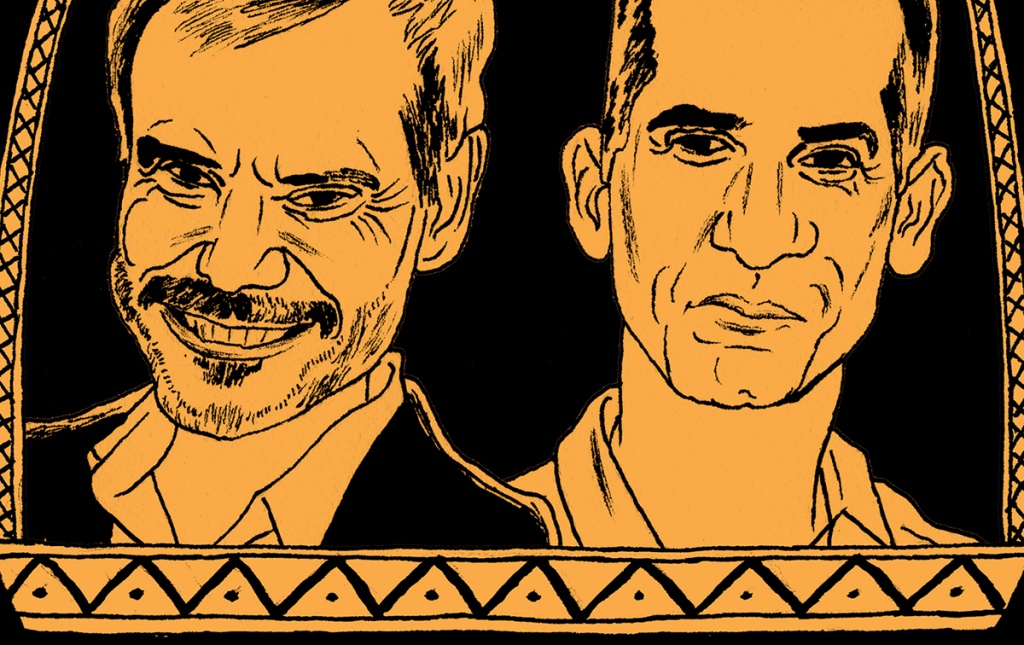 Jan, 2019
Arnold H. Selengut is happy to announce his grandson, Micah '22, is the fourth generation to attend Brown. Arnold's son, Jeremy '89, was also a Brown graduate, as was his dad, Manuel '30. Micah's mother, Jessica Sunshine '88, '89 ScM, '94 PhD, is also a Brown graduate.
Obituaries
Aug, 2022
Mark J. Hintze '89 PhD, of Charlotte, N.C.; Mar. 13, from lung cancer. He spent his entire 28-year career devoted to the lithium industry, working at the Kings Mountain (N.C.) lithium site. He worked for Cyprus Foote Mineral/Chemetall Foote Corp. as manager of organometallic chemistry for six years, then 14 years as director of research and development under Chemetall Foote Corp./Rockwood Lithium Inc., then for the last eight years under Albemarle Inc. as manager of battery materials for three years and as research and development advisor of technical services for lithium for his last five years. As manager of organometallics, he built a new organometallic laboratory, initiated a new research program and brought two new organometallic products from conception to full-scale production. He designed and developed the kilo lab at Kings Mountain that piloted new organometallic products that were ultimately commercialized and provided technical support for the new organolithium product line. As manager of battery materials, he was a key contributor to the development of lithium alloys for next generation rechargeable batteries, improving the purity of lithium metal for the battery and commercial markets. Outside of his profession, he stayed current on everything science-related and was a sci-fi fan. He was a member of the American Chemical Society. He enjoyed a good cigar, had a refined taste for craft beer, and was skilled at grilling and a master of the Big Green Egg smoker. He is survived by his wife, Ammie; a daughter; two grandchildren; and a sister.
Jun, 2022
Timothy Alavosus '89 PhD, of Hudson, N.H.; Nov. 28. He was a cofounder and COO of AlgaMetrics in Marblehead, Mass. He volunteered at MSPCA animal shelter in Methuen, Mass., and enjoyed playing guitar. He is survived by his wife, Marilee, and a son.
Apr, 2021
Jeffrey P. Whitman '89 AM, '91 PhD, of Selinsgrove, Pa.; Sept. 25. Following his graduation from the United States Military Academy at West Point, Jeff served in the U.S. Army. He was an artillery officer and spent a significant part of his career in Germany. He returned to West Point in 1987 and taught philosophy and English there until his retirement in 1995 with the rank of major. Jeff then began a second career as professor of philosophy at Susquehanna University. He served as philosophy department head from 2000-2010, was speaker of the faculty from 2005-2008, chaired the Edward S. and A. Rita Schmidt Lecture in Ethics for many years, was codirector of the Arlin Adams Center for Law and Society, and served on such committees as the Advisory Committee on Intercollegiate Athletics, University Council, and the Faculty Affairs Committee. In recognition of his outstanding teaching and service, he received the John C. Horn Award for Distinguished Scholarship and Creative Activity in 1998. Jeff was a published expert of war theory and medical ethics. He was the faculty advisor for Susquehanna University's ROTC cadets for many years and served on the Geisinger Medical Center Bioethics Review Committee. Active in the Selinsgrove community, Jeff served two terms on the board of directors of the Selinsgrove Area School District. He was a member of Sharon Lutheran Church, Selinsgrove, where he served as the Church Council president and sang in the choir. He is survived by his wife, Linda; a daughter and son-in-law; a son; a stepson and his spouse; four grandchildren; a sister; and a brother
Apr, 2021
Linda L. LaGasse '89 ScM, '91 PhD, of East Greenwich, R.I.; Sept. 19. She had been director of research at Brown's Center for the Study of Children at Risk and at Women & Infants Hospital. She dedicated her life to infant and maternal health. She is survived by her husband, Barry Lester; five children; and three grandchildren.
May, 2019
David L. Hoffman '89 ScM, of Menlo Park, Calif.; Dec. 15, of pancreatic cancer. He began his career at Sun Microsystems. His experience in the mobile computing space and in big data computer system design helped startups across Silicon Valley. He made lasting contributions at GetThere, Good Technology, Motorola, and most recently Skyhigh Networks. He traveled and enjoyed learning new languages. For three years he lived in Taiwan and learned Chinese before resettling in California. He had a passion for endurance sports and was proud to have run six marathons, including the 2016 Boston Marathon; Spartan and Tough Mudder races; and the 125-mile Golden Gate Relay. He is survived by his wife Jane and her son; his father; a sister and brother-in-law; and a niece and a nephew.