GS Class of 1992
Nov, 2021
Peter M. Athanas '92 PhD, professor of electrical and computer engineering in the College of Engineering at Virginia Tech, has been conferred the title of professor emeritus by the Virginia Tech Board of Visitors. A member of the Virginia Tech faculty since 1992, he was the principal or coprincipal investigator on grants researching high performance reconfigurable computing and signal processing. He disclosed 10 patents and was granted four U.S. patents. He also authored or coauthored more than 150 peer reviewed journal and conference papers and two book chapters. He served on numerous proposal review panels, including review panels for the National Science Foundation. In the classroom, he taught both undergraduate and graduate courses. He directed more than 90 master's degree and 20 PhD students and served on more than 220 master's degree and PhD committees in total.
Apr, 2021
Christine Shin Yin '92 MAT (see Justine Stamen Arrillaga '92).
Apr, 2021
Justine Stamen Arrillaga had a fun gathering with Christine Shin Yin '92 MAT visiting (from San Francisco) her sister Jodi Shin Yamamoto '93 in Honolulu, where both Justine and Jodi live.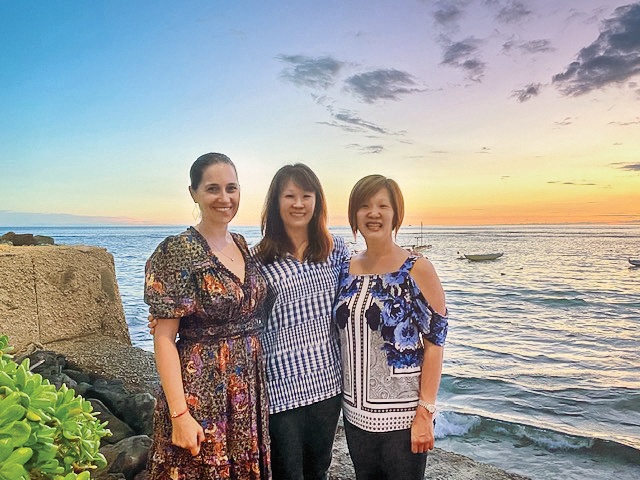 Jan, 2021
Constance Moore '92 AM illustrated the children's book Brown: The Many Shades of Love. Written by Nancy Johnson James, the narrative around skin tone and celebration of self takes on a sweet and simple guise in this story.
Jan, 2019
Ulle Viiroja Holt '92 AM, '00 PhD, writes: "This past August I had a first birthday party for my grandson Aeneas, who is the latest grandchild to join our family and the first baby for William Holt '02 and his wife Melissa. His other grandparent is Dennis A. Holt '65 and his aunt is Denise Holt '93.