On the Monday before Thanksgiving, as New York City prepared for the annual onslaught of holiday shoppers, Professor of Music Katherine Bergeron, who chairs the music department, and Teaching Associate Arlene Cole, who heads the piano program, arrived in town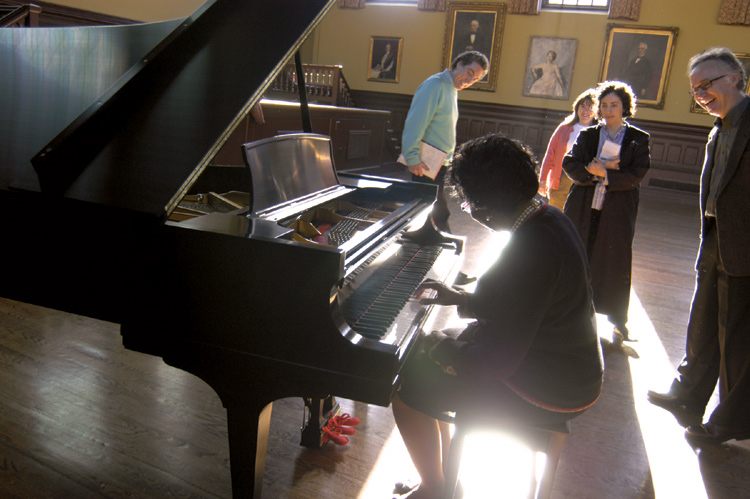 for a different kind of retail therapy. They were looking for a new piano.
Bergeron and Cole, along with music department manager Jennifer Vieira, had been charged with replacing the well-worn, century-old Steinway that has been a fixture in Sayles Hall for as long as anyone can remember. The three traveled to the Steinway factory in Long Island City, Queens, where Bergeron and Cole alternated playing and listening to five pianos in the showroom.
"It took hours," says Bergeron, who played jazz and avant garde pieces that were heavy on the chords, while, she says, Cole selected to play "something seriously romantic." One of the five pianos had a warm middle register: "It would sound great in your living room," Bergeron explains, "but it might not project." For a concert piano, she says, "you want a sound that jumps out."
They settled on a piano whose sound was smooth but not too bright. "It had a really interesting after-resonance," Bergeron says. "It's hard to describe. It felt like [the sound] hung in the air for a second before it went out."
The price tag: $125,000. Thankfully a donor - Bergeron identified him only as a "music-loving alumnus" because he doesn't want his name widely known - had agreed not only to foot the bill but also to throw in $25,000 for regular maintenance.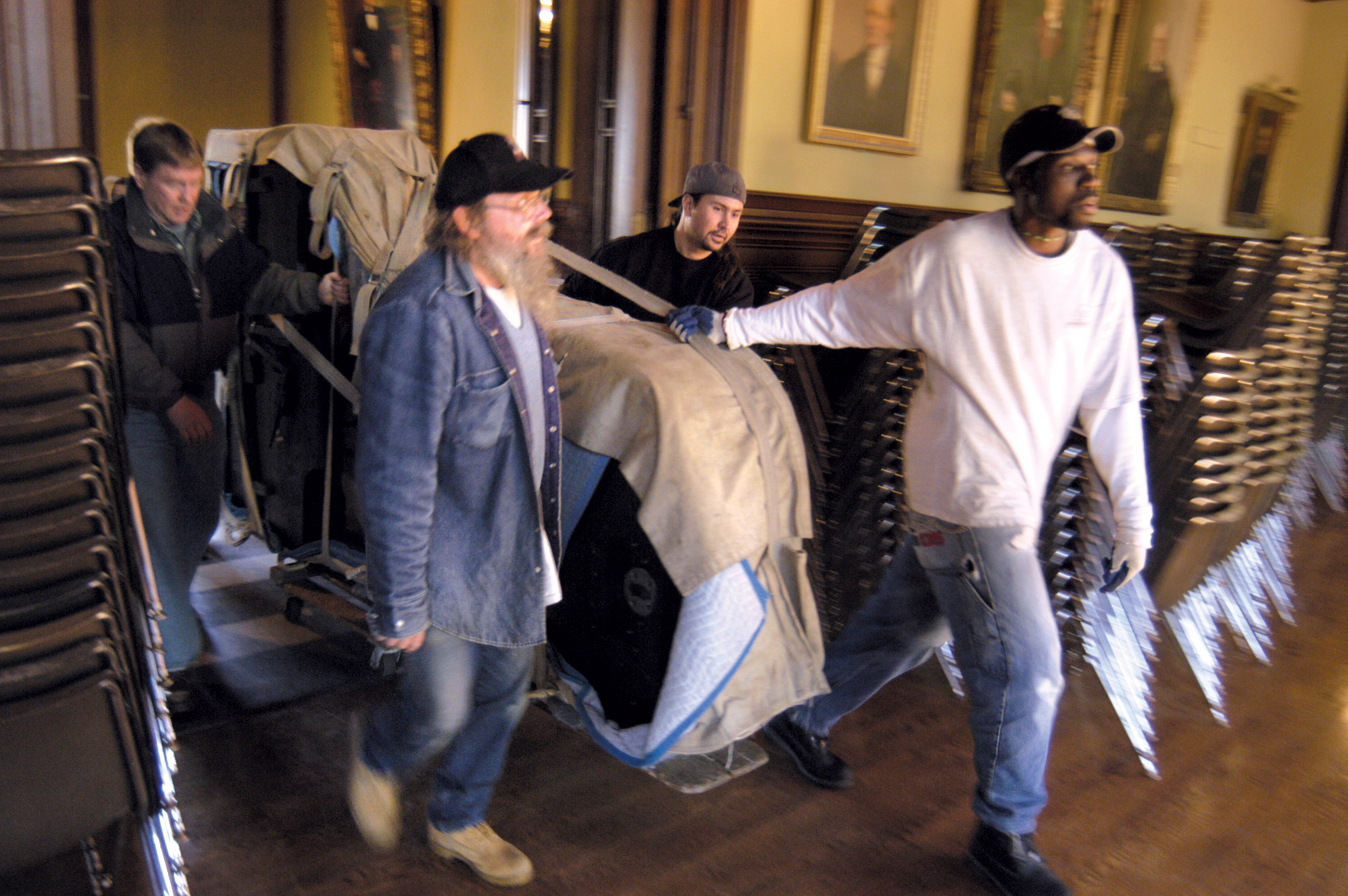 On January 20 the piano, nine feet long, elegant, and shiny black, left the factory in a truck and arrived, mid-morning, at the steps of Sayles, where five movers ever so carefully wheeled it into the building. At just after eleven, President Simmons, an amateur pianist, crossed the Main Green from her office to see the new instrument. With Bergeron, she opened the top to reveal the golden strings and hand-carved divots. "Oh," Simmons remarked, "how beautiful." At Bergeron's urging, Simmons was the first to play, sampling a few high and low chords.
Next Paul Phillips, senior lecturer in music and director of the orchestra, opened some sheet music and took a seat at the bench. The sounds of "Graceful Ghost Rag" by William Bolcom, a contemporary American composer, soon filled the vaulted hall. "I spend a lot of time building new electronic instruments," said Butch Rovan, associate professor of music and coordinator of the computer-music program, as he listened, "but you can't get any better than this. It's amazing."
The musicians told Simmons that there are forty pianos on campus.
"How many good pianos do we have?" Simmons queried.
"We have one great piano," Phillips replied, motioning to the new one, "and three good ones."
When Simmons said she'd like to help start a fund to maintain instruments on campus, the musicians could hardly contain their delight.
The old Sayles piano has found a new home in Alumnae Hall, where the orchestra practices. And the former Alumnae Hall instrument is now in the student rehearsal space at T. F. Green Hall. Bergeron hopes to inaugurate the new piano at a special concert in the fall.