Class of 1952
Apr, 2021
David Kramer was honored on Nov. 18 with the Theodore Gordon Flyfishers Founders Fund Award, which was "presented to an individual whose excellence in and outstanding dedication to environmental and water conservation serve as a model for future generations." David writes: "I started fly-fishing at age 12 and continued for the next 70 years. In 1963, I was a founder of the Theodore Gordon Flyfishers. Over the years there have been many members who were Brown alumni, including Sara Low '83 (one of the first women fly-fishing guides in America), John Selig '58, and the late J. James Gordon '52."
Aug, 2020
Cindy Andrews Elder '13 MPA (see Barbara Kirk Hail '52).
Aug, 2020
Laura Hendrickson '88 AM, '08 PhD (see Patricia MacBride Hendrickson '52).
Aug, 2020
Barbara Olins Alpert '56 AM (see '52).
Aug, 2020
Barbara Smith (see Ellen Arnold Lloyd '52).
Aug, 2020
Elizabeth Andrews Byers (see Barbara Kirk Hail '52).
Aug, 2020
Sara Devine Townsend, a neighbor of Patricia MacBride Hendrickson at The Highlands in Topsham, Me., contracted the coronavirus and spent more than five weeks in the hospital.
Aug, 2020
Betsy Kissane Shequine is retired from her position as a judge but is active on the hospital board and edits her garden club newsletter. As her responsibility during the pandemic, she regularly calls members of her parish church in Millbrook, N.Y. to check on their physical and emotional well-being. For exercise, she has started taking long walks with a friend, each of them masked, and walking one on each side of the road. She measures her steps on her phone and tries to do a mile and a quarter each walk.
Aug, 2020
Class secretary David Nichols is in his home in Princeton, Mass., and is grateful that his son brings in groceries. His last physical check-up was through Zoom and he enjoyed sitting at his desk in his own home for the appointment. His cataract surgery was postponed since elective surgeries were cancelled at the time of this submission.
Aug, 2020
Ellen Arnold Lloyd is living in The Quadrangle, a retirement community founded by the Quakers of Haverford College, not far from where she grew up in Lancaster, Pa. She writes that she feels very fortunate to be able to be safe and cared for when so many others are in distress. She is required to take her temperature every day and report it to the community's administration. No one can visit her but her groceries come to her door through a choice of vendors. She notices her garden more and the birds at her feeder. Every Friday evening at 6 p.m. she shares a Zoom cocktail party with family and friends. She finds that even with long stretches of time on her hands, certain projects—like organizing family pictures stored in shoe boxes—remain undone. Her eldest daughter, Barbara Smith '79, a Presbyterian minister in Myersville, N.J., presents sermons on YouTube now. Her grandson's wedding planned for June has been postponed for a year. Two other grandsons completed college coursework with online study from a vacation cottage in East Orleans on Cape Cod. And her daughter Ellie, a librarian in Toronto, is struggling with the protocols for opening Toronto's libraries safely.
Aug, 2020
Class treasurer Annette Barabash Leyden writes that one of the pluses of the pandemic is the chance to reconnect with classmates by phone, including Barbara Olins Alpert, Kitty Barclay Merolla, Lucy Laventhol Brody, and Pat Phelps. Annette lives in Kendal on Hudson, a retirement community, and has rediscovered walking with the assistance of a walker. She has not increased her reading much since the New York Times takes up so much time. She is active in local elections.
Aug, 2020
Patricia MacBride Hendrickson is living alone in her home in the Highlands, an assisted living community in Topsham, Me. While confined largely to her own space, she is able to take long walks around the beautiful surrounding rural area. She orders her groceries through the Highlands management and they deliver the groceries to her door. She maintains her very active involvement in politics, writing letters to the editor, participating in webinars, and working on campaigns to elect progressive leadership. Her daughter Laura Hendrickson '88 AM, '08 PhD, and husband Rupert, who is an anthropology professor at Cambridge University, UK, are self-isolating at home. Groceries are delivered by their food cooperative, and their 7-year-old daughter is engaged in remote learning with her school.
Aug, 2020
Ralph Crosby of Richmond, Va., a member of Alpha Delta Phi, writes that he returned early from his vacation home in Naples, Fla., to his home in Virginia due to the virus. His five sons and seven grandchildren live in Richmond and thus he has plenty of help during this shut-in period. He feels that Virginia is very fortunate in having a really competent governor who is leading the efforts in handling the deadly virus. Ralph is a trustee emeritus of Randolph-Macon College, having served 26 years on their board.
Aug, 2020
Sally Hill Cooper is weathering the pandemic in her apartment in Arlington, Va. Sally is a conscientious worker for the Democratic Party and is involved especially in national politics. She spends her extra home time "cleaning out her files" so she will be ready to roll when the restrictions are lifted.
Aug, 2020
Marybeth Keser Burbank is in her home in Brunswick, Me. She recently lost her husband, Jim. After many years of caring for him at home, she had to admit him to hospital care. With the virus necessitating prohibition of visitors, she and her children were not able to be with him for his last days.
Aug, 2020
Glenn N. Bower of Southern Pines, N.C., is secluded in his retirement place. Although it is composed of four large apartment buildings and homes and cottages, about 300 people altogether, with three dining rooms in their clubhouse, all of these facilities are closed. He is allowed no visitors and meals are brought to his door. He is allowed to visit the grocery store. He says North Carolina's governor was concerned that two health centers in Pinehurst did not report deaths in a timely fashion and that there has not been good reporting from the State in general. Glenn was an Alpha Delta Phi at Brown, and his late wife, Suzanne Griffiths '53, four daughters and one granddaughter graduated from Brown.
Aug, 2020
Ruth Arness Anderson is in London, Ontario, where, like so many others, she is a shut-in. She believes we have to work together to find a solution to end the pandemic and build a better world. She just read the BAM and it made her nostalgic for those good years at Pembroke College and Brown University.
Aug, 2020
Barbara Olins Alpert '56 AM writes: "Several archaeologists who are studying Kapova Cave in Russia have obtained permission to translate my book into Russian. Kapova Cave is in the southern Ural Mountains and is dated 10 to 15,000 years ago. My book The Creative Ice Age Brain is about prehistoric art, primarily preserved in caves and best known in France and Spain. Much of it has been dated back to between 15,000 and 30,000 years ago. The book attempts to probe the minds of the artists who left this amazing early human legacy.
Aug, 2020
Class president Barbara Kirk Hail reports: "I have been in touch with several classmates to ask how they are faring during their coronavirus pandemic isolation. The virus has created a new reality for all of us. For our age group particularly, perhaps it is not all bad. It gives us time to think over, appreciate, and put in order, the experiences of our long lives. May we all come together in 2022 at Brown reunion and share our collective wisdom. All my hopes for good health for all of our classmates, and for the world.
As for myself, I am self-isolating in my condo in Warren, Rhode Island, but the adjacent bike path allows a physical and emotional release with walks along the river and opportunities to observe ospreys perched on their nests before darting down to scoop up fish to feed their young. My daughter, Cindy Andrews Elder '13 MPA, fills my grocery list weekly and disinfects all boxes, cans, fresh vegetables, and fruit before delivering it to my refrigerator. My son, Clinton Andrews '78, a professor at Rutgers, had to master the new art of teaching a seminar in urban planning by Zoom. My daughter, Elizabeth Andrews Byers '79, is working from home in Elkins, West Virginia, through webinars and Zoom with her fellows at the State DEM. Elizabeth's husband, Alton, is home writing proposals for their next trip to Nepal, where they study glacial melting. Their son, Daniel Byers '08, is studying filmmaking at Columbia University and finished his academic year on Zoom while living with his parents. For the first two weeks after arriving home, his parents sealed off a section of the house for him and served him his dinner on a stump outside his door. It is a quiet household, all three of them in their separate corners, online, working hard. At 5 p.m. they break and go for a long walk six feet apart with masks on. The new reality."
Jun, 2020
Beverly Calderwood Hart writes: "Here is the report on the Class of 1952 fund established to help Brown University achieve need-blind admissions and a diverse community of qualified students: Principal: $265,233.73. Endowment value: $859,208.83. Endowment distribution on July l, 2019: $32,873.26."
Apr, 2020
Fighting the Good Fight
Arlene Gorton '52: a warrior for female athletes through turbulent times, including the Brown-Pembroke merger and the passage of Title IX.
Read More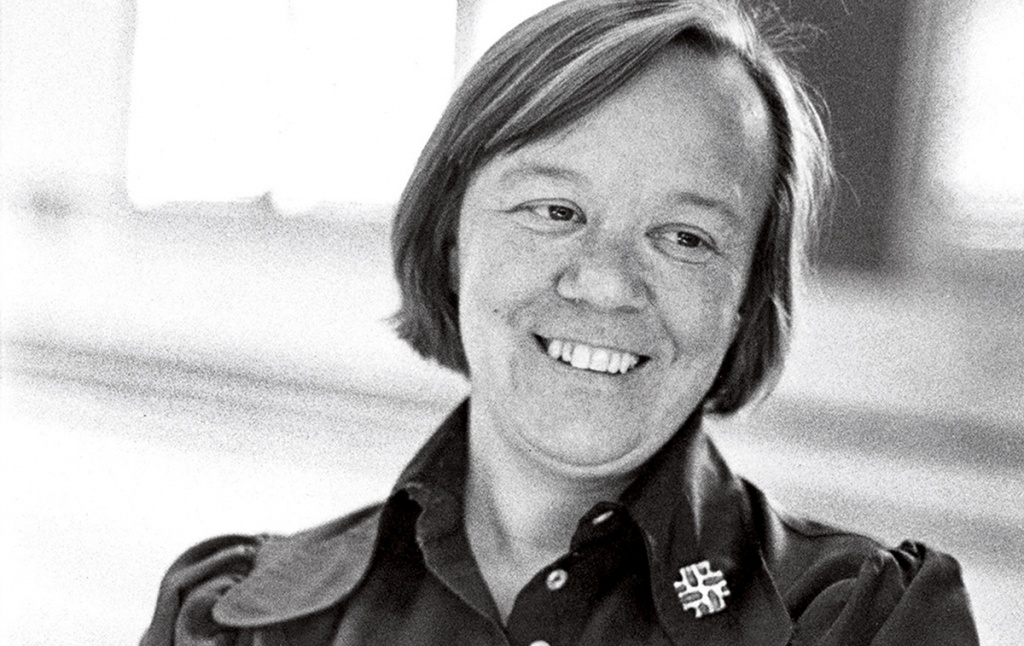 May, 2019
Class secretary David Nichols reports the Class of 1952 Endowment Scholarship fund was presented to Reed Jaworski '20, with a concentration is math, physics, and philosophy, for the fiscal year 2017-2018 and to Natalie Montufar '21, with a goal to attend medical school and become a neurosurgeon to help people with Alzheimer's disease, for the fiscal year 2018-2019.
Jul, 2018
Richard Bennett Walsh and Janet Colby Walsh '53 wrote a book for children, A View of the Zoo, that was donated to the St. Louis Zoo as a fund raiser and sold very well. Janet did the drawings and they went to a book signing before Christmas at the zoo. They had fun and sold many books to raise money for the zoo. They have lived in St. Louis for close to 30 years since Dick retired, near all of their children and most of their grandchildren.
Jul, 2018
Russell Preble Jr. is still working as a Washington, D.C., city guide. He writes: "I'm enjoying everything Washington, D.C., has to offer except the traffic."
Jul, 2018
John Grainger's wife, Grace, died in 2015, and he is living in a retirement facility in Southbury, Conn. He writes that he tries to stay active.
Jul, 2018
Marylynn Monk Boris moved to her son's home in Florida after the death of her 29-year companion, Peter, and is enjoying getting to know her three grandchildren better. Her other two grandchildren live in Massachusetts. She plans to spend summers in Massachusetts or New Hampshire. She misses New England but says the sun is a pleasure.
Jul, 2018
Michael Cantwell published his 10th novel, The Black Hole Express. It is the story of two young physicists who escape the cruelties of their planet's ruler by unleashing the energies of a Black Hole that takes them to New York City in the early 21st century. When he was a student at Brown, he was coeditor with Hillary Masters '52 of Brunonia, the literary magazine.
May, 2018
Lucy Brubaker Tortolani writes: "I'm enjoying life in Rhode Island and my proximity to Brown. The lectures on campus are topical and stimulating. Gene '52 and I attend when we can. I play bridge weekly and do Sudoku and crossword puzzles daily. I take pleasure in knitting hats and needlepointing Christmas stockings for my grandchildren, and I enjoy trips to New York City and Boston with my daughters. Most importantly, I am a devoted caretaker for Gene. Unfortunately, I've lost touch with many from the class of '55 but have corresponded recently with Lois McClarin-Revi, and she's doing well in Hanover, Pennsylvania. She belongs to two book groups and it's clear from her writing that her sharp wit and views on world affairs are alive and well informed. I have also connected with Nancy Schuleen Helle and she's still an avid writer and doing freelance work for the Silvermine Art Center in New Canaan, Connecticut. I'm looking forward to our 65th reunion in two very short years and hope to see many fellow classmates there."
May, 2018
Howard Wiener received an award from the San Diego's American Inns of Court, the William B. Enright Lifetime Achievement Award.
Apr, 2018
Julia Potts Grehan '52 writes: "I now live in Mobile, Alabama, and am busy at 87. I had a good trip to Hawaii in October and rode horseback in the Maui mountains. I was saddened by the death of Nancy Goerger Smith this past summer. I keep in touch with Lynn Willis Church, Priscilla Wilder Andre, and Betsy Kissane Shequine. Hope all is well."
Jan, 2018
Ralph Crosby writes: "I finished my 26th year on the board of trustees at Randolph-Macon College in Ashland, Virginia. Our oldest son, Douglas, graduated from RMC in 1975, and I have enjoyed contributing to that very fine liberal arts college. Small colleges certainly have a role to play but have a difficult time recruiting students, particularly in Virginia, where the public institutions are so strong and provide an excellent education as well. My other four sons are all doing well—as I often say, all are employed and no one is in jail. I still have a condo in Naples, Florida, where I spend most of the winter. I have been fortunate since losing Joan in 2014 to find a wonderful lady to spend the rest of my time here with. I occasionally talk to Norm Steere and Glenn Bower on the telephone but unfortunately have lost touch with most of the class of 1952. I still regret that Brown has not fully supported the NROTC on campus as have many other Ivy League colleges. My best to all, particularly Gene Tortolani."
Jan, 2018
Ben McKendall writes: "As a father of seven daughters, it is especially gratifying to have a woman as our class president. How much better off Brown is now as a fully coeducational campus. Here is a link to my personal photography site. It was created in 2000 when I was confronted by my first cancer diagnosis; with thoughts of mortality dancing in my head, I asked the woman who has taught me Photoshop to make me a website, just in case." http://benjaminmckendall.net.
Jan, 2018
Glenn Bower writes: " My wife, Suzanne Griffiths Bower '53, was suffering from Alzheimer's and confined to a nursing home, so we could not attend the reunion. My daughters Pamela L. Bower-Basso '77 and Priscilla S. Smyth '87 were there. Pam has a daughter in the class of 2018. Our other two daughters, Elizabeth A. Hudgins '79 and Emily Bower ' 83, also were not able to be there, but Sue's brother, Andrew Griffiths '62, did attend. Sue's father was in the class of 1927, so we have a lot of Brown connections. I was an Alpha Delt. I believe our survivors are down to three, Ralph Crosby, Norm Steere, and me."
From the November/December 2017 Issue
Send your news to the BAM at alumni_magazine@brown.edu.

Annette Barabash Leyden writes: "Saw 10 plays in 19 days in London in late March with daughter Victoria. Daughter Danielle popped up from Belgium, so it was a family reunion as well."
From the September/October 2017 Issue
Send your news to class secretary Dave Nichols or directly to the BAM at alumni_magazine@brown.edu.

Class secretary Dave Nichols reports: "From an entering freshman class of 200 at Pembroke and 600 at Brown, 26 of us returned to the campus 65 years after we filed across the stage to receive our diplomas. We came to renew old friendships, to reminisce, to refresh memories of our time here, to hail Brunonia, and to learn more of the goals and paths that are leading Brown to an even more exciting future. Let there be no doubt, our alma mater is standing tall. A welcoming Friday reception in the rain on Keeney Quad was our first event, followed by our '52 kickoff reunion dinner, fellowships, and hugs at the historic Hope Club. Saturday morning's memorial service at Sayles was a beautiful remembrance of those gone before us. It was at the same time sad and sobering to read the list of 115 of our classmates deceased in the five years since our last reunion. For me there were many thoughts of my dad and his classmates, graduates of Brown in 1917. Surely they were here in spirit celebrating their 100th class reunion on this glorious Brown weekend. President Christina Paxson thrilled reunion classes with her talk under the tent on Ruth J. Simmons Quad. 'Brown is on a roll,' she said, and she backed this up by citing examples of what students are doing to make the community and the world a better place. We went off in many directions to reunion forums. A class luncheon/meeting brought us together again. Since most of our class officers of recent years are deceased it was time to reconstitute and choose new class officers. The following were chosen by acclamation: president Barbara Kirk Andrews Hail, vice president Bob MacFarlane, treasurer Annette Leyden, and secretary Dave Nichols. On Sunday morning the campus and its neighborhoods were overflowing with reunion classes, graduates, parents, faculty, bands, and bagpipers as we assembled for the traditional procession through the Van Wickle Gates and down College Hill. Class marshals Jim Muller and Annette Leyden led us as we proudly marched past thousands who were wildly cheering us old folks with our Class of 1952 banner held high. Near the end of the procession we passed through the gauntlet of new graduates. They greeted us with thunderous applause, thumbs up, and high fives, but through all of this we could hear them thinking: 'That'll be us in 65 years—you know, they don't look so bad after all.'"
From the March/April 2017 Issue
Ruth Arness Anderson is still living in London, Ontario, and would like to hear from any classmates who care to write.
John B. Roberts writes that he retired, is widowed, sold three businesses, and lives in Franconia, N.H. He visited his son in Alaska, his daughter in Denver, and his other daughter in Meredith, N.H. He enjoys his two grandsons, one in college and one in high school.
From the November/December 2016 Issue
James L. Muller was on campus for Commencement to attend the graduation of his granddaughter Abby Muller, daughter of his son, Eric Muller '84. It was also reunion weekend for his son David Muller '81. He writes: "I hope to be back in Providence for my 65th reunion and attend the graduation of my grandson Daniel Muller '17. It will also be reunion year for my daughter-in-law Diana Marcus Muller '82. My wife of 50 years passed away in 2008. I retired law practice after 58 years. I look forward to spending winter months in Florida, where I have property on the Treasure Coast. In the last few years I have traveled more, with cruises to Alaska, the Baltic, the Black Sea, the Panama Canal, the Eastern Caribbean, Bermuda, and a trip around the tip of South America. I have also done some river cruises in Europe, sailing the Rhine and the Danube. I have taken some land tours to Israel and the American West. I intend to keep traveling until either the money or the body gives out, whichever shall first occur." Contact James about any alumni activities in the area.
From the September/October 2016 Issue
Carolyn Capwell Gammell and June Foster LeMay (see Joan McMaster '60).
From the July/August 2016 Issue
Daniel M. Garr writes: "I am a healthy 85 years old, married for 60 years to an amazing lady. We have four married children, all doing very well, and seven grandchildren, who are either already working in their chosen careers or well on their way. In August we are going on a cruise with all our children to celebrate our 60th anniversary, and the girls will have both been married for 30 years. We are blessed!"
From the May/June 2016 Issue
Salley Macartney Osborn moved from Venice, Fla., to Atkinson, N.H., in 2013. She writes: "We love being near our family, but we miss our Florida friends. I used to think by the time I reached this age I'd pretty much have all the important answers. Being around our grandchildren has made me wonder.… Instagrams? Androids? Upload, download, iPads, videos, texting, Twitter, and 'just Google it!' I'm learning."
From the January/February 2016 Issue
Annette Barabash Leyden writes: "In July, I visited roommate Pat Phelps in Maryland. In August, I cruised the Norway coast from Bergen to Kirkenes and back with daughters Eleanor and Victoria."
From the November/December 2015 Issue
Mary Miller Shenfield Marik writes: "A wonderful year for me—85 is the new 70! With my three young granddaughters as attendants, I was married on June 20 to Raymond Marik (Univ. of Washington '57). We returned from our honeymoon to a lovely apartment in Parkshore, a retirement community on Lake Washington in Seattle. I continue to play duplicate bridge at clubs and tournaments when I can. Ray was a special ops airborne ranger in the Korean War and encourages me to work out to keep strong. I do!"
From the March/April 2015 Issue
Bennett S. Aisenberg was awarded the 2015 Warrior for Justice Award by the Sam Cary Bar Assoc. for his efforts promoting human rights, civil liberties, and equality. He is an attorney in Denver and a past president of the Colorado Bar Assoc., the Denver Bar Assoc., and the Colorado Trial Lawyers Assoc.

Daniel Garr writes: "In honor of my wife's 80th birthday, we took our family on a cruise over New Year's. I am the past president of the Brown Club of the Treasure Coast, which numbers some 250 alums and is still very active."
From the January/February 2015 Issue
William Downey writes that he and his wife, Sabine, moved to a retirement home named for Otto Dibelius, the former bishop of the Berlin Protestant Church. It is 13 floors and houses 500 residents. "My wife, at 75, is one of the youngest. Some over 100 still get around."
Mason Nye writes: "Still doing pretty well at age 84. I work out, enjoy directing a library book club, love my wife and home in Florida, and manage to get around on a cane. All the best to old friends from '52 to '56."
From the November/December 2014 Issu

e
Class vice president Beverly Calderwood Hart reports: "The present recipient of the Class of 1952 Scholarship is Eugene Kim '16 from Floral Park, N.Y. He entered Brown as a health and human biology concentrator but changed his focus to the humanities. Eugene says he became fascinated by the ways that English, visual arts, and anthropology have developed his overall thinking and mental processes. He has joined the Korean American Students Association and volunteers in a Providence tutoring organization. The Office of Financial Aid reports that 44 percent of undergraduates are receiving scholarship aid. Brown's need-based scholarship budget reached $95.1 million in 2013. In FY'14 the Class of 1952 Endowed Scholarship Fund distributed $31,608. Its market value as of June 30, 2013 was $660,126."
From the March/April 2014 Issu

e
Joanne Rubin Doxer and her husband, Arthur, sold their condo in Massachusetts and are living in Naples, Fla.
From the January/February 2014 Issu

e
Rudy Nelson '71 PhD and his wife, Shirley, have published The Risk of Returning, a novel set in Guatemala during its civil war in 1987. The Nelsons have also produced the documentary film Precarious Peace: God and Guatemala, which explores the complicated process that brought the civil war to an end in 1996. Rudy retired in 1994 from SUNY Albany, where he taught in the English department for 23 years.
From the September/October 2013 Issu

e
Ruth Arness Anderson is still selling art and rare books online.
Davies Bisset's sons—Davies III '85, Andrew '86, and Bobby ('90 BC)—treated their father to an 80th-birthday golf trek to Scotland in May. The Bisset foursome played five British Open courses (Muirfield, Turnberry, Carnoustie, Royal Troon, and the Old Course at St. Andrew's), among other courses, over ten days. In addition to golf and single malt sampling, they visited the homes of Bisset ancestors in Edinburgh and Glasgow. They write: "A few Brown Sports Foundation logo balls were left behind in the burns and fescue rough!"
From the March/April 2013 Issu

e
Bennett S. Aisenberg received the Colorado Bar Assoc. Award of Merit on Jan. 11. A litigation attorney in Denver for 54 years, he specializes in arbitration, mediation, and matters involving legal ethics. The association's highest honor, the Award of Merit is given annually for outstanding service to the association, the legal profession, the administration of justice, and the community. Bennett has served as president of the Colorado Trial Lawyers Assoc. (1984–85), president of the Denver Bar Assoc. (1991–92), and president of the Colorado Bar Assoc. (1998–99).
Ruth Arness Anderson writes: "Still selling art and rare books online and working on various other projects here in London, Ontario. Would love to hear from classmates!"
William Downey writes: "I have had to give up holding church services, but remain active in a German Protestant church. I am also still active in the U.S. Democratic Party group in Berlin, and helped several people vote in the November election."
Arlene Gorton (see Janice Fernald Huang '63).
From the November/December 2012 Issu

e
Ed Barry writes that on May 26 "the class of 1952 planted a new dogwood tree outside of Alumnae Hall on the Pembroke side of campus in memory of Dorothy Williams Wells. Dotty was a long-time volunteer who worked tirelessly for many years on the class campaign committee and on the class board. She was an active interviewer for the Brown Alumni Schools Committees and won the Brown Bear Award for service as well as the Nan Tracy '46 Award. Dotty also served as an aide and a marshal on numerous occasions."
Rev. Harry Gordon (see Bishop Arthur Williams '57).

From the September/October 2012 Issu

e
Ruth Arness Anderson writes she would welcome news from classmates.
Mary Jane Bertolet Clemmer writes: "After 31 years of breeding bearded collies, a wonderful hobby, I am probably hanging up my shingle. I am now enjoying four beardies who will help Leo and me grow older with a smile. I am much too young to totally leave the business world, so I play 'girl Friday' at my son's construction company. In my spare time you will see me in the garden."
Beverly Calderwood Hart reports on the class members who attended reunion weekend: "The members came from as far away as Florida, Alabama, Illinois, and Canada. They have retired from the areas of teaching, museums, health, and the law. They love to travel all over the world. They are also involved in art, libraries, concerts, church, hospitals and hospice, tutoring, historical commissions, museums, law, ancestral research, horticulture, Pembroke, and politics. They visit their families, engage in outdoor sports, play bridge, do crosswords and Sudoku, and read. They range from having one grandchild to 26."
From the May/June 2012 Issu

e
Patsy Wandelt Barrow reports: "In celebration of our 60th reunion, please mark this important milestone year with a gift to the 2011–2012 Annual Fund by June 30. With your help, the class of 1952 will be one step closer to reaching its goal of $150,000 with participation from 50 percent of the class. The 60th Reunion gift committee would like to thank those who have already given and extend an invitation to all members of the class to join us over reunion weekend to celebrate the class's success. To make your gift today, log onto www.gifts.brown.edu or send a check to: Brown University, Gift Cashier, Box 1877, Providence 02912 in order to make a positive impact on the current generation of Brown students."
Marshall Cannell reports: "Save the dates to attend our fabulous 60th reunion weekend starting Friday, May 25. We are making great plans and are looking forward to seeing you and having a record attendance."
From the January/February 2012 Issue
Cecilia Powell ten Braak writes: "After 53 years of marriage, I lost my husband, Tony, in April. I have a daughter in San Diego and two sons in Colorado. How about a round of golf?"
William Downey writes he has been retired 15 years from his position as a pastor of the German Protestant Church. He keeps busy with the Berlin Chapter of Democrats Abroad, which he cofounded in 1996. He is also active in his local parish and keeps up with his garden.
From the July/August 2011 Issue
Ruth Arness Anderson still lives in Ontario.
James A. Chronley writes he is sorry to miss next year's 60th reunion, but he is not able to drive or fly anymore. His parish nominated him as Catholic Man of the Year.
From the March/April 2011 Issue
Daniel M. Garr is in his second year as president of the Brown Club of the Treasure Coast in Florida. The club has more than 200 members, stretching from Melbourne to Stuart, Fla. Ted Colangelo '57 is the program chairman and always plans a fantastic dinner event. He writes: "Much credit goes to our founder, George Rollinson '57."
From the January/February 2011 Issue
Daniel Garr is in his second year as president of the Brown Club of the Treasure Coast in Florida. The club has more than 200 members, stretching from Melbourne to Stuart, Fla. Ted Colangelo '57 is the program chairman and always plans a fantastic dinner event. He writes: "Much credit goes to our founder, George Rollinson '57."
Richard A. Goeben has been retired since 1993 as vice president of Cleary Sales in the Chicago area. He was a sales rep in the office supplies and furniture field, covering the Midwest. He now enjoys fishing, gardening, and traveling.
Elizabeth Headly (see Engagements & Weddings).
Annette Barabash Leyden lost her husband, Stanley Leyden, on Sept. 26 to Parkinson's disease.
Hilary Masters continues to enjoy teaching in the English department of Carnegie Mellon's creative writing program. His recent books include a collection of essays, In Rooms of Memory, and a book of short stories, How the Indians Buried Their Dead, which received the Independent Publishers bronze medal in the literary short-story-collection category. Nebraska Press will republish the essay collection in a paper edition this year. His latest novel, Post, was published in January. Several short stories and essays have appeared in literary journals.
From the September/October 2010 Issue
Elizabeth Headly Joyce and Daniel Pilot '51 were married on Feb. 27 in White Plains, N.Y. Elizabeth works two or three days a week for Planned Parenthood in Hawthorne, N.Y.; sings with a choir in New York City; and plays tennis in Greenburgh, N.Y. Daniel is a financial analyst with Wells Fargo Securities. Elizabeth has four children and four grandchildren. Daniel has one son and three grandchildren. They now live in Hartsdale, N.Y.
From the July/August 2010 Issue
Bruce Freitag writes that he has retired from practicing law and that one of his clients, Porta John, which makes portable toilets for construction sites and outdoor events, honored him by naming a toilet after him. This new toilet, the company's biggest seller, can be seen on page one of the company's catalogue and online at www.toilets.com/index.htm.
From the March/April 2010 Issue
Joseph Munro married Jean Andrews on July 18. They met while riding stationary bikes at a local fitness center. Jean was a ballet dancer with the State Ballet of Rhode Island until her late 50s and is a third-degree black belt. Joe writes: "Weekend trips, frequent dinners at various restaurants, and almost daily visits to the fitness center keeps us fit and life interesting."
Mason Nye is married to Joy Comstock and living in Palm Harbor, Fla. He is in good health and plays tennis three times a week and leads a library discussion group on contemporary fiction.
Mary Miller Shenfield and her husband, Jim (Princeton '46), wintered in Maui. They spend summers visiting their five sons and grandchildren in California and near Seattle. Mary keeps busy traveling and playing duplicate bridge. She has enjoyed visits with Nancy Goerger Smith and her husband, John.
Janis Cohen Weissman and Bernard Burton were married on Oct. 11. Together they have six children and nine grandchildren, including Nicole Burton '11 PhD. They live in Roslyn Heights, N.Y. Janis is retired from law practice but participates in the Volunteer Lawyers program of the Nassau Bar Assoc. She also paints and exhibits her work at local art shows.
From the January/February 2010 Issue
Fred Lougee retired from Central Connecticut State Univ. in 1992 after 30 years teaching in the modern and classical languages department. He and his wife, Jane, travel and spend summers on Cape Cod and winters in Florida, and in between they are in Farmington, Conn., where they have spent most of their professional life.
From the September/October 2009 Issue
Dan Garr (see George Rollinson '57).
Eunice Bugbee Manchester writes that at the annual meeting of the Brown Alumnae Club of Kent County (R.I.), Joan Hoost McMaster '60 was elected president; Betty Leaver Goff '53, vice president; Jane McGeary Watson '51, secretary; and Anne Renzi Wright '47, treasurer.
From the March/April 2009 Issue
Barbara Olins Alpert published The Creative Ice Age Brain: Cave Art in the Light of Neuroscience. She taught prehistoric art at RISD for many years and published articles in various archeology journals.
From the January/February 2009 Issue
Eunice Manchester writes that the Brown Alumnae Club of Kent County, R.I., celebrated its 60-year milestone at the Pembroke Legacy at Brown event on Nov. 8, 2008, at the Warwick Country Club.
From the November/December 2008 Issue
Class secretary Marshall Cannell reports that he retired from the faculty of the Wellesley (Mass.) Middle School, where he was teaching technical theater and the origins of Western drama. He still works on theater at the Moses Brown School in Providence.
Arthur L. Collard has recently moved with his wife, Helen, to Mahwah, N.J. They have two sons, a daughter and 13 grandchildren. He has just resigned from a ten-year volunteer career with the Leonia (N.J.) Shade Tree Commission.
Dan Grisley writes that he fills his time with gardening, the Sierra Club, strength training, and having fun with his grandchildren.
Margaret M. Jacoby is enjoying her retirement and has been performing as a guest astronomy lecturer for the Cunard Cruise Line. She has gone on eight cruises so far. Since graduation she has traveled around the world to view 13 solar eclipses. She was named professor emeritus of astronomy and physics at the Community College of R.I. and they have named their observatory after her.
George Junghanns recently published The Phoenix (Gauntlet Books).
Annette Barabash Leyden has three daughters who live in various parts of the world. She worked in a number of hospital libraries until 1996. Due to her husband's Parkinson's disease, in 2005 Annette and her husband moved to Kendal On The Hudson, a continuing care/retirement facility in New York's Hudson Valley. She lately has been able to travel to a number of Far East destinations, including India, Bhutan, Cambodia, Vietnam, and Bangkok.
Russ Preble has been working as a Washington, D.C., tour guide. He was honored in 2006 by the United States Triathlon Association for being ranked 5th in the duathlon (an athletic event that consists of a running leg followed by a cycling leg and another running leg ). He and his wife have eight grandchildren.
Dottie Williams Wells writes: "Class of '52 Pembrokers, several classmates are considering an off-year reunion. If you are interested, please contact me."
From the July/August 2008 Issue
Class president Ed Barry reports that he has retired as executive director of the Galilee Mission (a nonprofit substance-abuse agency in Rhode Island). He is currently working as a volunteer at South County Hospital in South Kingstown.
Robert J. Wheeler was recently inducted into the Massachusetts State Hockey Hall of Fame. A member of the Brown Hall of Fame, he had a record-setting Brown career and participated in the 1951 NCAA championship game, eventually earning All-American status.
From the May/June 2008 Issue
Frances Kaighn Robinson writes: "I took a wonderful trip from Hawaii to Hong Kong, Beijing, New Delhi, Kenya, and England. I've begun to love traveling again with friends. I live in Stuart, Fla., in the winter and in Mountainside, N.J., in the summer and would love to be in contact with any alums in these areas. My main passions are my eight grandchildren (all in N.J.) golf, photography, and gardening. I hope to be around for our next big reunion. So far I feel great."
From the January / February 2008 Issue
Class secretary Marshall Cannell reports that on August 25 a memorial for Brown's hockey great, Don Sennott, was held in Providence with many hockey players in attendance, including classmates Al Gubbins, Bob Wheeler, Bob Maley, Jake (John) Murphy, Joe McOsker, and Ed Barry.
Robert Wheeler writes: "An article titled 'Sennott Set Hockey Standard at Brown' appeared in the Providence Journal shortly after Don's passing. Don was inducted into the Brown Athletic Hall of Fame when it was founded, on Nov. 12, 1971, one of only six hockey players inducted at that time. He centered the highest scoring line in Brown history in 1951 on the team that reached the final of the NCAA championship, a team that was inducted into the Athletic Hall of Fame in 1998. Many observers believe it was the best hockey team Brown has ever had. He was selected to be on the Pentagonal League from 1950 to 1952 and was picked All-New England in 1951 and 1952."
Norm Cleaveland (see Lena B. Chen '73).
David Lubrano (see Ernest Colarullo '43).
From the November / December 2007 Issue
Class secretary Marshall Cannell reports: "Ben Aisenberg is still practicing law in Denver but has switched from being a trial lawyer to being a mediator arbitrator. As he says, he has 'switched from being a problem maker to being a problem solver.' He is still active in bridge and sports and enjoys vacationing in his second home in Aspen.
"Mark Batchelder has retired from engineering and lives with his wife, Janet, in the Linden Pond retirement community, where he gardens, and teaches/plays duplicate bridge. He claims he is known as the Raspberry King of Linden Pond, but he still finds time to go clamming once a month when they are in season.
"Glenn Bower is very active in community groups and is playing tennis, golf, and lots of bridge. He and his wife, Suzanne Griffiths Bower '53, were joined at the 55th reunion by their daughter, Pam Bower-Basso '77 and her husband, Joseph Basso '77, who were celebrating their 30th.
"Ardene Stevens Butterfield still plays duplicate bridge when she is not kept busy with her seven grandchildren, including three little girls who are all under 5.
"Wini Blacher Galkin and her husband were recently named Rhode Island Commodores. This is a group of 325 top business and civic leaders who play a key role in enhancing the state's economy and quality of life. They have six grandchildren and live in Cranston.
"Dave Nichols and his wife, Chris, have biked in France, Italy, Austria, Germany, Ireland, Vancouver, Nova Scotia, and many other places. They have ten grandchildren, the oldest of whom just graduated from college magna cum laude and Phi Beta Kappa.
"Bill Outerbridge is now editing the USGS Geologic Division Retirees Newsletter, as well as producing geologic research papers. He reports that more than one-fifth of geologic division retirees are keeping our taxes down by still working for the government for free.
"Jack Ringer got a prize at his 35th reunion for having the youngest child in the class, who is now at Tulane. Jack still remodels buildings in Chicago and sponsors an internship at the Watson Institute for International Studies at Brown.
"Mary Young Simpson and her husband, Alex Simpson, enjoy their summer camp at Big Moose Lake in New York's Adirondacks. They say the place keeps humming with their seven grandchildren.
"Phyllis Eldridge Suber continues to be busy with travel (hiking and biking) and assorted volunteer work in Princeton, N.J. She feels very lucky to be in good health and able to keep very active."
From the September / October 2007 Issue
Reunion chairwoman Dorothy Williams Wells reports: "Our 55th was celebrated in perfect weather on Memorial Day weekend. At the University memorial service, Fred Gifford and Pat Wandelt Barrow lit candles memorializing those who've passed away since our last reunion. At dinner Saturday evening, the class honored Ed Barry, Fred Gifford, and Bill Rogers with special awards for their many years of leadership and commitment to their class. They are and always will be 'Ever True.' The new class officers are Ed Barry, president, Beverly Calderwood Hart, vice president, Marshall Cannell, secretary, and Fred Gifford, treasurer. Hats off to each of you who has contributed to your class reunion gift and to each gift-committee member. To date we have given the Brown Annual Fund the largest 55th reunion class gift.
"Several people are interested in getting together between official reunions somewhere in the Providence area, possibly next spring. If this interests you, please reply to your new reunion cochairs Beverly Calderwood Hart or Dotty Wells."
Davies Bisset and his wife split their time between homes in Narragansett, R.I., and Naples, Fla., and are often away visiting their children. When not traveling, they walk, swim, and play golf.
Judith Brown is now retired but keeps busy with volunteer work, gardening, and travel.
Tyler Day is active in community affairs in Naples, Fla., and still works as a marketing consultant. He also plays tennis and travels.
William Downey continues to live in Berlin, Germany, where both he and his wife are retired Protestant pastors. He cofounded a local political group called Democrats Abroad, of which he is honorary chairman.
Rogers Elliott and his wife, Asoong Len Elliott, live in Norwich, Vt. Although Rogers has now retired as a professor at Dartmouth, he still teaches the occasional class. Asoong says they spend their winters in Honolulu but do a lot of additional traveling.
Mary Linda Foxhall, who is still active in the peace movement and Amnesty International, spends her spare time writing poetry and knitting.
Bob Gaynor has been retired for ten years and lives on Cape Cod. He and his wife keep busy with sports, church, trips to Europe, and community activities.
Ellen Arnold Lloyd lives outside Philadelphia with her husband, Terrey, but spends February in Ariz., March in Fla., and summers on Cape Cod. She and her husband have a total of twenty-five grandchildren. She says celebrating birthdays is a problem.
Edward Munves and his wife, Norma Sue Caslowitz Munves '54, are still working, but their daughter Joan Munves '80 is now head of their firm.
Stanley Phillips sails out of Southport Harbor, Conn., in the summer and lives in Naples, Fla., in the winter.
Hilary T. Masters writes: "Elegy for Sam Emerson, my new novel, was reviewed very well by the New York Times, the San Francisco Chronicle, the Cleveland Plain Dealer and other papers. Bookviews called it 'a real treat.' Library Journal said the book is 'enthusiastically recommended.' I will have a new collection of personal essays published in 2008."
Joe Munro writes: "I'm still enjoying retirement at Point Judith, R.I. We hear the waves on the shore during storms and the lighthouse foghorns when it's foggy. I dabble in ebay sales of coins and old books. Collections of antique postcards and antique Western photos also keep me occupied."
Robert Ryan has been living in Belfast, Me., for fourteen years and continues to be an active member of his community. Besides tutoring students full time in math and English, he is starting a self-financed private high school in Thorndike, Me.
Dorothy Williams Wells was named a trustee of the St. Elizabeth Community, a nonprofit, nonsectarian charitable organization that provides care to older adults. She earlier served as volunteer chairwoman of St. Elizabeth's capital campaign in 2004.
From the July / August 2007 Issue
Thomas J. Landry writes: "I moved to Mass. in 2005 to be closer to two of my three children and seven athletic grandchildren. Great move!"
From the March / April 2007 Issue
Ed Barry, chair of the reunion activities committee, reports: "Plans are about completed for our forthcoming 55th reunion on the May 25 weekend. We hope you have noted your calendar and will be able to join us. Do contact your classmates and let them know you plan on attending, it encourages them to participate. For all, it's a great opportunity to renew friendships, view the many changes on campus, take in a forum or two, hear President Simmons, participate in the nostalgic Commencement March, and have a memorable weekend. Ed Munves is the honorary chair and Bill Rogers and Dotty Wells are co-chairs of our reunion gift committee. Details will be forthcoming. We look forward to seeing you."
Peter Gillis '64 PhD was recently recognized by the Blue Grass Sportsmen's League of Lexington, Ky., for his accomplishments in bullseye pistol shooting and service to the league, which awarded him a lifetime membership and named the pistol range after him.
From the January / February 2007 Issue
John Grainger moved from Ridgefield, Conn., to beautiful Heritage Village, a retirement community with many activities in Southbury, Conn.
Nicholas Reggio returned to Wellesley, Mass., after a winter at Isle of Palms, S.C
Mary Miller Shenfield writes that she has gone on several archaeological tours recently with her husband, Jim ('46 Princeton), including to Libya to see Leptis Magna and Cyrene. They live in Maui, Hawaii, in the winters and Bainbridge Island, Wash., in the summers, and enjoy their five sons and their families. On Bainbridge Island they enjoy seeing Nancy Goerger Smith and her husband, John.
Carolyn E. Tew heard from Jane Stoker Pierce. Jane is living in Ireland.
From the September / October 2006 Issue
Ben Aisenberg was awarded the Don W. Sears Ethics Award on May 20 at the Colorado Bar Association's (CBA) ethics committee meeting. The award is given to outstanding CBA members who have given tirelessly to the ethical enhancement of the legal profession in Colorado.
Eunice Bugbee Manchester, publicity chairperson of the Brown Alumnae Club of Kent County (R.I.), reported the following alumnae were elected officers at their annual meeting in East Greenwich, R.I., for the 2006–07 year: Rula Patterson Shore '67, president; Eleanor Deblasio Oddo '51, vice president; Betty Leaver Goff '53, secretary; and Anne Renzi Wright '47, treasurer.
From the May / June 2006 Issue
Phyllis Eldridge Suber and her husband, Mike (Bucknell '53), went on a fascinating trip with geology professor Terry Tullis, his wife, Connie' 68, and the Brown Univ. Travelers to see the volcanoes of Hawaii. Phyllis writes: The Tullises "were a pleasure to travel with—so knowledgeable and congenial." Phyllis and Mike also visited son Ken '79 and his family in Tasmania, Australia, where Ken has lived for more than twenty years. Another highlight of the year was a hiking trip on the volcanoes of southern Italy, culminating in a climb to the rim of the main crater of Mt. Etna in Sicily.
Robert Wagner moved to Greensboro, N.C., after spending thirty-two years in Alexandria, Va.—the longest he has lived in one place in his whole life. He retired in 1998 from the Defense Logistics Agency in Fort Belvoir, Va.
From the March / April 2005 Issue
Bruce Yarber received the annual William G. Dwight Award at the Log Cabin Banquet and Meeting House in Holyoke, Mass. The award recognizes citizens for outstanding volunteer work.
From the November / December 2004 Issue
Paul B. Alexander and his wife, Molly, made the trip from San Diego in May to celebrate a great Commencement. Paul writes: "Our daughter Sarah Chase received her PhD in anthropology. It was a very special day for us to be back on the Brown campus. I am still doing a little geology and enjoying life on the beach."
Peter P. Gillis '64 PhD, professor emeritus of materials engineering at the Univ. of Kentucky, captained Team UltraDOT, which won the national pistol team championship during the 2004 National Pistol Matches at Camp Perry, Ohio. The national team championship is based on aggregate score from the twenty-two-caliber, center-fire, and forty-five-caliber championships, each shot on successive days. More than 100 teams, both military and civilian, compete annually in these matches. In 1999 Team UltraDOT won, and then repeated its victory in 2000. After three years of second- and third-place finishes, they broke back into the winners' circle this year.
From the September / October 2004 Issue
Herb Alexander writes: "Reputed to be one of the best guides in Israel, I am still active as a lecturer and guide for Jerusalem's archaeological seminars, mainly with private tours. My wife died seven years ago, and I have recently remarried. Four children and four grandchildren are all living here. I would welcome a visit from fellow alumni."
From the July / August 2004 Issue
John Grainger writes that he is enjoying an active retirement in Ridgefield, Conn., and Florida.
Hilary Masters's work received the 2004 Award for Literature from the American Academy of Arts and Letters.
Joe Munro is still enjoying retirement at Point Judith, R.I. He and his wife, Marilyn,
celebrated their 51st wedding anniversary on Dec. 26 with a quiet dinner at home with two of sons and their wives, who did the cooking. Joe and Marilyn would like to hear from any classmates living in the area and perhaps share a fine fresh-fish dinner.
From the May / June 2004 Issue
Warren Barker writes: "I'm retired in Boulder, Colo., and enjoying skiing, biking, and running. I do an annual four-day bike tour through the Colorado Rockies. This year my wife, Jean, and I mark our 50th anniversary."
From the March / April 2004 Issue
Eunice Bugbee Manchester, of Warwick, R.I., writes: "Elsie Anderson Drew '46 planned the wonderful 55th anniversary celebration of the Brown Alumnae Club of Kent County, which was held at the Brown Faculty Club on Nov. 8. A club scrapbook depicting activities and memorabilia, which eventually will become part of the Farnum Archives at the Hay Library, was on display." Eunice reports that a video of the event will be added to the club history, and that a contribution was presented to President Ruth Simmons toward her Initiatives for Academic Enrichment. Club members Cleo Palelis Hazard '51 and Mary Holburn '50 were acknowledged for receiving 2003 Brown Service Awards.
From the January / February 2004 Issue
Lester Hyman has published U.S. Policy Towards Liberia, 1822 to 2003: Unintended Consequences? (Africana Homestead Legacy Publishers).
Eunice Bugbee Manchester announces that at the annual meeting of the Brown Alumnae Club of Kent County the following officers were reelected for the 2003–04 year: president, Cleo Palelis Hazard '51; vice president, Jane McGeary Watson '51; secretary, Rev. Marjorie Logan Hiles '49; and treasurer, Anne Renzi Wright '47. Elsie Anderson Drew '46 was in charge of plans for the 55th anniversary of the club that was held on Nov. 8 , at the Faculty Club. The informal reception began with a visit by President Ruth Simmons, followed by lunch. A club scrapbook and video and other memorabilia was on display.
From the November / December 2003 Issue
Patricia Condon Kearney writes that she and her husband are selling their Wellesley, Mass., home of forty-five years and moving to Juno, Fla. They hope to rent a place around Wellesley for four months each year.
Peg Wilkinson Fletcher's watercolors were shown at the Rhode Island Watercolor Society Gallery in September.
From the March / April 2003 Issue
Elena Rocchio (see Nancy Dee '82).
Dotty Wells, of Narragansett, R.I., received the Partner in Philanthropy Award from the Association of Fund-Raising Professionals in December. She was recognized for her volunteer work on behalf of the Saint Elizabeth Community in East Greenwich, R.I. A member of the community's board of trustees, she recently chaired its capital campaign.
From the November / December 2002 Issue
Steve Espo (see Ruth Ann Sidel Espo '59).
Bill Kinder (see Courtney Carr Hamilton '91).
From the July / August 2002 Issue
Wini Blacher Galkin and her husband, Bob Galkin '49, were thrilled to march at Commencement with their oldest grandchild, Naomi Kenner '02. Four generations of Wini's family have now graduated from Brown, including Wini's late mother, Esther Gleckman Blacher '29, and daughter, Ellen Kenner '75.
Mason Nye writes: "My wife, Mary Ann Burrows Nye, and I are enjoying retirement in Florida. We are both very active in our church and sing in the choir. I teach courses in literature, run two book groups, and play tennis twice a week. Mary Ann is an office assistant and also volunteers as a literacy tutor. We recently flew to Philadelphia to attend our youngest daughter's wedding. She is a Unitarian minister and her husband is musician."
From the May / June 2002 Issue
Report from reunion headquarters: "Reunion plans are complete. We hope to see you at Brown for a great weekend, May 24-27. Join us at your class events, Campus Dance, the Pops Concert, and the Commencement March. Register at alumni. brown.edu. If you haven't received your reunion mailing, please contact (401) 863-1947; reunions@brown.edu."
Annette Barabash Leyden, of Irvington, N.Y., writes: "Marjean Armitage Ingalls and I took an Elderhostel trip to Uruguay in November. We saw lots of birds and sea lions. Last July I visited with Pat Phelps, Beverly Greensides Schnitzer, and Carolyn Quinn Tew."
From the November / December 2000 Issue
Larry Kaufman (see Mark Kaufman '87).
From the July / August 2000 Issue
Constance Jenks Peake, of Durham, N.C., writes that purely by chance, she and Barbara Merrill Schneider sat beside each other at dinner in Borgarnes, Iceland, in May 1999. Though they did not know each other at Pembroke, during the course of their conversation they discovered that they had been classmates. They enjoyed reminiscing about college while they, their husbands, and others in the group traveled around Iceland on an Elderhostel trip.
Dick Sherman writes that he was honored for distinguished public service by the North Attleboro-Plainville (Mass.) Rotary Club, the North Attleboro selectmen, and the Massachusetts legislature. Active in North Attleboro civic affairs, Dick chaired the town's millennium celebration, a series of events in 1999. He has served on various town committees since 1954, including the school committee and the library trustees. He also authored a bicentennial history of the town in 1976. Dick and Nancy Schmidt Sherman '53 have three children: Jeff, Debbie, and Rob, and two granddaughters. Dick retired three years ago as manager of marketing communications at Raytheon.
From the May / June 2000 Issue
Hilary Masters, of Pittsburgh, has published In Montaigne's Tower (University of Missouri Press), a book of personal essays. Also the author of eight novels, Hilary has received the Emily Balch Award for short fiction from the Virginia Quarterly Review.
From the March / April 2000 Issue
Lester Berkelhamer (see Karen Berkelhamer Harrison '87).
Fred Kopf writes: "I retired to Stuart, Fla., in 1994 after forty years as an investment analyst in New York. I eagerly await the opening of my son Alex's brew pub in Ojai, Calif., where I will volunteer as batch taster. I'm studying conversational German and trying to unlearn all the bad tennis strokes I have mastered over the years."
From the January / February 2000 Issue
Peter P. Gillis '64 Ph.D. is coach and captain of Team Ultradot, a pistol-shooting team that won the national team championship at the 1999 national pistol matches held at Camp Perry in Ohio. Peter writes: "The championship is based on the aggregate score from the twenty-two-caliber, the center-fire, and the forty-five-caliber championships. More than 100 military and civilian teams compete annually in these matches. Team Ultradot was the first civilian team to win the team championship since the Georgia Sport Shooting Association broke the barrier in 1971." Peter was also a firing member of the team, which won all three guns at the Kentucky state championship and at the On to Perry regional pistol championship.
From the July / August 1999 Issue
Bill Eaves is alive, well, and prospering in the Palm Springs area. He writes: "I am serving on so many charity and volunteer boards that I have changed my job description from 'retired.' I hope to get back to a reunion one of these years." Bill would be delighted to hear from classmates.
From the May / June 1999 Issue
Herbert Alexander spent a long New Year's weekend visiting his high school classmate and freshman roommate, Ernest Prupis, and his wife, Sheila, at their home in Seabrook Island, S.C. Herb, who has lived in Jerusalem since 1973, is a professional tour guide whose work has been referred to in Condé Nast Traveler. Ernie writes that he and Sheila gave Herb a tour of nearby Charleston to reciprocate Herb's guided tour of Israel.
James Muller (see Diana Marcus Muller '82).
From the March / April 1999 Issue
On Oct. 24, members of our class and their guests gathered in Manning Hall to participate in the unveiling of the Class of 1952 plaque honoring our gift of $246,000 donated at our 45th reunion. The gift made possible the renovation to the Prospect Street entrance and lobby, including a chair lift to the second floor for handicapped accessibility. The bronze plaque is located on the right wall as you enter Manning on the Prospect Street side. After brief remarks by Dotty Wells and Director of the Brown Annual Fund George Nehme, Class President Dave Bisset and immediate-past-president Marshall Cannell unveiled the plaque. Ed Barry arranged for the great lunch at our class tent at the stadium. The football seats couldn't be beat! Brown's exciting homecoming football victory was the culmination of a glorious fall day.
Mary Williams Lindsay reports that Janet Lindsay '86 and Steve Weinberg announce the birth of Rebecca Adams, born May 21. She joins Lindsay, 2. Steve is a human resources manager at Sharp Laboratories. Richard Lindsay '78 has accepted a job at American General Financial Services.
From the January / February 1999 Issue
Miles Berger has been inducted into the Chicago Association of Realtors Hall of Fame. He is vice chairman of Heitman Financial and the chairman of Mid Town Bank and Trust.
Margaret M. Jacoby, Newport, R.I., writes: "From April 21 to May 10, I had the pleasure of being an astronomy lecturer (for the second time this year) aboard Cunard's Vistafjord on their Atlantic Mural East cruise. It was my first experience at sea for eight days, and I loved it. I gave my astronomy lectures and had a wonderful experience!"
Theodore B. Selover Jr., a technical consultant in Shaker Heights, Ohio, has been named a Fellow of the American Institute of Chemical Engineers (AICE). Fellow status in the AICE is one of the highest honors that can be conferred on a chemical engineer. Among his achievements, Theodore is the author of sixteen publications, the holder of nine patents, and the translator of numerous Russian engineering journals.
From the November / December 1998 Issue
Bennett S. Aisenberg, Denver, was named the Colorado Bar Association's 101st president. Before establishing his own office, he was partner with Gorsuch, Kirgis, Campbell, Walker, and Grover. He is a past president of the Denver Bar Association and the Colorado Trial Lawyers Association. Aisenberg is also a past president of the Brown Club of Colorado. Previously he was a labor arbitrator and an instructor on torts and real estate law for the National Institute for Trial Advocacy.
Peter P. Gillis '64 Ph.D. captained and coached Team Ultradot to victory in the .45 Caliber Team Championship at the 1998 National Pistol Matches at Camp Perry, Ohio. Approximately one hundred teams, both military and civilian, compete annually in this match. Peter was also a firing member of The Hasbeens, who won all of the team events at the On To Perry regional pistol championship in Lexington, Ky.
From the September / October 1998 Issue
Eunice Bugbee Manchester announces that the Brown Alumnae Club of Kent County (R.I.) is planning a 50th anniversary celebration on Oct. 25 at the Quidnessett Country Club in North Kingstown, R.I. The luncheon is $25 per person and is open to all Brown graduates and friends. Chairpersons are Anne Renzi Wright '47 and Dorothy Mancini LaFond '56.
From the July / August 1998 Issue
Patricia MacBride Hendrickson writes: "Since retirement from full-time teaching in the science department at Staples High School in Westport, Conn., several years ago, I have been involved with helping establish the Women's Campaign School at Yale, now five years old. Its mission is to accelerate the rate at which trained women run for elective office and win. We have women in attendance from all over this country and the world. We've even had three outstanding Brown alums as students. Anyone interested in applying to a session may write me (c/o Women's Campaign School at Yale, P.O. Box 686, Westport 06881) for an application. For five years, I have also been coordinator of an all-volunteer clinic escort service for the Summit Women's Center in Bridgeport, Conn. The escorts have defended women's constitutionally protected right to access medical assistance. In March 1997, we took part in a landmark federal-state suit (using the Freedom of Access to Clinic Entrances Act) against some protesters at the clinic. What an experience. In recent years, my husband and I have enjoyed visiting China, New Zealand, Thailand, Australia, and Hawaii. And I'm writing this from the Caribbean!"
Margaret Jacoby met Anne Walter Lowenthal '58 and Anne's sister, Suzanne Walter Bassani '63, aboard Cunard's Vistafjord during its Total Solar Eclipse Cruise from Feb. 20 to March 6. Margaret and Anne were both lecturers for the ship's enrichment program; Margaret also served as the passengers' consultant in the field of astronomy and for observing the eclipse, her tenth. Margaret writes: "Suzanne was a delightful participant in the shipboard activities and reported seeing the `Green Flash,' a rare observation." Margaret lives in Pawtucket, R.I.
Terry M. Townsend and Sara Devine Townsend moved to Maine in April. "We're accessible by land, air, and water," they write. "We are very close to Mary Littleton Sistare and her husband, Sandy."
From the May / June 1998 Issue
John Grainger retired after forty-five years in the advertising business in New York City. "I'm now enjoying the less hectic life," he writes. John recently traveled to Arizona and Florida, where his two grown children live. His third grandchild, Zachary, was born Dec. 25.
Larry Kaufman (see Lisa Lebow Kaufman '88).
From the May / June 1998 Issue
John Grainger retired after forty-five years in the advertising business in New York City. "I'm now enjoying the less hectic life," he writes. John recently traveled to Arizona and Florida, where his two grown children live. His third grandchild, Zachary, was born Dec. 25.
Larry Kaufman (see Lisa Lebow Kaufman '88).
From the March / April 1998 Issue
Ben Berkman writes: "My daughter, son-in-law, and I recently bought a horse farm in Wake Forest, N.C., to breed and train Arabians. Waste removal from the stalls is excellent for waist removal."
Dora Bucco Lingen writes: "This summer my cousin and her husband came to visit us from Italy. Her husband used his handheld computer to translate Italian into English when communicating with Al, my husband. We gathered at my mother's house in Waterbury, Conn., and toured a bit."
Phyllis Eldridge Suber, Princeton, N.J., and her husband, Mike, bicycled in Provence, France, this fall and spent two days in Paris.