Class of 1955
Jan, 2022
Benita Saievetz Herman writes that she and her husband, Ken, married 62 years, are still in the family homestead in Wyckoff, N.J. Ken is a retired psychologist and WWII veteran. Bennie is winding down her 40-year old practice of being a travel advisor specializing in small ship cruising. "This happened because of Alice Emmert Ward's speech in Chapel about the Experiment in International Living. In the summer of 1954 I lived with a family in Calais, France and made a lasting friendship with the Baras family and a huge connection to travel. After raising four wonderful humans, occupational therapy no longer held my interest as a career. This is when I returned to my love of travel as a serious endeavor. Always athletic, I combined volunteerism at the Barnert Temple of Franklin Lakes, N.J., where I am a lifetime trustee, and long-distance running training. Miss Rudd of the physical education department would have been proud to see me running 12 marathons with a PR of 4:49 at age 60. An original founder of the Chattertocks, I returned to Brown on the 50th anniversary of the successful a capella group's milestone and spoke of the campus sensation they created. We have nine grandchildren, four in college. Sorry that we missed our 65th reunion with so many ever-true memories. I am forever grateful for my Brown experience."
Jan, 2022
Peter Mayerson writes: "My wife, Lois, and I still greatly enjoy living in Denver, where we have resided now for 57 years. We are both fortunately still in good health. I have long been retired from my practice of psychiatry and psychoanalysis. I belong to a great organization called 'The Skimeisters,' which is a group of active 55-or-older people who downhill and cross country ski in the winter and bike and hike in the summer. I've lost touch with all of my classmate friends and would like to reconnect with any of you who are still around. Contact me at pmayerson@gmail.com or (303) 903-0930."
Jan, 2022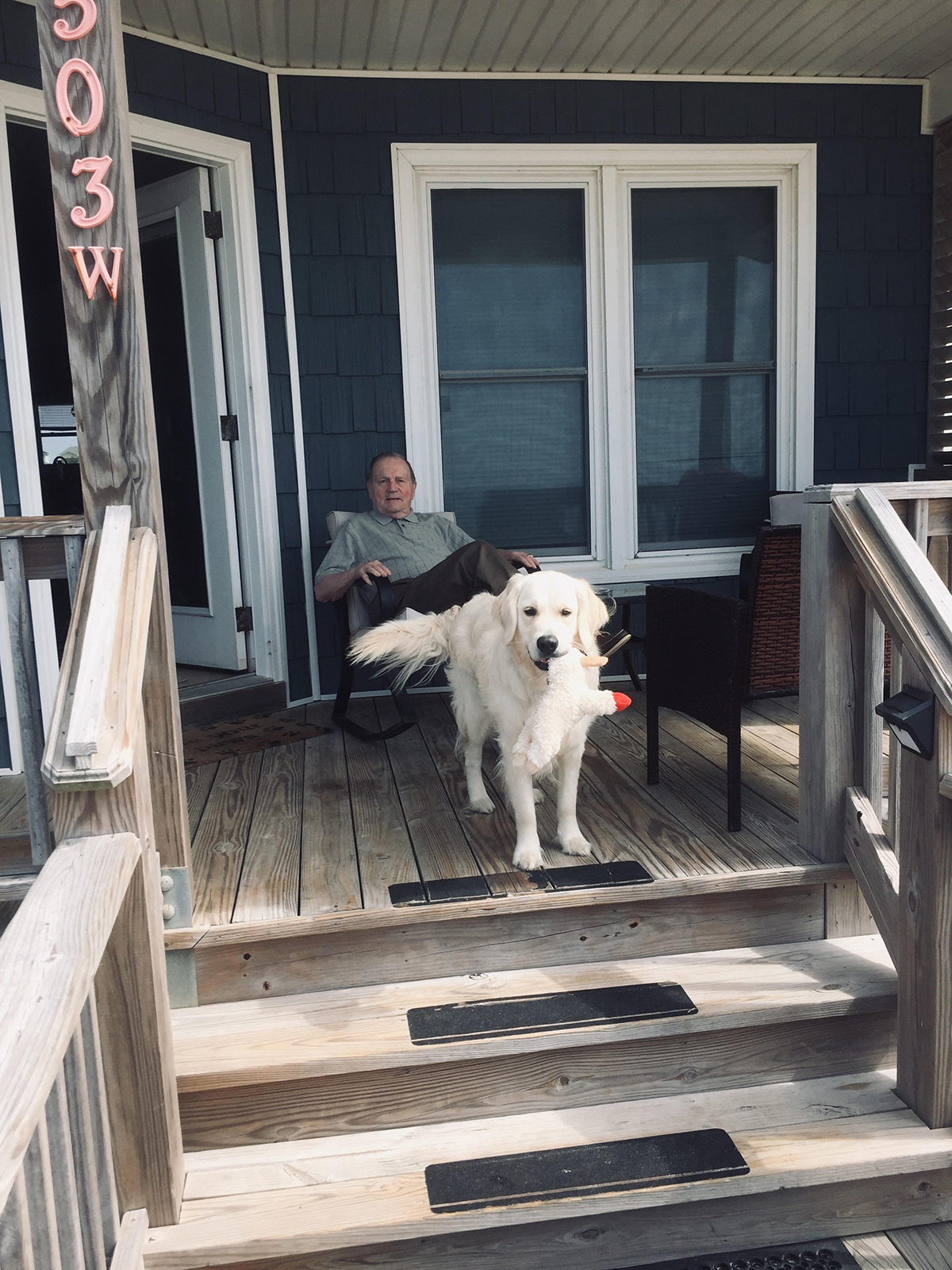 Ted Barrows writes: "To my friends of the class of 1955—Greetings! Jackie and I have faced this last year by taking "bubble" vacations. We have rented houses on the beautiful North Carolina shore and experienced the foliage in the Great Smoky Mountains. We've found a lovely home on a stream to enjoy the views, give the dogs good space to run and take in a train trip through the mountains. We miss our classmates and the fun times at football games and reunions. What great memories. I've included a picture of me at our beach vacation with our water-loving golden retriever, Pizoo. If you find your way to North Carolina, our door is always open."
Apr, 2021
Ever True
Artemis A.W. Joukowsky '55 was one of Brown's biggest cheerleaders and fundraisers.
Read More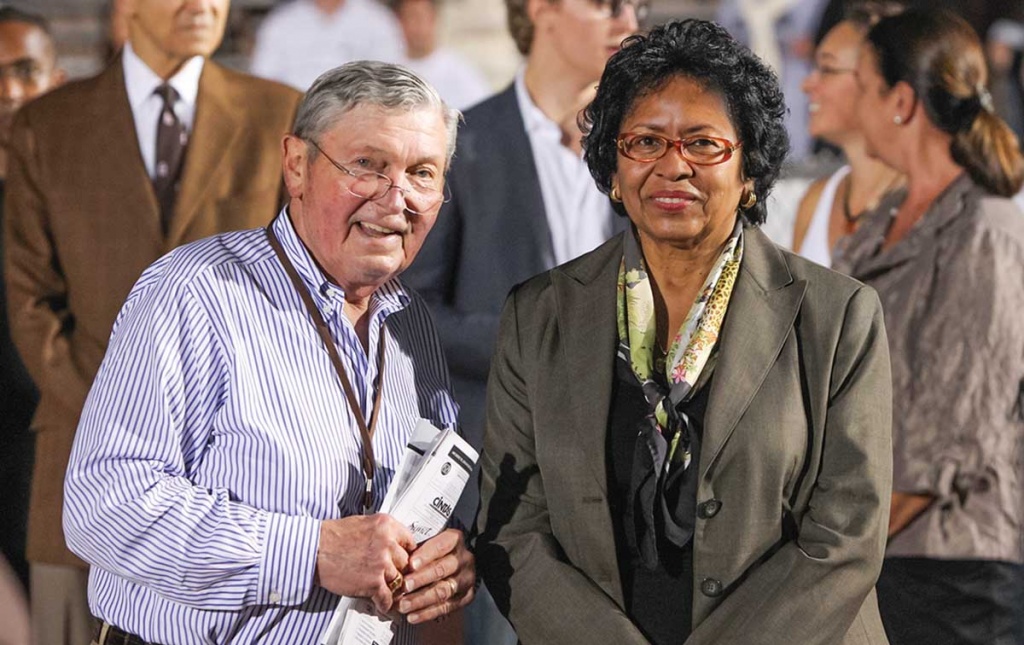 Aug, 2020
Bill Hinckley writes: "Sue and I are both happy with our new digs at Vi at Highlands Ranch, Colorado; my spouse of 65 years is in a lovely cottage and I am in an apartment in assisted living, a wonderful retirement facility, where one is assured of continuing care at all levels and can be busy or not. We have chosen the former with committee work, trips, and activities with friends and our daughter, a half-hour away. I especially enjoy a group, The Play Readers, where actors read from scripts of plays and musicals to audiences of 50 or more each month. I had to give up my carving of songbirds after 30-some years—no studio here. I wrote a monthly column on birds for a magazine for 10 years and wrote and published three novels and one compendium titled Back Then, on my life in the simple times of the 30s and 40s, which was published in February. Both grands are busy—eldest is a USMC captain and the other is with a veterinary group where she works rehabbing horses and other animals and is pursuing her doctorate. Busy kids. Daughter Marjorie is into the animal thing as well, heading up the Intermountain Rescue and Humane Society. A stern believer, she and Realtor husband Michael house seven in their beautiful home. I would love to hear from any and all Brunonians as we endure COVID-19. Happy 65th, wish we could have been there." Contact Bill at (303) 471-4053; billhink9@gmail.com.
Aug, 2020
Warren Ilchman reports: "Postponing commencement and reunions until sometime next year gave the Class of 1955 officers an opportunity to consider leadership. Originally president for our 65th reunion, I am stepping down and am pleased to welcome our class vice president John O'Brien to that position. Our secretary and treasurer, Lucy Brubaker Tortolani and Alan Lawson, will share the responsibility of the vice presidency if required. At the time of the reunion, the class will decide who should be vice president. The many activities that were planned to generate interest among our class members will be offered near the time of the coming reunion. I have been pleased to have had responsibility as president and look forward to the leadership of John O'Brien."
Jun, 2020
Alan Lawson writes: "With my many years in the Boston College history department over, Mary Beth and I have moved to Providence, my original hometown. Before leaving, we benefited from Warren Ilchman's gift of tickets to see the wonderful exhibit of works about Casanova at the Museum of Fine Arts, curated by Warren's son, Frederick. That event had a nostalgic tinge for Mary Beth because, as a student at Wellesley College, she was Frederick's babysitter. Now that I'm back 'home,' I plan to continue my historian ways at Brown and at the Rhode Island Historical Society, researching a family memoir. I am also glad to be here to help with plans for our 65th reunion and to look after the class treasury."
Apr, 2020
John O'Brien writes: "Sad to learn of the death of Gordon Perry. He was a stalwart member of our class who devoted countless hours to the Sports Foundation and the Football Association. He was a founding member of these important University functions. Gordon, along with Art Joukowsky and Dave Zucconi, were instrumental in making all men's and women's sports a significant part of the Brown education. I hear regularly from Don DeCiccio who is enjoying the warm Florida weather. He and Sandy have already made their reservations in Providence for our 65th year reunion. The 65th is coming up fast. The plans for the event are coming together and details will soon be sent to the class members. We look forward to seeing everybody."
Apr, 2020
Warren Ilchmann writes: "It is hard to believe that we graduated from Brown 65 years ago and will celebrate that occasion with a reunion in May. I didn't retire until seven years ago and so have pursued an active life since graduating. In retirement, however, I find the chief responsibility daily is to invent a purpose. I soften that process by belonging to two book groups, attending two "short courses" at a local college and taking a nine-week course twice a year at the Metropolitan Museum of Art. I am now in my sixteenth course. Fortunately, Brown is here with frequent visits with classmates Ken Peterson and his wife, Joe Blumberg and his wife, John Monaghan, and Walter Goldfarb—people I did not know well in 1955, but who have become close friends since. More reacquaintances will be made as we organize for our 65th reunion. Thanks to the University and our class subsidies, there is no charge for any of our class events. However, please register the meal choices for you and your guests. You may register online at www.brunonia.edu or by calling the reunion headquarters at 401-863-7783. Please join us for this special event. Let me add a personal note about giving at the time of our 65th Reunion. The most I have ever given anywhere and at any time and what I have just contributed to Brown, in gratitude, is $19,550.00. I hope another classmate can give in gratitude $1,955,000.00 or $195,500.00 or even $1955.00. Brown provided the framework and composition for our future lives. We need to say thank you and help Brown continue to play that critical role."
Apr, 2020
Class secretary Lucy Brubaker Tortolani reports: "Looking forward to seeing members of the class of 1955 at our 65th reunion. Hope you're planning to come back to College Hill for this special occasion May 22-24, 2020. Exciting class events, as well as University programs featuring faculty and distinguished alumni, will be on tap for the weekend. Please look for news from the University with more details on the weekend schedule and on suggested accommodations in the Providence area."
Jan, 2020
J. Roy McKechnie '55 writes: "Our 65th reunion now pends…actual dates are May 22-24, 2020. We hope to have a good turnout so if you plan to attend it's vital that you make accommodation arrangements pronto! Those charged with reunion plans will confer shortly and you will be informed of their decisions. Also, if you would like to help please contact me at blmckechnie@msn.com. Although classmates requested seating on the hill, it will not be possible for us post filing under the Van Wickle Gates. If the walk down the hill is too strenuous you can return to campus if needed. Barbara and I continue to tend to the grandkids we came out here to help with (they're doing splendidly, of course), and we have become more deeply involved in local doings than anticipated, and get out of town as frequently as possible. Our Puerto Vallarta hideaway is a blessing. Meanwhile, industrial-strength travel absorbs us. Last year's key trip was Vietnam and Cambodia and this year's, sans outright warfare, Israel/Jordan/Egypt. Blessings… and more later."
May, 2019
John O'Brien and Anne Murphy O'Brien were happy to see their son Bill O'Brien '92 selected as Brown's chosen honoree at the Ivy Football Association dinner in New York City this past January. About 150 Brunonians were in attendance, including Brown's new football coach, James Perry '00. John writes, "We continue to stay in touch with our Naples, Florida friends, including Don Diciccio, who seems to be hard at work on improving his golf game." John and Anne look forward to the 65th Reunion in 2020, which they hope will be well attended.
Jan, 2019
Warren Ilchman celebrated a birthday in September with a gathering of friends and family at Boston's Museum of Fine Arts. Brown classmates in attendance were Joe Blumberg, Walter Goldfarb, and John Monaghan. The MFA was the party site because Warren's son Frederick was a curator of the magnificent Casanova's Europe: Art, Pleasure, and Power in the 18th Century, on display there. He provided information we had missed in History D-1."
Nov, 2018
Warren Ilchman '55 writes: "Our 65th reunion is not far off, and suggestions for the event should be sent to class reunion chair Roy McKechnie '55. In the meantime, figuring that an 85-year-old is not very useful as a volunteer, I use my time mostly to educate myself. I am into my 17th eight-week course at the Metropolitan Museum, this one on American art of the early 19th century. In October I spent a week in Venice learning about Tintoretto on his 500th birthday. At home, I belong to two book groups—one that focuses on classics and another that focuses on contemporary fiction. I also run a book group at my church. The real pleasure, apart from my family, is meeting monthly or so with my classmates Ken Peterson '55, Joe Blumberg '55, their wives, and John Monaghan '55. Usually with museums as a context, we share our events, frailties, and unachieved aspirations. But we all aspire to our 65th in spring 2020."
Nov, 2018
Reunion chair Roy McKechnie '55 reports: "Greetings '55, from Ultima Thule, Utah! In preparation of our next reunion, please look for a pre-event survey coming your way pronto. Please answer its queries and return promptly to the cited address. After much discussion with the powers that be, our request for seating south of Van Wickle during and post our pre-graduation ceremony procession (we'll be right up front) is a no-go. See the survey for details. But our banner proudly citing military service by our men and women, once considered lost, has been found. It should take pride of place during our downhill march. Finally, I'm operating from a range of some 2,300 miles from the campus and really need onsite help. Volunteers are not only welcome but essential. The survey has details. Meanwhile, blessings to all."
Sep, 2018
John Strong Jr. writes: "I'm still playing tennis and golf and working in a local soup kitchen. Also, I still travel to New York City for ballet and Philharmonic and to the Staller Center at Stony Brook University for student orchestra and the MetLive."
Jul, 2018
Bud Brooks met up with Patrick Petteruti '21 during a Brown baseball game in Dallas. Bud was a right-handed pitcher from Brown, and Patrick is currently a lefty for the team.
May, 2018
George Ulrich writes: "When Sally and I took up housekeeping in an assisted living facility in the South Denver area, it took a while to adapt to our new lifestyle. Not used to living with elevators, wheeled walkers, electric scooters, and oxygen carts, we're amazed, after nearly three years, at how much we enjoy the urban environment on this 84-acre campus. We've renewed acquaintances with several professional colleagues in the area and other U.S. geology surveyor retirees. We also have made friends with a couple of Brunonians; Norm Walters '45 and Ann Jones Mills '60. I'm still playing tennis and pedaling on bike/pedestrian trails in the area. Besides working in the wood shop and placing 18 bluebird houses around campus, which so far have attracted only tree swallows, I've joined the Learners Committee, supporting 10 to 15 courses of four to eight weekly classes three times each year. I've also generated two courses: one on the Grand Canyon and another on Adventures to a Rocky Moon, reminiscing about the Flagstaff days of the last four Apollo missions."
May, 2018
Lucy Brubaker Tortolani writes: "I'm enjoying life in Rhode Island and my proximity to Brown. The lectures on campus are topical and stimulating. Gene '52 and I attend when we can. I play bridge weekly and do Sudoku and crossword puzzles daily. I take pleasure in knitting hats and needlepointing Christmas stockings for my grandchildren, and I enjoy trips to New York City and Boston with my daughters. Most importantly, I am a devoted caretaker for Gene. Unfortunately, I've lost touch with many from the class of '55 but have corresponded recently with Lois McClarin-Revi, and she's doing well in Hanover, Pennsylvania. She belongs to two book groups and it's clear from her writing that her sharp wit and views on world affairs are alive and well informed. I have also connected with Nancy Schuleen Helle and she's still an avid writer and doing freelance work for the Silvermine Art Center in New Canaan, Connecticut. I'm looking forward to our 65th reunion in two very short years and hope to see many fellow classmates there."
May, 2018
Nancy Schuleen Helle writes: "Leslie Travis Wendel died peacefully on New Year's Eve surrounded by family at Pennswood Village in Newtown, Pennsylvania. She had lung problems and had been on oxygen. She enjoyed making new friends and all the intellectual and cultural events offered there. She was a reporter for the Pennswood newsletter and in the past year was appointed chairman of the Residents Committee. In December, my daughter Karen and I visited her and we shared scrapbooks and memories of fun things we had done together over the years, including vacations with husbands in France. We have lost so many dear friends that I am counting myself lucky that Herb Helle and I are still alive and ambulatory. I am still doing some freelance writing. I completed a story on the role of art in design at Silvermine Art Center for Venu magazine and a travel piece on the coastal area of Stonington and Mystic in Connecticut, and Watch Hill and Weekapaug in Rhode Island, which will run in a special supplement of a regional newspaper chain in Connecticut. While in Mystic, I visited Dick Nourie at Stone Ridge retirement center. Dick and his wife joined us for a fun dinner. In the past year, I have enjoyed two special events hosted by Brown in New York City, a documentary on a Pennsylvania town surviving tough economic times and a distinguished panel discussion on real news versus fake news in today's media, held at the Time Warner Center, as well as a winetasting in an art gallery in New Canaan, hosted by the Fairfield County Brown Club. I am still in touch with classmates Jean Sheridan Adams, Audrie Brown Cudahy, Dick DePatie, Alan Lawson, Diane Aspinall Parker, Lois McClarin Revi, Burkey Pratt Thomas, and Lucy Brubaker Tortolani."
Apr, 2018
Anne Murphy O'Brien and John O'Brien spend most of the year on Cape Cod after many winters in Naples, Fla. John writes: "In the summer we are blessed to have our three sons close by and enjoy playing golf with John '82, Tom '85, or Bill '92, and various grandchildren. I also still see Don DeCiccio, Ev Pearson, and Gordon Perry at the annual Football Association outing in August, so my game is still not good but the companionship is always great. We are looking forward to our next reunion."
Jan, 2018
Adrienne Farr Sabatier and Jane Baltzell Kopp met for lunch in Denver in September. The two were reunited after more than 60 years when Adrienne was visiting her children in Denver and mentioned her old friend from Pembroke. A quick Google search found Jane happy and well in Denver. Over lunch, the two reconnected.
Jan, 2018
Peter Lisbon writes: "I have been enjoying life in sunny San Diego for the past 17 years after retiring in 1998 from a 40-year career as a librarian at Harvard's Widener Library. I take courses at UC San Diego and participate in several discussion groups, one of which is hosted by Dave Parker '54, who also happens to have majored in philosophy."
Jan, 2018
Warren Ilchman writes: "Though a widower and retired since 2011, I can say my best work was my last work. For 13 years, I had the pleasure of awarding annually graduate scholarships to immigrants and the children of immigrants. In that responsibility, I awarded 450 Soros Fellowships. From that, alas, I am now retired. Now, like many of my classmates, I have to develop my own purpose. I live in Bronxville, New York, and can walk to my doctors, dentist, bookstore, coffee house, pharmacy, and grocery. I am in two book groups, one focusing on classics and the other on contemporary fiction. I also attend a discussion group on public affairs issues once a month. I am a member of my Vestry and an active member of an aging-in-place organization. One of the joys of where I am living is that I am five minutes from the train station and then only 27 minutes to Grand Central Station. I get into the City two or three times a week. Among other activities, I take an eight-week course in art history twice a year at the Metropolitan Museum. I also have the privilege of seeing, at least monthly, several '55 classmates: Ken Peterson and his wife, Joe Blumberg and his wife, and John Monaghan. Usually in New York, but also in New Haven and Boston, we go to museums, have lunch, and share life experiences. But there are occasional unexpected encounters with classmates. My son, an art curator in Boston, gave a lecture after which a man introduced himself. It was Walter Goldfarb, our classmate. Walter is a distinguished surgeon in Portland, Maine, and a collector of art. We will meet in New York soon. The 50th and 60th reunions were high points in my life, and I look forward to our 65th."
From the November/December 2017 Issue
Send your news to the BAM at alumni_magazine@brown.edu.

John Strong Jr. writes he is still maintaining his historic home and is involved with church finances and the soup kitchen. He plays golf and tennis for recreation and attends the opera, ballet, and New York Philharmonic for culture.
From the July/August 2017 Issue
Daniel Chu has had both hips replaced and, as April began, was ambulatory and recovering at home in Red Hook, N.Y.
John Monaghan and three of his classmates, Joe Blumberg, Warren Ilchman, and Ken Peterson, gathered in New York City in late March to dust off their winter lethargy. They visited both the biennial exhibit at the Whitney Museum and the visionaries collection at the Guggenheim, conversed broadly, and dealt briefly with the current politics.
From the March/April 2017 Issue
David S. Decker writes: "I retired from the insurance industry after 38 years. Following that I worked as a volunteer at our local police station. Now I am totally retired, and I am looking forward to the summer at my house in Rhode Island."
Leonard Whistler II and Kathryn Kissane Whistler have been retired for years and enjoy traveling. They recently traveled to Madrid, Calgary, and some Canadian and U.S. National Parks. They write: "Our three children are doing well, and we have grandchildren at Wesleyan and Vanderbilt."
From the November/December 2016 Issue
Jackie and Ted Barrows planned a trip to observe polar bears at Churchill in Manitoba, Canada, in October. They write: "Although not necessary for North Carolina living, we bought our gear to keep us warm to -20 C. We continue to enjoy good health, golf, and Brown friends. Best wishes to our great classmates."
From the September/October 2016 Issue
Robert Barron and Selena Winicour Barron '57 celebrated their birthdays with family members in the Netherlands. They write that daughters Susan and Wendy are doing well, as are grandsons Jordan and Cameron and granddaughter Ruby. Robert is still answering questions on the Rule 144 Q & A Forum for the Corporate Counsel, writing a column on securities law for the Securities Regulation Law Journal, and teaching a course on foreign corrupt practices as a professor at the NYU School of Professional Studies. Selena is active in the American Association of University Women.
Janice Kennedy Doctor writes that she is enjoying milder weather and getting outside in her power chair.
Robert Ecker writes: "My wife, Peg, and I are enjoying our 34th year in Long Valley, New Jersey. I am participating in a 'great decisions' group studying foreign policy; the current subject is global warming. We are going on a Mississippi River cruise aboard the American Queen under the Brown travel program and hope to meet up with other Brunonians."
Warren Ilchman writes: "Organizing retirement is a challenge. Each year I attend two eight-week courses in art history at the Metropolitan Museum. This year is my 10th course. For 22 weeks each year I help lead a discussion about books relating to church history and moral obligations. My family and I spent 11 days in Japan in January and the Thanksgiving week in Rome."
John D. O'Brien and Anne Murphy O'Brien write: "We are back on Cape Cod after winter in Naples. Everyone is doing well. John '82 is in the energy business in Dallas, Tom '85 is a commercial developer in Boston, and Bill '92 is a football coach in Houston. We have eight grandchildren, from college age to elementary school age. Grandson Matt O'Brien '15 is getting his master's in public affairs at Brown."
Socrates H. Mihalakos moved to 348 Heritage Village, Southbury, Conn. 06488. Five months of the year he and Joani live in Vero Beach, Fla.
John A. Summerfield writes: "Carole and I are enjoying our retirement in Naples. I have almost retired except for Rotary work."
George C. Wood is enjoying Minneapolis with his three children, 10 grandchildren, and one great-grandchild.
From the March/April 2016 Issue
Jim Lichtenstul writes: "Enjoying retirement. Biking, oil painting, fishing, hiking, etc."
From the January/February 2016 Issue
John Monaghan was inducted into the William Blackstone Society, an honorary organization recognizing residents of Rhode Island's Blackstone Valley who have distinguished themselves in their careers or in public service. John was cited for his 47-year career in journalism as a reporter and editor at the Pawtucket Times, the Providence Journal, and the Evening Bulletin and for his "involvement in statewide conservation efforts." He retired in 1998 as managing editor of the Providence Journal, then spent 10 years on the Cumberland Conservation Commission and five years as a board member of the Rhode Island Assoc. of Conservation Commissions. He was also on the BAM board of editors for 18 years, with 12 years as chairman, and is a recipient of the Brown Alumni Service award. He was introduced at the induction ceremony by M. Charles Bakst '66, a retired Providence Journal political columnist. The society is named for the first European settler of Rhode Island, who arrived in 1635, and is maintained by the Blackstone Valley Tourism Council.
From the September/October 2015 Issue
Ted Barrows and his wife, Jackie, recently celebrated their third year in North Carolina. Though he was not able to attend the reunion, Ted sends his greetings to all classmates. Knowing that a visit to Rhode Island was not possible this year, Ted and Jackie traveled to Utah in April to visit Barbara and Roy McKechnie. Last February, a visit in New York City with Mattis Fern satisfied the Barrows' desire to see some snow, friends, and family. Ted plans to come up and see Martha and Dick Nourie in the future. Ted is active in the Military Officers Association of America, in an energetic wine tasting group, and at his golf club. He writes: "Living on the 17th tee has its benefits—I get to play commentator to the players off my porch! I keep Stu Erwin in my heart and send my best to Diane. Classmates visiting this lovely area of our state are encouraged to call and visit."
From the May/June 2015 Issue
George C. Calnan entered Brown with the class of '55, but left in 1953 to enter the Air Force. After working as an engineering clerk in Lake Charles, La., he returned and graduated in 1960. George eventually settled in San Francisco, where he opened an art gallery, The Prism, and enrolled in a master of arts program at San Francisco State College. He met his wife in the same city, and after they married he embarked on a 30-year-long teaching career. He has twin sons, one married with a daughter and one still at home. He has been retired for almost 25 years.
William Condaxis writes: "Celebrating 62 years of marriage to my wife, Frances. She was the dietitian at the Sharpe Refectory when we met. She is still providing excellent meals. We have great memories of our Brown years. Our daughter, Paula Condaxis Angell '78, also met her husband, Robert Angell '78, at Brown."
Jessie Paquette Mayer writes: "I got married in 1956 and lived in four different states due to my husband's work. We had six children along the way and finally settled in my hometown, where we had two more children. After they were all in school, I worked as a lettering artist (thanks to a long-ago RISD course) and printed my own Christmas cards. For the most recent 20 years, I was the editor of a quarterly historical publication, the Oneida Community Journal. We have eight grandchildren in addition to the grown children. I read a lot and enjoy backyard bird-watching."
Socrates H. Mihalakos writes: "Vincent Genua, Don De Ciccio, Bill Condaxis, and I, along with our wives, attended the Brown-Harvard game for the 54th straight year. A great time was had by all, especially seeing several of our classmates. We spend five months at our home in Vero Beach and balance out the year in Connecticut. If you're in the area, please call or visit."
From the March/April 2015 Issue
Arnold Abramowitz writes: "Still enjoying retirement in Florida and Maplewood, N.J., playing a lot of bridge, traveling, reading, and resting with my significant other, Helen Beck."

Robert "Tony" Barron writes: "I am busy in retirement. I teach a course at the New York Univ. School of Professional Studies, where I recently received an award for 30 years on the faculty, and I write a quarterly article for the Securities Regulation Law Journal. My wife, Selena Winicour Barron '57, is very active in the American Association of University Women. Our daughters and their families, including grandsons Jordan and Cameron and granddaughter Ruby, are well. Jordan, who is an actor, started a run of Camelot on Jan. 29 at the Westchester Broadway Theatre."

Joseph Blumen spent a year as a general surgeon at an evac hospital in Vietnam, then had a brief tour at West Point, and eventually settled in Newport, R.I., with his family and entered into private practice. He was a member of the Newport Planning Board, on the board of the Seaman's Church Institute, and served as a physician for the Newport Casino Tournament. After retiring from practice, he has been traveling, with trips that included the Chautauqua experience and visits to the Fenimore Art Museum and Glimmerglass Festival. He is creating a core library collection at the Salve Regina Univ. library entitled "Man's Inhumanity to Man." He writes: "Sixty years after Brown, as the old timers say, 'Every day above grass is good.'"

Judith Robinson Corney writes: "We live a beautiful life in perfect weather in a very busy Silicon Valley, California, retirement community. I am president of our resident association, which sets the tone of our cultural and physical activities. My all-consuming love is duplicate bridge, for which we travel the Bay Area two or three times a week."

Due to health issues, Janice Kennedy Doctor writes that she is unable to attend any reunions. She recently passed down her waterfront property to her daughter and family. Janice's grandson, who completed his law studies last May, will be the fifth generation to own the house. Janice split the past two years between the hospital and rehabilitation, but has now returned to an apartment building for independent seniors. She writes: "I love it, and it is only a couple of blocks from my family."

Bill Hinckley's second novel, Fast Current, a sequel to An Undercurrent, is now available at Amazon and Barnes & Noble and from Inkwater Publishing.

Marcia Searles Horn writes: "Looking forward to seeing everyone at our big 60. I now have five grandchildren who are college grads. The sixth graduates in June from the Univ. of North Carolina at Chapel Hill, and another one is a law school grad."

Martin Malinou continues to practice law full-time, while also taking time to visit his sister, Sherri Malinou Spillane '62, in Los Angeles. He writes: "I have enjoyed meeting her friends in the world of entertainment."

John T. Strong Jr. writes: "Retirement from Northrop Grumman has been busy—cocordinator of weekly soup kitchen, financial secretary of Setauket Presbyterian Church, and many different positions in Presbytery of Long Island. This all fits around tennis, golf, and maintaining a 160-year-old house and grounds. I take occasional long trips to friends and family in South Carolina and Florida and to New York City for the Philharmonic and ballet."
From the November/December 2014 Issue
David S. Decker writes: "After 15 years as a volunteer with the Montgomery County Police Dept., I finally retired. I have six grandnephews whom I keep asking to consider Brown—I'll keep my fingers crossed."
From the September/October 2014 Issue
Francis A. Brooks Jr. '65 MAT has two granddaughters at the Univ. of Oklahoma and a third granddaughter entering Texas Christian Univ. this fall. His grandson is beginning his second year at St. Mark's School of Texas.
From the July/August 2014 Issue
Terry McGowan Heavey (see Katie Evans Goldman '10).

Alan Lawson writes: "Since phasing out my career at Boston College and now as emeritus, I've been poking around in other countries, mostly in China, Vietnam, Laos, Cambodia, and Thailand, with visits to New Zealand and Australia. To do something useful this year I volunteered to teach in India and wound up for several weeks in a village school in Rajasthan. It was more a learning experience for me than for the seventh graders to whom I tried to impart some understanding of English, though I understood none of their Hindi."
From the May/June 2014 Issue
William P. Hinckley writes: "Sue and I continue to enjoy Colorado, although we are giving up our home and moving into a continuing-care community, guaranteeing that, whatever comes up, we have the care we need onsite. On the granddaughter front, Olivia got her BA from Princeton in June and was commissioned 2nd Lt., USMC, on the same day. While waiting for advanced training school, she is pursuing a master's in military science at Trinity College. Her sister, Peggy, is a sophomore at Northwestern, where she is mixing formal studies with a second interest in new and different styles of makeup. She has her own blog. My second novel is searching for a good fit with a publisher, and a third, Windigo, is not yet complete, but a Maine publisher is very interested. Soon I finish rehab on a second shoulder repair."
From the March/April 2014 Issue
Arnold C. Abramowitz is living in Boca Raton, Fla., and spends summer months in New Jersey. He writes that he is fully retired and enjoying it, and looks forward to seeing everyone at the reunion in 2015.
Robert Tony Barron and Selena Winicour Barron '57 live in Hartsdale, N.Y. Their daughter Susan lives in Manhattan with her husband, Steven. Son Cameron is a sophomore at Brandeis. Son Jordan is an actor in New York City. And daughter Wendy lives in Brooklyn with her husband, Mike, and daughter, Ruby, 11. Selena is active in the American Association of University Women, and the couple leads a current events course at Westchester Community College. Tony writes a column on securities law for Securities Law Journal and teaches a course on the Foreign Corrupt Practices Act at NYU.
Fred H. Barrows III and his wife, Jackie, moved to Southern Pines, N.C, where they have settled in a home overlooking the 14th green of their member golf course. Ted enjoys golf and traveling. He writes: "The weather is milder than New England, but since this area was founded by New Englanders, one thinks of the lovely pines and mountains of New England. We welcome friends to come visit this lovely area. We do get back to Rhode Island several times a year. Keep in touch."
Sally Abbott Barthold writes: "It would be great to hear from classmates."
Orazio J. Basile retired from 50 years of dermatology practice and his position as assistant professor of clinical dermatology at Brown's Alpert Medical School. He will continue to travel and maintain his residences in Cumberland, R.I.; Cape Cod, Mass.; and Aruba.
Richard Beers is looking forward to Brown's 250th this year and his 60th reunion in 2015. He is not fully retired and is still an EMT on a volunteer ambulance. He has 14 grandchildren, with graduates from Bates, Syracuse, Vassar, Georgetown, and SUNY Geneseo. "Four are still in college and three to go."
William P. Condaxis and his wife, Fran, celebrated their 61st anniversary. They write that they enjoy being with classmates Soc Mihalakos, Donald De Ciccio, and Vincent Genua several times a year.
Donald R. De Ciccio arrived in Naples, Fla., for the winter in October and is looking forward to seeing classmates Everett Pearson, John O'Brien, Gordon Perry, and John Summerfield, as well as Philip Noel '54. He is also looking forward to his 60th reunion in 2015. He still sees Bill Condaxis and Vincent Genua when he is up north.
Marcia Searles Horn writes: "Sadly, I must report the death of my husband, Raymond Horn, on Sept. 30. My three children, Edward of Milford, Connecticut; Michael of San Diego; and Mindy Rooney of Charlotte, North Carolina, are a great comfort, as are my six grandchildren. I plan to attend the next reunion with my former roommate, Barbara Schoen Silverman, of Longboat Key, Florida. I look forward to seeing everyone."
Joanna Pozzi Williams retired as professor of psychology and education at Teachers College, Columbia, but will work part-time until she has finished her federal grants. She plans to stay in New York City, where she has an apartment at Lincoln Center, but she hopes to spend more time in her house in Bristol, R.I.
John A. Summerfield moved to Naples, Fla.
From the November/December 2013 Issue
Bob O'Such writes: "In June I had a visit from Bob Zimmerman '56, a fraternity brother I had not seen in 60 years. Bob, who maintains an e-list of Betas, was on his way to Maine for a week of fly-fishing with fellow Betas Vaughn Fuller '54, '68 MAT; George Gregory '56; and Greg Sullivan '54. It was great to catch up on memories from our undergraduate days. In May I celebrated my 80th birthday. The family rented a house on Cape Cod for the weekend, where all 22 of my immediate family gathered, including three great-granddaughters. We are fortunate to have all of the family residing in Fairfield, an hour from our Guilford, Conn., home. Sally and I celebrated our 58th wedding anniversary in August and will (hopefully) attend my 60th reunion in 2015. Brown has an incredible reputation in our area, and I am pleased to say we have one other graduate in the family, our granddaughter, Carolyn Chang Audino '02."
From the March/April 2013 Issue
Francis Brooks writes: "I have a granddaughter in the freshman class at the Univ. of Oklahoma."
Judith Robinson Corney writes: "We've moved from Longboat Key, Fla., to a beautiful retirement community in Saratoga, Calif. We are lucky to be in good health and enjoying our hobbies."
Fred Stavis writes: "I've been married for 53 years—it's fantastic. I play tennis four times a week and I've discovered that I have succeeded at retirement, enjoying piano lessons, theater, athletics, reading, and especially grandchildren."
From the January/February 2013 Issue
Arnold C. Abramowitz is happily retired in Boca Raton, Fla.
Joan Yurkunas Fitzgerald writes: "I continue to enjoy volunteering as an ESL tutor at Lone Star Community College in The Woodlands, Texas. This year's class includes immigrants from Egypt, Pakistan, Peru, Venezuela, Colombia, Mexico, Chile, and Korea. Some have been in Houston for as little as four months or as many as 14 years. Some have advanced university degrees, while others only went to 8th grade in their respective countries. The work is lots of fun, but challenging."
Walter B. Goldfarb and Marcia Finberg Goldfarb write that their grandson Jonathan Aronson is in the class of 2013.
Artemis Joukowsky writes: "I am actively engaged at Brown as chancellor emeritus. Martha is completing a book on the Brown excavations in Petra, Jordan."
Joan Bronstein Soloway returned from an extensive trip to Turkey. She is still summering and wintering at home in the Berkshires, where she continues painting in watercolor.
From the September/October 2012 Issue
John Monaghan's wife of 53 years, Joan, died on June 4 after a seven-year battle with Parkinson's. Other survivors include her brother, James J. Noonan '57; sister-in-law Sheila Monaghan Harvey '56; brother-in-law R. Peter Harvey; and nephew Peter C. Harvey '80.
Bob O'Such and his wife, Sally, are celebrating 57 years of marriage with the addition of three great-granddaughters. The latest is Sofia Park Audino, whose parents are Carolyn Chang Audino '02 and A. Bruce Audino of Fairfield, Conn. Carolyn recently completed her MBA at NYU, and Bruce is a vice president of JP Morgan Chase in New York City.
From the March/April 2012 Issue
William P. Hinckley writes: "Heard from Peter Lisbon, who is living in San Diego, and we got caught up after 50 years. My novel of the Jersey Coast, An Undercurrent, is now an e-book from Amazon, and its sequel, Fast Current, is in final form, edited, and ready for the publisher, with a release date of early 2012. I've started a third work, which shifts the locale to Down East Maine in the '40s. Both Sue and I are well and still enjoying all that Colorado offers."
From the July/August 2011 Issue
Terry McGowan Heavey (see Engagements & Weddings, Sam Goldman '08).
From the January/February 2011 Issue
Peter B. D'Esopo is working as a school crossing guard. He writes: "Great job for an old fart." During summer he enjoyed his oceanfront home in Ingonish, Cape Breton Island, Nova Scotia.
Shirley Morse Richmond has two great-grandchildren— Kaden, 2, and Connor, 1.
From the September/October 2010 Issue
Arnold C. Abramowitz has been retired for six years and living in Boca Raton, Fla. He spends summers in Maplewood, N.J.
Matt Fern and Sue celebrated their 50th anniversary on Father's Day with their children, Jacqueline Fern '83 and Steven Fern '86, and their families. Matt is still practicing dentistry in Manhattan and enjoys his grandchildren, golf, and February vacations in Maui and Lanai. He is sorry that he could not attend the 55th reunion but sends his best regards to all his classmates and promises to be there for the 60th.
Nancy Schuleen Helle continues to be involved in public relations for artists and real estate clients. In addition to freelance writing for the New Canaan–Darien Magazine, she also plays tennis and participates in book clubs and volunteering activities.
William Hinckley is publishing his novel, An Undercurrent, about the New Jersey shore with a background of charter boat fishing and threads of drug running and murder.
From October to May, Adrienne Farr Sabatier lives in Naples, Fla., where she is a docent for the Naples Museum of Art. She is also involved in the activities of the Friends of Art, which supports the museum. The rest of the year, she lives in Sugarbush, Vt., where she plays golf and tennis and hikes.
Joan Bronstein Soloway is still an active watercolorist. She and her husband, Louis, divide their time between New York City and Lenox, Mass., where she volunteers at Tanglewood.
Joseph R. Tucci continues to serve as professor of medicine at Boston Univ. School of Medicine, as an adjunct professor at Brown's Warren Alpert School of Medicine, and as director of the division of endocrinology in the department of medicine at Roger Williams Hospital in Providence. He has authored or coauthored more than 200 articles, abstracts, and book chapters on a variety of endocrine and metabolic disorders, and has been a principal investigator in more than 50 clinical studies. He writes: "My career in academic medicine and endocrinology has been an exciting and fulfilling experience involving teaching, research, administration, and patient care. And it all began at Brown!"
From the July/August 2010 Issue
Jane Neide Ashcom retired in 2005 from her fulltime position as chair of the English department at the Pingry School in New Jersey. She keeps busy teaching one course a year at Montgomery County Community College, working as a docent at the Princeton Art Museum, and taking care of two grandchildren. Her husband, Ben, is also retired. Their son Will Balsham '91 married Elizabeth Burr '92 in Point Reyes, Calif., on June 26. Their second son, Jonathan Ashcom '96, is a physicist at MIT's Lincoln Lab. Their third son, Nathan Ashcom, and his wife, Brigid, have three children; Nathan teaches math and physics at Bensalem High School, in Pennsylvania, and Brigid is a physical therapist.
Dolores Rinaldi Girillo has a beach condominium in Isla Verde, Puerto Rico. She has had visits from Jean Amirault Brown-Bakrow, Marcia Finberg Goldfarb, Walter Goldfarb, Benita Saievetz Herman, and Sally Robinson.
From the May/June 2010 Issue
Bob Borah and his wife celebrated their 50th anniversary with their six children and spouses, plus 18 grandchildren, at the Balsams in Colebrook, N.H.
Stu Erwin enjoys working with John O'Brien to plan the 55th reunion. Stu is now an ad hoc member of the Brown Advisory Council on Athletics, after retiring from active service. He is also a member of the San Dieguito Boys & Girls Club Foundation.
Frederic French Jr. writes: "I continue to enjoy and benefit from assisted living here at Plymouth Crossings, Mass. I would appreciate hearing from classmates, especially fellow naval officers who participated in the NROTC program."
Morton Gilstein, despite a few health issues, is doing well, and occasionally reminisces about the old days with friends Rich Palombo and Bill Renzulli.
Ann Tassinari Haddad continues to live in Sarasota, Fla., but visits family and friends in Massachusetts a few times a year. She volunteers at the Sarasota Visitors' Center and the County Library Administration Offices.
Benita Saievetz Herman continues to work as a travel consultant and cruise counselor. Her husband of 50 years, Ken, a retired psychologist, published his book, Secrets from the Sofa. She spent enjoyable weekends of theater and art in New York City with Arva Rosenfeld Clark and Jane Neide Ashcom.
Since their retirement, Sylvia Thomas Keown and her husband, Bob, have moved closer to their four children. Sylvia currently leads music and mission studies at their new church.
Art Laferriere worked as a chemist at American Cyanamid prior to teaching in the chemistry department of R.I. College. He retired in 2001 and is now settled in Fla. Currently he enjoys attending classic car shows, working out, and sailing.
Gordon Perry directs the Brown Sports Foundation and the Brown Football Assoc., and is a member of the student-mentoring program. His grandson Peter Hughes '10 is following in his family's footsteps as a Brown football player. Gordon had knee replacement surgery in November and contracted pneumonia. He spent almost a month in the hospital and another two months rehabilitating at his daughter's home in N.J.
Veronica Stinnes Petersen retired from teaching pediatrics at the end of 2009. She has eight grandchildren, including Margiana Petersen-Rockney '11.
Bill Prifty has been living in R.I. for more than 35 years and has been a retired stockbroker for about eight years. He has also been a Brown football supporter for many years, attending almost every home game. He and his wife, Janice, recently celebrated their 50th anniversary.
Russell F. Shaw retired from a medical career that focused on pediatrics and occupational medicine. He now lives in N. Mex.
Fred Stavis and his wife, Ruth, have been married for 50 years. They have three children and seven grandchildren and stay active playing the piano and tennis.
John T. Strong Jr. currently serves on three different presbytery committees and functions as his church's financial secretary. He and his wife help serve at a local soup kitchen, where he cooks twice a month. He enjoys gardening and playing tennis and golf. They also enjoy their subscriptions to the New York Philharmonic and the New York City Ballet.
Louis Tanner has enjoyed a year of traveling. He spent last summer in Avignon. He also traveled to the Venice Biennale, the Art Basel Miami Beach fair, and New York.
Len Whistler and Kathryn Kissane Whistler celebrated their 50th wedding anniversary with their best man and maid of honor on a cruise up the Rhine to Basel.
Connie Paulson Wilson still lives in S.C., enjoying the beach and playing golf. She visited her two children in Conn. for Christmas.
From the March/April 2010 Issue
Arnold Abramowitz retired from law practice. He lives in Florida with his wife, Helen. When they aren't traveling, Arnold spends summers in New Jersey and plays bridge.
Stuart P. Erwin Jr. writes that his five children and six grandchildren are all doing well. He plans to attend his oldest granddaughter's high school graduation before attending the Brown 55th. He is currently cochair of the 55th reunion committee with John O'Brien.
Walter and Marcia Finberg Goldfarb's e-mail addresses were incorrectly printed in the last BAM.
Rose Ditommaso Marcaccio's son Edward '80 is a vascular surgeon at Rhode Island Hospital, and her other son, Paul, is a practicing physician in Warren, R.I.
On June 18, Martin Malinou was presented with an honorary membership in the Rhode Island Bar Assoc. in recognition of 50 years of outstanding service to the profession and the association.Joel Shapiro writes: "JoAnne and I continue to split our time between Florida, the Berkshires, and New York City. Our five kids between us have produced six on their own. Our youngest, Gabriel '04, will graduate from UCLA Law School in May. I'm still active in my MedEd company in New Jersey."
From the January/February 2010 Issue
Class reunion cochairman John D. O'Brien reports: "Our 55th reunion will take place on May 28-30, 2010. We are hoping for a big turnout on this important milestone. A schedule of events has been sent to all our classmates, and more information will be sent later this year. Please plan on attending and send us your news. We would like to hear from you."
Arnold C. Abramowitz retired as a lawyer five years ago and lives in Florida. He summers in Maplewood, N.J., and is looking forward to the upcoming reunion.
Robert Bernheim is a professor emeritus at Penn State. He still serves on several fellowship committees for the National Academies.
Gerold Borodach is taking classes on Talmud. He's interested in the ancient Temple in Jerusalem and gives talks on its structure and archeology. He and his wife, Ardell Kabalkin Borodach '57, attend lectures, museums, theater, and opera in New York City. Their son Andrew '93 is an attorney for AIG; Sam '87 is an intellectual properties attorney for Fish & Richardson P.C.; and daughter Abigail works as an event planner at Harvard. Abigail's husband, Ken Elmore '85, is the dean of students at Boston Univ. Gerold and Ardell participate in the Brown dinners for seniors in New York City.
William Condaxis writes: "I meet several times a year with Don De Ciccio, Socrates Mihalakos, and Vincent Genua. Though we met 58 years ago at Brown, our friendship is as strong today as it was when we were in Brunonia's halls. I married Frances, who was the dietitian at the Ratty, in 1952, and we marched down the hill with our son Peter, 1¬Ω, in 1955. We will be celebrating our 58th wedding anniversary during this year's reunion."
Donald De Ciccio is recuperating from a complete knee surgery in Naples, Fla. He recently played his first round of golf, at seven weeks post surgery. He looks forward to playing with Brown friends living in the Naples area: Ev Pearson, John O'Brien, Gerry Haverly '54, and Phil Noel '54. He and Sandy enjoy retirement living and look forward to attending the 55th reunion in May. They are eager to see many friends they haven't seen in a long time and to reconnect with some, like Larry Corcoran, whom they haven't seen since graduation.
Robert A. Ecker writes: "My wife, Peg, and I continue developing our secluded property with its forest, quarry, and adjacent waterfalls on Schooley's Mountain in New Jersey. We enjoy world travel, and after returning home we like to create visual and sound shows to preserve our memories. Peg is creative with her continuing abstract art, winning recognition with art shows and sales."
Virginia Feroe Eckert has eight grandchildren ranging in age from 15 to 23. She is a certified scuba diver and recently moved.
Joan Yurkunas Fitzgerald is an active volunteer tutor for adults who want to learn English as a second language through the public library at Lonestar Community College and CyFair. She participates in book clubs, plays bridge, attends operas and concerts, does water aerobics, and visits grandchildren. She also interviews Brown applicants from local schools.
Walter Goldfarb and Marcia Finberg Goldfarb report that their grandson Jonathon Aronson '13, of Cape Elizabeth, Me., is a freshman.
David W. Halvorsen writes: "This has been a very difficult year. My wife, Janice Riley '66 MAT, died of leukemia on May 22. She had received excellent help here on Cape Cod, as well as at the Dana-Farber Cancer Institute in Boston. I cannot say enough about these folks, as well as about the hospice personnel who were present when she passed away."
Joel Lichtenstul has been painting since his retirement from Applefelt in June 2006. He had a one-man art show on Nov. 6 at Bella Arte Art Gallery in the Shadyside area of Pittsburgh. He was named artist of the month by a local magazine called Shady Avenue, which, Joel writes, is a "new trendy-type glossy magazine."
Peter Lisbon has been living in San Diego for ten years, after retiring from his 40-year career at Widener Library at Harvard. He writes: "I dwell on the edge of a brushy canyon not far from La Jolla, enjoying the benign weather very much, and I do a fair amount of hiking in the inland areas, including in parks like Cuyamaca and Anza Borrego, always looking around for various critters and birds. As a perpetual student I also take courses on a variety of subjects at UC San Diego's Osher program for seniors. The riches of Balboa Park, with its museums, zoo, and theaters are always a delight. My only trips East in recent years have been to Truro on Cape Cod for a couple of weeks in early August."
Elinor Jensen Mavor has been pursuing an online freelance illustration business for three years and just launched a new blog: www.mavorarts.com, where her other websites are also listed. She writes that she enjoys a "working" retirement in sunny Arizona.
J. Roy McKechnie and Barbara moved to Odgen, Utah, in August 2006. They are "still trying to get used to being so far from clams, real chowder, real oysters, fresh scallops, and lobster." Barbara retired after 14 years as a regional director for the U.S. Chamber of Commerce. Roy writes that their grandson, Nicholas Rocco, "just turned 4, going on 26." He adds: "We remain staunchly blue in America's reddest state."
Socrates Mihalakos retired as an active judge in 2003 after 15 years on the Connecticut Superior Court and five years as an appellate court judge. He has taken senior status and sits six months of the year. He and Joani live in Vero Beach, Fla., for approximately six months and in Connecticut for the balance of the year.
John O'Brien continues to be an economic development consultant in Massachusetts, trying to help small cities redevelop generations of jobs and tax revenue while improving the quality of life for their citizens. John writes: "These efforts keep me busy along with the pleasurable effort at interacting with my sons and grandchildren."
Cherry Collins Provost writes: "I enjoyed hearing about Brown from my sophomore granddaughter who had an internship in the physics department over the summer. Obviously different genes than mine." Cherry still enjoys the Literary Committee of the National Arts Club that she now chairs. She had lunch with Adrienne Farr Sabatier in New York City on her way back to Florida, and they both hope to attend the 55th reunion.
Willis H. Riccio joined the Boston law firm Looney Grossman in January 2009 as senior counsel specializing in securities law. In September, he was selected by his peers for inclusion in the 2010 edition of The Best Lawyers in America in the specialty of Securities Law. Recently, he had two articles published: "The Ubiquitous Investment Contract" and "A Man Called Charles," about Charles Ponzi. He also coauthored an article entitled "Insider Trading: An Update"with Minette Loula '00.
Joanna Pozzi Williams has been a professor at Teacher's College, Columbia Univ., for almost 40 years. She does research funded by the U.S. Department of Education on reading comprehension, and she teaches graduate students. Joanna writes: "I still find life in the big city exciting, but I also enjoy my summers in Bristol, R.I., where I grew up. I'm really looking forward to our next reunion."
Suzanne Ross Zeckhausen's husband, Paul, passed away in February 2009. Suzanne resides in Wilbraham, Mass. She keeps in touch with Susan Morgan Rolontz, Beth Hughes Hall, and Shirley Denno Fusco, who moved to Wilbraham several years ago. Suzanne's daughter, Tracey Zeckhausen '85, is chief of information and public relations for the State of Rhode Island Department of Corrections. She resides in Narragansett, R.I., with her three children. Suzanne's son, Paul (Middlebury '82), is employed at Aetna Life Insurance Co. in Hartford, Conn.
From the September/October 2009 Issue
Frederic French now lives in an assisted living community in Plymouth, Mass., and rents out his house in Duxbury. He writes that he has his own "gentleman in waiting" who provides independence beyond what the facility offers. He enjoys hearing from former classmates.
From the July/August 2009 Issue
Robert O'Such writes that his eldest grandson, Bruce Audino, is engaged to Carolyn Chang '02. Bruce works for JP Morgan in New York City and Carolyn is attending NYU's Stern School of Business. Robert and his wife, Sally, have been married 54 years and have six grandsons and one granddaughter. They recently became great-grandparents. Robert and his friend James McGall received a Beta newsletter from Ernest Fontan. Ernest would love to hear from other Betas from the early 1950s.
Willis Riccio joined the law firm of Looney and Grossman in Boston last January as senior counsel specializing in securities law. During the past year he had two articles published: The Ubiquitous Investment Contract and Insider Trading—An Update. He continues to teach securities law at the New England School of Law. Last September Willis and his wife, Donna, completed their 52nd voyage with the Cunard Line; they have sailed on both the Queen Elizabeth 2 and the Queen Mary 2. Last February he attended an SEC reunion in Washington, D.C., with Roger Deitz '65.
From the May/June 2009 Issue
Carol Orkin Agate retired as an administrative law judge in California and moved to Cambridge, Mass.
David Decker started his tenth year of working at the local police station in Bethesda, Md., where he is in charge of seven fellow volunteers. He writes: "We have a wonderful time while making a valuable contribution to our community." He enjoys summers in his family home in Tiverton, R.I., which his grandfather built after graduating from Brown in 1876.
Willis H. Riccio joined the Boston law firm of Looney & Grossman LLP as senior counsel in the Litigation Practice Group. He received the Securities and Exchange Commission's Distinguished Service Award and earned the highest rating from the Martindale Hubbell Law Directory. He was named in the 2008 "100 Securities Litigators You Need to Know" by Lawdragon.
From the March/April 2009 Issue
Arnold C. Abramowitz retired in 2004 from practicing law. He lives in Florida but spends summers in Maplewood, N.J. He looks forward to the 55th reunion in 2010.
From the January/February 2009 Issue
Samuel Abt is working occasionally for the International Herald Tribune as an editor in Hong Kong and Paris.
Donald R. De Ciccio writes: "Sandy and I are enjoying life among our homes, as well as trips abroad. We recently enjoyed our 53rd mini-reunion at the Brown-Harvard football game with Bill Condaxis, Vince Guenua, and Socrates Mihalakos and their spouses. It has been wonderful maintaining our close Brown friendships."
From the September/October 2008 Issue
Matt Fern writes that he and Ted Barrows happily carried the class banner down the hill at Reunion '08. Matt's wife, Sue, especially enjoyed celebrating the 25th Reunion of their daughter, Jacqueline Fern '83, with her family and friends. They hope to reunite with classmates at Homecoming, Oct. 24–26.
Willis H. Riccio was recently named one of the "100 Lawyers You Need to Know in Securities Litigation" by Lawdragon. He chairs the securities group at Adler Pollock & Sheehan P.C. and is an adjunct professor of securities law at the New England School of Law.
From the July/August 2008 Issue
Gerold N. Borodach (see Emily Joan Wigod '88).
From the January / February 2008 Issue
Willis H. Riccio has been named chairman of the securities regulation and enforcement section at Adler Pollack & Sheehan, a law firm in which he is a partner. He has also recently published two articles. He writes: "My wife, Donna, and I have reached an agreement. She will continue to attend Brown football games with me, provided I agree never to play bridge. Donna is an avid bridge player and a longtime member of the Bridge Club of R.I. Our two grandchildren, Nick and Danny, frequently attend the Brown games with us."
From the September / October 2007 Issue
Carl Albert is working at Tahoe Valley Campground in South Lake Tahoe, Calif.
William P. Hinckley writes: "It is fun watching granddaughter Olivia as she leads the golf team at the Kent Denver School in Englewood, Colo., playing as number one during her sophomore year. She is also very active in drama as an actress and director. My other granddaughter, Peggy, is among the top equestrian riders in the state, at age 14. She also attends Kent Denver. I am looking forward to the Colorado Carvers show in October, where I won best in division last year."
From the July / August 2007 Issue
Socrates Mihalakos '55 (see Charles Goetsch '73).
Joan and John Monaghan and Betty Lou and Joe Blumberg toured Greece last summer. They found it looks pretty much the way professors Couch, Robinson, and Workman described it.
Willis H. Riccio writes: "I'm actively practicing securities law as a partner with Allen, Pollock & Sheehan. I teach and lecture on the subject nationwide—most recently at the National Press Club in Washington, D.C. My wife, Donna, and I travel quite a bit. We attend Brown football games regularly with our 'Brown Club' grandchildren, Nick and Danny. This summer, Donna and I will celebrate forty-nine years of marriage."
From the May / June 2007 Issue
John T. Houk is still CEO of the National Heritage Foundation, a charity established in 1968 to encourage philanthropy (www.nhf.org). John sets up foundations for individuals, corporations, and communities.
From the March / April 2007 Issue
Alfred H. Phillips writes: "Val Jean and I have been married since September 1959. We continue to be involved in volunteer activities. We are also legislative advocacy volunteers for the American Heart Association (AHA) and have received AHA scholarships to travel to Washington, D.C., to assist U.S. senators and congressmen to make them aware of heart and stroke issues and to urge their support for funding research on heart-disease and stroke prevention programs. We still find time to travel fairly extensively."
Leonard Whistler and his wife, Kate Kissane Whistler '58, are enjoying retirement after many years with the U.S. government. They plan to stay in the Washington, D.C., area to be near their three children and two grandchildren. They have been traveling extensively and sleeping late whenever possible.
From the January / February 2007 Issue
Don De Ciccio writes: "We have had a fine spring and fall at our Boylston, Mass., home, as well as a good summer at our Falmouth, Cape Cod, home. I'm going on a two-week safari in Africa (Kenya and Tanzania) with my wife, Sandy, and sister-in-law Linda Larson. We are also looking toward our December-through-May stay at our Naples, Fla., home. Life is good!"
Fred French writes: "The Cape Cod symposium on Addictive Disorders was held Sept. 7–10 in Hyannis, Mass., with more than 700 in attendance and eighty-five exhibitors. Our twentieth will be held on Sept. 6–9, 2007, in Hyannis. Our sister symposium, the U.K./European symposium on Addictive Disorders, will take place in London on May 17–19, 2007. The respective Web sites are www.ccsad.com and www.ukesad.org."
J. Roy McKechnie writes: "We've moved! Again and finally! A mite short of Brunonians hereabouts, but we'll manage."
From the September / October 2006 Issue
Mort Gilstein writes: "I missed the 50th reunion because of the sudden death of a very dear friend. I saw Don Leonard, who is also a widower. We make a comical duo, as Don is six foot, nine inches, and I am five foot, six inches. Prior to Christmas I had dinner with Rick Palombo, Bill Renzulli, and their wives, and we were joined by Joseph Tucci. I am still very active at Brown."
Herb Melendy retired from civil service in the Navy at the end of November 2004and from active naval service in February 1983. His two careers totaled forty-eight years. He writes that while he never got to graduate school, he did study Russian language for two semesters in the early sixties and Icelandic for two semesters twenty years later. He also says he had a lot of fun flying navy airplanes. Herb writes: "The 50th reunion was quite a treat except that I about walked my feet off. I still have twinges of plantar fasciitis as a consequence. Strange how that was not a problem back in the early fifties."
George Ulrich has been happily retired since 1990. He and his wife of fifty years, Sally (Katherine Gibbs), live in Sara­sota, Fla. They have two children and seven grandchildren. He is busy with sailing, bird-watching, playing tennis and bridge, and, since 1994, working with Habitat for Humanity. He has heard from Robert Kenny, a fellow Sigma Chi living in Pittsburgh, who called after receiving the 50th anniversary yearbook. Another classmate from Dr. Quinn's geology depart­­ment, Tom Butler, was highlighted in the local paper for his participation in the Winter Olympics luge events in the 1950s. He was pictured on the sled wearing his Brown football helmet. Tom is living in an adjacent neighborhood, and they have become reacquainted. Tom is an avid fisherman.
From the May / June 2006 Issue
Zig Dermer writes: "I'm spending at least a year in Nha Trang, Vietnam, getting to know the life of a Third World country from the inside out. Becoming acquainted with native Vietnamese from all walks of life, not to mention the excellent fresh food prepared for me by my live-in cook, is a delight as well as an adventure. Since I have rented a four-bedroom house, I'd welcome visits from classmates."
From the March / April 2005 Issue
Class secretary Nancy Schuleen Helle reports: "Your reunion planning committee is busy planning for our fabulous 50th reunion tour of the renowned Watson Institute for —a once-in-a-lifetime milestone! In addition to all the traditional events such as Campus Dance, Pops, class luncheons, dinners, and Commencement, we will have several special tours and presentations just for our class on Friday, May 27. Arranged by our class president, Chancellor Emeritus Artemis Joukowsky, these include a behind-the-scenes visit to the Brown Medical School (where we'll learn about state-of-the-art research and a few tips for our own health), a lunch and International Studies, and a presentation by Brown's acclaimed architect Frances Halsband on 'Brown: The Next 50 Years,' followed by a tour of the newest buildings and facilities on campus. We are excited that so many classmates have indicated plans to attend the reunion—some of whom have never attended a reunion before. We look forward to seeing you all in May! Your Reunion Committee: Ted Barrows, Bob Borah, Richard DePatie, Steve Ehrlich, Stu Erwin, Matt Fern, Nancy Schuleen Helle, Warren Ilchman, Art Joukowsky, Roy McKechnie, Dick Moore, Dick Nourie, Anne Murphy O'Brien, Gordon Perry, Barbara Grad Robbins, Julie Chrystie Webster, and Leslie Travis Wendel."
Mark Land writes that he lives in Warren, R.I., with his wife of nearly 50 years, Barbara. His oldest son, Jon '79, is a best-selling novelist and screenwriter whose first film, Dirty Deeds, will be released in 2005. Mark's younger son, Charles, lives in West Palm Beach, Fla., and is a real estate developer. Mark says he looks forward to seeing classmates and friends at the 50th, especially his fraternity brothers from Pi-Lam.
Andrew Knowles Smith writes: "After graduation I was employed with Mobil Oil Company in various marketing assignments and Tenneco Oil Company in Houston for a combined tenure of 17 years. I started my own company, Evergreen Oil Company, in 1972. All four of my children are involved fulltime in our companies, and my wife, Melony, and I are free to spend six months in beautiful Evergreen, Colo., and six months on the island of Kauai, Hawaii, where we recently purchased a home. Melony and I are avid golfers and both of our homes are located on golf courses: Hiwan Golf Club in Evergreen and Kiahuna Golf Club on Kauai. I had openheart surgery, a triple bypass operation, last October. It set me back a little, but I'm improving and getting stronger. Won't be long before I'll be swinging the golf clubs again. I look forward to seeing old friends and fellow classmates at our 50th."
From the November / December 2004 Issue
Martin Malinou writes: "On a very hot July 31 I accepted my friend Barrie Shore's invitation to avoid the city in favor of his breezy East Greenwich yard and vegetable garden, seventy-eight-degree pool water, and grilled salmon and swordfish. His wife, Rula Patterson Shore '67, shared her Brown news and listened to me explain that fifty years since graduation must be neatly summarized in 100 words for the reunion yearbook. Earlier in the year I had spent a few minutes with our class president, Art Joukowsky, at the University Club in Providence, where the Boston Univ. School of Law honored his service. I have no plans to retire from law practice."
From the September / October 2004 Issue
Class secretary Nancy Schuleen Helle reports: "The reunion committee is delighted with the response to the last newsletter. Almost every day brings a letter or e-mail from another classmate. As of May 11, nearly sixty 55ers have responded with news and/or dues, and the majority plan to attend our 50th reunion."
Nancy is "still doing public relations for several clients, and on the advisory boards of the Lockwood Mathews Mansion Museum in Norwalk, New Canaan/Darien magazine, and Family ReEntry, a Norwalk-based agency that provides counseling and helps recently released prisoners successfully rejoin their families and communities." She is also on a new committee to expand programs for New Canaan television, the local public-access station. She and her husband, Herb, spent two weeks in southern Africa, including the Cape Town area, and safari camps in Botswana and Zimbabwe. Class news can be sent to 351 Cedar Lane, New Canaan, Conn. 06840."Carol Orkin Agate writes: 'Having started my career late, and loving my work, I kept joking that I would never retire. In April, after turning 70, I took the drastic step of cutting back to three-quarter time as an administrative law judge in California. It's wonderful to have a job that allows me to slide gently into retirement.'
Robert (Tony) Barron retired in 2002, after thirty-two years with Smith Barney Inc. He has since served as a consultant and expert witness in federal securities law matters. His wife, Selena Winicour Barron '57, retired four years ago and is active in the American Association of University Women. Tony writes, 'We were saddened by the passing of our longtime friend and classmate Eric Schwartz, of Villanova, Pa.'
Dick DePatie, class treasurer, thanks classmates who have already sent in their dues and urges the rest to 'keep those checks coming.' A high percentage of dues paid in advance will help keep costs down for our 50th reunion. Dues may be sent directly to Brown: Class of 1955, Box 1859, Brown University, Providence 02912. Dick retired after forty years in the insurance business and is now the parish administrator at St. Mark's Episcopal Church in New Canaan, 569 Weed St., New Canaan, Conn. 06840.
David '66 MAT and Jan Riley Halvorsen are both retired and both doing volunteer work for St. David's Episcopal Church. David has been director of the Friends of Dennis (Mass.) Senior Center for fourteen years and chairman of the board of trustees at Sesuit Meadow Condominiums for nineteen years, and enjoys golf. Jane, a professional quilter, still quilts every day and has taught for sixteen years. They see Brown people often at the Cape Cod Brown Club luncheons. David and Jan spend a winter month in Bermuda each year and recently traveled to England and France.
R. Dudley Harrington is still working in the investment business. Most of his avocational time involves water activities: he's a recent past commodore of Edgartown Yacht Club and a trustee of Woods Hole Oceanographic Institution, and was recently elected to the board of Sail Newport, which, with its fleet of 100 boats of all sizes, promotes sailing on Narragansett Bay.
John T. (Dock) Houk is still CEO of the National Heritage Foundation, a charity established in 1968 to encourage philanthropy (www.nhf.org). John sets up foundations for individuals, corporations, and communities.
Warren Ilchman is getting reacquainted with classmates while organizing the 50th reunion. After many years in higher education and philanthropy, he now manages a charitable trust, the Paul and Daisy Soros Fellowships for New Americans, based in New York City. Every year the trust makes thirty two-year grants for graduate study to immigrants and their children. In its seventh year of operation, there have been over 200 Soros Fellows at thirty-nine universities. His wife, Alice, has retired after eighteen years as president of Sarah Lawrence College and later as chair of the board of the Rockefeller Foundation. She now administers a program under the Thomas Watson Foundation that provides summer internships for inner-city college students to make them more competitive for graduate programs and selective fellowships. For the last two autumns they have been resident at the Rockefeller Foundation's Conference Center in Bellagio, Italy, where they have written a book on competitive scholarships entitled The Lucky Few and the Worthy Many (Indiana Univ. Press).
Richard Khachian sold his Ford dealership and retired in late 2000 after thirty-seven years in business. He now spends part of his time managing the real estate he has accumulated over the years. He winters in Anna Maria Island in Florida and enjoys golf and short trips in the summer.
Roy McKechnie reminds classmates to respond to the letter asking for your help in compiling the information and illustrations for the 50th reunion class history yearbook. The plan is to mail this publication to all class members well before the 50th reunion. With 517 classmates to accommodate, it is important that you respond as quickly as possible.
Socrates H. Mihalakos went into semi-retirement in December after serving twenty years on the Connecticut bench, fifteen as a Superior Court judge and five as an Appellate Court judge. He now serves as a senior judge on the Appellate Court for approximately five months a year. He and his wife, Joani, spend five months a year in Vero Beach, Fla. He invites classmates to call or drop by.
Roger Mitten is still practicing law at home, part-time, and is chairman of the board for the Valley of the Sun School and Habilitation Center, a $12 million charity in Phoenix. He plays in many golf tournaments and often plays with Brown classmate Tom Jones '57. This summer Roger and his wife, Barb Hobart Mitten '54, plan to take their family on a cruise of the Baltic to celebrate their 50th wedding anniversary a year in advance. They also plan to attend Barb's 50th Pembroke/Brown reunion this spring.
Doris Kaplan Morgenstern writes: 'I am still the director and owner of Communicative Health Care Associates Inc., a private practice serving children, adults, and seniors with speech/language, occupational, and physical disorders. About forty associates work with me in early intervention, Head Start, public and private schools, acute-care hospitals, nursing homes, and in our outpatient facility in Waltham, Mass. Thanks to modern communication technology I can spend the winter in Florida and the summer on Cape Cod. We spend February in Aruba, where we enjoy snorkeling, tennis, and the Arubian community. While in Florida, we participate in water aerobics, play on a tennis team, and volunteer at the VA Hospital in West Palm Beach. I am looking forward to our class reunion, but I think we're all still too young for our 50th.'
W. Peter Pemberton retired after thirty years as director of sales promotion at the Speidel Division of Textron. A member of Warwick Country Club, he served on the board of governors as golf chair from 1999 to 2002. Current activities are traveling, gardening, cooking, golfing, sailing, and skiing in Davos, Switzerland, and Franconia, N.H., where he and Don Creamer '47 have enjoyed 'many years of out-of-control skiing on every trail.' More recently he helped develop Buttonhole, a nine-hole golf course and teaching facility in Johnston, R.I. It's been open for a few years now, and more than 2,000 children went through its golf program in 2003.
Veronica Stinnes Petersen retired from pediatric practice at Harvard Vanguard in 2000 and is teaching third-year pediatric students at Children's Hospital (Harvard), where her husband is still working full-time in pediatric ophthalmology. She has taught Introduction to Clinical Medicine at B.U. Medical School, and for the past few years she and her husband have worked as medical volunteers in India for a month during the winter.
Ken Peterson was part of a group photography show at the Photo District Gallery in New York City. The show, entitled Timelessness, featured several of Ken's art photos juxtaposing classical and Renaissance objects. The show closed April 12.
Leo Setian is still teaching engineering at John Brown University and plays hockey weekly.
Joel Shapiro's son graduates from Brown this year. Joel is still president of JL Shapiro Associates, a medical education company, and Health Communications, a medical publisher, both in New Jersey. Joel and his wife have just returned from a cruise on the Queen Mary 2.
John Summerfield is retired and involved in ministry at the First Presbyterian Church of Naples, Fla. He and his wife spend winters in Naples and summers in Park Ridge, Ill.
Joel Thea is still working full time with two sons, Mark and Billy, in the family business. Carol, Joel's wife of forty-seven years this June, is a psychotherapist with a private practice in Manhattan. Joel is still an active skier and golfer and travels as much as possible.
Jim Webster writes that he is 'still slugging it out in the investment trenches, now in the twenty-fourth year at Gabelli.' He is chairman of the subsidiary Gabelli & Co. Inc. In his spare time, he is serving his fifth year as chairman of the Community Foundation of Western Nevada.
Richard B. Wolfson is still working full time as a vice president of AG Edwards & Sons in Fall River, Mass. For the past six years he has spent a lot of time on campus renewing old friendships. He looks forward to our reunion and the graduation of daughter Amy in 2005, which follows the graduation of her sister Julie in 2003."
Willis H. Riccio reports that after twenty-seven years at the SEC (eight heading the New England regional office, fifteen as NASD vice president and director, and seven years as a special assistant U.S. attorney), he has gone into private practice with the Providence–Boston firm Adler Pollock & Sheehan. He teaches securities law at New England School of Law, lectures throughout the U.S. (including at Brown), and has had a number of articles published. He and his wife, Donna, celebrated forty-six years of marriage on July 5. They have three children, Jeff, Chris, and Betsy; and two grandchildren, Nicholas and Daniel. "I have season tickets to Brown football, where I run into many alumni and friends." In seventeen years as a football official, he notes, "I never was able to do a Brown game."
From the July / August 2004 Issue
Barbara Schoen Silverman writes that since retiring from teaching in the late 1980s, she has been thoroughly enjoying life in beautiful Florida. She looks forward to the 50th reunion in 2005.
Sally Delaney Snyder writes that in January she and her husband, who are both retired, moved into a lovely hillside adobe home and are raising avocados. Their seven children are scattered from Arkansas to Alaska, and the couple travels frequently in the United States and abroad.
Louis Tanner writes: "On Oct. 30 we will have been living in London for thirty-four years—and we enjoy it more all the time. The ballet and modern art take up our leisure time, but we are still running a successful European investor-relations consultancy for U.S. companies."
From the May / June 2004 Issue
Class secretary Nancy Schuleen Helle reports: "Herb '52 and I rented a house in the picturesque little town of Le Bugue, in the Dordogne, France, last October with Dick and Leslie Travis Wendel. John Lawson, of Paris, was a guest for a few days. We all enjoyed seeing the prehistoric drawings we studied in art class in the caves at Lescaux, as well as visiting many historic chateaux, including the home of Josephine Baker. We all spent a week in Paris, and Herb and I also explored Bordeaux.
"Anyone visiting Sarasota, Florida, who is interested in a great tour of Old Master paintings at the Ringling Museum should call ahead to see when volunteer docent Robert Anderson '47 is on duty. We took his tour last year and were happy to discover our mutual Brown connection.
"I enjoyed seeing classmate Tom Jones, of Arizona, at the home of mutual New Canaan friends last fall."
Matt Fern, of New York City, writes that he and Sue had a mini-reunion last summer in Cape Cod with Ken Chambers and Dick Nourie. Unfortunately, he missed the surprise birthday party for Ted Barrows, which he heard was a great success. The Ferns also attended a Classes of the '50s dinner in New York City chaired by Gerry Borodach and his wife, Ardell Kabalkin Borodach '57, at Brasserie Julien, which is owned by Cecilia Pineda Feret '86. Others attending included Phyllis Gushae Lynch and Judy Kahn. The Classes of the '50s meet for dinner every few months. Those interested should contact Gerry Borodach.
Mort Gilstein writes: "It saddens me to report the loss of my wife, Maureen, on Feb. 9, after six years of gallant struggle against ovarian cancer. Maureen was an active participant in Brown events and will be sorely missed at games and reunions. Representing our class at the funeral were class president Art Joukowsky, Marty Malinou, John Monaghan, Roy McKechnie, Margaret Going Settipane, Don Leonard, and Richard Palombo. Other Brunonians attending included Ann Matteodo Dupre '61, Bill Corrigan '58, Joan Fitzgerald Golrick '47, Bob Blackburn '67, '68 AM, Larry Smith '68 ScM, Bernie Bell '42, Tom Brady '51, Bob Kotlen '49, and professor Luiz Valente '83 PhD. My deepest thanks to my wonderful classmates and friends at Brown." Mort lives at 84 Gentian Ave., Providence 02908.
Last year, Art Joukowsky and Martha Sharp Joukowsky '58 devoted their eleventh summer to archaeological excavations in Petra, Jordan. Art, our chancellor emeritus, maintains an office at Brown and participates in daily activities at the University, not the least of which is organizing the class of '55's 50th Reunion in 2005. Martha is planning to add the word emerita to her title following Commencement in order to pursue her archaeological work and publish her magnum opus. The Joukowskys live at 79 Prospect St., Providence 02906.
John Lawson is in his fifth year back in Paris. After surviving two rounds of cancer, he writes that life is good, and Paris is a great place to have visitors. Julia Chrystie Webster is hoping to travel to France this spring to visit John and also to make an excursion to Giverny to see the famous Monet gardens.
Dolores LaPorte Nazareth writes: "My granddaughter Stephanie Minor '07 makes us a three-generation Brown family. My daughter Annette Nazareth '78 was a forum speaker at her 25th reunion. She is the director of market regulation for the Securities and Exchange Commission. I was delighted to share my pride with Margaret Going Settipane and Bob and Nancy Stevens Carlson, who attended the forum." Dolores lives at 22 High Ridge Dr., Cumberland, R.I. 02864.
Dave Zucconi (see William J. Gilbane III '99).
From the January / February 2004 Issue
Artemis Joukowsky (see Jan Zlotnick '77).
W. Peter Pemberton writes: "I retired in 1997, after thirty years managing a once- world-famous jewelry company headquartered in Providence. On Nov. 21, 1997, we were asked to vacate our offices and leave the building that same day to satisfy a financial consolidation dictated by the company's new owners. The company has gone from $95 million to $25 million in six short years."
Al Phillips writes: "Since my early retirement because of heart problems as business manager of a General Motors facility in the Detroit area, my wife, Val Jean, and I have been significantly involved in a variety of volunteer activities. Particularly satisfying is my work with the American Heart Association and Mended Hearts, Inc. We travel extensively, including trips to South America, New Orleans, New England, and California."
From the September / October 2002 Issue
Richard Wolfson has been elected chair of the Bristol (Mass.) Community College Board of Trustees. Richard, vice president of A.G. Edwards & Sons in Fall River, Mass., joined the college as a trustee in 1996. He has served on a variety of community boards and is the parent of Julie Wolfson '03 and Amy Wolfson '05.
Dave Zucconi (see Jeannie Stewart '45).
From the July / August 2002 Issue
Ron Kramer (see Dan Kramer '84).
From the September / October 2000 Issue
Art Joukowsky (see Mary E. Holburn '50).
From the July / August 2000 Issue
Patricia Wolff Gross writes: "Steve and I still live in New York City for the greater part of the year. We enjoy weekends at our house on the Great South Bay in Bellport, Long Island. Our three daughters have initiated us into grandparenthood all at once; we have five grandchildren ages 5 and younger and a sixth on the way. It is great fun."
William Kelley, who won the Academy Award for screenwriting for the movie Witness, has published The Sweet Summer (Westminster John Knox Press). The novel is about an amateur middleweight boxer who is the only white fighter on a U.S. Air Force team touring the South during the Jim Crow era.
From the May / June 2000 Issue
Stu Erwin, of Rancho Santa Fe, Calif., writes that he became a board member of KPBS television and radio in San Diego. He is executive consultant on PBS Hollywood Television, a national drama series produced by KCET in Los Angeles.
Peter Lisbon writes: "I recently retired from my forty-year career at Harvard's Widener Library, where I was chief subject cataloger. I continue to work there a few hours a week, but I spent the winter in San Diego, as I have for the past few years. My home continues to be in Cambridge, Mass., but there is a possibility I will migrate to San Diego one of these days. I would be happy to hear from classmates."
From the March / April 2000 Issue
Class president Anne Murphy O'Brien reports: "We encourage you to join classmates at a milestone reunion on May 26­29. Your reunion committee is planning a great weekend. Registration forms will arrive soon, so mark your calendars and make arrangements to attend. If you have any questions, contact reunion headquarters at (401) 863-1947; reunions2000@brown.edu."
From the January / February 2000 Issue
Class president Anne Murphy O'Brien reports: "May 26-29 will be our 45th reunion. Save the dates. Jim Egan and the reunion committee have been planning many events for the long weekend. Committee members are Richard DePatie, Anne Murphy O'Brien, Barbara Grad Robbins, Bob Borah, Bob Louttit, Mort Gilstein, Mattis Fern, Gordon Perry, Lucy Brubaker Tortolani, Roy McKechnie, Socrates Mihalakos, Margaret Going Settipane, and Ted Barrows. We'll send more information in the next few months. We look forward to a record attendance.
"My husband, John, and I held a summer reunion cocktail party at our home on Cape Cod. Attendees included Dave Halvorsen '66 M.A.T. and Jan Riley Halvorsen; Robert and Nancy Stevens Carlson; Dick and Reenie Hogan Nourie; Phyllis Gushae Lynch; Richard Valicenti; Barbara Pease Peterson; Terry McGowan Heavey; Barbara Perrino Piscuskas '56; Ed Kiely '50; John Prendergast '49; and Jim Kelley '56."
Class cosecretary Nancy Schuleen Helle reports: "Several classmates attended a reunion planning meeting during Homecoming Weekend. Highlights of our 45th reunion will include a class picnic (and possible croquet tourney) on Block Island at the home of Bob Louttit and his wife, Carol; a pre-campus dance cocktail and dinner fete at the home of Artemis 'Art' Joukowsky and his wife, Martha Sharp Joukowsky '58; a pre-pops concert dinner at the Faculty Club; and a Sunday clambake at the Barrington home of Gordon Perry and his wife, Chris. A class newsletter with more details is in the works.
"Art is reunion campaign chair, chancellor emeritus, and a University fellow. He has also received the Brown Bear Award. Art writes that he and Martha, a professor of archaeology at Brown, "have lived in Providence for twelve years and enjoy life here immensely." Martha has just completed her seventh year of excavations in Petra, Jordan, and has published a book about her experiences. Art works with Martha on all aspects of the excavations, especially the photography. Visitors to the site in recent summers have included Queen Noor of Jordan; her stepson, Prince Feisal Hussein '85, son of the late King Hussein; and President E. Gordon Gee and his wife, Constance. Last year, Art represented Brown at the 100th anniversary of Peking University, which is developing an faculty- and student-exchange program with Brown. Art has also traveled to England, France, Japan, China, Turkey, Saudi Arabia, and Kuwait as part of Brown's global networking strategy.
"Two other classmates have recently garnered awards from the University. At the library's annual meeting in April, Bob Kenny Jr. and Leslie Travis Wendel each received a William Williams Award for extraordinary support of the library. The award commemorates the efforts of William Williams, class of 1769, who sequestered the College library at his home in Wrentham, Mass., throughout the Revolutionary War. For the past six years Bob has volunteered at least three days a week, helping to manage the Anne S.K. Brown Military Collection, the largest collection of its kind in the world. Bob helps with exhibitions, events, greeting the public, and preserving and acquiring resources. He enjoyed a career in business and served in the U.S. Army, retiring with the rank of lieutenant colonel. His military interest brought him to the Anne S. K. Brown Memorial Lecture in 1993, where classmate Leslie Travis Wendel recruited him as a volunteer.
"Leslie was lauded for her many contributions as coordinator of the Friends of the Library, a position she held from 1991 until she retired in 1995. She lives in Chestertown, Md., with her husband, Dick. Leslie was director of communications and donor relations in Brown's development office from 1978 to 1986, where she helped launch a most successful library-campaign kickoff party - a luncheon and musical revue aboard the Royal Viking Sky. As coordinator of the Friends, she launched the Carberry Cookbook, the holiday-card catalog, and the "Hunk of the Hay" promotion, in which chunks of marble steps from the John Hay Library were sold to alumni. To date, more than 200 'hunks' have been sold, netting more than $2,300 for the library."
Irwin Sydney, of Brookline, Mass., received the Ma'asim Tovim award for good deeds from the New England region of the Federation of Jewish Men's Clubs. A thirty-year member of Temple Emanuel, he is a grandfather of five who enjoys visiting his three children and their families.
David Zucconi (see William J. Gilbane III '99).
From the November / December 1999 Issue
Judith Thorsen Chusid writes: "I have been president of PIC Consultants for approximately ten years. We provide human-resources consulting to companies, as well as career planning and personal marketing to executives, managers, and professionals. The company, based in Vancouver, B.C., has been in existence since 1975. Unlike at our previous company, which was based in Chicago, we find that many of our clients are immigrant professionals and managers. It seems that whatever is happening in the world, we see the effects of it in our office - from the Prague Spring and the beginning of the South African 'brain drain' in the 1970s to Ismailis from East Africa to clients who had been part of the Shah's court. We've also seen Polish professionals who left during the solidarity movement, Chinese academics who left after the Tiananmen Square massacre, and, most recently, we've seen the effects of the Serbian 'brain drain.' Connecting across the cultural divide with these people has been fascinating and challenging. Providing significant assistance to them has been even more of a challenge. On the personal side, our four kids are married, separated, or repartnered (or whatever the correct terminology is), and we have somewhere between eight and twelve grandchildren, depending on whether you count the partners' kids. With a few exceptions, I've been out of touch for a long time with my friends at Brown and would love to hear from you."
From the May / June 1999 Issue
Dick DePattie, class treasurer, and Nancy Schuleen Helle, co-secretary, report an overwhelming response to the November class newsletter, both in news and dues! They are hard at work on another newsletter to publish everyone's news, as well as a few reunion plans.
Mattis I. Fern (see Jacqueline S. Fern '83).
From the January / February 1999 Issue
George C. Calnan retired for four years ago after thirty years of teaching in California, most of them in Santa Rosa.
Warren F. Ilchman has co-edited Philanthropy in the World's Traditions (Indiana University Press). Warren is the past executive director of the Indiana University Center on Philanthropy.
Artemis Joukowsky and Finn Caspersen '63 joined to help the Lawrenceville School and the Peddie School, their respective prep schools, build a joint boathouse in West Windsor, N.J. The new three-bay boathouse, which was dedicated on Sept. 19, provides a home for the two schools' crew programs, which have been homeless for more than a decade.
Dave Zucconi (see Ben Ballard '42).
From the November / December 1998 Issue
Janet MacPhail Smith writes: "A trip back to Brown in July with four of my grandchildren reminded me I need to bring my own and my husband's classmates up-to-date on our comings and goings. George '53 and I have been retired for six years. I taught for more than twenty years as an elementary special-needs teacher, despite having to live with multiple sclerosis for the past thirty years. We have managed a great dealing of traveling since retiring, including a safari in Africa and boating with polar bears in the Northwest Territories. George worked summers for the Woodrow Wilson Foundation from 1984 to 1992. He was part of a physics team that went to colleges and universities all over the country to give workshops to local high school teachers. After he retired, he was a consultant to a three-year high school physics teachers' National Science Foundation grant at the University of Massachusetts. We have a summer home in Eastham, Mass., and have been in touch recently with Nancy and Bob Carlson. We are thinking of downsizing to just one home on the Cape. After forty years in South Hadley, Mass., we are facing a difficult decision. We try to see Janice Kennedy Doctor every other year, and give Shirley Morse Richmond a call when we are in Pennsylvania."
From the May / June 1998 Issue
Stuart P. Erwin Jr. and his wife, Diane, moved to Rancho Santa Fe, Calif. Stuart is chairman of the board of Park City (Utah) Performances and on the executive committee of KWED, the PBS station in Salt Lake City.