GS Class of 1965
Nov, 2021
Hilary Ross Salk '65 MAT writes: "In 1976, I cofounded The Rhode Island Women's Health Collective with other Rhode Island women. The organization brought together women to educate and advocate for women's health care that empowered us to change many practices and policies that were detrimental to women's health and our rights to control our care and bodies. The organization closed its doors in 1999. In 2016, I published Eavesdropping in Oberammergau, based on my experiences living as a U.S. Army brat in Oberammergau, Germany, from 1949-1952. Oberammergau is the home of the world-famous Passion Play, performed every 10 years since 1634. Finding out that it was considered anti-Semitic and that U.S. Jewish organizations were working to eradicate this aspect of the drama, I was inspired to write the novel given my own Jewish heritage. And in 1982, I ran for governor of Rhode Island as part of the Citizens Party."
Nov, 2020
R. Brayton Bowen, '65 AM, continues to consult in the area of human resources and is certified by the Society for Human Resource Management as a senior certified professional. He speaks on business related topics and teaches at the undergraduate level for Northwood University. He has published Recognizing and Rewarding Employees and Engaging the Heart for People, Performance, and Profit: Seven Competencies of Compassion@Work. He has produced the documentary series Anger in the Workplace, which aired on public radio stations nationally. He has written for the American Management Assoc., HR Magazine, and various other publications. Presently, he is leading the Howland Group, a strategy consulting and change management firm. He writes: "Believe it or not, I still am able to sing (thanks to my training with the Brown Glee Club and Professor David Laurent) and currently perform at two churches in Louisville. I have served on several boards, including the board of directors for the Louisville Committee on Foreign Relations. In 2012, I received the James E. Flynn Peace Award for community service and social justice. My connections with Brown are primarily through the Brown Club of Kentucky, where I serve as vice president for marketing. And I should add, after three tries, I finally got it right; I am happily married to Vaughn Bowen, who is a nurse practitioner and a wonderful partner. I enjoy living in Louisville, but I miss Rhode Island and sailing in Newport waters. If anyone cares to connect, contact me at brayton@howlandgroup.com; (502) 558-2154."
Aug, 2020
Jim Moody '65 ScM (see Bob Sanchez '58).
Aug, 2020
Susan Adler Kaplan '65 MAT (see Bob Sanchez '58).
Aug, 2020
Bob Sanchez continues his extraordinarily active life. The Brown Club has provided many interesting and engaging programs and outings: talks from faculty and administrators about campus and academic activities, a visit to the Vizcaya Museum and Gardens in Miami, a visit to an Everglades nature preserve, and a trip to Fort Myers to watch the Boston Red Sox. Bob attended a gathering at which the New Curriculum was the topic of discussion. "A number of those attending the gathering were actually on campus during the negotiations among the faculty, the administration, and the students. Robert Lynch '69 was active in the brouhaha over the NROTC remaining or leaving. He wrote an interesting piece putting the events in context, The Almost Forgotten Story of How Brown University's New Curriculum was Nearly Derailed by Subterfuge." Bob keeps in touch with: Stan Dobson, Jim Furlong, Warren Healey, George Held, Pete Howard, Susan Adler Kaplan '65 MAT, Jerry Levine, Jim Moody '65 ScM, Tom Moses, John Reistrup, Charlie Shumway '66 AM, Sandy McFarland Taylor, Bill Traub '59, George Vandervoort, and Roger Williams.
Jan, 2020
Christopher Hewitt '65 AM, '70 PhD, had his book Catching Terrorists in America: From Martin Luther King Jr.'s Murder to the Boston Marathon Bombing published in 2019. He writes that this will be his last book as he spends most of his free time playing with his four-year-old granddaughter. Contact him at hewitt@umbc.edu.
Jan, 2020
On October 26, the Brown University Corporation dedicated a memorial to Trustee Ken McDaniel. The memorial is an engraved concrete block lining a brick walkway in the Maddock Alumni Center gardens. Ken died on June 11, 2019, just 16 days after celebrating his 50th class reunion (See Farewell, BAM Obituaries, September/October). Following the dedication, the Class of 1969 presented a 154-page book created and published by his classmate Thelma Austin. The title is A Faithful Servant: Biographical Tribute to Kenneth Harrison McDaniel, 1947-2019. In addition to his biographical summary, the book features 24 tributes. Tributes were from President Christina Paxson and seven current and emeriti trustees, including Bernicestine McLeod Bailey '68, Harold Bailey '70, Sheryl Grooms Brissett Chapman '71, Spencer Crew '71, Galen V. Henderson '93 MD, Susan Adler Kaplan '58, '65 MAT, and Preston Tisdale '73. Nine classmates who contributed were Linda Abbott Antonucci, Phyllis Cunningham-Hutson, Gail DeCosta, Ido Jamar '74 ScM, '77 PhD, Anderson Kurtz, class president Joseph Petteruti, Theodore Sherrod, Wesley Smith, and Randall Ward. Two other alumni also contributed: Glenn Dixon '70 and Russell Malbrough '98. Others who contributed were professor Françoise Hamlin, Reza Clifton, Paul Simas, Stanley Thompson, and Rev. Adam Young. Copies of the book were presented to President Christina Paxson; Ken's wife, Susan McDaniel; and the John Hay Library. All alumni are encouraged to have their autobiographies and biographies archived in the John Hay Library.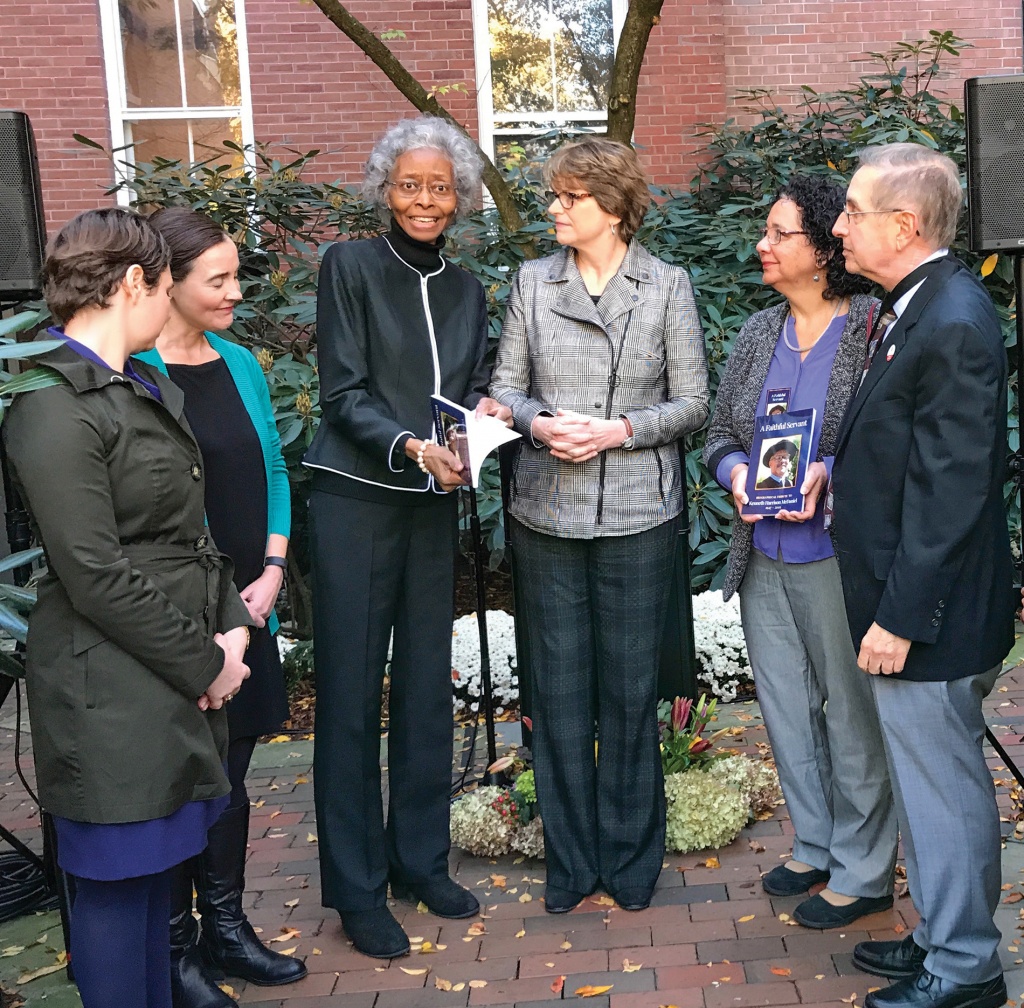 Jan, 2020
Class secretary Jill Hirst Scobie reports: "Once again, the old Angell House 'Angells' were lucky enough to gather for several days right after Labor Day at the Jersey shore (Beach Haven, Long Beach Island). Joe and Jane Bertram Miluski were our warm and welcoming hosts. This was the first time that Betty Wolin Baer attended. Hooray for that! Lois Dean was our photographer and videographer. Hooray for that! Coming from California, Judith Ann Perlin travelled the farthest distance. Hooray for that! Roz Kennedy Johnson kept us in stitches. Hooray for that! And I write about it in the BAM. Dick Scobie (Dartmouth '56) became an honorary Angell by entertaining us all with his beachside bagpiping.
"On Alumni Weekend, Jim Furlong, John Reistrup, and I received the annual Alumni Service Award 'by developing an exceptional communication strategy and digital plan…[they] have kept their class meaningfully connected.' You'll be glad to know that the interactive newsletter developed by John and Jim is 'so popular, it is being included in the Brown University archive.' Class co-presidents Sandy McFarland Taylor and Jim Moody, along with Jim's wife Donna Moody, also attended. Highpoints of the evening were addresses by President Paxson and Spencer R. Crew '71, a brilliant historian who is currently serving as the interim director of the Smithsonian's National Museum of African American History and Culture. There were several other '58s in attendance, including Susan Adler Kaplan '65 MAT, but, alas, we didn't meet."
Mar, 2019
Arthur S. Reber '65 AM, '67 PhD writes: "My most recent book, The First Minds: Caterpillars, Karyotes, and Consciousness was published in November by Oxford University Press. The thesis of the volume is a radical one: namely that consciousness and sentience first appeared along with the very first life forms, the prokaryotes. Yes, bacteria have (very tiny) minds. Just as all other species evolved from these primitive beginnings, so did all forms of mental life. I retired from Brooklyn College and the Grad Center of CUNY in 2005. Rhiannon Allen and I live in Point Roberts, Washington, just a stone's throw from Vancouver, British Columbia. We both have courtesy appointments in the psychology department at the University of British Columbia, which completes a life-circle as my first academic job was at UBC."