In the waning days of Lincoln Chafee's only full term as Rhode Island's junior senator, visitors to his downtown Providence office who scanned the hallway photo gallery for famous faces might easily have missed the money shot. They surely noticed photos of Chafee '75 posing with bicyclist Lance Armstrong, shaking hands with Cuban president Fidel Castro, and smiling alongside former presidents Bill Clinton and George H.W. Bush. They might also have wondered: where's the photo of Chafee with the current president, George W. Bush? The more observant of these visitors would have spotted Bush's partial profile in a photo unlike most you'd find on a politician's wall of fame. It is, on closer inspection, an arresting image nonetheless, a painfully blunt depiction of real-life politics in action. The photo was taken in the Oval Office, where Bush sits in the foreground, talking.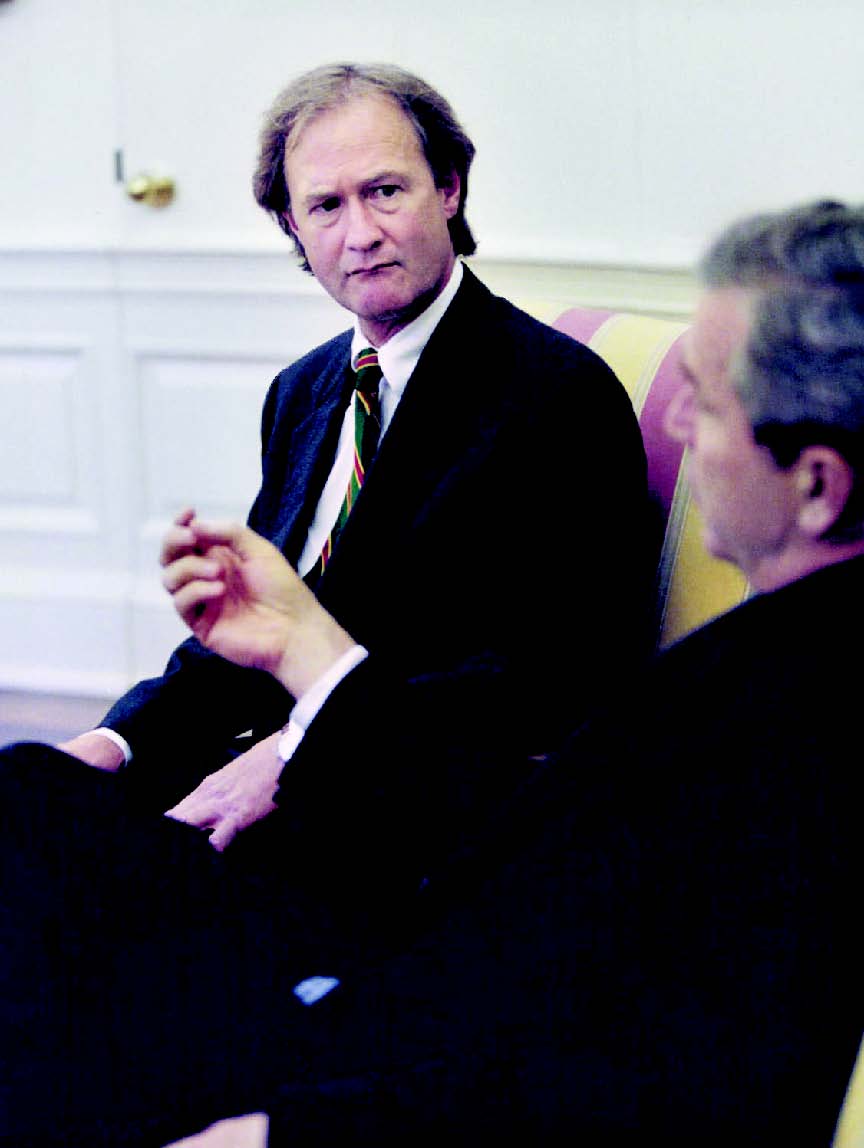 Beyond him, in sharp focus over Bush's shoulder, sits Chafee, his face consumed by what appears to be either apprehension—or perhaps even alarm.
When asked about the photo, Chafee says, "As you can tell by my face, I was concerned." About what? "About the direction we were going."
The fascinating thing about the picture, other than its prominence in Chafee's office, is when it was taken. The meeting had been held in the late spring of 2001, during the high-flying early days of Bush's first term, just after the new president had pushed a controversial $1.35 trillion tax-cut package through a friendly Congress. The attacks of September 11 had yet to occur, as well as the U.S. invasion of Iraq, the bungled response to Hurricane Katrina, and the Terri Schiavo intervention. The administration's generally hard-right, my-way-or-the-highway tack had not yet driven the president's approval rating into the cellar.
But even back then Chafee was becoming increasingly troubled. He feared the tax cuts could bring back the bad old days of runaway federal deficits. Even more, he was uncomfortable with the administration's way of going about its business. In December 2000, a month after the presidential election, Chafee had gone to Senator Arlen Specter's office for the weekly lunch meeting of a small group of moderate Republicans. That week's guest was incoming Vice President Cheney. "As we sat in Senator Specter's cozy hideaway office," Chafee later wrote, "and discussed the coming session [of Congress], I was startled to hear the vice president dismiss suggestions of compromise and instead emphasize an aggressively partisan agenda that included significant tax cuts, the abandonment of international agreements, and a muscular, unilateral foreign policy."
Chafee voted against the cuts and then requested a meeting with President Bush. "I just wanted to say, face to face, that it was nothing personal," he recalled this fall. Chafee had enthusiastically supported Bush the year before, citing his centrist record as Texas governor and his campaign pledge to be a uniter and not a divider. At the meeting, he still hoped he could nudge Bush off the partisan course he was clearly taking. A move to the center would help the administration win broader public support, he thought, and the policies the president was championing could harm such centrist Republicans as Senators Susan Collins of Maine and Gordon Smith of Oregon in the 2002 midterm elections, possibly even endangering the balance of power in Congress.
"Don't you worry you're jeopardizing these two seats we're trying to hold?" Chafee said he asked the president.
"Don't worry, they'll be okay," Bush said.
Collins and Smith did win re-elections back in 2002, but Chafee now says that at the moment the photo was taken of him he was seeing the future. Over the next four years Bush's policies never moved back toward the center. In November 2006 Chafee, despite high personal approval ratings from Rhode Island voters, lost to Democrat Sheldon Whitehouse. Even though the two men espoused nearly identical policies, the state's voters wanted to send the president a message, and Chafee had become the messenger. Had Chafee won, Republicans would still control the Senate.
Not only did Chafee's defeat give Democrats control of Con-gress, it shed light on the ongoing debate over the party's identity. The son of longtime Rhode Island governor and U.S. Senator John Chafee, Lincoln D. Chafee was born into a party that his father loved. After six years as governor, John Chafee became Richard Nixon's Secretary of the Navy before serving in the U.S. Senate for more than twenty years. An ardent environmentalist, the elder Chafee eventually chaired the Senate's Committee on Environment and Public Works and was able to pass important legislation even as the political ground was beginning to shift to the right. John and Virginia Chafee felt such a deep historical affinity with the Republican Party that they named the second of their six children after its most revered figure, Abraham Lincoln.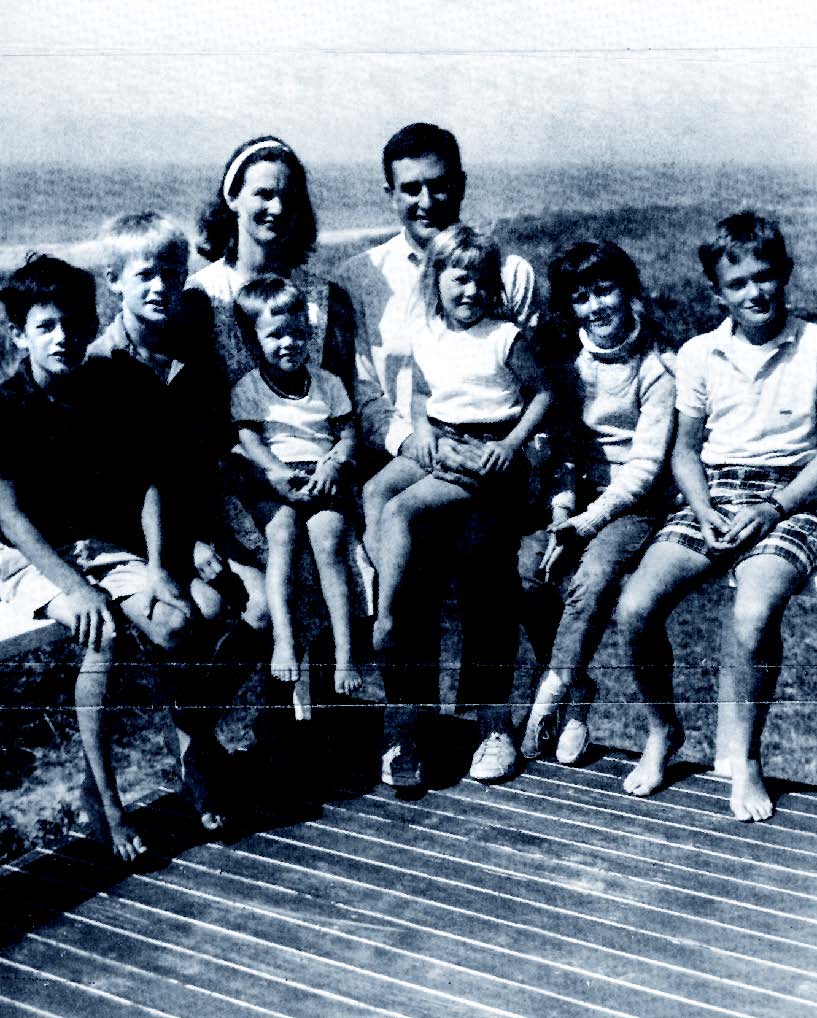 When George W. Bush burst upon the national political scene in 2000, he represented a familiar type to Lincoln Chafee. Bush's paternal grandfather, Senator Prescott Bush of Connecticut, was cut from the same moderate patrician cloth as Chafee's father. As a fellow scion of the blueblood establishment, Lincoln Chafee headed off to Phillips Andover Academy after attending Warwick public schools; one of his classmates at Andover was Jeb Bush, President George W. Bush's younger brother, who would later be elected governor of Florida. (Whitehouse, the Democrat who defeated Chafee in November, is part of the same social set: his father was John Chafee's roommate at Yale, and his children now attend the Mary C. Wheeler School, near the Brown campus, along with Lincoln Chafee's.)
Like President Bush, Chafee resisted joining the family's political business at first. He studied classics at Brown in the early 1970s and was captain of the wrestling team. He doesn't recall being politically active at Brown, though he did vote for Nixon, despite what he terms "campus adoration of McGovern." After graduation he headed out to Bozeman, Montana, where he worked shoeing racehorses. He spent the next seven years laboring on the racetrack circuit. "I had my own business," he recalls. "I enjoyed that life immensely. I did well at it."
By the mid-1980s, he had found his way back home to Rhode Island and put in stints as a management trainee and a planner at several businesses. He didn't much care for the work, though, so in an effort to recapture the self-sufficient feeling of his days out West, he decided to run for an obscure post as delegate to the 1985 Constitutional Convention. The family trade seemed to suit him. He won a seat on the Warwick, Rhode Island, city council, and from 1992 until 1999 he was mayor of that Providence suburb, a job he found "much more fun" than being a legislator.
It was as Warwick's mayor that he learned the advantages of bipartisanship. Knowing that the city's electorate tilted Democratic and that many voters considered his victory a fluke, Chafee immediately learned to govern from the center. One of his first moves, he recalls, was to hire a Democratic public works director whom he believed the city workers would support. In the back of his mind, he says, was the experience of Chicago mayor Michael Bilandic, who was voted out after he couldn't get the streets plowed during a big storm.
He also reveled in the details of running the city. He took an interest in visiting the waste treatment plant and started a newsletter that would increase communication among workers in different city departments. He handed out job-anniversary pins to the rank-and-file and posed for pictures with school crossing guards. He would later consider one of his proudest U.S. Senate achievements the passage of a bill to put brownfields, or slightly contaminated industrial sites, back into commercial use—a cause that had long been a priority of his former peers at the U.S. Conference of Mayors.
Chafee was appointed to his father's U.S. Senate seat in 1999, after John Chafee died of heart failure. The next year, Lincoln Chafee ran for the seat and won it outright, but given the tenor of the national Republican Party, he never seemed to fit in. An environmentalist who boasts of driving a hybrid, Chafee supports stem cell research and other socially progressive causes and opposed Bush's most conservative judicial nominees. Chafee never seemed to achieve the same level of comfort as when he was Warwick's mayor, or to really grow into the job. He recalls with agony walking into the Republican Senate caucus and hearing talk of restricting abortion rights, of preventing states from enacting their own laws on gay marriage, and of passing a constitutional amendment to ban flag-burning. Last June, he cast the deciding vote against the flag-burning amendment. Honestly, he asked, how many flag-burning incidents have we seen?
Chafee considers his proudest moment in office becoming one of just twenty-three senators—and the only Republican—to vote against going to war in Iraq. On foreign affairs more generally, Chafee seemed to identify best with the first President Bush, an internationalist who stayed at least somewhat true to his Yankee roots; in fact, in 2004 Chafee made waves when he announced he would be writing in George H.W. Bush's name on his presidential ballot rather than vote for George W. Bush. Chafee may also be one of the most unabashed admirers of the United Nations to hold office in recent times. Immediately after his defeat last November, he announced he'd use his seat on the foreign relations committee to block the permanent appointment of John Bolton to the post of U.N. ambassador.
That was one of his few outright triumphs. More typical were Chafee's attempts to influence policy through persuasion. When Chafee believed the administration's even-handed rhetoric on Israeli settlements in Palestinian territories didn't match its policies in the region, for example, he wrote to Secretary of State Condoleezza Rice to suggest she make a change. She answered with what he says was "more empty rhetoric," failing to address his point.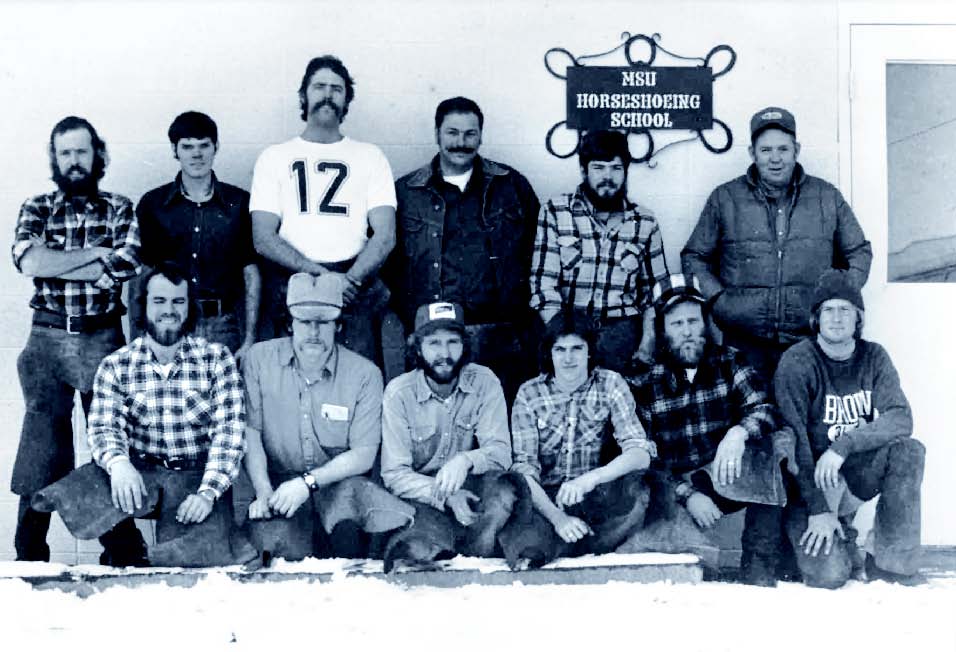 Professor of political science and commentator Darrell West says Chafee's belief that he can bring his adversaries around by just sitting down and talking to them exemplifies both his idealism and his naïveté. "He likes to think the best of people," West says. "I think that kind of notion got lost a long time ago in Washington."

None of these positions played well for Chafee in the national party and in the highly partisan world of Washington politics. But they fit nicely into largely Democratic Rhode Island. Chafee's approval rating at home, as calculated from exit polls at the November election, was an impressive 63 percent. Chafee's lack of guile always seemed an endearing trait in a small state where voters get to talk to their candidates and don't have to judge from sound bites. He wore his hair a bit long. He sometimes looked at the wrong camera during debates. His thoughts occasionally meandered.
Appearing before a group of aging veterans in East Greenwich a few weeks before the election, Chafee described picking up on the horrors of war when his father refused to talk about his experiences in World War II and Korea. So far so good. But then he ended his story by asserting that "a bad peace is better than a good war."
A savvier pol speaking to this particular audience might have limited the discussion to bad wars, the topic in the news. But when asked about the comment after the election, Chafee said it was not a gaffe, or even an off-the-cuff remark. Even a "good war," he argued, naturally brings atrocities. "Abu Ghraib, My Lai—that comes with war. Every war."
In the November election, however, Whitehouse argued that the race was not about the candidates but about who would decide which legislation gets heard, Democratic senators who believe in fighting global warming and opposing extreme judicial nominees, or Republicans who have rolled over for the White House. Whitehouse argued that Chafee, for all his good intentions, had been an ineffective senator. Bush's success in passing radical legislation and securing support for right-wing judicial nominees demonstrated that Chafee was powerless to rally opposition from within the GOP.
Rhode Island was key to the Democrats' plans to win the Senate, and so Lincoln Chafee was in the crosshairs of their most powerful campaigners. Democrats brought Bill and Hillary Clinton and Barack Obama to Rhode Island to campaign for Whitehouse. Chafee was left in the brain-teasing position of running to his Democratic opponent's left. He criticized Whitehouse for accepting help not just from such moderate Democrats as Arkansas's Blanche Lincoln and Louisiana's Mary Landrieu but from such Iraq war supporters as New York's Chuck Schumer and Hillary Clinton. Yet this attempt at positioning himself as a consistent liberal who embraced bipartisanship clashed with statements he'd made during the primary. He never effectively countered, for example, the Democrats' endless replaying of his disastrous comment to ABC's George Stephanopoulos during the primary: "I'm running as a Republican, and that's the party I'll support."
In the end, Chafee won only 46 percent of the vote, while Whitehouse, a Clinton-era U.S. Attorney whose ideology is barely distinguishable from Chafee's, received 54 percent. "Even someone [whose approval rating is] in the fifties generally wins," Darrell West says. "The result had nothing to do with Chafee and everything to do with Bush."
All of which has landed Chafee in one of stranger places in American politics. Despite his long, lonely struggle to figure out "his role in their agenda," as he puts it, Chafee believes the results of the midterm election confirm that he was right all along about the issues and the importance of holding to the center. In defeat he has become vindicated, even celebrated, as the sage of the vanishing middle.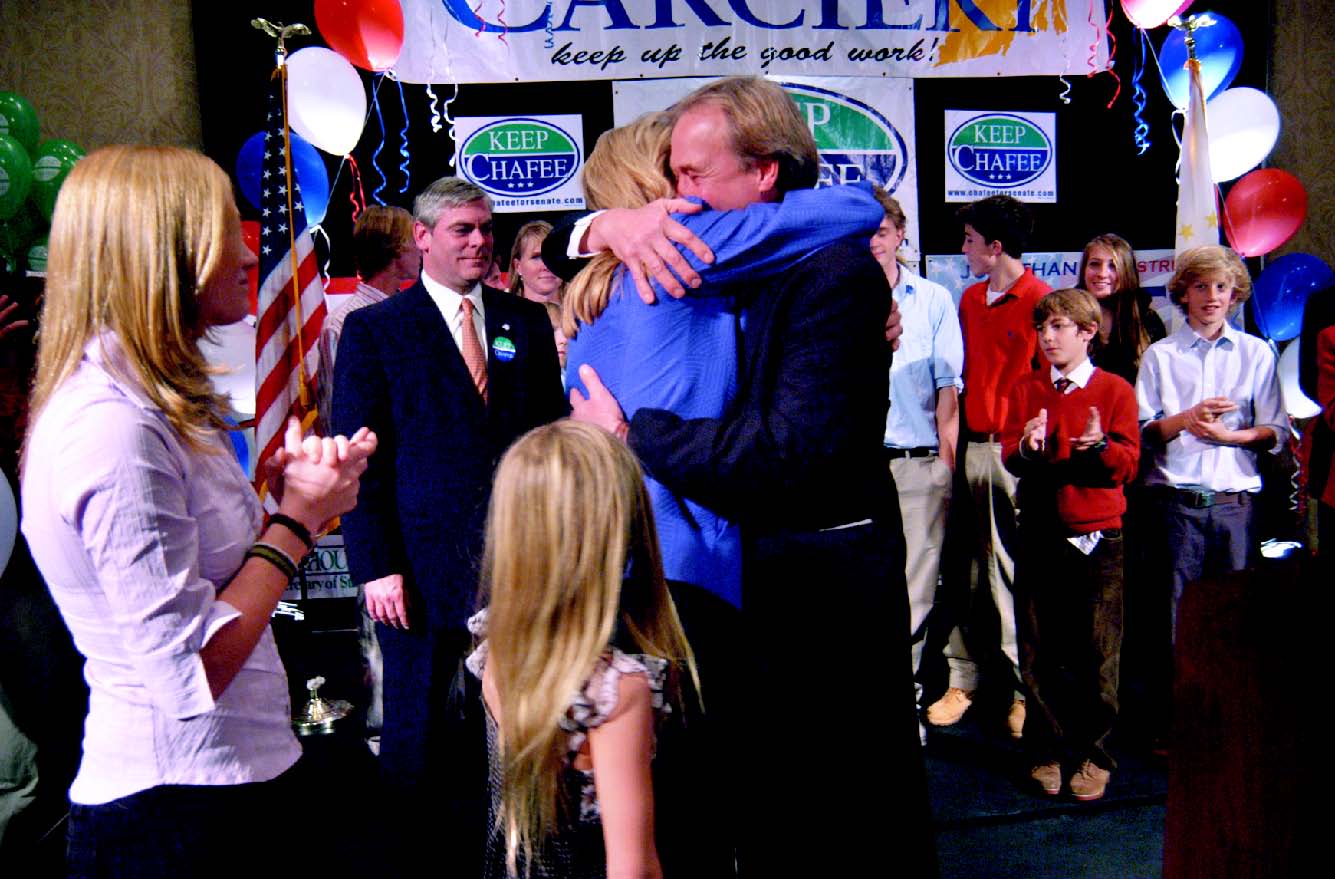 In the days following his defeat, Chafee could be heard on The Daily Show and National Public Radio's Fresh Air. The New York Times commissioned him to write an opinion piece. In it he recalled the December 2000 meeting with Dick Cheney. After the meeting, he wrote, he sent Cheney a letter suggesting that moderate Republicans could "help the new administration develop a unifying agenda." Chafee advised starting with debt reduction and toning down the marriage-penalty and estate-tax reform proposals into forms that Democrats would support. He called for a patients' bill of rights and for reducing dependence on foreign oil through conservation and greater investment in mass transit.
But Cheney never got back to him, and Chafee concluded his Times piece with a message: "Do I have any regrets about [the midterm election's] outcome? Yes. I regret that I will not be able to participate in the difficult, but critical, healing process that must take place in our government if Democrats and Republicans are going to solve the serious problems facing this great nation.
"I hope the new Congress and the administration that received, in the president's words, 'a thumping' can find common ground for the common good."
At a press conference just after election day when the loss was still fresh, Chafee was more blunt. He said he has plenty of sympathy for those who voted against him. When people told him they were sorry he lost but were glad Congress changed hands, he conceded that he felt the same way. "When you enact a divisive agenda and don't talk to the other side," he told reporters, "I don't think that's good for the country. I think the president is going to have to talk to the Democrats. I think that's going to be good for America."
Yet in conversation two weeks later, he remained irritated at the president and Senate GOP leaders, who saddled him with unpopular policies but supported him because they knew they were lucky to have any Republicans representing Rhode Island at all. He is also testy about the Southern wing of the GOP, which over the years has changed the tenor of his ancestral party. He is angry at the ideologically driven group Club for Growth, which labels politicians like Chafee RINOs—Republicans in Name Only—and which backed conservative Cranston mayor Stephen Laffey in the Republican primary. The challenge forced him to fend off a tough rival from the right while Whitehouse rested and raised money for the general election. He believes that northern centrists like his father have been pushed aside by the national Republican Party's Bible Belt base. A generation ago the group of moderate Senate Republicans who met weekly for lunch numbered in the double digits. By Chafee's day the group was down to five; after the November election, only three remain.

What happens to Lincoln Chafee now? He has been evasive about whether he will leave the GOP to become an independent and about what he'll do with his fifteen minutes of fame. "Believe me," says Jennifer Duffy, a Rhode Island native and Senate analyst with the Washington-based Cook Political Report, "there are lots and lots of people who are very curious about what he's going to do."
Chafee says he is "still assessing what my role is in the national and the state party. They're very different." The Rhode Island Republican Party, he says, "is one I'm proud to be a part of." He considers the group moderate on many issues, fiscally conservative, and, most important, a check on "the immense power that comes with a one-party system." As for the national party, he says, "that's the conundrum." "Do I have a voice," Chafee wonders, "or has [the GOP] irrevocably swung south?"
Chafee is not so naïve that he doesn't understand the benefits of being in step with the party in power. His position in the majority, he says, helped him to secure federal money to tear down the antiquated Jamestown bridge and to build a train station at Warwick's T.F. Green Airport. He also boasts of saving Rhode Island's military bases from decommissioning. When Vermont Senator James Jeffords left the party in 2001, Chafee says, "Vermont lost its dairy compact. There are consequences."
At fifty-three, Chafee has plenty of time to embark on a third political act. His loss prompted immediate speculation that he might run for Rhode Island governor in four years, when his ally Donald Carcieri '65 faces term limits. Chafee insists it's much too soon to say, but his passion for local government and his comfort within the Rhode Island Republican establishment make the move a logical one. He is also a great admirer of another blue-state Republican moderate, George Pataki. As Chafee points out, the former New York governor and possible 2008 presidential candidate worked well with Democrats and labor, compiled a strong environmental record—and survived three elections.
Darrell West believes Republicans nationally have a strong interest in keeping Chafee in the GOP and could offer him a near-term role in the national party or even the Bush administration. "If they don't keep Chafee active," West says, "there is no party in Rhode Island." Chafee says he hasn't been approached but that before he would consider such a role, he'd need reassurance that he could still think independently.
Or Chafee may leave politics altogether. In December, Brown announced he had accepted a job as a distinguished visiting fellow at the Watson Institute for International Studies, where he will write and lead an undergraduate study group on U.S. foreign policy. Chafee clearly feels a responsibility to use his current notoriety to push for a return to moderation, and the Watson post may provide him with both support to write more pieces like his Times essay and time to consider his next move.
When asked about all of this, Chafee talks like a kid trying to figure out what he'll be when he grows up. He returned to Rhode Island more than twenty years ago unsure of his future, and now, he says, "I'm at that decision stage again."
West believes we may not have heard the last of Lincoln Chafee. "He can come back in a different political climate," he says. "I think he has a bright political future—if he wants one."

Stephanie Grace is a staff writer and political columnist at the New Orleans Times-Picayune.
Photography by Joshua Dalsimer.