Jersey Boys, starring John Lloyd Young '98; at the August Wilson Theatre in New York City.
Less than a year before John Lloyd Young began playing the part of Frankie Valli in the smash Broadway musical Jersey Boys, the actor was ushering audiences to their seats and handing out Playbills. Now he's in one.
The show, which chronicles the rise and fall of the Four Seasons singing group, was an instant hit when it opened a year ago. Three months later Young was signing his caricature at Sardi's restaurant in Times Square. In June the show took home four Tony awards, one of which was for best musical and another for Young as best actor in a musical. The actor signed a talent-holding contract with ABC for a future, as-yet-undetermined TV role, but in October he renewed his Jersey Boys contract, at least for several months.Don't count on landing tickets, though; the show is sold out for the next year.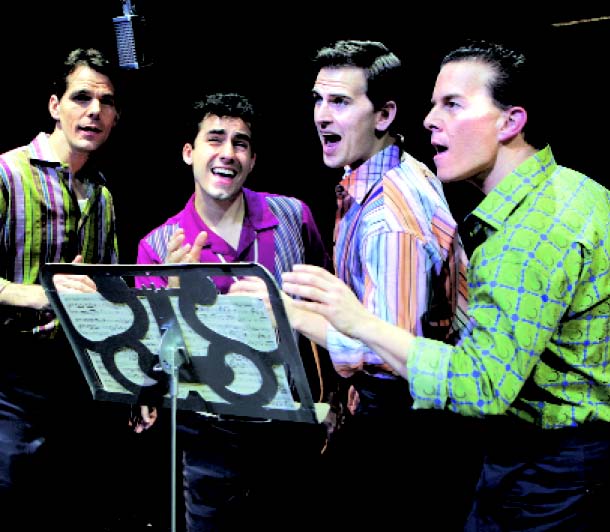 Now thirty-one, Young began acting at age six with the encouragement of his parents and three sets of grandparents. Growing up hearing Frank Sinatra in his grandparents' houses, Young says, "I became a Sinatra fanatic." That early exposure came in handy when he took on the role of Frankie Valli, a fellow Sinatra fan. So closely does the scripted Valli resemble Young's late grandfather that the actor says, "I always think of Grandpa Mike onstage."
Young's mother died when he was two, but his father remarried a Broadway fan who raised Young and his younger sister. By age sixteen, Young was hosting a weekly show of American popular and Broadway songs on public radio station WCFE-FM in Plattsburgh, New York.
With few acting opportunities in Plattsburgh, Young focused his energies on student government and sports, captaining both the cross-country and swim teams. The training, he says, turned out to be good preparation for his role in Jersey Boys, which requires "the focus and determination of a long-distance runner or swimmer. While most musical lead characters have five songs, my character has twenty-seven—most in falsetto! And I'm on stage for an hour and fifty-five minutes of the two-hour-and-fifteen-minute show"—eight shows a week.
To build upper-body strength and breath support, Young did what Sinatra had done before him: he swam laps underwater. Young also took voice lessons with Katie Agresta, a renowned teacher of rock singers; he still studies with her today.
Although Young sang in Sondheim shows at Brown, when he tried out for Jersey Boys he hadn't been in a musical in years. And he really couldn't dance. "So [the directors] put me in a sweltering studio boot camp," he says. "Sometimes, spot-turns made me nauseous, sometimes to the point of throwing up. It was the literal meaning of dreadful—I would feel dread. Though intricate, the choreography is not really that difficult, but if you're a klutz, you look horrible. Now people can't believe I'd never danced before."
Young listened constantly to Valli and the Four Seasons. His cousin took him to Las Vegas to watch Valli sing and interact with the audience. Although Young took notes on a napkin, he avoided meeting the singer. "I didn't want to jinx anything or have him tell the producer, 'I don't want this kid to play me.'
Reviewing the play, New York Times critic Ben Brantley praised Young for having "crossed the line from exact impersonation into something more compelling."
Young hopes this is true. "The audience is watching me, not Frankie Valli," he says. "And if they don't believe me, it doesn't matter how much I seem like him."
Young did eventually meet Valli, who attended the show several times and gave advice about maintaining stamina and advised holding back a bit. "Hearing it from him," Young says, "was the supreme validation of my own instincts and the direction I was already going in."
Joel Cohen is a freelance writer in Staten Island, New York.