In the swampy heat of late September, when the air in New Orleans was a cocktail of decay and despair, the idea of moving back seemed, to Wendy Schornstein Good '80, almost absurd.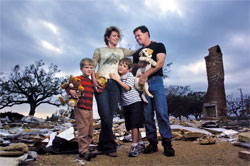 A month earlier she'd left with her husband and two teenage daughters for what should have been a weekend trip to a bat mitzvah in Atlanta. Now, for the first time since Hurricane Katrina, she'd returned to assess the damage. Streets where her children had learned to ride their bikes were abandoned and filled with debris. Someone, perhaps from FEMA, had kicked in the front door of her two-story brick house in the affluent neighborhood of Lakewood South, near the broken Seventeenth Street canal. Sewage filled the pool out back. Inside the house, the floor was mucky, and the water line was five feet high. Pieces of furniture and cartons of food were strewn about. The refrigerator was facedown. Paintings, wet and moldy, hung at odd angles. Good already knew her two cats had not survived.
Although Good's home had weathered Katrina's hurricane force, it failed to withstand the floodwaters that rushed in after the city's levee system failed. Returning, she found she'd lost more than possessions, as she noted in a later e-mail to friends:
There were our antiques, art, sofa, cushions, chairs, all piled up [like] rubble on the street…. I walked from room to room upstairs crying steadily…. I remembered when we first moved in with a two-year-old and one on the way, when we lived through the renovations years later, each birthday party and swimming party and the late nights one of us would be up in the study—details of our former lives.
She thought about starting anew in Atlanta, where the Goods were renting an apartment and their daughters had enrolled in school. Julian was already rebuilding his financial-services business there, while housing in New Orleans was scarce. Besides, Good, though a native, had always felt out of place in the Big Easy. "I never thought of myself as a New Orleanian in the bone marrow," she says. "I'm the first one out of town for Mardi Gras." New Orleans, she'd long believed, had "coasted on its charm," blind to its own deep-seated corruption. But in Georgia she felt like a refugee, craving, to her surprise, the food and music and other details of home.
In October she drove again to New Orleans, this time to look for a place to rent. In another e-mail to friends she wrote about her arrival in New Orleans East, a middle-class African American neighborhood that water had all but destroyed:
As twilight morphed into darkness, the sky and what was left of the buildings, trees, and shopping centers became one big black hole. There was a sliver of a new moon not far above the devastation, and I remember thinking how odd it was to see that symbol of renewal.
After Katrina, half the houses in New Orleans contained more than four feet of floodwater, according to a report by the city's Bring New Orleans Back Commission. That made finding a temporary home particularly difficult, even though Good, unlike many evacuees, had the time to search and the resources to pay an inflated monthly rent. But by Thanksgiving two rental houses had fallen through. Just as discouraging, whenever Good picked up the newspaper she'd see the latest gloomy headline: federal money was stalled, business had moved out, and congressmen and op-ed writers questioned whether to rebuild at all. Good, worried that the nation would desert her city, was angry. No politician, she noted, had questioned whether to rebuild lower Manhattan after 9/11. For her, moving home became an act of defiance—a way of asserting that New Orleans was still alive and could not be left to die. "The more the federal government abandoned New Orleans," Good says, "the more determined I was to get back. I became just a fanatic."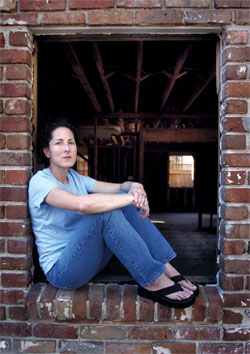 According to a 2003 U.S. Census estimate, the most recent available, about 470,000 people lived in New Orleans before Katrina. By the end of January, according to a city government survey, about 181,000 had returned. Among them were the Goods, who on January 1 settled into an apartment with a coveted one-year lease and an even more coveted location Uptown, in a wedge of the city that Katrina had barely touched.
Also returning that week was Whitney Stewart '83, a children's book author who'd been trapped during the hurricane at the Tulane medical school, where her husband is a geneticist. Stewart, along with her thirteen-year-old son and eighty-nine-year-old mother-in-law, had escaped by helicopter after four days and moved into a Nantucket, Massachusetts, vacation home belonging to her stepmother, Cynthia Echols Everets '64. At first Stewart had no wish to see New Orleans again. "In my mind it was the city of panic," she says. "I couldn't imagine going through another hurricane season." But as time passed, her trauma eased, and her husband decided he would not abandon his colleagues at Tulane.
One of the consequences of Katrina is that the city to which Good and Stewart returned has become disproportionately white and upper-middle-class. The poorest residents, who were overwhelmingly African American, mostly remain out of state. "It's like the poor people got bused to Houston, dropped there, and can't get back," says John Logan, a Brown professor of sociology who is studying race and class in the post-Katrina Gulf (see "The Hardest Hit").
Many residents who have returned did so for jobs and businesses they did not want to abandon. Joseph Meissner '93 wanted to save his martial-arts school in the Bywater neighborhood of the city, even though 90 percent of its roof was gone and the levee breach had dumped three feet of water inside. In early October he and his wife moved back to their house two blocks away, not far from the gateway to the devastated Lower Ninth Ward.
Similarly, Lizzie McEnany '89, despite initially having moved to New Orleans only in June, returned in early October to continue her child and infant psychology internship at the Louisiana State University Health Sciences Center. In September, Lucinda Flowers '77 came back to resume work that had suddenly become even more crucial: advocating for affordable housing. Sean Cummings '87 arrived to rebuild his hotel and help the city draw tourists, businesses, and residents.
With less fanfare and media attention, residents headed back to towns all along the damaged Gulf Coast. John Murdock '71, for example, returned to Long Beach, Mississippi, in mid-November so his daughter could finish high school there while he managed the rebuilding of their house. Murdock, a retired oceanographer and software developer, moved with his wife and daughter into a tiny FEMA trailer on a friend's property.
To what degree returning residents will succeed in rebuilding their lives remains uncertain. "Being here doesn't mean the city will flourish and we'll make a living," Good said in late January, "but it gives us a chance. If we are going to leave, we have to say good-bye properly." Her out-of-town friends often observe that it must be hard for her to be home. The opposite is true, she says: "It was hard to not be here."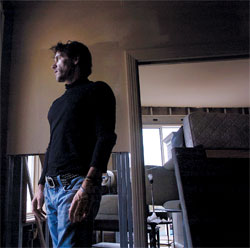 In Mississippi, Katrina was the most destructive natural disaster in U.S. history. It ravaged the state's coastline, leveling villages, washing away bridges, and tossing casino barges clear across the highway. John "Day" McKee '83 watched the hurricane from inside Biloxi Regional Medical Center, where he is a gastroenterologist. First he heard the wind pick up. "It was like a jet engine," he says. Then a wall of water—a storm surge that might have been thirty feet high—pushed inland. McKee describes the experience as similar to standing inside a snow globe with the glass breaking all around you. The medical center's roof started to peel off, and the building rocked so hard that some of the people inside felt queasy. "I've never been more afraid," he says, "that I was going to die."
After the rocking stopped, the patients arrived. The first, a woman, had escaped from a collapsed church. One man carried a snake that had bit him. Others had nearly drowned. When the hospital lost power and the temperature pushed 100 degrees, the operating room became unsterile. McKee says he had no way to stop elderly patients from dying of heat stroke.
After four round-the-clock work days at the center, McKee drove to his street on a small peninsula in nearby Ocean Springs. His house was barely standing. He found his younger son's Thomas the Tank Engine toy poking out of the mud. Soon after, he called his wife, Shaun, also a doctor, who'd fled to Florida with sons Jack, six, and Christian, four. On the phone, Christian asked, "Was the flood bad?"
A week after the storm, Murdock, the retired oceanographer, visited his home in Long Beach, fifteen miles west of Biloxi. He'd evacuated to inland Mississippi with his wife, Ethelyn, and their daughter, Rachel. The waterline in their one-story house was more than two feet high. The furniture was scattered, and the house smelled of mildew. Dozens of neighboring homes had been flattened. Catherine McElearney Gautier '01 also found herself in Long Beach, helping to transform Coast Episcopal School, where she had recently taken a fund-raising job, into a temporary medical clinic and supply-distribution center. She and her husband had moved to Ocean Springs less than a year earlier.
In late September, with many Coast Episcopal faculty members still displaced, Gautier became a temporary middle-school language arts and grammar teacher. Meanwhile, Murdock, whose house had to be gutted, settled with his family into an inland apartment. At that time McKee was living in the medical center's Labor and Delivery Room 327. His family had moved from Florida to West Virginia to stay with relatives. McKee's private practice in Ocean Springs had become a distribution point for medicine, clothing, and food. With so few people in the area, patient traffic was down; McKee and his partners borrowed $500,000 to make sure they could pay the staff.
"There were times when I cried," McKee says. "It's like asking someone what it was like to be in Hiroshima during the atomic bomb blast. When it's all gone—all your clothes, your furniture, your art—you realize you couldn't care less. I wanted my family back. I worried if my kids still missed me."
In October, McKee bought another house in Ocean Springs—farther from the water. The old house was condemned; only a brick chimney remained. That month, Murdock's wife moved into the FEMA trailer so she could resume her job as a second-grade public school teacher. The rest of the family joined her in November. McKee's wife and sons came back around Thanksgiving, at about the same time Gautier resumed her fund-raising job. Through the winter McKee saw Katrina's medical aftereffects: respiratory problems caused by house mold, for example, and chronic diarrhea from contaminated water.
Gautier spent the winter fighting with insurance companies to repair her roof, windows, and siding. "It's our new normal," she said in late January, "to deal with the devastation." She and her husband considered moving to the East Coast, but they did not want to leave a struggling community. "There are so many people," Gautier said, "who have so much responsibility right now—folks who have kids or older relatives. If we leave, we are two able-bodied people who could have been helping."
"What the TV images don't convey," Murdock says, "is the scope. You can go for miles and miles along the waterfront and not see a single building standing." In February the Murdocks were still in a FEMA trailer. Yet for them life was moving forward: their daughter Rachel was applying for college financial aid, and a contractor was rebuilding the house. "I've lived here twenty-five years," Murdock says when asked why he didn't simply move out of town. "This is the only place Rachel has known."
Shortly after Wendy Good moved home, the city government's Urban Planning Committee, which is part of its Bring New Orleans Back Commission, unveiled a sixty-nine-page plan to remake the city. It called for levee upgrades to protect against a Category 5 storm (Katrina was Category 4 at most when it reached the city) and endorsed a buyout of homeowners in heavily damaged areas. The plan also addressed the uncomfortable question of which neighborhoods to bring back, and how quickly. The committee suggested immediate rebuilding in such lightly damaged spots as the French Quarter. But for places like the impoverished Lower Ninth Ward, in which floodwaters had washed away blocks of homes, the report called for a temporary freeze on building permits. Such neighborhoods would first have to draw back enough residents to make rebuilding practical. The local NAACP chapter quickly denounced the plan as unfair, while some urban planners said it was unwise to repopulate any low-lying areas at high risk of flooding.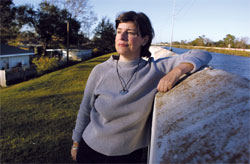 John Logan, the Brown sociology professor, has followed the debate closely. He believes that some sections of the city cannot be protected from future hurricanes. At the same time, he argues that any plan requiring neighborhoods to prove they can repopulate favors the wealthiest districts, whose residents have the time and money (including money from flood insurance settlements) to quickly rebuild. He cautions that unless the government helps low-income residents to move back, "we'll have this pattern of peripheral slum settlement outside the city."
Lucinda Flowers served on the Urban Planning Committee's subcommittee on housing. Flowers, whose New Orleans roots stretch back 200 years, works in public policy and advocacy at the New Orleans Neighborhood Development Collaborative, whose mission is to improve city neighborhoods by increasing the quality and quantity of affordable housing. Before Katrina, she worked to oppose limits on multifamily housing, which can generate rental income for homeowners. "We're looking at home ownership as a pathway out of poverty," she says.
Flowers lives in the suburb of Metairie, just across the canal from Wendy Good. Because her house is on the side of the canal that Katrina did not breach, it survived the hurricane with hardly a mark. Not long after Flowers arrived home in September, her organization helped put together a list of ten principles for rebuilding. The city council went on to adopt the list, which suggested, among other things, that the city create mixed-income neighborhoods. Flowers says that before Katrina, mixed-income housing was a highly contentious issue. "It's a different atmosphere now," she says. "Now folks are talking more openly."
Flowers tried unsuccessfully to convince the state legislature to prohibit price gouging on rents. "Pre-Katrina," Mayor Ray Nagin told the Bloomberg news service in November, "you could rent a decent place for $400 or $500 a month. Now some landlords are charging $1,000 or $1,500." Even though wages are up, they've not kept pace with skyrocketing housing costs. The rents have priced out many lower-income evacuees—a disproportionate number of whom are African American. "Before the storm," Flowers says, "the city had more renters than owners. We have to bring those folks back. They want to come back."
While Flowers advocates for affordable housing, Sean Cummings, who served on the Urban Planning Committee's subcommittee on urban design, approaches the New Orleans recovery from the other end of the market. He owns International House and Loft 523, elegant hotels in the Central Business District, and develops loft-style and penthouse apartments. In addition, he is a mayoral appointee, heading the corporation that acts as the landlord for city-owned buildings.
Cummings's French Quarter house was looted after Katrina, while his loft in the Central Business District was undamaged. On the day of the hurricane, he evacuated the staff of International House and padlocked the doors. Before long the basement had flooded, and wind and water had damaged eighty of the 137 guest rooms. Two of his employees died in the aftermath. At Loft 523, Katrina destroyed the roof. By late January, Loft 523 remained closed, but Cummings had reopened the bar and fifty-two guest rooms at International House. Since then, he says, most occupants have been displaced locals attending to business in town.
Cummings is the executive director of the New Orleans Building Corporation, which holds the city government's principal real-estate assets—including an office tower known as the World Trade Center. In 2003 the mayor signed a lease to allow private developers to convert part of the trade center into a Westin hotel. The developers have until late October to come up with financing. Other developers have expressed interest as well. The World Trade Center is on high ground, a characteristic suddenly more valuable in post-Katrina New Orleans. While some people doubt that a big hotel can still thrive in the Big Easy, Cummings is optimistic. "New Orleans is still one of the most intriguing destinations in the country," he says. "It's just timing."
Cummings is also on a mission to eliminate state income taxes, at least for the next ten years, as a way to attract new business. He admits the tax proposal is unlikely to gain traction, but observes that after Katrina, the headquarters of Ruth's Chris Steak House, a chain that is also a New Orleans institution, left Metairie for Orlando, Florida. Cummings also argues that before Katrina, the New Orleans economy was too small to reverse its massive poverty rate. With a downsized population, he is hopeful that the demand for jobs will approximate the supply.
Cummings imagines New Orleans with a thousand high-rise condominiums and apartments overlooking the Mississippi River. "Part of our salvation," he says, "will be unleashing a billion dollars' worth of construction projects." He believes that in rebuilding, the city should focus on areas in which it has a competitive advantage, like food, music, and film. He envisions the finest riverfront in North America. "Why don't we have a culinary institute here?" Cummings asks. "Why don't we have a world-class performance venue? Why is it that Wynton Marsalis has to create jazz in New York at Lincoln Center? We should have a jazz orchestra in residence."
Other pundits, more removed from the city, remain pessimistic, questioning whether New Orleans, because of its geography, should simply be left to die. In March, Financial Times columnist Tim Harford wrote on the online magazine Slate that "disaster reconstruction rarely prevents decay" in a stagnant city.
Wendy Good expected to start cleaning up the city as soon as she moved home. Instead, she stood in line at the bank. She stood in line at the grocery store. She waited on hold with the insurance company. She also started filing papers for her husband, whose business was struggling. At first she saw working for her husband as self-indulgent, she says, "until I realized that it also benefits the community. We can't afford to lose one more business or one more body." The Goods also put their house on the market.
After Whitney Stewart returned from Nantucket, she volunteered at a charter elementary school whose library had been devastated. She contacted fellow children's book authors and illustrators, who sent boxes of books to the school. Her friend Mindy Nichols Mayer '77, a playwright, helped organize a drive for the charter Benjamin Franklin High School, which lost most of its musical instruments in the storm. Mayer's son is a freshman percussionist at the school. Her daughter, a senior, is vice president of the orchestra.
When Lizzie McEnany resumed her internship in child and infant psychology, she visited the cruise ships that were housing emergency workers and their families along the waterfront. She eventually started treating five children on the ships. She also helped in the effort to screen 1,500 children in St. Bernard Parish for depression, anxiety, and post-traumatic stress disorder. She met a three-year-old from New Orleans who'd been stranded on a highway overpass with his mother for three days.
By March, the population in New Orleans was up to 189,000. "That means," says John Logan, "that most areas that didn't flood have been repopulated. Very few people are living in the areas that were badly hit."
On the first day of spring Mayor Nagin rejected the Urban Planning Committee's call to freeze building permits in certain hard-hit areas, arguing that everyone should have the option to rebuild right away. But in some low-lying areas, he warned, rebuilding would be at the residents' own risk. Logan was disheartened: he believes the city has a duty to make hard decisions about where to rebuild and, if it decides that places like the Lower Ninth Ward shouldn't be rebuilt, to make room for low-income residents in other parts of the city. "Those are issues," Logan says, "that I think both the mayor and the commission avoided."
By early spring, Whitney Stewart was writing again. On Nantucket she'd started a novel about a child stranded after Katrina, but she had put the project aside after forty pages. Back in New Orleans, she's writing a children's book set on Nantucket, "which," she says, "feels a little safer at the moment." She also helped to plan a community service trip to New Orleans for her son's Nantucket classmates. She spends much of her time on the phone with insurance adjusters and overbooked fencers, roofers, and painters. Stewart, who was raised outside of Boston, vows she will never again remain in New Orleans during a hurricane. She imagines she'll leave at the slightest sign of trouble.
Joseph Meissner has reopened his martial arts studio, even though the building still needs some repair. He has about fifteen of his pre-Katrina students and four new ones; before Katrina his peak enrollment was 100. Rebuilding has left him no time to recruit more. A theater concentrator at Brown, Meissner is also acting in an independent feature written and produced by two of his students, and he hopes to launch a film career. In his neighborhood the mail arrives only twice a week, and, now that National Guardsmen are no longer present, crime is on the rise. Recently, he says, a man was killed in a mugging not far from his house. Meissner spends a lot of time arguing with his insurance company. Even so, he and his wife expect to remain for at least a couple of years. "I have a lot of work and equity invested in my home and school," he said by e-mail in a late March, "and my wife has put a lot of work into developing her real estate business."
Lizzie McEnany is still assessing the mental-health needs of the children in St. Bernard Parish. Of the five she treated on the cruise ships, she continues to see three in borrowed office space. McEnany, who spent much of her childhood in Providence, plans to leave New Orleans in early July, after her internship ends, so she can focus on writing her dissertation.
In Mississippi, Day McKee is fighting a chronic "Katrina cough," likely brought on by mold and dust in the Mississippi air. In his private practice, one partner and three physician's assistants have left the area. He worries about the next hurricane season but is optimistic about Mississippi's future. He's taken the lumber from his old house and used it to frame a new one in rural Pascagoula, Mississippi, which is thirty miles east of Biloxi along the coast. He's using the old bricks to build a farmer's market pavilion in Pascagoula, where he serves on an economic development commission.
Catherine Gautier has left Coast Episcopal to work full-time for a software consulting company she owns with her husband. She believes that expanding the business is the best way she can help the local economy. Gautier is also a youth minister at St. Mark's Episcopal Church in Gulfport, Mississippi.
Life in New Orleans is a strain for Wendy Good. She continues to battle insurance companies, and her family's income is down significantly. Her younger daughter has nightmares about the drowning of their cats. There are days when Good bursts into tears while running errands. "I just have this feeling," she said in March, "it will never end.
The uncertainty is the hardest part. Will the new levees be stronger? Will her husband make a living? How will she stomach the next hurricane? She can't imagine facing a project as massive as rebuilding her house. But the Goods worry they don't have a choice. They've had no promising offers on the house—their primary financial asset.
Good is giving admission tours at her daughters' private school. She is also writing letters to Congress and has offered to volunteer for two local political campaigns. With so many unknowns, she is certain about one thing: right now, doing what she can in a city that is gasping for breath, she wouldn't want to be anywhere else.
Emily Gold Boutilier is the BAM's senior writer.