Garner by Kirstin Allio '00 MAT (Coffee House).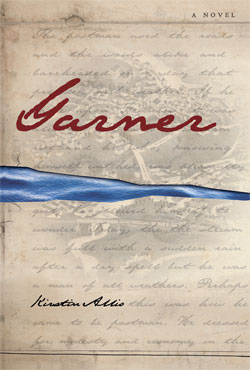 Kirstin Allio's striking first novel opens in 1925, with the discovery of a young woman's body in a swollen stream. It's the sort of opening you've probably come across in countless other mysteries, a set-up to head you out on a very familiar whodunit trail. In this novel, though, Frances Giddens's murder acts as a hazy jumping-off point for a wide and lyrical story about the quiet unraveling of Garner, New Hampshire, a cloistered and rural town where the twentieth century seems to have barely made an inroad.
The postman, Willard Heald, who hears everything with his "ears made of envelopes," discovers Frances's body face up in Blood Brook. Heald is Garner's self-appointed town historian. He knows everybody's business and, as farming has declined, feels duty-bound to guard the town against all sorts of encroachment, from newcomers to the dangers of the modern age. Before Frances's death, she and Willard developed an odd, platonic friendship that on Willard's side became a kind of fascination. Earlier that summer they would often run into each other out in the woods. "The curtains of the forest would be tightly drawn," Allio writes, "and then suddenly she would issue forth, throwing the green gauze wide, not the least bit bashful."
Frances is birdlike and otherworldly, with "a lovely chuckle like scarce water through pebbles." Looking across at the edge of adulthood, she can see "how this might be the year when she suddenly (and yet with no fanfare) slipped into her mother's skin." At home, her family has decided to take in summer boarders for extra income, and this brings a cluster of young New York socialites up to the farm. One of them, a photographer named Malin Nillsen, gives Frances a glimpse of life beyond Garner. It's a dangerous gift since the residents distrust the boarders, bringing the values of the new "loose" century into Garner's parlors and woods.
If this were a straight-ahead mystery you might expect a straight-ahead narrative to go along with it. But Garner reads more like a very long prose poem with a murder mystery hovering just offstage. We jump through time and float in and out of characters' thoughts and dreams; there are one-sided conversations and lists of native plants and cryptic aphorisms; we run into scraps of the town's history and find a section of the story told through captions to photographs that we never see. In certain hands this kind of collage can make reading feel more like an exercise in pattern recognition, but here there's a surprising, intricate intimacy that only builds as the narrative swoops along.
Much of this has to do with the slivered density of Allio's descriptions. For instance, here is Willard's wife musing about the nature of time: "Mrs. Heald heard the clatter of seasons: torpor of spring, fall with its russet-cloaked pallbearers, winter—dazzling, deathly." In part because the prose is so striking, Garner is not a quick read. The novel's patchwork structure also leaves plenty of gaps that will irk some readers, and while the mystery of Frances' death is resolved, readers should be prepared to read around the edges to cobble the story together. Still, this is an unsettling and quietly compelling book, one that hangs in the back of your mind like a dream that won't quite fade.
The author of Geyser Life, Edward Hardy teaches in Brown's expository writing program.