Brian W. Dickinson, a former chair of the Providence Journal's editorial department whose ten-year battle with Lou Gehrig's disease (ALS) attracted national attention, died May 4 at his home in Warwick, R.I. He was sixty-four.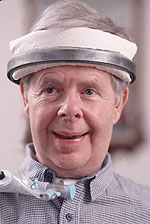 A Harvard graduate, Dickinson earned a master's in political science from Brown in 1973 and received an honorary doctorate in humane letters at the University's 1999 Commencement. His struggle to live and to remain productive as a writer, with the help and dedication of his wife, Barbara, and their three sons - who suspended their careers to take care of him - became an inspiration to others suffering from terminal diseases. He lived to witness the marriage of each of his sons and the birth of two grandchildren, even though the disease is often fatal within five years.
As virtually every part of his body gradually became paralyzed, Dickinson found a way to communicate, as well as to write his Journal column. He used a series of increasingly sophisticated computers, the last one equipped with a camera that picked up words, letter-by-letter, by utilizing a technology based on his eye blinks.
Before the ravages of ALS reduced his ability to perform all life functions, Dickinson had been a journalist highly respected for his columns, which tackled a wide range of topics, including life in Providence, the arts, and domestic and foreign policy. From the inception of the annual Brown University/Providence Journal Public Affairs Conference in 1980, he was one of its chief architects. He represented the Journal in the planning of each year's conference, securing key speakers and offering ideas on how to approach the topics. Conference planners consulted with him until the mid-1990s.
After learning of his death, Pulitzer Prizeзwinning writer Paul Greenberg of the Arkansas Democrat-Gazette wrote: "The disease slowly immobilized Brian's body; it never touched his mind. He remained the same guy who, back in 1983, led our group of visiting editors in singing The Battle Hymn of the Republic as the tour bus passed KGB headquarters in Moscow . For the past decade, together with Barbara, Brian conducted kind of a graduate seminar in courage and dry good humor. I don't know how he did it, but Brian had a rare peace with himself these last years that you seldom find in the able-bodied." Similarly, after visiting Dickinson a friend commented: "It is always hard to see genius trapped through some physical disability - that part was very hard. But I also found that there was a Brian there and that the body, even in its frailness, cannot always dampen the human spirit."
Many of Dickinson's columns were notable, but one, written in 1994 after doctors had confirmed his fatal disease, was especially touching. It concluded, in part: "Seize the moment. Make it your own. One never has quite enough moments, although we don't know this when we are young. Then, if we look ahead, we see an endless stream full of moments, so many that we could never count them, and all of them ours for the taking. Before we know it, though, the stream has shrunk dramatically and the available moments are growing scarce; and we wish we had gone after them more assiduously when the stream was full. So we say again: Seize the moment - while you can. Forgive. Smile. Walk. (Oh, do walk when you can.) Share. Reach. Laugh. Teach. Learn. Run. Believe. Lift. Climb. Understand. Explore. Give. Appreciate. And since you can never do it all, savor the small moments that, aggregated, become great. Stay in the game - oh, and do remember to look after the birds."