In the decades after the Civil War the campus water supply consisted of two stone wells, one located just east of Hope College and the other near University Hall. Because the U.H. well was perilously close to a privy,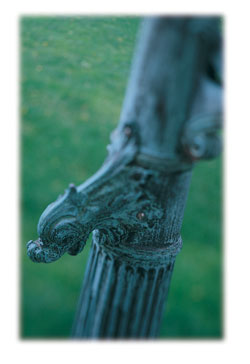 it was said "the tide of life surged" around the Hope well, where students socialized as they lowered a mossy oak bucket to collect water for their rooms.
Eventually the Hope well was capped with a stone slab, and a pump replaced the oak bucket. Writing in the December 1904 BAM, Robert Brown, of the class of 1871, decried it as "a cold clanging cumbersome thing of iron, offensive to the eye and ear as well as the taste and shunned by all the intimates and confidantes of the dear old well."
Perhaps it was a longing for the well's communal soul that prompted the class of 1894 to donate $500 at its tenth reunion for a more pleasing brass pump. Today a classical column anchors it to a stone base, now overgrown with grass. A dragon-like dolphin, swimming straight out of an early Renaissance painting, stretches open its jaw to form the spigot. A light-green patina coats the pump's brass skin, giving it the feel of a European fountain.
Despite its aesthetic appeal, the new pump never acquired the cachet of the Hope well. By 1894 bathtubs could be found in the University Hall basement, and in 1904, the year the new pump was dedicated, showers were installed in Hope College, forever relegating the pump to the realm of nostalgia.