As a child growing up in Philadelphia, playwright Quiara Alegría Hudes '04 MFA would ask her grandmother to tell her stories. There were exotic ones about her grandmother's early life on the coast of Puerto Rico, dramatic ones about the tough times after arriving in the United States, and colorful ones about how shocked Hudes's stepfather had been the first time he'd held a bottle of Coke. He'd never felt anything so cold before.
In 2003, when her grandmother was dying, Hudes's mother sat her down. "Look, you're the only one in this family who's gone to college," mother told daughter. "Your grandmother has about 100 years worth of stories. Will you write them? Will you do this for the family?" Hudes, who has an undergraduate degree from Yale, had never thought about becoming a writer. But for her grandmother's sake, she gave it a try.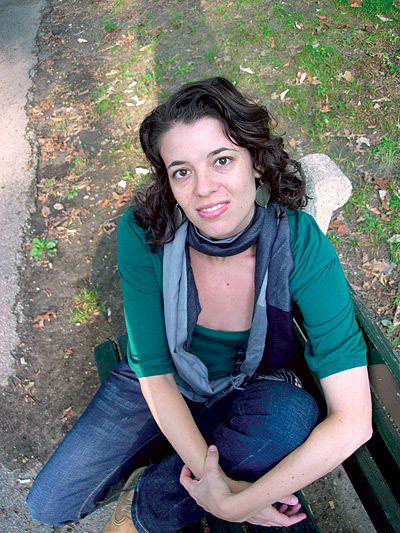 Just a few years later, Hudes, twenty-nine, has emerged as a leading U.S. playwright. Her drama Elliot, a Soldier's Fugue, was a finalist for the 2007 Pulitzer Prize, and now In the Heights, a musical whose book she wrote, is Broadway bound. An upbeat musical paean to Washington Heights, the largely Hispanic northern Manhattan neighborhood, the show features an infectious score by Lin-Manuel Miranda that combines rap, salsa, and merengue.
The play is being shepherded to Broadway by the producers of the smash hits Rent and Avenue Q. They hope In the Heights will attract fi rst-time Latino theatergoers much as those earlier shows brought teenagers and twenty-some- things to Broadway. During the show's off -Broadway run this spring, Hudes says audiences included suburban white couples and baggy-pants teens from Brooklyn and the Bronx.
There is a character in In The Heights very much like Hudes's grandmother, and her name is Abuela, which is Spanish for grandma. She serves as the neighborhood's matriarch, sage, savior, and, of course, storyteller. When she dies, everyone on the block gathers on the street for a candlelight vigil.
"My grandmother would keep the door unlocked," recalls Hudes. "Anyone who came in, she would feed them. When she passed, hundreds of people showed up at her funeral. People came up to me and said, 'This was your grandmother? She raised me.'"
Unlike most dramas set in inner cities, In the Heights is not about drugs, crime, or violence; at its center is a group of ordinary folks trying to scrape by. They worry about money and the gentrifi cation that's driving people out of the neighborhood. With one foot planted in this country and another in Puerto Rico, they struggle to make sense of their hyphenated identities.
Hudes's next play, tentatively titled 26 Miles, will be about her own mixed heritage. Her Mother's Family came to the United States from Puerto Rico, but her father is Jewish. This is Hudes's fi rst autobiographical work, she says, and it's coming along slowly as she wrestles with the cultural contradictions inherent in her upbringing. "When I write plays, I never discover answers," she says. "I just discover more questions. That's why I have to keep writing."
Lawrence Goodman is the BAM's senior writer.
 Elliot, A Soldier's Fugue director José Áviles talks about the play: 
Watch the cast of In the Heights perform the song "96000" at the 2008 Tony Awards broadcast: