When the Howard Hughes Medical Institute awarded Winston Anderson, a 67-year-old biology professor, $1 million in May 2006, the Jamaican-born Anderson knew exactly what he was going to do with it. He would spend it on the same cause he's been championing for the past thirty years: encouraging minority students to become scientists.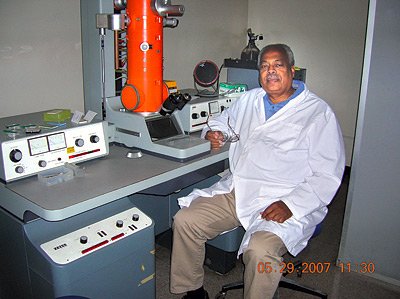 It hasn't been easy, Anderson concedes. The vast majority of the students he's tried to persuade have gone into medicine or dentistry, rather than into such hard sciences as biology, chemistry, or physics. This year Howard Univ., where he works, will graduate 130 biology majors, and according to Winston, only 5 percent will continue on as researchers. According to a 1999 National Science Foundation report, blacks and Hispanics in the United States together earn only 6 percent of the doctorates awarded each year in engineering and science, a number that Wilson estimates has remained largely unchanged since the 1970s. "The kids believe that medicine will provide them with a much more respectable career and the money they need to survive," he says. In the end, he adds, they miss out on the "wonderful experiences they could have as scientists."
Anderson believes there's a cultural bias against the hard sciences in African American communities. "The black students feel more respected as doctors than as scientists when they go back home," he says. "The white kids' interest [in the hard sciences] has been stimulated at home and in high school." He is particularly discouraged by the low number of African American men interested in the sciences. He says 90 percent of Howard's science graduates are women. Anderson says he worries about the day in this country's not-so-distant future when "the minority becomes the majority. You need to have an educated minority population, not just in medicine, but also in the real sciences."
Anderson began his own career at the University of Chicago working, he says, with "mostly young, bright Jewish kids." In 1975 he moved to Howard, where he had earned his own undergraduate degree. It didn't take long for him to begin talking up a career in the sciences to his students. He secured a grant from the Rockefeller Foundation to set up training centers across the country where minority high school kids could spend the summer assisting laboratory researchers. He estimates that the initiative prompted 1,000 students to go on and earn degrees in science. "I don't know if we failed or not," he says, "but the majority of kids went on to medicine and dentistry."
With the Hughes Foundation money, Anderson is making one final push to redress the racial imbalance in the sciences. The program he's set up identifies twenty to thirty of the "best and brightest" science students at Howard, gives them scholarships of $6,000 a year, and assigns them to mentors with whom they work ten to twelve hours a week. Anderson invites some of the country's top scientists to Howard so that students can hear about their work firsthand. The program allows some students to spend three months in Africa working with researchers studying tropical diseases or AIDS. Anderson has also set aside a chunk of the Hughes money to purchase state-of-the-art equipment for Howard's laboratories. "We would hope that these students would be as skilled as the best white students and that they could get into any academic program they want," he says.
But what about the possibility that even these students will eschew the academy for medicine? "It's unfortunate," Anderson says, "but you have to persist."