Last May, Melissa Brown's ten-year-old son opened the door of the family's apartment in Yerevan, Armenia, and found a dozen government security guards standing on the doorstep. The guards spread out through the home and rifled through drawers and closets until they found what they'd been apparently looking for—several computers and $50,000 in cash.
A few days later Brown's husband, Alexander Arzoumanian, was arrested and charged with money laundering. Arzoumanian, who had served as the country's foreign minister in the late 1990s, had been an outspoken critic of the government, and with elections only days away, his arrest, Brown says, was a form of "political persecution." The arrest, she says, "was meant to send the government's critics a message."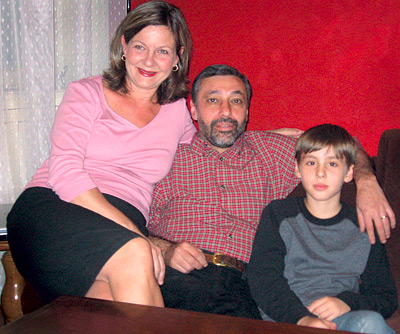 Brown had largely steered clear of Armenian politics until then, but with her husband imprisoned, she began a public crusade for his release. She met with diplomats from Britain and the United States, organized rallies, and held press conferences to denounce the government. "It was an easy decision," she says. "I thought of what my husband would do and did it."
Brown met Arzoumanian in 1991, when she was an aspiring actor living in New York City and he was a foreign diplomat at the United Nations. He enrolled as a student in a Berlitz English class she was teaching to help make ends meet. At the time Armenia was a newly formed republic created from the disintegrating Soviet Union. Arzoumanian had been a leader of the country's independence movement and was serving as Armenia's first-ever ambassador to the U.N.
But in 1996 Arzoumanian moved with Brown back to his home country to serve as foreign minister, a post he occupied until Armenia's government changed hands two years later. She herself took a post teaching writing and speech at the American University of Armenia. "Under the Soviet Union, it was a brutal, hierarchical system where students were expected to sit down and shut up," Brown says. "I tried to get my students to stand up for themselves. I wanted the classroom to be a truly democratic environment." As a member of an opposition party, her husband was attempting to do the same for the country.
Brown says her husband grew appalled as the country's new president, Robert Kocharian, expanded his powers and increasingly infringed on citizens' civil rights. In 2003 Kocharian was reelected in what foreign observers believed was a contest riddled with fraud and irregularities.
In its charges against Arzoumanian, the government alleged he had recently traveled to Moscow to meet with Levon Grigory Markos, a Russian citizen wanted in Armenia on forgery charges. The two then plotted a money-laundering scheme where, according to the government's complaint, Markos would surreptitiously move funds "of doubtful origin" out of Russia and into Armenia. Presumably, this is why government agents seized the $50,000 in cash at Brown's home.
Brown said she wasn't sure where the money came from until a friend of Arzoumanian in Russia came forward to say he was the one who gave the Armenian leader the cash and that it came from "clean" sources. Over the summer, Brown had a face-to-face sit down with the United States' charge d'affaires to Armenia and asked him to issue a public statement expressing concern about her husband's plight. Instead, according to Brown, he promised to "work behind the scenes and nudge people in the right direction." Armenia borders Iran, and Brown says the United States doesn't want to heighten tensions in the region. "The United States is sort of supportive of this government," she says, "while people here see us going down the road to dictatorship."
In September, just days after announcing they wanted to extend Arzoumanian's detention by two months, the government suddenly released him. He is home with Brown and their son, continuing to criticize the government while Brown herself continues her fight to exonerate her husband. The charges have not been dropped against him, and sooner or later she expects the government to conduct a trial. "Anything is possible in this country," she says. "We're waiting to see."