A decade ago David M. Gross '89 sported finely tailored suits as befitted someone working on mega-million-dollar mergers and acquisitions for a New York City law firm. Today he eyes motorcycle parts while walking around a factory in Bologna, Italy, wearing sneakers—albeit custom-made turquoise-and-tan Nike Airs with his name appliquéd on the sides. He describes his transformation from hotshot lawyer to hotshot creative director of the Ducati Motor company in Fast Company: A Memoir of Life, Love, and Motorcycles in Italy, just out in paperback.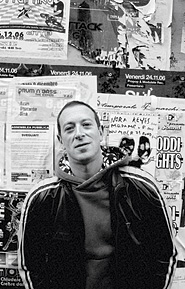 BAM What's a nice Jewish boy from Long Island doing riding motorcycles in Italy?
David Gross Trying to be a rebel to the extent possible. Heh.
BAM Why did you leave the New York financial world?
DG I really enjoyed law school—I had an incredible experience at Brown and at Harvard Law School—and I enjoyed certain aspects of the firm, but being inside, being in one place, was very difficult for me. In another era of New York lawyers, it was easier to do community things, to have a hobby, have family, and do your career. During the time I was a lawyer it was all about working; I was working days, nights, weekends.
BAM How is working at Ducati better?
DG Now I spend a hell of a lot of time in the factory; but, because of the racing arm of the company, we have races all around the world. It doesn't feel like an office job. It feels like a very creative place.
BAM How's life in Italy?
DG My Italy is not the pastoral Italy of Under the Tuscan Sun. I'm in the gritty, industrial, hard-working part of Italy. It's all about speed and glamour, but it's also working in a factory with 1,000 people.
BAM Have you always liked motorcycles?
DG I'd always dreamed of becoming a biker. I had fooled around on motorcycles and dirt bikes when I was a kid, but it was very much in the realm of fantasy. Being a lawyer for me was claustrophobic. Being in the open air and on the open road was unbelievably frightening and exciting and felt like a challenge.
BAM What's your work like?
DG Italy allowed me to do something different, to do something in business and also be creative. It's competitive, but there's time to explore things. I teach. I lecture. It's given me that opportunity.
BAM How have you changed?
DG I feel like I have an appreciation of aesthetics, of moments of beauty. In Italy, in the hierarchy of values, there are different values at the top. I think the book plays with trying to find meaning in things that we might immediately consider superficial.
BAM Like what?
DG Walking across a piazza and looking a certain way, having a moment with a friend at the beach in the summertime, meeting your friends and laughing. Those are some of the most important moments of life here in Italy. It's a style of living, and I've been lucky to appreciate some of that.
Mia Geiger is a freelance writer in the Philadelphia area.