Everyday History
May 18th, 2009
It all began with Lou Costa. Now seventy-two, Costa grew up in Providence's Fox Point neighborhood and has become its unofficial historian. A tight-knit community with working-class roots, Fox Point was settled by Portuguese, Cape Verdean, and Irish immigrants, who lived cheek-by-jowl in the tenements and frame houses that line its narrow streets. Many of their descendants remain, often in the same homes as their parents and grandparents, and last year three graduate students in Brown's public humanities program interviewed some of Fox Point's older residents as part of a class on oral history.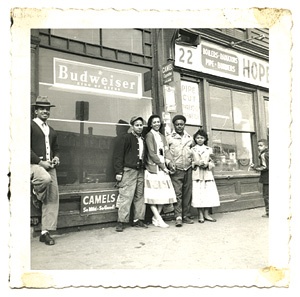 When the students met Costa, they knew they'd struck gold. Not only was he a superb storyteller able to regale them with tales of the Boys Club, the churches, and the schools that were community hubs in his boyhood; it turns out he is also a bit of a packrat. Costa has collected thousands of snapshots taken by Fox Point residents over the decades, photos that capture its history through its collective point of view.
Anne Valk, who teaches the oral history class, urged her students to give back to the community in which they were doing their research, and they took that charge seriously. To help local children connect with their history, Rachael Binning, Elizabeth Manekin, and Aliza Schiff teamed up with parents and teachers at Vartan Gregorian–Fox Point Elementary School (named after the former Brown president) to display Costa's images in an exhibition called Faces of Fox Point. They turned the school's tiled hallways into a living museum, lined with blow-ups of Costa's photos and of snapshots the sixth graders had taken themselves to create a historical record of their own lives: pets, siblings, bedrooms. Alongside Costa's images were printed excerpts from the oral histories the grad students had conducted. At a public opening in February, the sixth graders served as docents, and longtime residents laughed at seeing their younger selves on the walls. It was exactly the kind of reception the grad students were hoping for.
The project has grown steadily since. Early this year the grad students taught fourth, fifth, and sixth graders to conduct their own oral histories of their neighbors. In March the kids earnestly practiced mock interviews and struggled to master the recorder and video camera before the elderly guests they'd invited into their classroom arrived.
The project's next phase—I Was There—will take history into the realm of art. Once the children have taped their oral histories, a local theater group will work with them to write plays based on the interviews. The actors will perform, and the kids will direct. Just as life is the stuff of history, history will become the stuff of art.
To see some of the photos from the Faces Of Fox Point project, with Lou Costa's comments, READ ON.