Anyone who has seen the 2000 film Miss Congeniality may remember the scene where the contestants sing the Miss United States anthem on a trolley while an appalled Sandra Bullock looks on:
She's queen of fifty states/ She's elegance and taste
She's Miss United States.
That song was written by Clyde Lawrence '15. When he was six.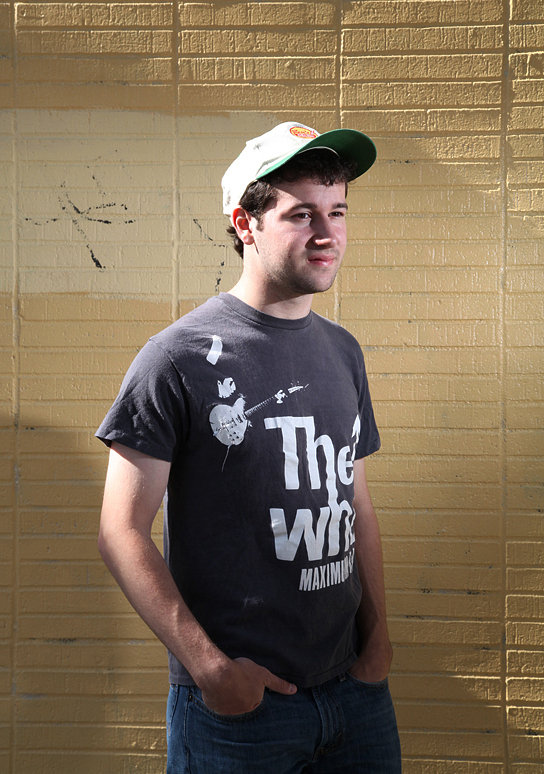 More than fifteen years later, Lawrence is a burgeoning rock star. His band, Lawrence, has gigs booked in New York City through the fall, and it plans to record an EP over the summer. He's appeared on multiple morning news shows and jammed with Aerosmith's Steven Tyler at Manhattan's Carlyle Club. And of course he's played at every Campus Dance since freshman year.
With his musical partner and classmate, Cody Fitzgerald, he also wrote the score for this year's The Rewrite and the upcoming indie release Hard Sell (starring Kristin Chenoweth). "Before I could talk or do anything, I was playing music," Lawrence says. "I still can't do anything except music."
Lawrence grew up in Manhattan, where his mother, Linda, is a dancer and teacher, and his father, Marc, is a movie writer, producer, and director. As executive producer and writer for Miss Congeniality, Marc and the movie's director sent out a request to composers for a beauty pageant theme song. Unhappy with what they got, Marc turned to his musical son. "Hey," he asked, "what do you think is wrong with these?" Clyde responded by going over to the piano and writing his own version, which was submitted to the producers along with the other contenders. When they selected Clyde's song, Marc got to boast, "That's the one my son wrote!" Several years later, when Marc directed and wrote the screenplay for the 2007 film Music and Lyrics, which starred Hugh Grant, he again turned to his son to write some of the music.
Lawrence says he chose Brown because it seemed to have the most vibrant arts scene. He started putting together a band with other students almost as soon as he arrived. It had a big sound, with guitar, bass, drums, and a horn section. Lawrence sang and played keyboards. In their music, you could hear the influence of Stevie Wonder, the Jackson 5, and Randy Newman.
In his sophomore year, Lawrence released his debut EP with the song "Homesick." It's got a bluesy, Billy Joel–like piano opening. "The bed don't got no sheets and the food don't got no taste," the lyrics state. "The only thing that's sweet is that smile on your face." (Lawrence insists the song was written before he'd ever been to the Ratty.)
Lawrence's band, which features a rotating crew of more than seven Brown students, had been called The Clyde Lawrence Band. The name changed to Lawrence when Lawrence's younger sister, Gracie, moved into the role of co-lead singer. Clyde says he's the "reserved front person in the band" while his sister "came out of the womb and into the spotlight." She will tour with Lawrence next year and plans to enter Brown in the fall of 2016.
Follow the band on Facebook.
More profiles from the class of 2015:
After her family lost everything to Hurricane Katrina in 2005, G. Maris Jones '15 reconsidered her dream of going to Brown.
Seventy-eight percent of African malaria victims are children under the age of five. Nicholas Hilton '15 wants to change that.
Research by Hannah Begley '15 suggests juries may be quicker to convict on weak evidence for certain pornography charges.
Linh Tran '15 spent two years helping fruit growers in her native Vietnam. She hopes you'll soon be drinking their fruit juice.
Sandra Kimokoti '15 spent summer of her junior year in Kenya using sport to help girls open up about the challenges in their lives.
A single dad and a U.S. Navy veteran of nuclear submarines, Matthew Ricci '15 is not your typical Brown student.