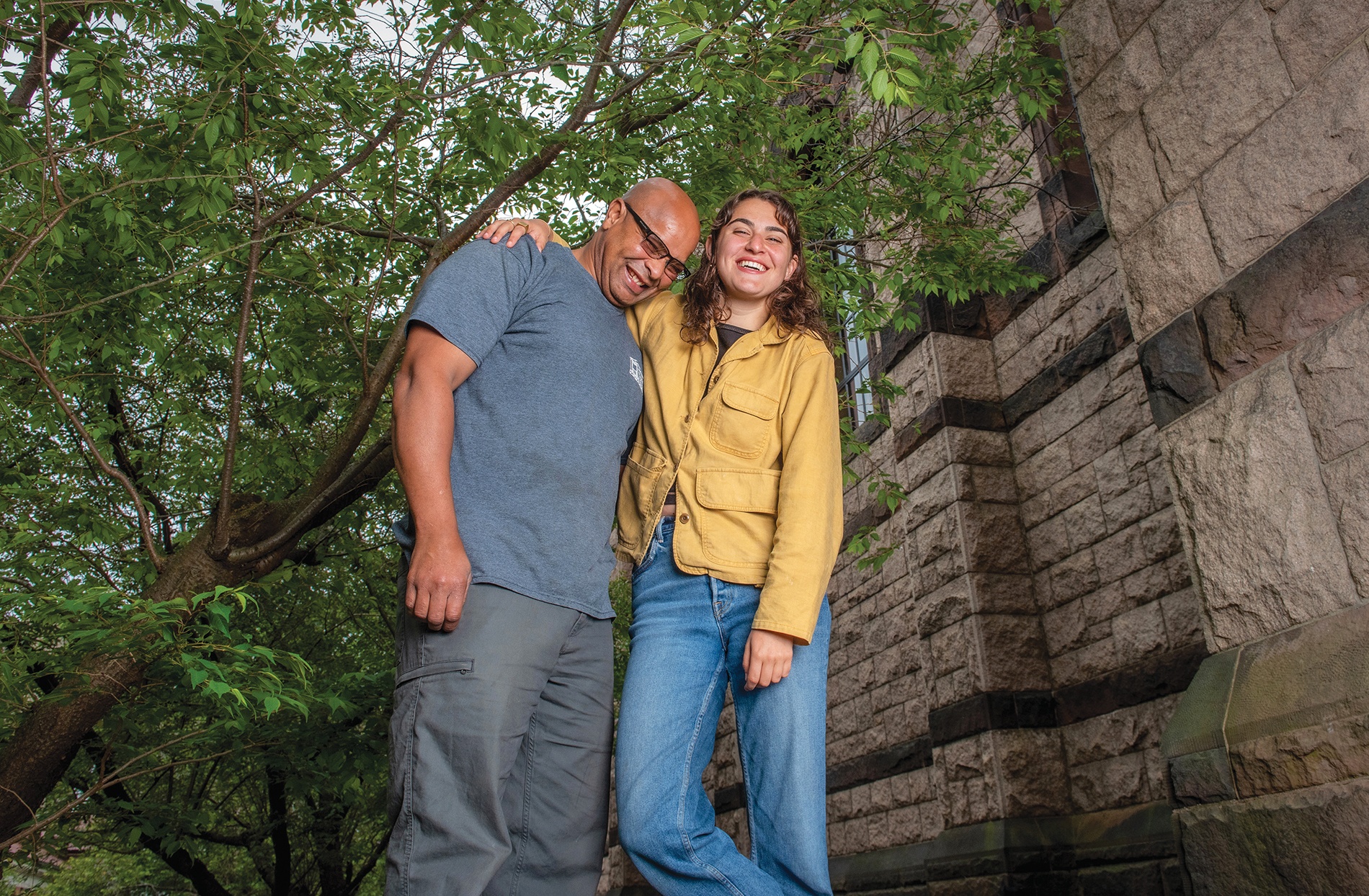 Service & Advocacy
Classmates Behind Bars
What happened when students at Brown and at a nearby prison took the same course—together.
July 8th, 2019
When Sophie Kupetz '19.5 entered Rhode Island's John J. Moran medium security men's prison as a volunteer tutor in the spring of 2017, she ran into some old classmates.
Two of the incarcerated students in her class, Jeremy Pontbriant and Joshua McCullough, had also recently taken "Locked Up: A Global History of Captivity," which is taught by Professor Amy Remensnyder conjointly at Brown and at the prison. Students had discussed weekly readings with each other via audio recordings, responding to questions, insights, and reflections from both classrooms over the course of the previous semester. Pontbriant and McCullough recognized Kupetz's voice.
"It was both really moving and exciting because it's people you would have thought I would have no connection with," Kupetz explains, "and then to realize we'd connected in this educational arena and therefore had a bunch of books and texts we could talk about—we were classmates."
For McCullough, the ability to actually meet Kupetz reinforced a sense that there were people outside the prison system, in a privileged institution like Brown, who saw him as an equal. "It meant a lot," says McCullough, now out of prison. "It showed that she really cared, that she wants to help make a difference. To be able to communicate with the students from Brown, it showed that they see [incarcerated] people as humans and that we deserve other chances and can make something of our lives."
Captivity as a continuum
Remensnyder started teaching classes on medieval history in the prison system in 2010 but increasingly directed her scholarship toward understanding the evolution of captivity.
Prisons, she says, are only one form of captivity. Others have included concentration camps, certain mental health institutions, and hostages, such as those taken by Muslim and Christian pirates in the medieval Mediterranean.
"I challenge you to find a human society that has not had some form of captivity as either a legal or social practice," Remensnyder says. "As far as we can go back in the legal codes, people have been locking each other up, and we can better understand how mass incarceration came about if we understand it as a continuum."
Class readings include the best-selling memoir Orange is the New Black by Piper Kerman, the autobiography Twelve Years a Slave by Solomon Northup, a prison abolition manifesto by Angela Davis, and lyric dramas like Prometheus Unbound by Percy Shelley.
Incarcerated students use the readings to contextualize their current situation and find solidarity in the past, Remensnyder says, while Brown students can better recognize their own privilege and form meaningful connections with people inside the prison.
In an essay on Prometheus Unbound, about the punishment of the Greek deity who delivered fire to mortals, one incarcerated student wrote about the difference between Prometheus, whose name means "forethought," and his brother Epimetheus, or "afterthought."
"He wrote about how he unfortunately was more like Epimetheus because he hadn't given forethought before he committed his crime," Remensnyder recalls. "And that thinking through these things with these Greek figures allowed him to identify and express regret for what he had done."
Along with personal reflection, the class emphasizes interactions between students at Brown and the prison. At the start, Remensnyder has each set of students ask icebreaker questions. Incarcerated students are generally interested in understanding how Brown students view the prison system and incarcerated people, whereas Brown students are interested in knowing what conditions are like inside the prison and how those incarcerated feel about their crimes.
"It's very challenging and makes Brown students really interrogate our assumptions and stigmas around people who have records," Kupetz says. "To have that dialogue helps to humanize people whom the prison system works to dehumanize."
Education as a right
Remensnyder says she was "very naive" when she first started teaching in prisons. But she quickly became disturbed by the parallel society that has emerged in the U.S., which has the world's highest incarceration rate. There are currently 2.2 million people imprisoned; a disproportionate number are of color. "It made me very, very aware of freedom and how many people and other beings are captives," she says. "I know this is the wrong system. It is not working."
She argues that education is a moral right, one that should be extended to everyone incarcerated, regardless of whether they are a violent offender. Numerous studies reveal that access to education can radically reduce recidivism. "We believe in the transformative power of education—that's what Brown is all about," she observes. "And who needs more transformation than people who have been violent offenders?"
"We believe in the transformative power of education. And who needs more transformation than people who have been violent offenders?"
"In prison I discovered a love for learning I never knew existed," Pontbriant wrote in an editorial for the Brown Daily Herald. "The more I read and the more I learned, the thirstier I became. The next logical step, and the only way I believed I could sate my growing thirst, was to pursue a college education, an endeavor I would never even have considered before coming to prison."
Are prisons necessary?
This past semester, Kupetz helped lead a reading group on the carceral state, in which McCullough participated. Following the themes of Remensnyder's course, they're continuing to discuss how to take action against the prison industrial complex—the convergence of government and private interests in a system of policing, surveillance, and incarceration that's a response to economic, social, and political problems.
Would abolishing prisons lead to violent anarchy? Kupetz argues that getting rid of them would force us to better address the roots of societal issues, like poverty, that lead to crime. It would mean reframing how we respond to public health crises like addiction, mental illness, and homelessness, treating those afflicted with compassion and support rather than captivity and stigma. Instead of funneling funds into private prisons, resources could be applied directly to bolster the infrastructures of impoverished communities, ensuring that people like Pontbriant and McCullough are given better educations from the start.
"We don't know what a world would look like without prisons—we've never seen that before," Kupetz says. "It requires an imagining of something new as we de-carcerate and break down the systems that exist today."