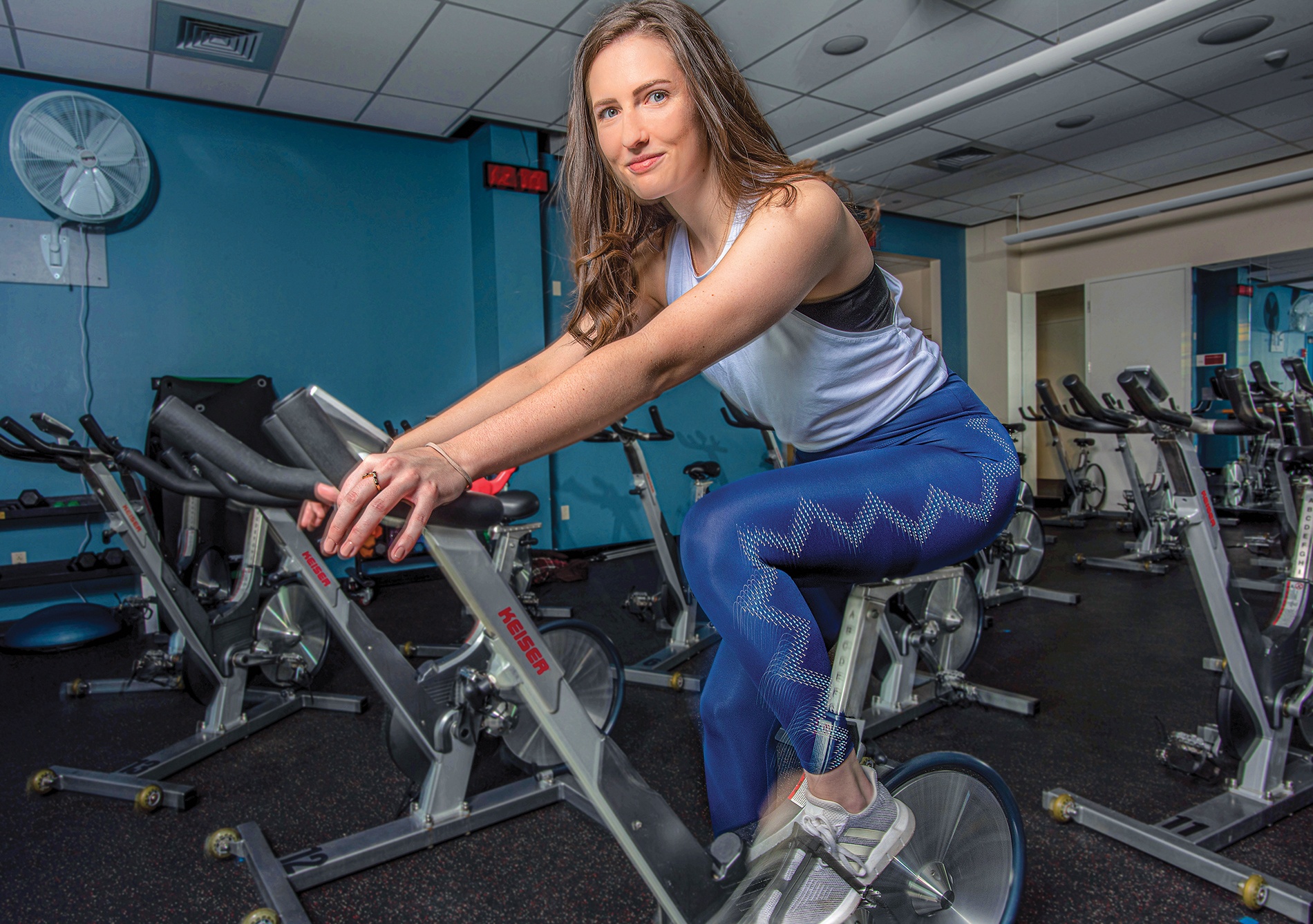 Sports & Recreation
Leggings 24/7
Five minutes with Cat Buthod '20, on her current obsession
April 13th, 2020
I am wearing leggings right now. This pair is a brand called Gymshark, which is based in Australia, I believe. They're seamless, meaning there's no upper waistband. I kept getting a lot of Instagram ads, which are now my only targeted Instagram ads—leggings.
In high school, I went to an all-girls school, and everyone wore leggings and big t-shirts. That's probably when I would say it definitely started out as a style thing. I hadn't yet gotten into formal exercise. It started off as a look.
Unbuttoning unneeded
Sometimes, you know, when you wear super-skinny jeans and you have a big meal, you gotta unbutton. But leggings, they expand and contract with you. Comfort is my number one. I think practical purposes with spinning and sweating. Leggings dry really quickly, so if I'm running to a cappella rehearsal or something right after spin, they dry so I'm not just like sitting in my own sweat. And I think style would be my last one. A good pair of leggings flatters every body. So yeah, comfort, practical purposes, and style.
But now I teach spin classes four days a week. I think leggings are my holy grail for spin because spin is very sweaty. They're also something I can wear all day leading up to spin since I teach at 7:30 p.m. Oftentimes, I don't have time to run back to my house and change. I just swap tops and I'm ready to teach.
I wear leggings on days I don't have spin, too—different types depending on the day. Like today's are purely athletic because I'm teaching spin later, whereas other days I have warmer leggings for when it's really cold out. I also have leggings more for like sleeping. In the winter, I definitely wear leggings probably almost every day.
I have some wackier pairs… One night, I just bought a very cheap pair of galaxy leggings from Amazon at like 3 a.m., spur of the moment. Then I didn't remember it and then they arrived. Those are my impulse buys, my leggings. I have a pair of camo, which take me back to Texas. I have some floral ones.
Spinning is my justification for buying leggings. Like, every new pair of leggings I buy, I'm like, "Oh, well, I do work in these. These are my work clothes." Previously, Lululemon was the only legging of quality on the market. Now there's a brand called Girlfriend Collective, which has great-quality leggings made from recycled materials, so that also makes it more of something that you can purchase in good conscience, not just perpetuating the fast fashion industry.