Education
Homeschooling 101
This mom's done it—10 times.
April 7th, 2021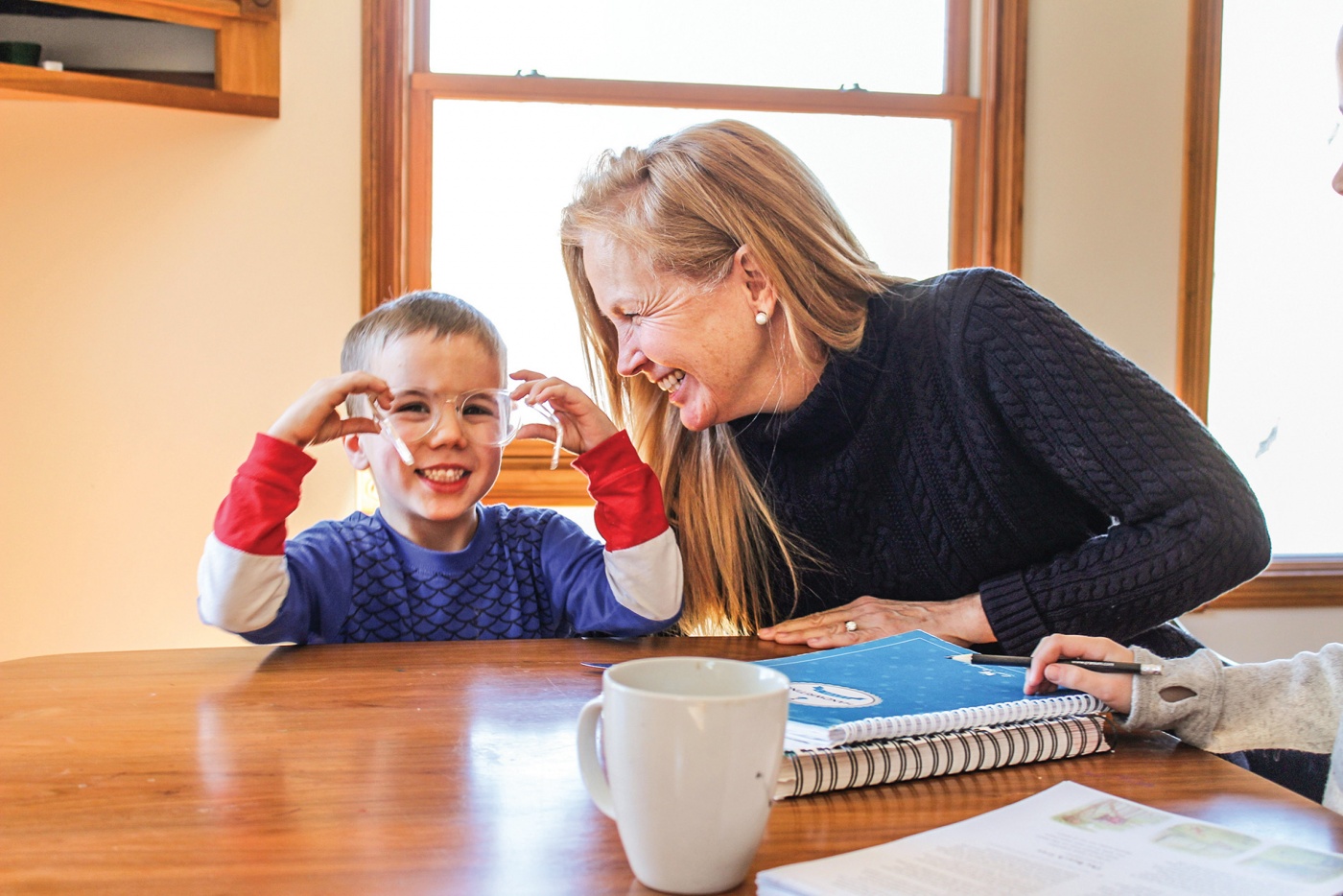 For many parents, the Coronavirus pandemic swept in with a bewildering side effect. Call it the "home-schooling pandemic." We weren't trained as teachers. We struggle to challenge our kids, to distract them from Fortnite games, Snapchat gossip or TikTok timekillers.
And let's be frank: Overseeing children's day-to-day education is daunting for Brown alumni who sidestepped entire disciplines thanks to the Open Curriculum. How can scientists teach literature if they avoided reading novels for four years? How can playwrights explain the solar system if their experience is limited to taking sunset photos from the Science Library?
In a Spanish seminar at Brown, back in the days before most of us knew the word "pandemic," I met an effervescent classmate, Donna Conaton '82. After graduation, she taught Spanish and biology at a boarding school for a year. She married another of our classmates, Steve Baer '82, and moved to the Chicago suburbs. Donna has served as my informal counselor on all things parenting. That's because she and Steve raised 10 children. And Donna—always an understated overachiever—homeschooled all of them.
"I left a career in investment banking to become a stay-at-home, school-at-home mom of ten," Donna said when we hosted a class discussion at our 35th reunion. "Let's say I'm not your typical liberal arts alum."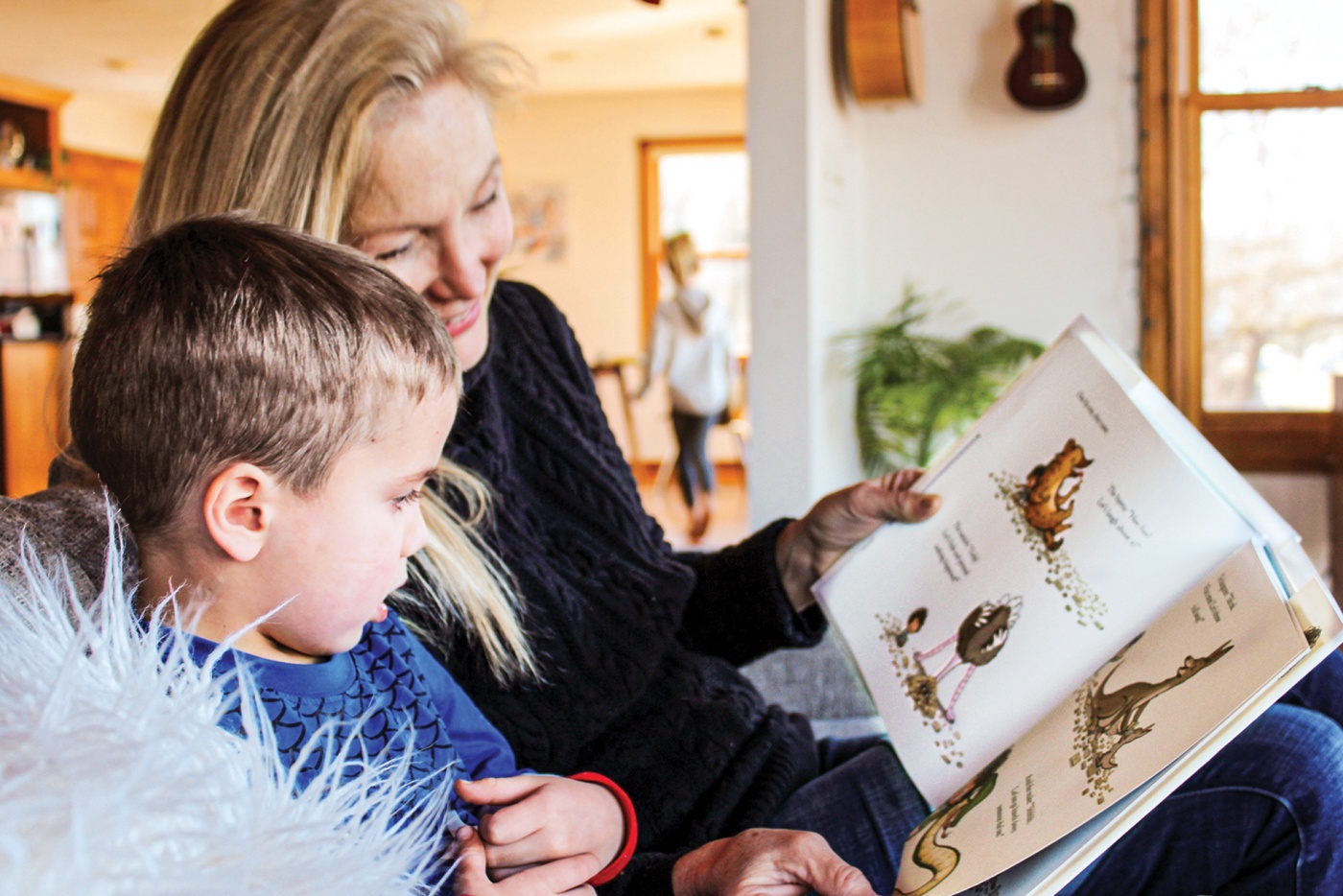 At the start, Donna said, she had a vague plan for at-home classes, which involved infusing her Christian beliefs in lessons. "Steve and I just thought it would be a cool way to know our kids, to share values with them," she told me in in her breezy, no-big-deal way of talking.
"When Donna suggested schooling our growing brood, her success in regular classrooms gave nervous me the confidence to embrace the alternative lifestyle," Steve recalls. "That, plus Brown's culture of following your own drummer rather than marching in lockstep."
Their oldest is now 33; their youngest, 15, is the last one at home. By the time the youngest finishes high school, Donna will have four decades of experience as a teacher, curriculum supervisor, counselor, principal, and superintendent—all without a single course in pedagogy. Donna also found time to write a book: Strong Happy Family.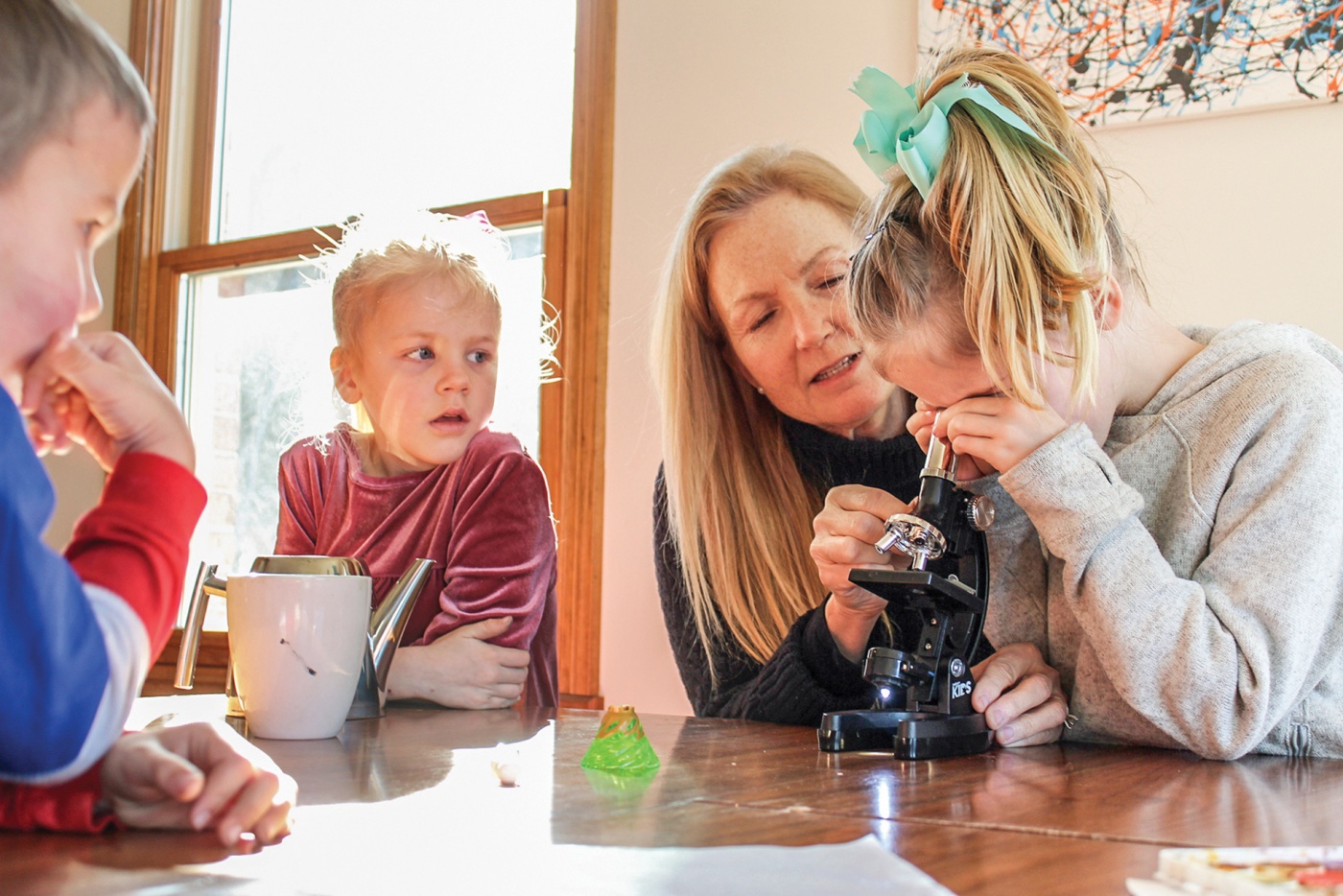 As if 10 students weren't enough, Donna and Steve decided to add another. Their sons had met a boy in their church group. The public school in their friend's low-income neighborhood of Chicago wasn't safe, so his mother sent him to private school, but he'd flunked 9th grade. The boy wanted to qualify for a prestigious college prep school, but administrators said he'd first need a year of intensive studies. So for 10th grade he joined the "Baer cave," commuting two hours roundtrip by bus and train. (He later graduated from the prep school as well as college, and remains a friend of the Baer family.)
As I've gone about creating a jerry-rigged classroom in my living room in the past year, I've called Donna for practical tips as well as for distance-hand-holding reassurance. Before sharing some of her pointers, I should mention she dislikes the word homeschooling. She prefers "parent-directed independent study," underscoring that the parent morphs from teacher to coach.
Donna is a great admirer of teachers. "They have the Herculean task of reaching thirty different little minds, each with their own skills and interests." Schooling at home, she says, allows a parent to focus on one child's strengths and weaknesses. And don't get her started on textbooks: "They are written by committee, ten writers with a punch list. They have no voice, no narrative." She looks for a single author. "Even science textbooks should be a great read."
Donna emphasizes that she doesn't do this on her own; she draws on trailblazing at-home instructors from a variety of religions and backgrounds. She's a fan of the Classical Method of education — "Aristotle used it to teach Alexander," she notes. It segments learning into three stages: Trivium-Grammar, where children memorize facts; Dialectic, where pre-teens begin logically connecting the facts they've memorized; and Rhetoric, where teens learn to persuasively communicate their ideas using logic and reasoning.
She let her children teach her. She often found herself asking, rather than telling: "What did Odysseus do next? Why?"

Whatever method parents choose, she says, they should see school-at-home as a journey alongside their children. Years ago, she got to the point of teaching physics, something she hadn't mastered. "I told my son, 'You and I are figuring this out together.' And we did. That gave him a picture of the importance of lifelong learning."
Many times, she found herself reading Moby Dick or a math book at night, to prepare the next day's lessons. Yet she learned to relax: If she couldn't keep up, she let her children teach her. She often found herself asking, rather than telling: "What did Odysseus do next? Why?"
Another homeschooling classmate I sought advice from, Curtis Rist '82, echoes this approach. "Reading aloud The Iliad and The Odyssey is never a bad thing. Old board games like Monopoly are excellent. Oh, and teach your kids how to cook."
But what about preparing kids for a hyper-competitive world? Donna urges parents to breathe deeply ands enjoy the ride. "If you encourage kids' curiosity in a loving environment, they'll become voracious learners," Donna says. "That will prepare them for anything." She lists her grown kids' careers: stay at home mom; salesman; entrepreneur in a tech startup; data analyst; screenwriter; specialist in nonprofit communications.
This perspective on traditional measures of achievement is worth remembering today, Donna says. "Who in the world is going to care about what score a third-grader got in spelling in the middle of a pandemic?"