Education
Bon Voyage, Brown
These pandemic point-fivers are following a nontraditional study-abroad path for their final semesters.
August 24th, 2022
Studying abroad during her time at Brown had always been in the cards for Bianca Eagan '22.5, but after the COVID-19 pandemic hit in the spring of her sophomore year, dreams of distant travel went out the window.
"I'm a public health concentrator, so it didn't feel right to be studying public health in my courses when there was so much hands-on public health work to be doing in the world," says Eagan, who hails from Juneau, Alaska. "What I did was I took the semester off and worked as a contact tracer, 40 hours a week." But now as the pandemic begins to abate and overseas programs affiliated with Brown are opening up again, Eagan is planning to study abroad for her final semester of Brown in Amsterdam, taking public health courses in one of the most international cities in the world.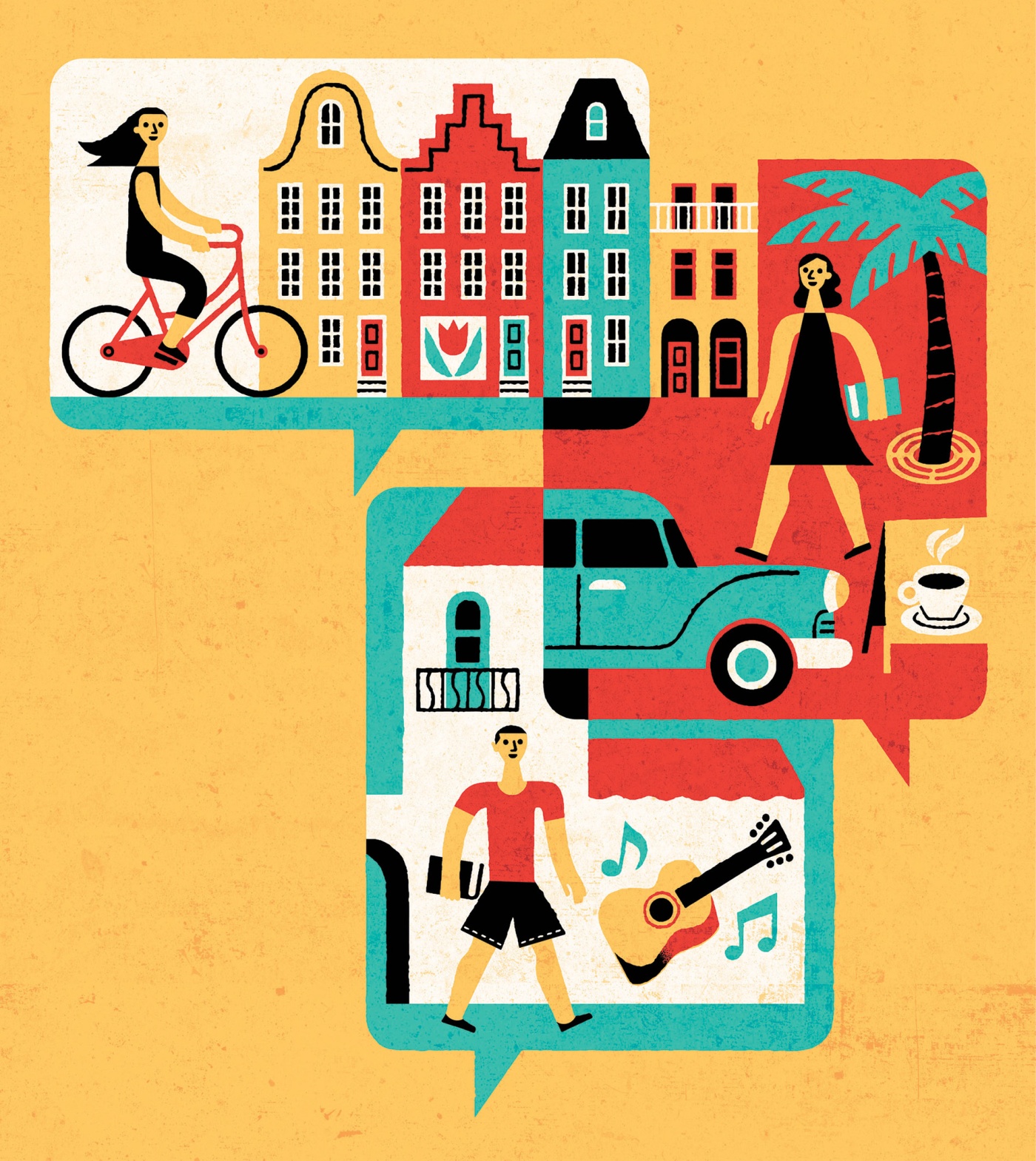 "I think it's a really cool way to soft-launch reality," she says about her nontraditional plan to be away from Brown for her final semester.
Eagan is one of hundreds of—in Brownspeak—pandemic point-
fivers, students who decided to take time away from school during the pandemic to work, avoid Zoom classes, and recharge. Even though many of these students are returning to Brown's campus in Providence for a final semester of classes before graduating in December, another group are following the less traditional path of studying abroad for their final semester of school, pursuing opportunities for personal growth, language acquisition, and cultural fluency in new places.
Gabe Mernoff '22.5, a public policy concentrator from Providence, says that during the fall of 2020 he struggled to adjust to remote learning and decided to take the next spring away from classes so he could focus on policy research."I just didn't want to give away an arm and a leg for a few Zoom classes," says Mernoff.
For his final semester he's planning to brush up on his Spanish in Granada and take classes on the European Union and education policy. He hopes that upon his return to the U.S. his experience abroad will give him a comparative perspective on American issues of income inequality. "I hope it'll help make me a more well-rounded person," he says.
Lena Cohen '22.5, a science, technology, and society concentrator from Carrboro, North Carolina, says after trying to take Zoom classes in the fall of 2020 she felt burned out and confused about what she wanted to study and do after college. In the spring she unenrolled from classes and instead assisted the computer science department in developing a new curriculum around ethical and social issues. Taking time off has also given her another summer to pursue different career ideas before graduating.
"I didn't think of studying abroad until the last moment, when a friend encouraged me to apply," says Cohen. "I've only ever lived in Carrboro, North Carolina, and Providence, Rhode Island, so I thought going to Cuba for my final semester would be exciting and help me grow… it's about doing things that I didn't have the opportunity to do at Brown."
The past few years have been full of twists and turns for college students everywhere as they've navigated online classes, remote learning, and constant health guidance from university administrators. Those studying abroad their final semester are drawn to new opportunities for personal growth and adventure, key aspects of the college experience that were squashed by pandemic closures.
As Mernoff says, "It feels like the last chapter in a very strange dream."