Humanities & Culture
No More Excuses
U.S. histories often neglect to mention the millions of enslaved Native Americans. A Brown database aims to help change that.
January 17th, 2023
The enslavement of Native Americans was "fundamentally central to European colonization of the Americas," says history professor Linford Fisher. Scholars estimate that from the colonial era to the late nineteenth century, between 2.5 and 5 million Native inhabitants of the Americas were enslaved. In 2015, Fisher was doing archival research for a forthcoming book on the topic when he began to reconsider the usual fate of the colonial-era documents that he and other historians study. "We all use these resources for our articles and books, and once they're published they just sort of languish and disappear," Fisher says. He started looking for ways to counteract this routine disappearance.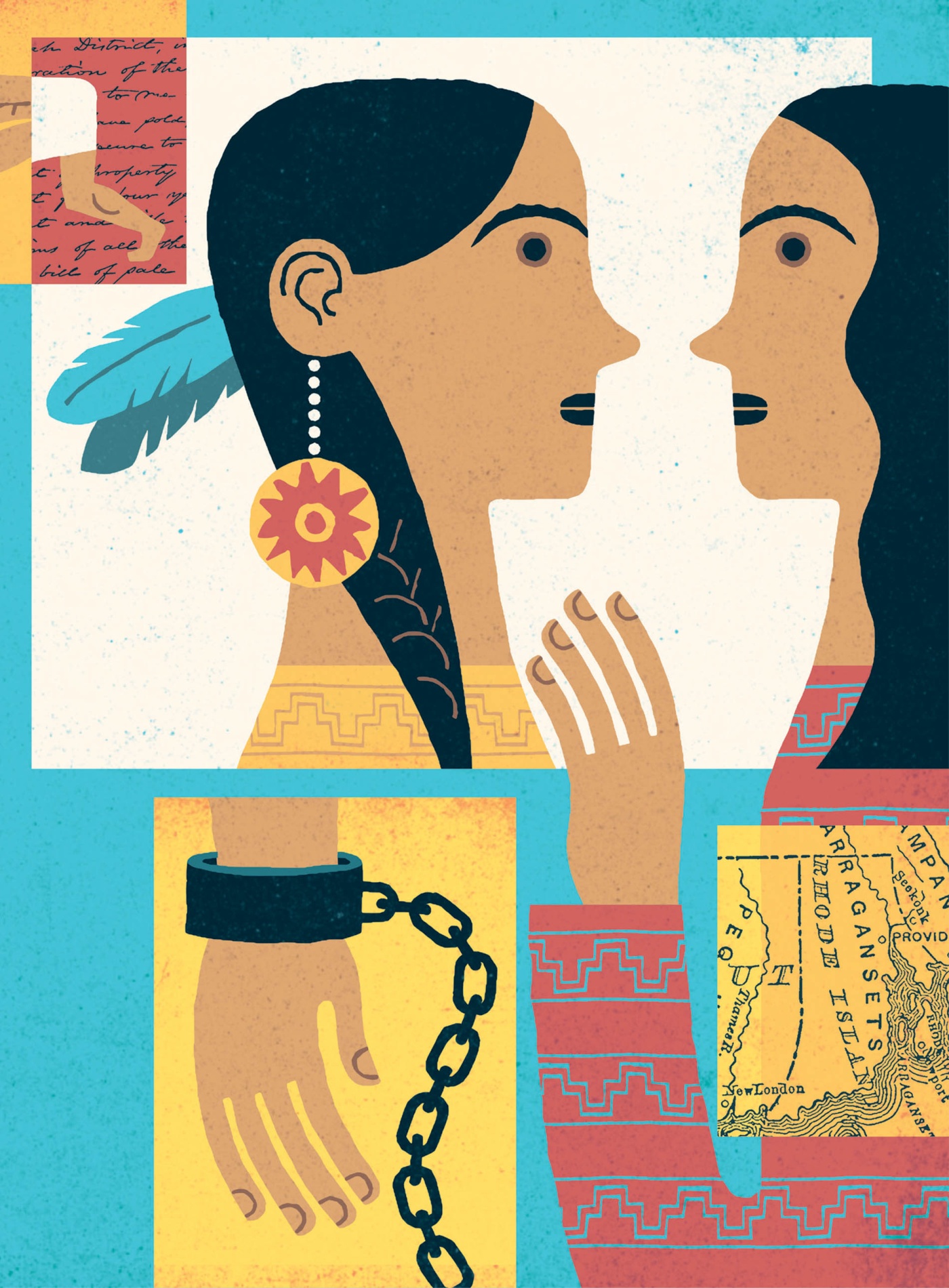 Enter Stolen Relations: Recovering Stories of Indigenous Enslavement in the Americas, a collaborative database project that sprung out of Fisher's book research. Once completed, Stolen Relations—for which Fisher is the principal investigator­—will make publicly accessible a wide range of documents pertaining to the enslavement and forced labor of Indigenous populations.
In August, the Stolen Relations team received a $350,000 grant from the National Endowment for the Humanities, an award that will help launch an online portal for the database and facilitate collaborations with individuals and institutions outside of Brown. Central to the project, Fisher says, has been the input of representatives from Indigenous nations, tribes, and communities in New England. The title Stolen Relations emerged from conversations with these partners.
Lorén Spears, a Narragansett citizen and a collaborator on the project, says that framing this history in terms of stolen relations will help users of the database to think more expansively about the enslaved individuals described in the documents, drawing attention not just to the fact of their enslavement but to the social worlds from which they were removed.
"They're connected to family and community and a whole nation of people," says Spears, who is the executive director of Rhode Island's Tomaquag Museum. "We're trying to bring the humanity to this database, and not have it be just names, dates, places, numbers."
Fisher's team of research assistants has been hunting through letters, diaries, court papers, newspapers, and other records, searching for references to Indigenous people who were enslaved or forced into other positions of servitude. For now, the research is focused primarily on New England, but Fisher hopes to expand the project's geographic reach in the coming years.
In developing the design of the database, a central goal for Fisher and his collaborators has been to organize the website around people and their stories, rather than simply create a collection of documents. The site will take the form of entries on specific enslaved individuals, detailing all the information that is known about them and including images of the documents in which they are mentioned. Putting the focus on Indigenous lives, Fisher says, is part of a process of decolonizing the archival records, many of which were created by enslavers themselves. The database will include contextual notes that remind users of the biases and erasures in the documents and highlight racist language.
The Stolen Relations database project started with a conversation between Fisher and staff from the Center for Digital Scholarship (CDS) in 2016. CDS continues to lead all technical aspects of the project, such as designing and building the database by working directly with tribal community members to address their needs first.
For Zoe Zimmermann '22.5, a research assistant coordinator on the project, spending the past two years examining these documents has made clear to her the extent of their limitations. "It's extremely frustrating to be in that situation where you want to know more and it's impossible to know more," she says. Spears echoes this sentiment. Yet, like Zimmermann, she believes that bringing these archival traces together in one database will allow users to make new connections.
"Those documents tell only a fraction of their lives," Spears says. "But sometimes you can see the trail, and it speaks to the resilience of our people, the determination and the steadfastness for survival."