Class of 1961
Jan, 2022
John Knubel writes: "Our classmates have called me 'blue and gold set on a brown background' because I left Brown to attend the Naval Academy after freshman year because I couldn't get into the Naval ROTC unit at Brown. I hope the class might like to know that I've copublished two books in the past two years."
Nov, 2021
Bruce Hiland coauthored Retiring? Your Next Chapter Is About Much More Than Money with former Sen. Ted Kaufman. The book is a guide to the often-overlooked, non-financial aspects of retirement. Kirkus Reviews called it "An engaging retirement self-help guide."
Nov, 2020
Dick Nurse announces that the film Quakers: The Quiet Revolutionaries will be broadcast on public television stations across the United States. He worked as a senior producer for the film at the Gardner Documentary Group.
Aug, 2020
Ed Rotmer writes: "Lorraine and I are enjoying retirement. I am doing lots of volunteer work for several charity organizations and also continue to serve on the board of directors of the Brown Club of Rhode Island. We get to spend a lot of time with our two granddaughters and our children. They all live within a few miles of us. How lucky we are for that! We continue to winter in Naples, Florida, and manage to do some traveling as well. I look forward to our 60th in 2021 and I welcome contact from my classmates at (401) 523-4680; erlr@cox.net-mobile."
Aug, 2020
David Parent writes: "Cathy and I are settling into our condominium at 91 Putter Drive in Wallingford, Connecticut. As the street address implies, our unit adjoins the Wallingford Golf Course and the view from our fourth floor window is beautiful. After 40 years in a quad level house set on a five level lot, we are happy to be on one floor. We spend a lot of time taking our grandchildren to school, medical appointments, and swimming lessons, going to the gym, having lunch at the senior center, Rotary and the Coast Guard Auxiliary, and going to a debating club in Stamford. The time goes by very quickly and happily. Seems hard to believe that 60 years ago we NROTC juniors were inside taking our navigation course with Lt. Jobe. The reunion will soon be upon us and we will once again be walking College Hill." Contact David at townca2005@gmail.com.
Aug, 2020
Courtland L. Munroe writes: "I retired from my internal medicine/geriatric medicine practice for the second time in December 2017. I worked in Carbondale, Illinois, for 31 years at The Carbondale Clinic, a multispecialty medical clinic, and as a clinical associate professor of medicine at Southern Illinois University School of Medicine. I then worked from 2012-2017 at a small internal medicine clinic in The Villages, Florida. I continue to volunteer two half days a week at two local free clinics. Mary Lou and I have been married for 54 years, with four children and eight grandchildren. We finished our foreign travels because of several health issues that have slowed us down but have been fortunate to have seen almost every country in Europe accessible by cruise ship. In January we moved to Waterman Village in Mount Dora, Florida, a continuing care retirement community, and we find living here is just like being on vacation every day of the year. Our every need is cared for and there are countless activities. We would enjoy visiting with any classmates who live or are traveling in this area. Contact us at cmunroemd@comcast.net."
Aug, 2020
John Edison writes: "This is my first communication update on my post-Brown career. After Brown I returned to my home state of Iowa and graduated from the University of Iowa's medical school in 1964. My wife, Linda, and I headed west to Los Angeles, where I interned at Los Angeles County General Hospital. We then went to Pensacola, Florida, where I went through Navy flight training and the School of Aerospace Medicine. Fortunately we were stationed in central Florida, where I was a Wing flight surgeon for several Vigilante squadrons. I played doctor and did short tours on aircraft carriers while Linda had a very fun job with the Orange County, Florida, welfare department. We returned to the Midwest, where I did a residency in ear, nose, and throat and head and neck surgery at the University of Minnesota. Linda taught art until we started our family. We live in Ventura, California, where I practiced 40 years and retired three years ago. Now we divide our time between Ventura, our ski house in Mammoth Lakes, California, and our ranch in Pagosa Springs, Colorado. We both enjoy good health and ski regularly and I continue to fly my little RV-8 type aerobatic aircraft. Accolades I have received in the local medical community have been Teaching Physician of the Year, chief of staff at the local hospital, and recently retired physician of the year. Our children live in California and Colorado with their families and we visit them regularly. I have now been to several reunions and, if luck and health hold, would like to make my 60th." Contact John at johnmedison@gmail.com.
Aug, 2020
Richard Considine writes: "No, I am not retired. For my sins, I took over management of Safeway Storage in Portsmouth, New Hampshire, in January 2018. In addition to the 309-unit storage business, I manage the 55,000-square-foot, three-floor building as well, with 10 commercial tenants on the top floor. I had sold this building to the current owner in 1985 and suggested he put self storage in the basement. (I spent eight years in Ireland establishing Barons Self Storage in Galway with a lawyer friend.) When Marcia and I returned to New Hampshire in 2011, Safeway's owner told me he would need me. It has been an enjoyable challenge straightening the business out four days per week. Marcia and I also sold our big house in 2014 and bought a modest ranch in a 55-and-over community in North Hampton, which we love, especially because we back up to extensive woodlands with all the wildlife therein. We spend part of our summers in Cundy's Harbor, Maine, with our youngest son and family and get out sailing now and then. Both of our sons and families are doing well and we see our three grands regularly. Life is good!" Contact Rick at rick@theconsidinefamily.com.
Aug, 2020
David Babson writes: "Just a note to let you know that I plan to run again for Carroll County Commissioner. I am now in my second term, which will end in December. Should I be lucky enough to win again, at my age it is basically a lifetime appointment. I have enjoyed serving the voters as a commissioner far more than I did as a member of the New Hampshire legislature, even as a member of leadership. At the county level you are one of three people; in the New Hampshire House you are one of 400 people. It is much easier to help people when you are the 'boss.' I still have my draft horses and milk cow but even they are getting old." Contact David at davebab61@gmail.com.
Apr, 2020
Stroke of Luck
How a ragtag team of club rowers from Brown almost took the national varsity championship in 1960.
Read More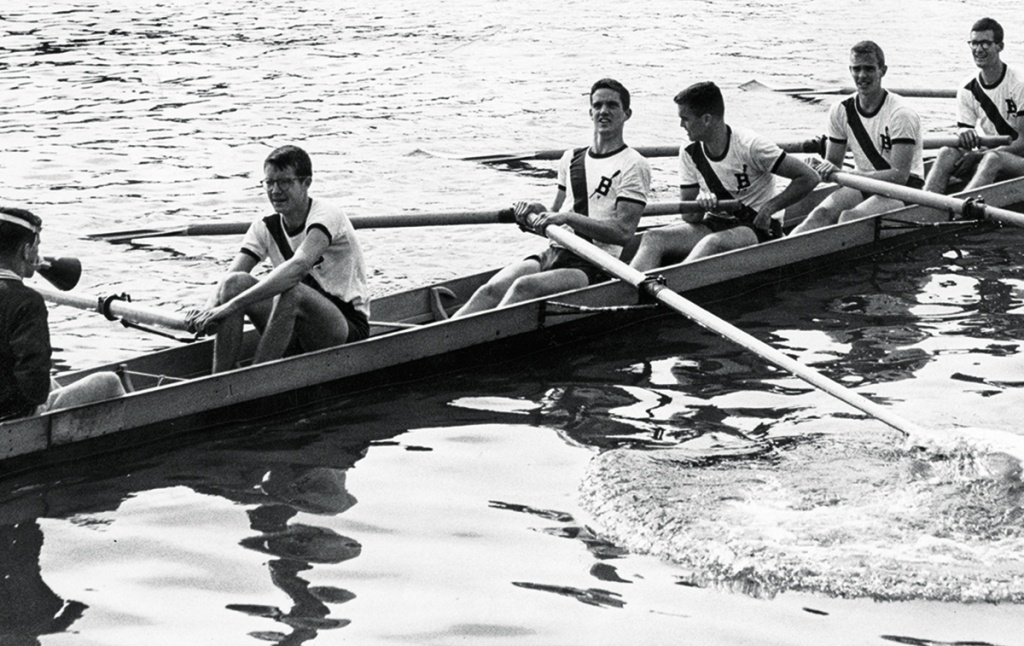 Nov, 2019
Nicholas B. Willard writes: "After almost 50 years in the packaging, paper, and printing business, I retired. Within a year I had started a new company that ran successfully for 17 years. I just retired from that. I'm looking forward to seeing you all at our 60th reunion in two years."
Nov, 2019
Arthur Solomon writes: "I guess that I'm semi-retired because I now split my time between a real estate development business and the family's minor league baseball teams (Hartford Yard Goats and New Hampshire Fisher Cats) and two nonprofit boards. I'm really enjoying and learning a great deal from my board work at the Trinity Repertory Company (Providence) and the FAY Lifelong Learning Program (Jupiter, Fla.)."
Nov, 2019
Edward Rotmer writes: "Lorraine and I spent 15 days cruising the Baltic and St. Petersburg. We visited Norway, Sweden, Denmark, Berlin, Poland, Estonia, and Finland. We are still living in Rhode Island and I serve on the board of directors of the Brown Club of Rhode Island and volunteer at various charitable organizations. We spend winter in Naples, Florida, and I'm playing a lot of golf. I welcome hearing from classmates." Contact Ed at ERLR@cox.net.
Nov, 2019
Carolyn Vose Moreland and James A. Moreland write: "We have sold our home of 46 years and moved to Westminster Winter Park CCRC [a continuing care retirement community in Florida]. Getting rid of 'stuff' was a difficult job but it made moving easy. We love our new environs. Our next task is to ready our North Carolina home for sale. We enjoyed a mini-reunion with fellow classmates in Holmes Beach this winter." Contact Carol at cvmoreland@msn.com.
Nov, 2019
Beth Burwell Griffiths writes: "Although I am spending more time in Florida, I still return to New Hampshire for Christmas and a few months in the summer on Lake Mascoma in Enfield. Last fall, Jane Ufford Bartlett and I took a 26-day cruise to Italy, Greece, and Spain. We visited Rome, Sicily, Malta, three Greek Islands, Athens (enraptured by the Acropolis), Naples, Barcelona, Granada, Malaga, and the Canary Islands, ending up with a transatlantic voyage back to Fort Lauderdale. My vocation in retirement is genealogy research and I belong to five genealogy groups. It's an addictive hobby!"
Sep, 2019
Arthur Solomon writes: "I guess that I'm semi-retired because I now split my time among my real estate development business, two nonprofit boards, and my family's minor league baseball teams—the Hartford Yard Goats and the New Hampshire Fisher Cats. I'm really enjoying and learning a great deal from my board work at the Trinity Repertory Company in Providence and the Florida Atlantic University Lifelong Learning Program in Jupiter, Florida."
Sep, 2019
John Sculley writes: "My wife, Diane, and I moved into our new home in Palm Beach, Florida, in February. I still work helping health-tech entrepreneurs build their transformative innovation companies. Diane, who is also a data scientist, is my business partner. I travel routinely to the Boston area to RxAdvance, a health-tech company where I am chief marketing officer and board chairman. Diane and I traveled this summer to France, Marrakesh, and Bermuda."
Sep, 2019
Charles Rood writes: "My wife, Shane, and I anticipate moving into an apartment in a senior community with meals and services. The community is currently under construction and should be available this winter here in Oro Valley. We are very active in volunteer work in this Tucson suburb so want to stay close by."
Sep, 2019
Beth Burwell Griffiths writes: "Although I am spending more time in Florida, I still return to New Hampshire for Christmas and a couple of months in the summer on Lake Mascoma in Enfield."
Sep, 2019
Richard Grant received a Lifetime Achievement Award from the Environmental Law Institute at the National Wetlands Awards in Washington, D.C.
Sep, 2019
Ann Matteodo Dupre writes: "Having the good fortune to have three brothers precede me at Brown (Sam Matteodo '51; Maurice Matteodo '53; and Eugene Matteodo '56, '78 PhD)—their mantra was that it was appropriate for me to graduate in 1961 because it could be read upside down, proving I did not know if I was coming or going. It always raised my love and awareness to think of that distinction."
Mar, 2019
Steven H. Sewall writes: "They say 80 is the new 60 so I am trying to remain active. I continue to practice office orthopedics three days a week. In addition, I have joined the Harvard Institute of Learning in Retirement and have been taking courses such as Medicine, Mortality, and the Prose of Chekhov. I am still playing violin in a community orchestra and playing chamber music in string quartets. This past summer I spent a week at chamber music camp at Brandeis University, where I was coached on quartets by Mozart, Beethoven, and Fauré that I had studied. Sue and I have traveled a bit to Norway, Morocco, and a bike trip through Provence. Our grandchildren are growing into adults too. The oldest is an illustrator having graduated from the Ringling College of Art and Design. The next is a junior at the University of Maryland and is in computer science. My third grandchild is just starting school at the Fashion Institute of Technology where she is interested in fashion design. My youngest grandchild is a junior in high school who loves engineering. I am looking forward to our 60th reunion in 2021 and trying to remain healthy!"
Mar, 2019
Douglas Hackett went on a two-week tour of Israel last April and on a one-week American cruise to New England (Martha's Vineyard, Block Island, Nantucket, Newport) with lobster every night.
Jan, 2019
James and Carolyn Vose Moreland write: "After 46 years in our home we are moving to Westminster Winter Park, a continuing care retirement community. It is a true challenge to part with two thirds of our stuff with the slides, pictures, and albums being the most time consuming and difficult. We're hoping to escape the political flyers, robo calls, and junk mail for a few months until they track us down. On the positive side, less dust to clean in the new year."
Jan, 2019
Emily Arnold McCully announces her two latest books: She Did It! 21 Women Who Changed the Way We Think, published in November by Hyperion; and Dreaming in Code; Ada Byron Lovelace, Computer Pioneer, to be published in March by Candlewick.
Jan, 2019
Richard Barker, longtime Narrow River Preservation Association president and Friend of Narrow River, announces the creation of an endowment in his honor. The endowment will be managed by The Rhode Island Foundation and provide yearly grants for the benefit of the Narrow River Watershed.

Jan, 2019
Elkan Abramowitz is still actively practicing law in his firm, Marvillo Abramowitz Grand Iason & Anello in New York City. Elkan writes that he is living on Long Island, only ten minutes away from his son, Andy '92, and daughter-in-law Leslie Stern Abramowitz '93.
Nov, 2018
On Saturday of Commencement Weekend 2018, Beth Burwell Griffiths '61 organized a mini-reunion/luncheon at the Providence home of Pat and Mel Blake '61. Beth, Pat, and Mel were joined by Mary and Doug Riggs '61, Roger and Sandy Mason Barnett '61, Bobby Lowe '61, Doug Hackett '61, and Liz Cochran DeLima '61. The '61-ers were joined by Peter Hurley '61 for the Commencement March on Sunday morning.
Sep, 2018
Elizabeth Diggs writes: "My new play, Grant and Twain, is being performed at Performance Spaces for the Twenty-First Century (PS21) theatre in Chatham, N.Y. Performances are Sept. 27–30. The play has been in development for five years. It is not a documentary, but it is true to the history when Ulysses S. Grant was bankrupted in a famous swindle Ponzi scheme and had to write his memoirs to save his honor and his family. His admirer, Mark Twain, determined to publish the book himself and make it the biggest bestseller in American history. Grant wrote in a race against death."
Jul, 2018
Grace Smith writes: "Our granddaughter was born Dec. 31. She will keep her brother busy, as he believes he is the boss."
Jul, 2018
Arthur Solomon writes: "I've shifted most of my time to two nonprofit organizations and am vice chairman of both Trinity Repertory Company in Providence and Osher Lifelong Learning at Florida Atlantic University in Jupiter, Florida. I also remain active in minor league baseball with the New Hampshire Fisher Cats (Toronto Blue Jays affiliate) and the Hartford Yard Goats (Colorado Rockies affiliate)."
Jul, 2018
Jane Little Parpart writes: "I am delighted to be semi-retired in Ottawa, near my daughters and grandchildren, and also to be an adjunct professor at Carleton Univ. and the University of Ottawa. I continue to work on gender and development with a focus on Africa and the global south. Life is full, and I am enjoying it to the max."
Jul, 2018
Hal Chorney moved to 8732 Via Prestigio East, Wellington, Fla. to be with his childhood sweetheart, Rachel G. Kaufman.
May, 2018
$100M for Brain Science
Alum makes Brown Institute one of best-endowed in U.S.
Read More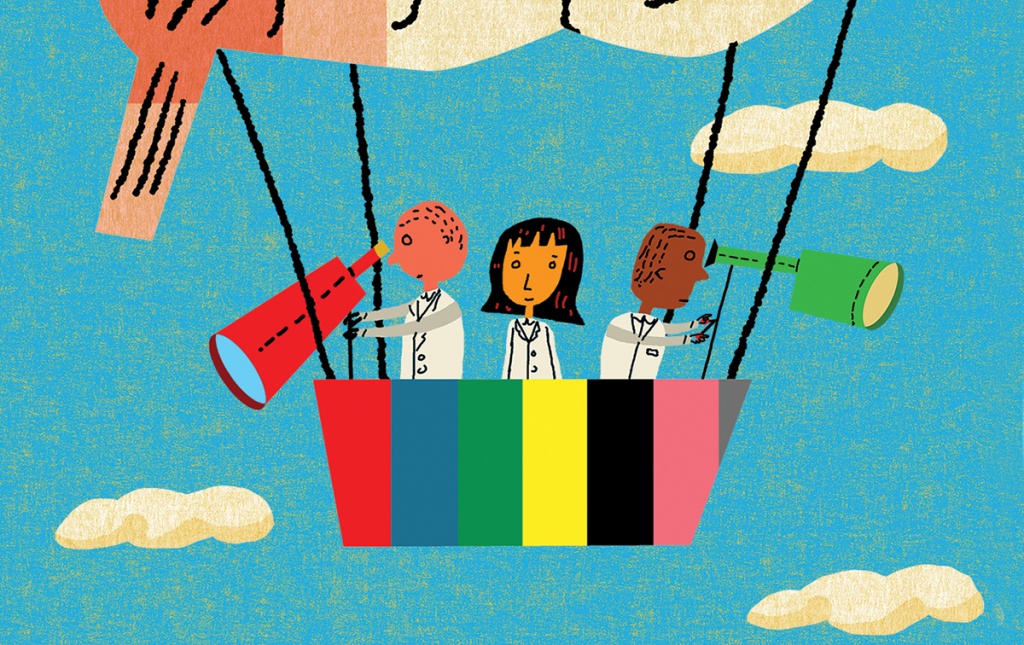 May, 2018
Edward Rotmer continues to serve on the Brown Club of Rhode Island board of directors, as well as participating in other volunteer work. He enjoyed his 55th reunion.
May, 2018
Norby Fleisig writes: "The cities of Charleston and Mt. Pleasant in South Carolina and I hosted an eclipse party from Aug. 18 to 21. Spotty weather cleared up perfectly during the full passage. In attendance, mostly with significant others, were: Al Almonte Jr. '62; Hal Chorney; Dave Connell; Joanne Rabold Connell '64; Rick Croteau '63; Bill Feinberg '63, '66 AM, '73 PhD; Berge Gregian '62; Guy Lombardo '62; and Peter Papadopoulos '62. All the gentlemen listed are alumni of the gone but not forgotten Plantations House. We try to get together yearly, and we invite others to join us."
May, 2018
Bill Feinberg '66 AM, '73 PhD (see Norby Fleisig '61).
May, 2018
Eugene R. Bouley '63 MAT (see '61)
Apr, 2018
Alan Tapper writes: "Mark Joseph '60 and his wife, Patricia, were honored as the Association of Fundraising Professionals Outstanding Philanthropists of Maryland 2017. They have been outstanding in their contributions to our community."
From the November/December 2017 Issue
Send your news to class secretary Beth Burwell Griffiths or directly to the BAM at alumni_magazine@brown.edu.

Phillip Askenase writes: "I received a letter from the American Academy of Allergy, Asthma, and Immunology (AAAAI) informing me that I have received the designation of lifetime achievement Distinguished Scientist Awardee of the AAAAI for 2018." This award is presented annually to recognize scientific contributions of a single individual who has advanced allergy and immunology research and for leadership contributions to the specialty. The award will be given in Orlando, Florida, at the Annual AAAAI meeting in March 2018.
From the September/October 2017 Issue
Send your news to class secretary Beth Burwell Griffiths or directly to the BAM at alumni_magazine@brown.edu.

Rev. Douglas Abbott writes: "Finally, I have retired for certain. I have gone through three retirements: once in 1999 from the New Canaan, Connecticut, public school system counseling high school students; once in 2003 from the Center for Hope in Darien, Connecticut, facilitating support groups and meditation for those with life-threatening illness; and once in 2015 from Wilton Congregational Church in Wilton, Connecticut, having been an ordained minister for 54 years. This is the intent of the Brown University charter: to produce graduates useful to society."

Emily Arnold McCully's latest picture book, Caroline's Comets, about the 19th-century astronomer Caroline Herschel, was published on Feb. 28 by Holiday House. Her next book is a novel about the son of Sacagawea and the origins of Manifest Destiny titled A Promising Life and was published on July 25. She and her wife, Elizabeth Diggs, are taking part in the final shoot for the film Mirette, based on her children's book Mirette on the High Wire, in Perigueux, France.

Carol Nolte performed in the 30th-anniversary celebration of the 92nd Street Y dance program alongside many notable choreographers. Carol continues to produce WestFest, an annual spring dance festival in New York City, which she founded in 2009. WestFest showcases the work of up to 20 innovative professional choreographers and occupies Carol's entire winter in her West Village home. Summers are spent at her home in Taos, N. Mex.

Anne Jacobson Schutte writes: "At the end of June 2016, I moved from Venice, Italy, to Chicago. I'm now living in a life-care retirement community. Chicago offers everything I'm interested in: opera, symphony, fine dining, and the superb Newberry Library, which enables me to carry on my research and writing projects."

Art Solomon writes: "My family recently relocated our second AA minor league baseball team, the Hartford Yard Goats, to a brand new stadium in downtown Hartford. In addition to bringing professional baseball to Connecticut's capital city, we hope that the new stadium will serve as a catalyst for economic development."
From the July/August 2017 Issue
Send your news to class secretary Beth Burwell Griffiths or directly to the BAM at alumni_magazine@brown.edu
Prentiss De Jesus writes: "I continue researching the archaeology of Turkey and plan another trip there this year. My interest still centers on the ancient mining and metallurgical industry of the Bronze Age, but it is unwise to work with a limited scope, and I am drawn to other topics, such as warfare, food, trade, and mythology. I am still a ham radio operator (K4PDJ) and manage contacts far and wide in Europe, Asia, and South America. Otherwise, I spend joyous hours with my 20-month-old granddaughter, daughter of Sargon M. De Jesus '07, '08 ScM. She is learning French as her first language. My wife, Corinne, is a beekeeper and on occasion I assist her. We have enough honey now to keep us sweetened for at least two years."
Howard Van Lenten is looking for a copy of the program for the Under the Elms ceremony held in June 1961. If you have one, please e-mail Howard.
Patricia Pinney Walker writes: "Bob and I have moved to a senior living place. Our son Brian has accepted a new job at the International Monetary Fund, so we are looking forward to seeing our granddaughters more often. Our son David is still in Florida and providing a wonderful home for our German Shepherd dog, who could not accompany us here."
From the May/June 2017 Issue
Send your news to class secretary Beth Burwell Griffiths or directly to the BAM at alumni_magazine@brown.edu
Ann Notarianni Dickson of Coventry, R.I., writes: "I retired as a process business analyst in January 2016. I immediately started cleaning out papers, and what a relief to start anew. In November I was re-elected for a second four-year term as a Coventry School Committee member. Life is good."
Ellen Shaffer Meyer's son, Matthew Meyer '94, was elected Delaware's New Castle County Executive on Nov. 8.
Joseph D. Steinfield writes: "In 2014 we sold our house in Boston's South End and downsized to a condominium in Keene, New Hampshire, while renting an apartment in South Boston. This year we gave up the apartment. I became a legal resident of Keene, and I joined a small Keene law firm on a part-time basis (while remaining affiliated with my firm in Boston). Now Virginia and I are upsizing in Keene, moving to a house across the street."
From the March/April 2017 Issue
Last summer, Alice Guillemette Bransfield and her husband enjoyed a Columbia River cruise following the path of Lewis and Clark. Both are enjoying retirement but write, "Don't know why so busy if retired?"
Marjorie Gaysunas Pett writes: "I retired from the University of Utah last year and spent a most enjoyable seven weeks in Spain studying Spanish and acting as the 'abuela' for our university undergraduates. I am still involved with the university as a professor emerita, taking Spanish and French classes, and writing research grants related to cognitive disabilities, luckily not my own. Our family is well, the grandchildren are growing."
Ellen Shaffer Meyer writes: "Matthew Meyer '94 has been elected County Executive of New Castle County, Delaware. Matt's biggest challenge was defeating an entrenched, longtime incumbent in the Sept. 13 Democratic primary, which local political analysts called the biggest political upset in Delaware in years. Starting the campaign in March with zero name recognition, Matt won 53 percent of the September primary vote. In the November contest, he was elected with 67 percent of the vote. Both Vice-President Joseph Biden and U.S. Senator Christopher Coons served in New Castle County government prior to becoming senators from Delaware."
From the January/February 2017 Issue
Nanine Henderson writes: "I'm still enjoying my family practice in Louisville, Kentucky, having decreased to part-time. I am traveling more and returned from a fantastic trip to the Galapagos. I was glad to see many classmates at our 55th reunion and look forward to our 60th."
Walt McCarthy writes: "We had a pretty good year. Along with our annual trip to Scotland, we made another to go to our granddaughter's graduation from St. Andrews University. It was founded in 1414, so there was much pomp and circumstance. Clara is a full-time artist and has had several shows. I am still a volunteer on committees of nonprofits trying to raise money."
Ellen Shaffer Meyer writes: "Jane Pett Semmel and I are looking forward to our annual winter getaway, this year to Sarasota, Florida, in early March. It's a women-only week. We are always joined by a friend from our days as singletons in New York City in the early 1960s."
From the November/December 2016 Issue
Douglas Abbott retired after 54 years in the ministry, 33 years as a high school counselor, and 20 years of counseling for the nonprofit Center for Hope. He writes: "I look upon retirement as a sabbatical. Pam and I are loving our time together as retirees."
Alice Guillemette Bransfield had a long recovery from a fractured right knee cap and left wrist.
Dave and JoAnne Rabold Connell '64 participated in a multiclass reunion with six other couples during a brief Caribbean cruise in January. On board were Al Almonte '62, Bill Feinberg '63, Norbert and Karen Lauter Feinberg '66 AM, Tom Generous '63, Berge Gregian '62, and Peter Papadopoulos '62. Dave writes: "All except Karen were Rhode Island commuters involved with the now long-gone Plantations or West Houses. It was great to get away from the bitter cold and storms in the Northeast and reunite with old friends."
Ellen Shaffer Meyer wrote after learning about the death of Dilys Winn, "She was one of a kind, and I have very fond memories of her."
Edward D. Rotmer writes: "Lorraine and I are spending our winter in Naples, Florida, as we have for most of the last 10 years. We have traveled to France and have taken a tour of the Canadian Rockies. I have fully retired from my second career as real estate director with Benny's, a retail chain of 32 stores in New England. I now look forward to more time with our two granddaughters and more traveling."
Steve Sewall writes: "Sue and I celebrated our 50th anniversary in August with a five-week trip to Asia. We traveled to Papua New Guinea for nine days flying around on small planes. Then we went to Bali, where we renewed our vows, complete with saris and Balinese dancing girls and music. We then boarded a wooden sailing ship with six other couples and toured the small islands east of Bali and did some snorkeling. We flew to Java to view ancient Hindu and Buddhist temples and finally flew to Borneo and spent a few days in the jungle observing orangutans in their natural habitat. It was a trip of a lifetime. We also went on our annual bike trip with friends to Sweden and Denmark. Between trips I am continuing to enjoy practicing orthopedics and playing the violin. In addition to orchestra work, I am participating in more string quartet playing, having been inspired by three summers at the Wellesley College Chamber Music Workshop. My four grandchildren are all teenagers and so far show no interest in Brown. The oldest is a sophomore art student at the Ringling College of Art and Design in Sarasota, Florida."
From the May/June 2016 Issue
Elkan Abramowitz writes: "2015 was an incredible year for me. I spent the greater part of it in a courtroom defending the former chairman of Dewey & LeBoeuf in one of the most closely watched white-collar prosecutions of 2015. The trial ended with the district attorney recommending that the charges against my client be dismissed. On the tail of the trial's success, I was recently honored by a number of publications and third-party directories. Highlights include being named Trial Lawyer of the Year by Benchmark Litigation, a White Collar Crime Trailblazer by the National Law Journal, and a Trial Ace by Law360."
From the March/April 2016 Issue
Class secretary Beth Burwell Griffiths requests all class notes be e-mailed to her.
Phil Askenase writes: "My wife, Marjorie, and I have moved to a continuum-of-care facility, Whitney Center, about a mile from our home of 40 years in Hamden, Connecticut, near Yale. There is a major group of Yale professor retirees and spouses from many fields, with great group activities, trips, entertainments, three eating venues, many lectures, movies, and member emphasis groups. I continue to work full-time, but no longer as chief of allergy and clinical immunology nor seeing patients directly at the Yale School of Medicine. I am now working exclusively on research involving intercellular communication by RNA-carrying nanovesicles called exosomes in allergy, immunology, and neurologic diseases, and in the similarly emerging field of Medical Darwinian Evolution."
Walt Brothers writes: "If our junk mail is any valid indicator, the fear of data mining destroying our privacy is greatly overrated. Recent junk includes invitations to join Netjets, quickie loans for people with poor credit, offers for a career in nursing, and scores of products we have never bought nor ever will."
B. Jane L. Parpart writes: "I am back in Canada after three years working for UMass Boston in a PhD program on global governance and human security. It has been very exciting. My husband, Tim Shaw, and I shared a professorship. We continue to work with our students despite being 'retired.' Working with graduate students and their research enriches our lives and hopefully helps them as well. Hope to make another reunion some year."
Richard H. Pohle writes: "I have been enjoying retirement, and keep busy with water meter issues in upcountry Maui, where the county has restricted development by not issuing meters very readily. Six of our eight grandchildren live on the East Coast: four girls in Short Hills, New Jersey, our youngest grandchildren; a girl, 7, and boy, 4, are in Silver Spring, Maryland. The other two are teenagers in Maui. My wife and I are hoping to be at the 55th reunion."
Joyce Reed '65 A.M. writes: "On Sept. 26 I flew to Honolulu to give a presentation to the alumni group there—and what fun it was to be in the company of 35–40 Brown grads, many accompanied by spouses and a few by teenaged children interested in my topic: "Today's Wild Ride in College Admission." I was with Gail Lewis, a colleague in my company, College Goals, who is also the mother of two young women who are recent alums. Together, we had many perspectives to share, since I did grad and undergrad studies at Brown and spent 14 years in the administration, 'retiring' as an associate dean of the College in 2003, and two of my children are also alums. Gail and I both truly enjoyed the evening. There is something about Brown students/alums. . . . It's so hard to put a finger on, but it certainly makes them/us comfortable with one another. These were dynamic, committed young people, involved in medicine, teaching, arts, law, and politics in Hawaii, accepting responsibilities and leadership just as we hope and expect of Brown grads. It was incredibly gratifying and a true pleasure, and made me think more positively about making the 5000-plus-mile trek back to our 55th."
Robert W. Schmid writes: "This was a travel year. We spent a week in New York City to see Broadway shows, took a two-week trip to Japan in April, spent June and July at a cottage on Long Island and then a week in Florida in late July. We then spent two weeks in August on a Viking River cruise from Moscow to St. Petersburg—our first cruise. We scheduled a tour to Costa Rica for two weeks in February. My wife, Liz, has her 50th reunion at Goucher College in April. She is class reunion chair. Then we attend my 55th in May. It's great to be retired."
Grace Smith moved to Walnut Creek, Calif., to be closer to her family, which includes a grandson. He is almost 2 and lives in San Francisco. She writes: "This is a lovely city, and I am fortunate to be here. Fun times ahead."
George Torrey writes: "My wife, Sydney, and I continue to be active in the American Macular Degeneration Foundation. We will spend this winter in Tucson, Arizona, and are looking forward to celebrating our 50th anniversary in the spring with a river cruise on the blue Danube."
Bill Worthington writes that he was in Providence in April and shared a coffee with classmates Pete Hurley, Bill Lunnie, Howard Myers, and Jim Twaddell. "It was good to see them all looking so well. Looking forward to seeing everyone in May."
From the November/December 2015 Issue
F. William Abbate writes: "I just returned from a tour of Sicily with 14 others, including Richard Long and his wife, Dale. Good food, good wine, good time had by all."
Robert Birch writes: "I work at Oppenheimer & Co. as an investment advisor. My wife, Genie, is a professor at Penn. Our two kids are graduates of Brown—classes of 1993 and 2004."
Ann Matteodo Dupre writes: "As I become firmly ensconced in my 'septuagenarian nest,' the pianistic horizon twinkles ever more brightly, and I am blessed with two sons and two 'grands' that broaden my activities greatly. Our family was recently depicted in a compendium of actual events leading to acculturation in America entitled Voices of Rhode Island's Italian-Americans, made available by the Italian American Historical Society. It was an amazing honor for us (myself and my three older brothers being Brown grads!)."
Morey Filler writes: "We headed for the Costa Brava in July to meet and spend time with our son, Scott '91, and his family. Would love to see the names Elkan Abramowitz, Robert Echenberg, or Mike Davis popping up.… Memories."
Robert Finkel writes: "I retired from the Toledo Clinic in Ohio, about 10 years ago, and don't regret my decision at all. I've even declined two invitations to resume my old position. My wife of 41 years, Judy, started teaching beginners' dressage. Although I had anticipated traveling a lot, this hasn't materialized, but I keep busy reading, working in the yard (weather permitting), and working with my computer. I am active and have taken leadership roles in the Torch Club of Toledo, a business and professional persons' group, and the Archaeological Institute of America, Toledo Society. Eating lunch with friends at the Toledo Club and 'working out' at the Club's fitness center help to fill in the day. Last November, Jon Veeder and his son Tom dropped by for a few days on their way home to Winnetka, Illinois. The next month Jon and his wife, Sally, visited on the way out East. Life is good. Our three children live in Toledo, which means we see them often. So far, health is good but clearly I'm not the youngster I was even five years ago."
Doug Hackett writes: "Last December and January I was in New Zealand visiting with my daughter Kyle Hackett Smith '93 and her family. Later in January, after a ski club trip to Steamboat Springs, Colorado, I stopped in Boulder on the way home to visit with my other daughter, Nancy Hackett Harrison '86. Reunions such as these are great, especially if you keep them in the family! In May, Susan and I went to Orlando, Florida, for a reunion with my former roommate Eldon Hiebert and with Fred Dupuis, who roomed across the hall from us in Archibald House. While together, we phoned Fred's former roommate Dan Warner at his home in Indianapolis to catch up with him. We had a great time together and were nattily attired in our Brown 1961 ball caps. I'm glad to hear of our 55th reunion preparations and plan to attend. Thank you to those making the arrangements."
Jonathan Kapstein was named president of the Press Club Brussels Europe at the end of March while a non-urgent search began for a European journalist who has the time and ability to take over. Jon writes: "Nancy Sherer Kapstein and I were in New York in April, hunting for a pied-a-terre or a larger apartment. We ran into an unexpected roadblock in Bank of America's blanket refusal to provide domestic U.S. mortgages for Americans overseas."
From the March/April 2015 Issue
Barbara Spiezio reports: "After attending our 50th reunion in 2011 and that of Nick Spiezio '63 in 2013, I was inspired to work with the alumni office to organize a get together of West House women from the classes of 1950 through 1970. I'm happy to say that as part of the 2015 Commencement Weekend, we will gather on May 22 at the Faculty Club to celebrate the 20 years that West House provided a home on the Pembroke campus for so many of us." For more information contact Barbara Spiezio.
From the September/October 2014 Issue
Robert D. Kaplan writes: "I retired from law practice in Seattle and now live in Jacksonville, Ore. Southern Oregon is wonderful, with great opportunities for outdoor activities and cultural events. I have been whitewater rafting on the Rogue River, zip-lining, paragliding, trail walking in the Cascade Mountains, playing golf, and attending classical music concerts and Shakespeare festival performances in nearby Ashland. Each year I take one or two vacation trips (how do you vacation when you're retired?), which this year included a trip to the U.S. and Canadian Rockies in July and an upcoming visit to southern California in January. Next year is Eastern Europe and the Grand Canyon."
From the July/August 2014 Issue
Douglas W. Abbott writes: "Pam and I continue to be as active as ever keeping in touch with family and friends and eight grandchildren and doctor and dentist appointments with travels in between to Brazil and the Galapagos Islands and closer trips to Florida, Texas, New Hampshire, Maine, and New York City. I retired from 33 years of secondary school counseling in 1999, and from counseling people with life-threatening illness four years later. And now I'm working part-time as an assistant minister at the Wilton Congregational Church in Wilton, Connecticut, doing pastoral work. I am forever grateful for my experiences at Brown that greatly influenced my choosing to become a minister. Through the religious studies department and the campus chaplaincy, I went on to theological school and now am in my 50th year of ordination—50 gratifying years of service."

Jeffrey A. Belkin writes: "After decades of practicing traditional labor management law, I gave up my clients in order to work exclusively in arbitration and mediation of labor and employment disputes. I am happy to report that in October I was inducted into the National Academy of Arbitrators."
Forrest Broman is still raising funds and serving as board chair for the COHP (Children of Haiti Project) School started in 2010. It provides daily food, education, and medical services to nearly 80 tent-camp children who otherwise would have had no schooling and little food. He writes: "Please visit COHP at childrenofhaitiproject.org. Check the blog, and please contribute if you can. Thank you."

Walter R. Brothers writes: "In September, Sue and I checked off another bucket-list item—Ireland. We spent two weeks touring on our own. The countryside and cities were delightful, and the people were wonderful. The narrow, roller-coaster roads kept us fully awake, especially when a tour bus approached, taking all of its lane and most of ours!"
Richard A. Considine writes: "Well, we finally did it! We have downsized to a 1600-square-foot ranch-style home in an over-55 community and are very happy with it, especially since I no longer have to cut an acre of grass or to plow a long driveway in the winter. We still have the cottage in Ireland and will be going there for three weeks in early November. I hate to miss Mel Blake's 'do' this year. That is a great get together—thanks, Mel. I am substitute teaching at two middle schools and the high school in Hampton, New Hampshire, and enjoy it very much. Our two sons, John '88 and David, are happily married and live nearby so we can see our grandkids on a regular basis, often as babysitters for Kyle, 10; Josie, 9; and Connor, 8. Life is good!"

Elizabeth Diggs's play Grant & Twain premiered at Salt Lake Acting Co. in February and ran through Mar. 2. Liz lives in Chatham, N.Y.
I. Lynn Evans writes: "I moved out of the retirement community (Villa de San Antonio) to a house I purchased to live with my middle son, Chris Cooper; his wife; and three children. Glad to have my own space again and thankful to be able to do so. Will try to see you all in 2016. Moving is not for sissies."

Morey Filler writes that he is not retired from the world of gynecology quite yet. He was looking forward to skiing in Colorado with grandchildren over the holidays, and says, "You know we can't keep up with them."

Judy Grimes writes: "My husband, Bill Grimes '59, published his book, The History of Big Safari. It is available on Amazon. It is the history of the military organization formed in the late 1950s and includes the U-2 aircraft and the SR71 Blackbird. Check it out!!"

John A. Knutson writes: "Both Margaret and I continue our full-time effort to elect Democrats here in Maine. A major part of that between now and November 2014 is to elect a new governor and hold our majorities in the State House and Senate."

Aldie Nordquist Laird and her husband, Lindsay, celebrated their 50th wedding anniversary with their whole family in attendance. Aldie lives in Harpswell, Me.

Walter McCarthy writes: "Not much new. Clara and I made our annual trip to Scotland and had a very good time. We also spend a week each year in the Boundary Waters Canoe area in northern Minnesota. We have a condo on Lake Superior that we don't get to often enough. The five granddaughters are doing well. One is at St. Andrews University in Scotland. She was recently in Hong Kong and survived the typhoon. The others are in elementary, middle, and high schools." Walt lives in Long Lake, Minn.

Courtland L. Munroe wrote that, after Northwestern Univ. Medical School, U.S. Navy service, and residency in internal medicine at the U.S. Naval Hospital in Portsmouth, Va., he moved to Carbondale, Ill., in 1973. In 2004, after 31 years, he closed his internal medicine/geriatrics office, resigned as clinical associate professor of medicine at Southern Illinois Univ. School of Medicine, and moved to The Villages in central Florida. Due to the need for geriatric physicians in Florida, he obtained his Florida medical license, and works one and a half days a week with a local Harvard Medical–trained internist and one day a week at a free clinic caring for homeless and uninsured working poor. He and his wife, Mary Lou, are planning a gala 50th wedding anniversary, most likely in Rome and Venice. They have four children and eight grandchildren. He looks forward to the 55th in 2016.
Rosalind Pace and Marcia Solomon Simon will be teaching "Image-Making: Discover Your Voice and Vision—Create a Book" July 28–Aug. 1 at the Provincetown Art Association and Museum. Rosalind writes: "We invented this workshop 40 years ago and have been teaching it every summer. The workshop explores book design, poem making, letter design, mono-printing, and collage through a series of parallel visual and verbal activities, and participants discover their own unique imagery as they create a handmade book in the space of each page and the sequence of time. The workshop is about putting together the surprising and unexpected into a coherent whole. We continue to be inspired by Image-Making ourselves in our own professions, myself as poet, artist, and teacher, and Marcia as a writer, social worker, and therapist. This summer, Image-Making will be part of the 100th anniversary celebration of the Provincetown Art Association & Museum as a showplace for the oldest continuous art colony in America. For more information go to www.paam.org/summer2014."

Ronald Schnitzler writes: "After 35 years of college teaching as a professor of human behavior, I am finally enjoying visiting my wife's family in Germany and South Africa." Ronald lives in Longmeadow, Mass.

Art Solomon published Making It in the Minors: An Owner's Lessons in the Business of Baseball. He writes: "I'm very pleased with the early reviews; for example, the President of the Toronto Blue Jays, Paul Beeston, wrote, 'If you liked Moneyball, you'll like Art Solomon's book since it tells the equally interesting behind-the-scenes story of the other side, the business side.' It's available through Amazon or Barnes & Noble. All profits from book sales go to Minor League Baseball charities."

Jon Veeder writes that he doesn't have grandchildren yet and is enjoying retirement and spending time with friends while traveling, including Mark Foster and his wife. Jon has spent some time in Arizona.
From the May/June 2014 Issue
Ellen Shaffer Meyer published a novella, It's All About Kate: A Sketch About Retirement, the humorous tale of a frisky retiree, available in print or as an e-book at Amazon.com . She writes: "Spoiler alert: There are no vampires. I hope my classmates are also checking items off their bucket lists."
Edmund Schaffzin will celebrate 50 years as an attorney this year. He writes: "I enjoy the life I have made for myself. I am married with children—Tracy Schaffzin '86 and Nick (Stanford '90)— and six grandchildren. I had dinner with Arthur Anderson, my roommate at Brown, and Anthony Vaida."
Joe Steinfield's book, Claremont Boy: My New Hampshire Roots and the Gift of Memory, published by Bauhan Publishing, Peterborough, N.H., is a "partial memoir" containing essays Joe has published in the Monadnock Ledger-Transcript over the last several years. Emily Arnold McCully contributed a blurb for the back cover.
From the March/April 2014 Issue
Wilson Brown and Jennifer S. H. Brown '62 moved from Winnipeg, Manitoba, to Denver in 2011, after retiring from the Univ. of Winnipeg. Wilson writes: "Our son, Matthew H. Brown '86, and his wife, Elizabeth M. Montgomery '86, '87 MAT, live near us and enticed us to settle here. Our first post-retirement project was to complete work on a long-simmering manuscript on an intriguing figure in Jennifer's ancestry, Connecticut-born William Marsh. Marsh was an early settler of Vermont, became a colonel in the extra-legal Green Mountain Boys, and was key to the foundation of the state. He changed sides, however, and became an intelligence officer for the British. Colonel William Marsh, Vermont Patriot and Loyalist came out in late October and is available on Amazon. We published it ourselves (Tiger Rock Press), using CreateSpace. Col. Marsh was the fourth-great-grandfather of Jennifer's father, Harcourt Brown, who taught at Brown from 1937 to 1969. Here in Denver, we have met two other classmates, Joyce Goodfriend and Mark Foster, both professors of history."
B. Jane Parpart lives in Boston and teaches in a new PhD program on Global Governance and Human Security at UMass Boston. She writes: "I'm having fun with great students and faculty, as well as reconnecting with friends and family."
Edward Rotmer continues to manage real estate for Benny's Inc., a retail chain with stores in Rhode Island, Massachusetts, and Connecticut. Ed writes that he and his wife, Lorraine, spend part of each winter in Naples, Fla., and that they are traveling more each year. Their next trip will be a cruise on the Seine in September. In November they enjoyed the Brown/Penn football game and getting together with classmates after the game at Patty and Mel Blake's house.
From the January/February 2014 Issue
Barbara Cherrix O'Leary writes: "O'Leary Law Offices is still serving Rehoboth Beach, Delaware, clients, mainly in real estate matters. My husband, Jerry, is still trading in the stock market, buying and selling exchange-traded funds. Computers are everywhere as Rehoboth has upgraded Internet service."
Edmund Schaffzin will celebrate 50 years as an attorney this year. He writes: "I enjoy the life I have made for myself. I am married with children—Tracy Schaffzin '86 and Nick (Stanford '90)—and six grandchildren. I had dinner with Arthur Anderson, my roommate at Brown, and Anthony Vaida."
From the November/December 2013 Issue
Morey Filler writes: "My wife, Ellen, and I just returned from celebrating our 50th wedding anniversary by traveling for a month to Japan and Bali. Next destination… Who knows!"
Kent Gardner '62 MAT writes: "A sure sign of advanced age: my grandson was married in 2012. No great-grandchildren yet."
Richard Grant has a new address.
Beth Burwell Griffiths writes: "Ken Steinke and I took a slight detour en route from Florida to New Hampshire. We toured the U.S., taking the southern route west to visit his brother in the Phoenix area, then on to the West Coast and up to Victoria, Vancouver Island, B.C. We returned the northern route through Idaho, Montana, South Dakota, North Dakota, Minnesota, Illinois, Ohio, Michigan, and Ontario, Canada. A highlight was Yellowstone, which I'd had on my bucket list. We visited with Bob and Joyce Moore Arthur in La Crosse, Wisconsin, before completing our 9,000-mile sojourn. Ken and I had done a similar trip in 2010, taking the southern route west and returning through the Plains States, so we have now hit all of the lower 48."
Doug Hackett writes: "I was in Newport over graduation weekend and went up to Providence for the Commencement procession on Sunday morning, representing the class of '61—the only person from '61. I walked down the Hill in the large gap between the 50th and 55th reunion classes, and got a great reception from the crowd, usually along the lines of 'Are you the only one left?' I told them tongue-in-cheek that '61 was a very tough year."
Richard C. Leete has a new address.
David Meister writes: "This May, Joan and I visited grandkids in London before heading to St. Petersburg, Copenhagen, and Stockholm. Back in New York, I'm volunteering by giving tours at Mount Vernon Hotel Museum. I've had to become expert in 1820s and 1830s U.S. history, of which I knew virtually nothing beforehand."
George Nebel's second grandson graduated with honors from St. Joseph University in Philadelphia.
Pete Pearson writes that after completing one career as an officer in the U.S. Navy and a second as a business administrator, "I am now on my third career as president of a small nonprofit organization, Solar Lights for Africa, which installs solar panels and lights in rural African clinics, schools, orphanages, and huts. In addition to installing solar systems, we also take several 17-to-20-year-old students and pair them with African students in the same age range. Not only are the students learning about solar energy but they are also experiencing a dynamic cultural exchange. These exchanges continue long after the mission through social media, which is becoming more widespread in Africa. Look us up on the web at www.solarlightforafrica.org ."
Marge Gaysunas Pett writes: "Art and I headed off to Paris and the Dordogne area for three weeks in June and then to Lithuania for two weeks. I gave several workshops there related to healthy lifestyle issues for adolescents and young adults with intellectual disabilities. I continue to teach biostatistics at the Univ. of Utah to graduate students in the health sciences and probably will be there for at least another year. Jane Pett Semmel and I had the pleasure of going to a reading of Liz Diggs's latest play, Grant and Twain, at the Salt Lake Acting Co. The play is being considered for next year's production. Ironically, I taught Liz's daughter, Jenny MacKenzie '84, in her PhD program at the 'U.' Small world."
Joyce Reed '65 AM writes: "I am loving my work and still working full time … or, actually, more. When I 'retired' as associate dean of the college at Brown ten years ago, I created College Goals, LLC, a college admission and higher education consulting practice. We work with families all over the country and all over the world. As a dean at Brown, I was particularly interested in the challenges for international students, including American students who had lived extensively abroad. After working for a year or more, students from anywhere are ready to apply to colleges where they will thrive! Our fit and success rates are superb, and I love working with young people, helping them open doors and windows to their future possibilities. Andrea van Niekerk (former associate director of admission at Brown) has worked with College Goals for three years, and also Gail Lewis, the parent of two Brown grads. I am home-based in Hawaii and travel a lot…. My own five children are all over the map: Elizabeth Kartiganer (Asheville, N.C.), Ben Taylor '94 (Boulder, Colo.), Maria Taylor Fukuda '95 (Washington, D.C.), Rebecca Taylor (Boulder), Michael Reed (L.A. area), and my eight grandchildren are the greatest delight in my heart. I also travel to see client families and to give presentations about choosing an American university education. Life is VERY good!"
George Torre writes he spent last winter in Tucson reconnecting with high school chums. He and his wife continue to work with the American Macular Degeneration Foundation and enjoy spending time with their grandchildren. George walks and plays tennis to stay in shape.
From the May/June 2013 Issue
Richard B. Grant writes: "Jan and I moved and our keel is in different waters as we begin the final sail. This part of the trip through life should be less tasking. I keep busy working at the Crossways, rebuilding R.B Grant, skiing, and playing golf. I just joined the Wickford Art Assoc. and will be at some fairs."
From the March/April 2013 Issue
John K. Soest writes: "Still alive!"
From the November/December 2012 Issue
Art Anderson; Joyce Moore Arthur and her husband, Bob; Elizabeth Cochran de Lima; Beth Burwell Griffiths and Ken Steinke; Joe Hayden and his wife, Susan; Nanine Henderson; Rich Hendricks and his wife, Sande; Ellen Shaffer Mayer and her husband, Bob; Carole Vose Moreland and Jim Moreland; and Charlie Wilson and his wife, Dory, are heading to Italy and Switzerland. Several of the group plan to spend a few days in Rome before going on for a week to the bed and breakfast Tenuta San Carlo, located in a 1,000-acre private estate on the Mediterranean coast in an area called the Maremma. From there, they plan to take day trips around southern Tuscany, including Siena and Florence. Some of the group will go on to Switzerland, spending the next week in Lugano, Luzerne, and Zurich, while others will continue the adventure on their own. They hope to have a slide show with photos at a Homecoming event.
Lucia Elder Anderson has recently returned from a kayaking trip in South Carolina's Lowcountry. She writes: "Highly recommended for peace and tranquility. What a beautiful part of the country!"
Dave Babson writes: "After seven terms in the New Hampshire legislature I have decided I have had enough of political games and am not running again for my seat. However, I am running for county commissioner. I will be in a primary in September, and if I am the winner I will attempt to unseat the incumbent in November. The job pays a lot better but is also almost a full-time job since in our county we do not have a county administrator. Still making hay to feed my animals and sell to local folks. I recently heard from Jim Thompson. He had returned from a trip to Africa to look at animals. My friend Suzy and I joined Rod McGarry and his entire family for an under-the-stars (and buckets of rain) campout supper in Tamworth. Saw Charles Swartwood at our 55th Hebron reunion get-together in Marblehead, Mass. He looked great and can still outtalk most anybody. Life in New Hampshire continues to be fun, relaxing, and worth living."
Walt Brothers assumed his first elected political office in January as city council president. He writes: "We ran with seven other candidates on the Democratic Gantz ticket and won all contested seats. We are now very busy fulfilling our campaign promises!" Walt and Suzanne live in Marietta, Ohio.
Gail Smith Buckley writes that she enjoys traveling as much as possible and is working on "that bucket list." When home in Los Angeles, she volunteers two mornings a week as a tutor in an elementary school and mentors high school students.
Carl J. Cassel and Nancy Mitchell Cassel live in Orford, N.H.
Prentiss de Jesus lives in Arlington, Va. He writes: "I will be returning to my former interest in archaeology and will be spending six weeks in Turkey. I will visit a number of excavations and museums in an attempt to fill a 30-year absence with some hard work and study."
Irina Lynn Evans is planning to move into a house she is having built. She missed listing a grandchild, Matthew McCutcheon, in the reunion yearbook.
Morey Filler lives in San Francisco. He and his wife visited their son Scott Filler '91 who works for The Global Fund and lives with his family in Geneva. Morey is not ready to retire just yet.
Dona Acuff Fitzsimons retired last year after 20 years in real estate and finds herself over-committed but enjoying it. Her oldest grandson went to college this year. She writes: "Amazing when we still don't think of ourselves as old." She lives in Bodega Bay, Calif.
Mathew Frauwirth is educational coordinator for the Santa Fe Symphony Orchestra. He writes: "In 2010 I chaired a committee that produced a 30-minute DVD depicting the music and dance of 11 different ethnic groups that have settled in northern New Mexico during the past 800 years. The DVD, given free to 85 classrooms in the Santa Fe school district for use in third-grade music and social studies, has become part of the regular curriculum. Called We Are the Music, it was created to better acquaint students with the cultural heritage of their fellow students. It was given an Award of Excellence by the League of American Orchestras in 2011 and accepted as a resource by PBS for its new Digital Learning Library, making it available to schools nationwide. The performers and narrators in the DVD are all local students."
Doug Hackett writes: "I very much enjoyed our 50th reunion, especially the walk down College Hill. Thanks to those whose hard work made it all possible. Last fall I participated in a unique trip to Israel. I was part of a joint interfaith tour group from my Lutheran church and our sister congregation, a conservative Jewish synagogue. We spent two weeks in Israel: seven days in Jerusalem, four days in the Galilee area, and three days in the Negev. At each site, the rabbi would explain the history of the site with respect to Jewish tradition, and the pastor would explain it with respect to Christian tradition. There were many 'I didn't know that' moments for everyone. It was an outstanding trip."
Nan Henderson writes: "I am so happy to report that my son Thayne and his wife, Beth, had a beautiful son, Kai Malcolm, on Nov. 25, 2011. He is my first grandchild, and it is even more wonderful than anyone has told me." Nan lives in Floyds Knob, Ind.
Thomas W. Henderson has a new email address.
Gerry Heutz writes: "Judy and I are expecting our seventh grandchild. So far there are five boys and one girl. All three daughters are doing well, and their families are active and healthy. Judy and I usually spend March and April in The Villages in Florida."
John Knubel writes: "I was class of '61 at Brown, then left for the Naval Academy after my frosh year. It was a better fit, and since then I spent 10 years in submarines, then in banking and national government. Does anyone know contact info for Jim Satterfield, my roommate? I'm also anxious to reconnect with Joe Cerutti, John Hoover, and others. So now I'm all blue and gold with a Brown background!"
Walt McCarthy writes: "We go to Scotland each year for a few weeks. This year's trip will be even more fun than usual because we will visit my granddaughter, Julia, who is a first-year student at St. Andrews Univ. We will spend a few days with her before going on with our trip." Walt lives in Lone Lake, Minn.
Juliana Thatcher Plummer lives in Montpelier, Vt.
Steven H. Sewall writes: "Sue and I enjoyed a wonderful journey to Australia and New Zealand for six weeks last winter. This spring, we biked over the mountains and through the gorges of Crete. We are both working but having fun too, and we are very grateful for our good health." Steve lives in Lincoln, Mass.
Lynne Alderson Smith has a new email address.
Arthur Solomon writes: "Since my three children share my passion for baseball, they recently acquired the New Britain (Conn.) Rock Cats, the AA affiliate of the Minnesota Twins. Now we have three affiliated minor league teams in the family.
Also, I recently collaborated with college fraternity brother Allyn Freeman to write a book about my experiences as a team owner. It's called Making It in the Minors: A Team Owner's Lessons in the Business of Baseball." The book will be available from McFarland Publishers this fall.
Harold Stanford has a new address.
Alan Tapper writes: "I just graduated from a post-baccalaureate graduate program in fine arts from the Maryland Institute College of Art. I was at least 40 years older than the next oldest of the over 100 other graduate students. But I had the same dreams about not finding my classrooms that I had at Brown 50 years ago." Alan lives in Baltimore.
Patricia Pinney Walker lives in Spotsylvania, Va.
From the May/June 2012 Issue
John Escher has completed his Sport, Fiction, and Insane War trilogy, which can be obtained through the Kindle Store at Amazon. Recently, John spoke about the three books at Macomb Community College in Clinton Township, Mich., and also on the John Prost television show from the War Memorial in Grosse Pointe. Most of the discussion focused on The Last Words of Richard Holbrooke. The Purse Maker's Clasp is a love novel, and A New Year's Serve: Personalized Tennis Stroke Design was favorably reviewed.
From the March/April 2012 Issue
Carolyn Vose Moreland writes: "After a fabulous 50th reunion, we spent three additional days in Newport, R.I., with Pat and Joe Ondrick. We ended our stay with a great seafood dinner with Lois and Phil Schuyler, Sandy Mason, and Roger Barnett. Then on June 7 we welcomed our fourth grandchild, Liam Vose Keys, while in Dallas. Seventeen days later, we celebrated our 50th wedding anniversary with all of our family at a resort in Albany, New York."
From the July/August 2011 Issue
George Nebel has been retired for 10 years. He is living in central New Jersey. He has two sons; one in Pennsylvania who is married with two sons, and one in Georgia, married with a son and a daughter.
From the May/June 2011 Issue

[50th]
Richard Considine writes: "After eight great years living in Ireland, Marcia and I are moving back to New Hampshire. This was not an easy choice, but the economy in Ireland helped us decide it was time to move nearer to our sons and grandchildren. We will rent out our cottage on Galway Bay as a holiday home again, which will allow us to use the cottage ourselves a couple of times per year. Marcia says that whenever we get a house the way we want it, we choose to move somewhere else! Our things are in complete disarray, but we look forward to the 50th (if we can find the forms to send in) and will see you all there if I can find some clothes to wear!"
Bill Engeman (Albin Moser '67).
From the March/April 2011 Issue
Alice Guillemette Bransfield and Deck Bransfield hosted a mini-reunion for area classmates in their Herndon, Va., home on Oct. 10. Heather Strachan Foley and her husband, Tom Foley, former speaker of the House of Representatives, did a presentation on the politics and the responsibilities of the speaker's position. Heather was his chief of staff for many years. At the end of their presentation, Heather and Tom took questions from the audience. Attending were: Joan Pinkerton Filson, Doug Hackett, Nancy Anderson Johnson, Peter Keller, Helen Fish Marek, Bob McCormick, Pam Kendrick O'Connor, Carol Lynch Pflug, and Marcia Fortune Zwicker.
John Escher attended the 50th anniversary of his eight-oared crew, the Orphans of the Seekonk. He writes: "The 300 Brown oarsmen and oarswomen began to cheer and clap and shout for us... Maybe the ovation happened because we 70-year-olds made it back to the dock. And still were friends after 50 years. And made it to the reunion."
From the January/February 2011 Issue
Raymond J. Barry was awarded the Gasparilla International Film Festival's Lifetime Achievement Award and the 2010 Pasadena Action on Film Festival's Stanley Kramer Legend Award for Excellence in Film. He has a recurring role on FX's Justified, and is filming River of Sorrow in Spokane, Wash.
Alice Guillemette Bransfield and Deck Bransfield hosted a mini-reunion for area classmates in their Herndon, Va., home on Oct. 10. Heather Strachan Foley and her husband, Tom Foley, former speaker of the House of Representatives, did a presentation on the politics and the responsibilities of the speaker's position. Heather was his chief of staff for many years. At the end of their presentation, Heather and Tom took questions from the audience. Attending were: Nancy Anderson Johnson, Joan Pinkerton Filson, Marcia Fortune Zwicker, Doug Hackett, Peter Keller, Pam Kendrick O'Connor, Helen Fish Marek, Bob McCormick, and Carol Lynch Pflug.
Forrest Broman spearheaded the creation of a new school program for 80 children living in a tent camp in Port au Prince, Haiti, last February. Organizing financial support and student sponsorships from 35 international schools around the world and several educational agencies, Broman and his team have raised more than $250,000 for the Children of Haiti Project (COHP). The educational program opened May 1 and recently reopened after summer break with all 80 students, 5 to 10 years of age, returning. COHP is still seeking sponsors of students and donors, and the program can be visited at childrenofhaitiproject.org.
Ann Matteodo Dupre writes that she has been compelled by the increasing demands of career, research, and family to remain "ever true" to the exploration of trail riding, swimming, and music activities, not necessarily in that order. She is also still involved with the 50th Yearbook Committee, which she finds tremendously exciting.
Heather Strachan Foley writes: "Retirement is a lot of work. Lots of e-mail. Still lots of correspondence. And watching and investing in the stock market really keeps me busy. I also decided to go green this year. So besides a Prius we now have solar panels on the roof and geothermal heating and cooling. Makes a difference in the electric bills. I guess you could say this has been a year of frugality."
Robert Kaplan is semi-retired but still practicing law at a reduced level. He is enjoying southern Oregon, the Rogue Valley, the Oregon Shakespeare Festival, and locally produced wine.
Janet Woodley Koch writes: "I have been very lucky to visit with Mary Wahl Kupferschmid over the summer and to attend a mini-reunion at Ellie Shaffer Meyer's house. My roommate, Joy Brown Goethert, and I enjoyed Ellie's and her husband, Bob's, hospitality at a very delicious brunch. We will all be attending our 50th reunion and look forward to seeing many of our classmates."
A mini mini-reunion took place in Wilmington, Del. on Sunday, October 3 at the home of Ellen Shaffer Meyer and her husband, Bob. Joy Brown Goethert visited from Pittsburgh, and Janet Woodley Koch drove up from Rehoboth Beach, Del. The conversation was engaging, from reminiscences about growing up to talk of current activities, kids, and grandkids. Ellie writes: "It was wonderful seeing Joy, whom I hadn't seen since the 25th reunion, and Janet, who was last at my house when Jane Pett Semmel visited from Utah three years ago. On to the big Five-Oh!"
From the July/August 2010 Issue
Douglas Hackett visits his children and grandchildren in Ariz., Colo., and New Zealand. He and his former roommate Eldon Hiebert enjoy sailing the Chesapeake. Eldon has sold his house and car and lives fulltime on his boat, sailing south in the winter and north in the summer.
Henry Hood received a Chamber of Commerce Community Service Award in absentia in January. At the time he was helping earthquake victims in Haiti with the International Medical Corps.
From the May/June 2010 Issue
Elkan Abramowitz actively practices law at the firm he founded with his partner, Bob Morvillo, now a 61-lawyer litigation boutique in New York City. He and his wife, writer Susan Isaac, live on Long Island not far from their son, Andy Abramowtiz '92, and his wife, Leslie Stern '93, and their two children. Susan and Elkan's daughter, Elizabeth, is getting her PhD in philosophy at the Univ. of Maryland along with her husband, Vincent Picciuto. They have two children.
Eugene Bouley '63 MAT and his wife, Terry, will celebrate their 50th wedding anniversary in 2010. They continue to volunteer maintaining hiking trails in Fla. in the winter and N.H. in the summer, and spend a lot of time hiking during the year. Eugene writes: "Retirement is great."
Forrest Broman published an autobiography entitled Memories of West Bridgewater: Growing Up in a Small Town. He hosted a reunion of old friends in September on Cape Cod. Eighty guests from 12 countries and 15 states attended, including Rodger Hurley, Nick Willard, and Ed Garno '59.
Robert Carney is active with Vacations To Go, a leading online travel company he cofounded 25 years ago after leaving the airline business. He met up with Matt Frauwirth, who lives in Santa Fe, N. Mex., where Robert also has a house.
Robert I. Finkel is enjoying retirement. Currently, he is occupied with reading, computer work, photography, and fitness, as well as daily lunch at his club.
Douglas M. Hackett visits his children and grandchildren in Ariz., Colo., and New Zealand. He and his former roommate Eldon Hiebert enjoy sailing the Chesapeake. Eldon has sold his house and car and lives full-time on his boat, sailing south in the winter and north in the summer.
Nanine Henderson has been a family practice physician in Louisville, Ky. since 1984. She has two sons; one is a European studies/international business relations major living in Louisville, and the other is a computer science major living in Chicago.
Robert Moir and his wife, Margaret, have completed their move from N.J. to Brewster, Mass., on Cape Cod. In June, Robert will be off to Northern Ireland to study efforts at bringing about rapprochement between Catholic and Protestant communities in that part of the world.
Carole Vose Moreland and her husband, James, had lunch with Jane Ufford Bartlett and Beth Burwell Griffiths in Tampa. They were also in Providence visiting Lois and Phil Schuyler for the Brown-Princeton game.
Carole Gannon Potter '62 MAT has retired from teaching and has moved.
Robert W. Schmid writes that his fourth son, Jeremy, "finally got married at 40." Robert is looking forward to the 50th reunion and encourages everyone to get involved and sign up when the time comes. He also created a new e-mail address after finally getting rid of his dialup Internet system.
Anne Jacobson Schutte was honored with a Festschrift edited by her first doctoral student and a longtime friend. It is entitled Ritratti: La dimensione individuale nella storia (secoli XV-XX). Studi in onore di Anne Jacobson Schutte.
Steven Sewall is working full-time at Orthopedic Associates of Marlboro (Mass.), which he joined in 1972. He is still playing the violin in the Lincoln-Sudbury Civic Orchestra. Last winter, he and his wife, Sue, had planned to travel to India from Chicago, but due to weather uncertainties, arrived at Chicago a day early, where they had dinner with Paul Balter and his wife. They never got to India; instead, Steven spent a week in a Chicago hospital as he had a gastrointestinal bleed from taking daily dosages of baby aspirin. During the spring, they spent a week in Amsterdam and biked for a week with friends in Alsace and the Black Forest of Germany. Steven looks forward to the 50th reunion.
Lynn Alderson Smith graduated from Western Reserve Medical School in 1966; joined the United States Navy for two years; spent 40 years in family practice and obstetrics; and was appointed County Coroner in 2000. She stopped private practice as of July 2009 and is now a full-time coroner.
From the March/April 2010 Issue
Beth Burwell Griffiths retired as advertising manager for the Dartmouth Alumni Magazine. She is enjoying winters in Florida and summers at her home on Lake Mascoma in Enfield, N.H.
Steve Parker (see Sarah Shrager '00).
From the January/February 2010 Issue
Phil Askenase writes he is nearing retirement as chief of allergy and clinical immunology at Yale Medical School, but another NIH research grant, compliments of the Obama stimulus plan, is prolonging things a bit. He and his wife, Marjorie, visit their daughter and their two grandchildren in Northern California as well as their other daughter, who is a midwife in southern California. Phil often sees classmates Allyn Freeman and Wendy Friedman Brest.
Walt Brothers writes: "After 15 years in retirement, I have noticed a change in my wardrobe. Wingtip shoes and suits have largely vanished. Sports clothes and shoes have taken their place. My brief case gathers dust in a closet, but my horse tack and golf gear are well polished with use. The golden years indeed!"
Rick Considine and Marcia continue to enjoy their Irish cottage on Galway Bay. Rick still has memories of the visit to Co. Clare, Ireland, with 14 class members and their mates last fall. He writes: "They were a great group, full of life, flexible, and ready for anything. We had a blast and certainly did not act our ages. We look forward to the 50th reunion, God willing, and wish you all a good year in spite of the economy."
David Curry is entering his 12th year of retirement and still finds it the best phase of life. He writes: "Time is available to learn Italian, to put it to use while visiting Italy, and to write stories of my family history for my children and grandchildren." David and Donna will celebrate their 25th wedding anniversary soon. They spend winters in California and the rest of the year in Iowa.
Siddy Smith Fox still lives with her son Doug Parr '86, daughter-in-law Auna, and grandchildren Rowena, 6, and Andy, 5, in Grayslake, Ill. They enjoy a restored prairie community with a lake and an organic farm. Siddy's son Jaimie; daughter-in-law Dawn; and grandchildren Greta, 9, and Jack and Harry, 5, live in Pittsburgh. Siddy writes: "I attended my private girl's high school 50th reunion two years ago and loved it. The average divorces were 2.1, mental illness more than 67 percent, and delightful reminiscing 100 percent. Apparently, I wasn't so strange back then, just ahead of my time, as my mother never suggested that a proper woman's role was caring for husband and house. Having loved two continuing college summer programs at Brown immensely, I look forward to our 50th with high expectations."
Meg Greer, while in her final semester at Yale Divinity School, was diagnosed with metastatic colon cancer. She scheduled a colon resection for spring break, and in spite of a minor stroke following the hospitalization, she managed to return to classes and finished her MAR degree in May 2003. She served as Elder delegate from the Presbytery of Southern New England assigned to the Peace Committee at the meeting of the General Assembly. After a two-year remission, she has a new outbreak of the disease, but she writes, "I am determined to beat it again!"
Doug Hackett spent the Christmas 2008 holiday in New Zealand with his daughter Kyle Hackett Smith '93. He went skiing in Alaska in March 2009 with his ski club and stayed an extra week with a hometown, Boy Scout, and navy buddy, John Stabb '66. They explored the Valdez area and enjoyed the salmon, halibut, and snow crab. While Doug was in Alaska, he saw a blizzard, 70 inches of snow in seven days, two avalanches, and a volcanic eruption.
John Hoover attended 12 hours of a lecture series at the National Institute of Mental Health, Bethesda, Md., and concluded nine years of service on the Citizens Advisory Council of the Norfolk, Va., City Jail. He also completed the Dismal Swamp Half Marathon in Chesapeake, Va. in April as the oldest male runner. (He finished 550 out of 868 finishers.)
Jane Christie Kraft and her husband, Cris, are (mostly) retired. Jane leads two support groups for women with cancer, one in English and one in Spanish. Jane is also taking botanical drawing and painting and assembled a calendar of her colored drawings for her family and a few friends. Jane and Cris will visit Rosy von Elling Bolaria on Hornby Island in British Columbia again this summer.
Jack Resnik writes that he has a daughter gainfully employed as a high school band teacher in Rochester, N.H., which gives him an excuse to visit Providence.
Pete M. Watts, after retiring from Bank of America in 2004, moved to the St. Petersburg, Fla., area. He acquired a Ranger 26 sailboat (built in 1974), which he has been sailing and racing in Tampa Bay and the Gulf of Mexico with much fun and some success. He writes that his four children and six grandchildren are spread out around the country, giving him a good excuse for some great trips.
Martin Wenick and his wife, Alice Tetelman, still operate Italian Vacation Villas, which specializes in weekly rentals of properties in Italy. Business gets them to Italy at least once a year. Other recent travels have taken them to Tanzania, Botswana, Panama, and Costa Rica. Morocco is next on the agenda.
From the July/August 2009 Issue
Bruce Bates and his wife, Ellen, spent May cruising the Baltic as guests of an Italian sailing club. They write that they had a great time visiting Copenhagen, Denmark; Kiel, Germany; Visby and Stockholm, Sweden; Tallinn, Estonia; Helsinki, Finland; and St. Petersburg, Russia. Last summer their son, Bruce '99, daughter-in-law, and granddaughter, Zoe, joined them on their boat on Narragansett Bay and Block Island Sound.
Alice Guillemette Bransfield writes that the committee organizing the 50th reunion book discussion, "Brown '61 Reads," requests classmates to submit title suggestions that would interest both men and women. Please e-mail book suggestions to Alice. If interested in helping to screen titles, please send her your name and e-mail address.
Morey Filler writes that he is no longer in obstetrics. Married for 45 years with five grandchildren, Morey just returned from Papua New Guinea.
Doug Hackett took a trip to Alaska in March with his ski club, enduring a blizzard, two avalanches, and a volcano eruption. He also visited with John Stabb '66 in Anchorage. They hiked some of the Iditarod Trail in the snow, took the auto ferry to Valdez, saw eagles and moose, and ate lots of snow crab, salmon, and halibut.
Doug Riggs was elected president of the board of Redwood Library and Athenaeum in Newport. He is still at the Providence Journal as both books and travel editor.
From the March/April 2009 Issue
Despite being retired, Mary Fryer Doerfer and her husband, John, worked at HCJB Global Mission Hospital in Shell, Ecuador, during the winter months. She continues to volunteer teaching reading to children. She has 14 grandchildren.
Peter Esser works in nuclear medicine and participated in an archeological tour of Israel with his wife, Jean. Their son, Jeffrey '92, and his wife, Mary, are parents of Alexander, 2, and Benjamin, who's not quite a year old.
I. Lynn Evans is a software implementer working with large companies in the United States, Canada, and England. The proud grandmother of eight, she writes that she would love to hear from Bates House housemates, as well as others with whom she has lost touch.
Mathew Frauwirth has been a volunteer for seven years with the Santa Fe Symphony Orchestra Guild, creating and administering music outreach projects for the local public and Pueblo schools. His latest project is a DVD of the music and dance of the many cultural groups who have settled in Santa Fe during the past 800 years. The DVD will be given free to the school system to be used as part of the music curriculum.
Peter Knopp writes lyrics for musicals and does some freelance legal writing. He and his wife will celebrate their 37th wedding anniversary in June, along with their daughter's wedding.Sara-Jane Kornblith (see Kevin Epstein '92).
Ronald Schnitzler writes that, after retiring last June, he enjoys the life of a professor emeritus. He is expecting his third grandchild, and he and his wife, Ute, are planning a trip to South America and the Galapagos Islands. After teaching Darwinism for many years, he is looking forward to the trip.
Ann Durno Shafer had a piece of her weaving accepted in an international weaving show. She does case management part-time with elderly clients, so she can spend time weaving.
Art Solomon has purchased two minor league baseball teams over the last five years; the New Hampshire Fisher Cats, affiliated with the Toronto Blue Jays, and the Bowling Green (Kentucky) Hot Rods, affiliated with the Tampa Bay Rays. He writes: "Class of 1961 classmates and families are welcome guests if you enjoy our national pastime."
Barbara Bordieri Spiezio teaches second grade at Green Acres School in Rockville, Md. She has been teaching for 30 years. She and her husband, Nick '63, have six grandchildren who live close by. They travel to Rhode Island several times a year to visit their house in Narragansett and have connected with old friends from Brown every summer for 45 years.
From the January/December 2009 Issue
Joyce Moore Arthur writes, "Many thanks to Beth Burwell Griffiths for a well-planned class trip to Ireland and to Rick Considine for sharing his adopted homeland.
Norbert Fleisig had a mini-reunion in Mount Pleasant, S.C., with Plantations House friends Dave Connell and his wife, Joanne Rabold '64; Tom Generous '63 and his wife, Diane; and Peter Papadopoulos '62. He writes: "Any and all alumni who happen to pass through the area are welcome to stop in and visit."
Doug Hackett writes: "This has been an eventful year for me. I fell while skiing in France last January and tore my right rotator cuff. Extensive therapy has helped a lot, and I can play golf again. In August I participated in the Brown Travelers Celtic Islands, History, and Culture trip, which started in Edinburgh, Scotland, then went on to the Orkneys; the Isles of Mull and Iona; Wales; Dublin; Cork, Ireland; Dartmouth, England; and St. Malo and Normandy, France. The cruise was outstanding! If all Brown Travelers trips are as good as this one, I recommend them highly. In September I was one of the 15 members of the our class who toured western Ireland, where our classmate Rick Considine has lived for the past five years. It was a marvelous trip."
Walt McCarthy and his wife, Clara, write that they have made their annual trip to Scotland with a week on Isaly. In September they were in London and Paris for a week each.
Ellen Shaffer Meyer reports that 15 classmates made the class trip to western Ireland in September. All loved the gatherings at Rick Considine's Irish cottage overlooking Galway Bay, as well as the bountiful breakfasts in Ballyvaughan.
Edward Rotmer closed his Rhode Island office product business in 1991 after 30 years and now works for Benny's Inc., managing its real estate department and serving as a human resources officer. He and his wife recently celebrated their 27th anniversary and spend part of each winter in Naples, Fla. He enjoys spending time with his granddaughters and keeping in touch with Barbara and Joel Baumgarten '59 and golfing in his spare time.
From the November/December 2008 Issue
Madesta Brady Stevens is vice president of the Brown Club of the Treasure Coast, which serves alumni from Melbourne to Stuart, Fla. The kickoff to the club's third season will be a gourmet barbeque at Marsh Island in Vero Beach on November 22. Entertainment will be provided by Atlantic Bluegrass as the sun sets over the Indian River Lagoon.
William C. Worthington Jr. is a docent at the Computer History Museum in Mountain View, Calif. He writes: "We've just opened a new Charles Babbage Difference Engine No.2 exhibit until May 2009. If you come to see it, ask for me, I may have docent duties that day."
From the July/August 2008 Issue
Herbert E. Henion Jr. writes: "Moved back to San Antonio, Tex. Update on grandchildren: Julia and I have six: Dylan, 7; Herb IV, 6; Ethan, 4; Christopher, 2; Alexander, 2; Emma, 6 months. I can't seem to retire. I have been working as a telephone interpreter in Spanish for Pacific Interpreters Inc. of Portland, Ore., since 2001."
From the May/June 2008 Issue
Forrest Broman just completed his first autobiographical book covering his years in high school. He says he has had good reviews from Nick Willard and Rodger Hurley.
Walter Brothers writes: "I have added golf to my activities. I returned to my younger days this summer and surfed off the Outer Banks. It's not Hawaii, but still fun. It's hard to believe that we graduated almost 50 years ago. However, it's my father's face I see in the mirror each morning—not mine of 1961."
Prentiss de Jesus writes: "I recently retired after two careers. I was an archaeologist for 15 years, then got hungry and worked in the field of international development in Washington, D.C. My wife, Corinne, is French, and consequently we travel to France often. I recently passed my amateur radio operator's license test and am currently putting my equipment together with the expectation of communicating worldwide. I am also a bike rider, having gotten into the habit after biking to work for 20 years. My son graduated in 2007 from Brown and stayed one more year to get his master's in geology."
Richard B. Grant received the Save the Bay's Lifetime Environmental Achievement Award for the 31 years he led Rhode Island's Narrow River Preservation Association in as a board member and president.
Doug Hackett writes: "I went skiing at Vail, Colo., and Bormio, Italy, and have played a lot of golf. I went sailing twice on the Chesapeake with former roommate Eldon Hiebert on his 36-foot two-masted wooden sailboat (a beauty!). I recently played father-of-the-bride at the wedding of my daughter Nancy Hackett Harrison '86, which was attended by my other daughter, Kyle Hackett Smith '93. It was a great time and a mini-reunion."
Walter McCarthy writes: "Although I am retired, I am still involved in a number of nonprofits – either on their board or serving on committees to help raise money. I also have five granddaughters whom I enjoy being with. Clara and I go to Scotland every year for a few weeks and always spend the last week on Islay, one of the Hebrides. We also go to the Boundary Waters Canal area in Minnesota for a week each year. So far, health is good, as is life."
Robert B. McCormick writes: "My son, Braydon, and his wife, Heather (Colby '94), have adopted twins from Haiti. Now three, they are a handful. I have just completed a two-week motorcycle trip through Norway. The whole place is like a national park. I retired from Lehman Brothers after 28 years on November 30, 2007, and became a mediator and arbitrator here in the 9th Judicial District of Georgia."
David Milton writes: "Traveling about in either our RV in this great country or renting in foreign countries has been a wonderful experience. We've been to Australia and New Zealand, but the best was a 3500-mile trip through South Africa. People, animals (especially leopards and elephants), and scenery—an amazing and exciting land voyage that my wife, Linda, and I will always remember."
Dick Nurse writes: "After three exciting years as executive director of the Crossroads Theatre in New Brunswick, N.J., I have gone into a second retirement. Crossroads was founded in 1978 as a cutting-edge African-American theatre. In 2000, it won a Tony as the Best Regional Theatre in America. In October 2000, it went dark under the weight of a two-million-dollar debt. With the help of friends, like Chuck Royce, and a whole lot of negotiations, we managed to erase the debt and put Crossroads back on its feet. I felt comfortable in turning over the reins this past October. On another note, my daughter, Allison Nurse '88, was married to Martin Hofer at Riverside Church in New York City on June 30, 2007."
Dexter Pond writes: "I retired from the Worcester Envelope Co. (Auburn, Mass.) several years ago and remained chairman of the board. My wife, Sue, and I celebrated our 46th wedding anniversary this year. We have three children: a son, Eldon, who is now president of the Worcester Envelope Co., and two daughters, Grace '86 and Suzanne '86. We also have four granddaughters. I am enjoying gardening, home maintenance projects, and collecting early American antiques."
Chelsey Carrier Remington and David Remington (see Laura Gardner Remington '94).
Jack Resnik writes: "I attempted and failed retirement 101. I tried part-time work, which has one thing in common with tumors: it grows! I am back to full-time, which also helps with my daughter's graduate school bills."
Charles Rood writes: "In the summer of 2007, we took our annual summer cruise on our boat and this year took our boat across Long Island Sound, down the East River, around New York City and up the Hudson River to Troy, N.Y. We then went through the Erie Canal and north up the Oswego Canal to Oswego, N.Y. After crossing Lake Ontario, we traversed the Trent Severn Waterway to Georgia Bay. After a week in the Thirty Thousand Islands we retraced our journey. Over the two-month trip we traversed about 1200 miles and 162 locks."
Richard F. Santopietro '64 ScM writes: "After a 35-year career in engineering, I've embarked on a new career as a holistic psychotherapist and have a practice in North Kingstown, R.I."
Judy Caldwell Sechrest writes: "I moved to Amherst, Mass., this spring and plan to attend classes at the university. My son, David, is now a teacher at Salem (Mass.) State College."
Nicholas Willard writes: "We now have two grandchildren, as well as two daughters in different colleges. My wife is still working hard, and I started a business six years ago with my neighbor that we are currently expanding. Retirement is nowhere in sight. Still playing tennis three times a week to stay in reasonable shape, and reveling in the success of Boston's sports teams."
William C. Worthington writes: "Since retiring in 2004, I have volunteered at the Computer History Museum in Mountain View, Calif. In addition to being a docent, leading tours of a subset of the artifacts, I am part of a team bringing the third computer back to life—it's a 1960s-generation IBM 1401. Come see it in operation."
From the January / February 2008 Issue
Melinda Levine de Lisle (see Craig Pohlman '89).
Douglas Hackett, Ken Johnson, and Eldon Hiebert, three Brown NROTC classmates, got together in early October for a reunion afloat on Eldon's 36-foot wooden-hull two-masted schooner for a day of sailing on the Chesapeake. Douglas writes: "There was great weather, some fine beer, and a good time catching up on our lives since Brown and our experiences in the U.S. Navy. (Ken and Eldon were in submarines, and I was in naval intelligence.)"
Robert W. Schmid writes: "I just attended my 50th high school reunion. It was great fun. Looking forward to our 50th. Save the date. The more the merrier."
From the November / December 2007 Issue
Raymond George was elected president of the American Association of Orthodontists. He is an orthodontist practicing in East Providence and South Attleboro, Mass.
Linda Costigan Lederman was named dean of the Division of Social Sciences in Arizona State Univ.'s College of Liberal Arts and Sciences. In addition to administrative duties, Linda will continue her research in health communication with an emphasis on alcohol use, abuse, and addiction.
Knowlton J. O'Reilly (see Amy O'Reilly Rizzi '95).
From the July / August 2007 Issue
Edward Abbot (see Laurie Golnick Guzzinati '95).
William Biers (see Eric Dobson '87).
Jack D'Entremont writes: "I retired in 2001 from Texas Instruments after thirty-seven years of product design and business development assignments in engineering and marketing management. Barbara and I then traveled extensively with cruises to the Baltic, the Mediterranean, the Black Sea, Australia, New Zealand, South America, and Antarctica. We also had great trips with the Brown Travelers Group to Egypt and China. We decided to slow down this year and have purchased a new home in Sun City Center outside of Tampa, Fla., which is actually on Golden Pond. We plan to spend six months there and six months in Mass., where we have five grandchildren."
R. Bruce Montgomery (see Fraser Lang '67).
From the May / June 2007 Issue
George V. Bates (see Johanna Bates '97).
William R. Biers (see Danielle Parks '88).
Nestor Nicholas retired in January as co-managing partner of Nixon Peabody LLP after a thirty-seven-year tenure at the firm. Nestor, a syndication and tax lawyer, decided to join the client side as he became general counsel of Boston Capital, a private equity firm and a long-time client of Nixon Peabody on February 1, 2007.
Frances Heckert Pane writes: "On January 19, 2007, I married Joel M. Kauffman in Wayne, Pa. I have been very fortunate in my lifetime to have loved and been loved by two brilliant husbands. Michael was a leader in the field of N.J. local government law and wrote the West Practice Series volumes on the subject. Joel is a retired chemistry professor, author of many articles and the recent book Malignant Medical Myths. When we are not reading, writing, or attending conferences on medical subjects, we have three grandchildren to add excitement to our lives."
From the March / April 2007 Issue
Forrest Broman is serving on the board of a new international school in Saudi Arabia. Founded by his highness Prince Saud, this is the very first international school with an IB curriculum to be provided for Saudi students in the kingdom. Most of the 245 registered students are "royal family." A network of international schools throughout Saudi Arabia is in the planning stage.
From the January / February 2007 Issue
Roland Marsh writes: "Brown University was one of my most memorable educational experiences—particularly my fraternity brothers of Alpha Delta Phi. After Brown I saw Jim Gordon, Dick Faux '59, Bob Sterling '56, and Finn Caspersen '63 in New York City. I saw Jim in California afterward also. I went to Columbia Business School, USC Cinema School, and am now looking for a publisher of my book The Good Life and a second book on Romanticism."
From the September / October 2006 Issue
Raymond George Sr., an orthodontist practicing in East Providence, R.I., and South Attleboro, Mass., has been elected secretary- treasurer of the American Asso­ciation of Orthodontists, the oldest and largest dental specialty organization in the world.
From the May / June 2006 Issue
Reunion '06 weekend is almost here—May 26– 28. Return to campus to renew ties with old friends. Start with Campus Dance and finish the weekend by passing once again through the Van Wickle Gates. Visit the reunion Web site for complete details: http://alumni. brown.edu/news_events/reunions.
A 1961 mini-reunion was given by Alice Guillemette Bransfield and Deck Bransfield in Herndon, Va., on Oct. 30. The following class members and spouses attended: Jane Ufford Bartlett, Prentiss de Jesus, Joan Pinkerton Filson, Heather Strachan Foley, Beth Burwell Griffiths, Doug Hackett, Nancy Anderson Johnson and Charles Johnson, Peter Keller, Marcia Fortune Zwicker and Gary Zwicker. Nick Andrus '60 also came.
From the March / April 2005 Issue
Charles M. Royce and his partners, including Finn M. W. Caspersen '63, are preparing for the Memorial Day weekend opening of the remainder of their golf course, Shelter Harbor Golf Club, in Westerly, R.I. The course is noteworthy for conservationism; the founders secured a permanent easement prohibiting residential development on the site and built the course to preserve open space and water quality, vegetation, and a friendly environment for wildlife. A Brown trustee, Charles is the president of Royce Mutual Funds in New York City.
From the September / October 2004 Issue
Class secretary Elizabeth Tillinghast Nadeau reports that illustrator and author Emily Arnold McCully has four new children's books coming out this fall and winter. "Her fondest is Squirrel and John Muir, which is set in Yosemite," Elizabeth writes.
"David L. Babson is running for his sixth term in the New Hampshire House, where he has served as vice chairman of the environment and agriculture committee for the last two terms. It has given him an opportunity to meet people across the country who share his passion for agriculture.
"Roger Widmann, an investment banker on Wall Street, gets his greatest satisfaction as senior moderator of the Aspen Institute seminar in the humanities.
"Forrest A. Broman is still running the International Educator newspaper and Web site, tieonline.com, which serve 50,000 teachers and administrators in 800 schools around the world. He also manages the Principals' Training Center for International School Leadership, which trains more than 1,500 school leaders annually.
"James D. Burke has retired after twenty years as director and CEO of the St. Louis Art Museum."
After fourteen years as an associate dean of the College at Brown, Joyce Reed '65 AM has moved back to Hawaii, where she lived during the 1970s and '80s. She reports that she loves living in paradise, experiencing the aloha spirit and the sense of ohana (family/community). She is doing private college admissions consulting and counseling for students and families from around the country and Europe via technology, travel, and her Web site: www.collegegoals.com. Joyce writes that her five children, including Ben Taylor '94 and Maria Taylor Fukuda '95, are looking forward to a family reunion this Christmas on Hapuna Beach.
From the July / August 2004 Issue
Richard Benjamin of Rehoboth, Mass., will have a book of Rhode Island photos published by Commonwealth Editions in September.
From the May / June 2004 Issue
Class secretary Elizabeth Tillinghast Nadeau writes that for the past five years Gail Smith Buckley has volunteered eight weeks a year at the Second Mesa Day School on the Hopi reservation. Elizabeth also writes: "Ann Griswold has just completed her master's in creative writing at Middlesex University in London. Judith Mederos Barrington is a trustee for Maine Preservation, the only statewide preservation group. She is also involved in Main Street USA, part of the National Trust for Historic Preservation's work to revitalize older downtown districts. William R. Biers, professor emeritus of art history and archaeology at the University of Missouri, taught as a sabbatical replacement in the Center for Old World Art and Archaeology at Brown.
"There have been a number of publications by the classmates. Nancy Sherer Kapstein wrote a guidebook, Belgium Inside Out: What to See & What to Do. She is revising an earlier publication, The Hints Book: Living and Working in Belgium. Paul Magnuson's latest book, Coleridge's Poetry and Prose, was edited with Nicholas Haimi and Raimonda Modiano. Elizabeth Diggs reports that her new play, Money in the Family, had a reading in Los Angeles. It was directed by John Rubenstein and attended by Will Mackenzie '60 and his wife, Patricia.
"David Groh reports that he has just completed playing the title role in an independent film, Guy on the Couch. He is also appearing in the award-winning play Blackout.
"Doug Abbott has kept in touch with Al Benford, who is retired from a career in education. In 2003, Al was given the Social Action Leadership Award in the U.S. by the Unitarian Universalist Association. Doug writes, 'Al has a social conscience and a commitment to human rights. I admire what he is doing in his retirement years.'"
Douglas M. Hackett writes: "I was in Utah skiing at Snowbird and Alta when I stopped in at the convenience store at the base of the resort and glanced at the book rack. Prominently displayed was The First Snow by Emily Arnold McCully. It was appropriate given the five feet of snow outside, and gratifying to see that Brown is represented in a literary sense in this canyon in Utah. My next ski trip with my ski club is to Cortina, Italy. I wonder what Brown-authored books I will find there."
David Connell (see Kristen Connell '93).
Ann Matteodo Dupre (see Nancy Schuleen Helle '55).
Howard Whitcomb (see Karen Grace '94).
From the March / April 2004 Issue
Peter Esser writes: "I continue to work at Columbia University Presbyterian Hospital in nuclear medicine and PET imaging. My second granddaughter was born in 2003."
Jonathan and Nancy Sherer Kapstein report that they sat next to Burg Le Monte '63 at the American Belgian Association's Thanksgiving dinner in Antwerp on Nov. 27: "Burg carved the turkey and did a fine job."
From the January / February 2004 Issue
Edward A. Abbot Jr. writes: "I'm still active on local school boards. My seventh grandchild is on the way. Elderly mothers, my wife's and mine, plus families, keep us busy. I still do alumni interviews and local high school visits for Brown."
Roger Barnett writes: "We are proud to announce the Aug. 6 birth of our granddaughter Miriam Margalit Akawie. Her parents are Eric and Julie Barnett Akawie '88."
Linda Costigan Lederman, professor of communication at Rutgers and director of its Center for Communication Health Issues, has a joint appointment with its Center of Alcohol Studies. She is examining the role of communication in drinking and drug use among college students and is a principal investigator on a $5 million National Institute on Drug Abuse grant to the center. Linda received the Rutgers College Class of 1962 Presidential Public Service Award in recognition of her work on programs to decrease high-risk behaviors among Rutgers students.
Ellen Shaffer Meyer writes: "Matthew Meyer '94 (see "Stepping Up," The Classes, November/December 2001) received the Samuel S. Beard Award for the greatest public service by an individual under 35 at ceremonies at the Kennedy Center on June 18, 2003. This award is given annually by the Institute for Public Service. Prior recipients include Sally Ride, Lance Armstrong, and Wendy Kopp, founder of Teach for America. Matthew received the award for a sandals business he created to help residents of a Kenyan ghetto."
Trisha Conner Sandberg directed Beneath the Banyan Tree, by Randall D. Cook, at the Abingdon Theatre on 42nd Street in New York City. The play is a dramatization of folk tales from India. Trisha also directed the musical Cut the Ribbons at the John Drew Theatre in East Hampton, N.Y.
From the November / December 2003 Issue
Ann Griswold writes: "I would love to hear from any classmates, especially Meg Greer Nosenzo and Nancy Mitchell Cassel. I have lived in London since 1965. I am working part-time at a community center and earning an M.A. in creative writing."
From the March / April 2003 Issue
Prentiss de Jesus writes: "I have been living a modest life in Arlington, Va., and am now looking at semiretirement. My wife, Corinne, a French national, and I go to France regularly. My work in international development has been interesting and sometimes rewarding, but this may be the right time for me to consider some other activities."
Chelsey Carrier Remington and David Remington (see Laura Gardner '94).
From the May / June 2002 Issue
Roger and Sandy Mason Barnett (see Julie Barnett Akawie '88).
David Connell (see Torri Connell Horovitz '90).
Ronald D. Spencer has joined Carter, Ledyard & Milburn as counsel. He has been legal counsel to several art authentication boards over the years. As a leading authority on art authentication law, he has published numerous articles and has lectured frequently on the subject.
From the September / October 2000 Issue
William G. Shade '62 M.A.T. retired as professor of history at Lehigh University. A political and social historian of 19th-century America, he has written widely on the subject, publishing more than thirty scholarly articles and several books, including The Democratization of the Old Dominion: The Second Party System in Virginia, which won the Avery O. Craven Prize of the Organization of American Historians. At Lehigh, Shade received the 1988 Eleanor and Joseph B. Libsch Research Award and served as director of American studies and codirector of the Lawrence Henry Gipson Institute for 18th-Century Studies.
Steven Sewall (see Kimberly Sewall Sachs '90).
From the May / June 2000 Issue
Elkan Abramowitz (see Jeff Anderson '84).
Janet Melei Cuca (see Yvette Cuca '92).
Nancy Anderson Johnson reports two milestone events for her family in 1999. Her son, Eric, married Karen Guillemin on Aug. 21 in Half Moon Bay, Calif. Eric and Karen are post-doctoral genetics researchers at Stanford. Her daughter, Kristen, gave birth to Alana Ceylon Westwood in Oxford, England, on Nov. 29. Nancy and her husband, Charles, were in England for the birth. Nancy has retired from her job as managing editor for the Foreign Service Journal. Her son, David, is studying for a Ph.D. in computer science at the University of Utah.
Jim Shircliff, of Lynchburg, Va., received the inaugural centurion award from the Greater Lynchburg Chamber of Commerce for his role in inspiring the growth, development, and success of small businesses in the area. He is the former owner of WRVX radio.
From the March / April 2000 Issue
Carol Platzker Gleklen (see Meredith Chimerine Camp '92).
From the November / December 1999 Issue
Lewis L. Gould, of Austin, Tex., coauthored American Passages: A History of the United States (Harcourt, 1999) and Lady Bird Johnson: Our Environmental First Lady (University Press of Kansas, 1999). The latter was published this fall as the first volume in the Modern First Ladies series, of which he is the editor.
Frank Resnek (see Lisa Resnek '92).
From the May / June 1999 Issue
Jack Resnik writes: "After having had to take one too many ulcer pills over 'managed' care, I decided to retire from clinical medicine. I will remain in the Finger Lakes region of New York with my wife, Shirley, and our 12-year-old daughter, Edie." They would love to hear from friends and classmates.
Richard S. Sharf is in his twenty-ninth year at the University of Delaware's Center for Counseling and Student Development, where he is a senior psychologist and internship program coordinator. He has recently written three college textbooks published by Brooks/Cole-Wadsworth. He is completing the second editions of Theories of Psychotherapy and Counseling: Concepts and Cases and a student workbook to go with the text. The second edition of his book Applying Career Development Theory to Counseling is used on many college campuses.
From the March / April 1999 Issue
Ed Abbot, Sidney, N.Y., retired last June of teaching social studies after thirty-two years at Sidney High School. He is enjoying the freedom to visit his three grandchildren more frequently. This fall he volunteered for the Brown Admissions Office in southern New York, visiting several regional high schools, and he continues to interview students for the Brown Alumni Schools Committee during the fall and winter months. Ed writes: "I have no specific plans - just enjoying living the flexible life without buzzers or bells running the day." His wife, Maureen, continues to substitute teach in the Sidney school system.
From the January / February 1999 Issue
Grace Smith, Summit, N.J., is a database administrator for MetLife. Her son, Carson Block (University of Southern California '98), is living in China. Daniel Wayne (see Halley Wayne Lavenstein '92).
From the September / October 1998 Issue
Roger Barnett and Sandy Mason Barnett (see Nicole Ullrich 90). Doug Hackett marched in this year's Commencement procession down College Hill to help celebrate his daughter's 5th reunion. "The class of '61 was in the procession - all one of me. Rather a strange sensation to be the only person in your class marching. Anyhow, I had fun doing it."
Paul Magnuson has published Reading Public Romanticism (Princeton University Press). Paul is a professor of English at New York University and is the author of Coleridge's Nightmare Poetry and Coleridge and Wordsworth: A Lyrical Dialogue.
Chelsey Carrier Remington began her two-year term as national chair of the Brown Annual Fund on July 1. Vice chair of the executive committee for the past three years, she has been a member of the Brown Alumni Association Board of Governors, and was part of the alumni leadership for her class's 25th, 30th, and 35th reunions. She has received three awards for service to the University: the Outstanding Service Award (1987), the Alumni Service Award (1991), and the H. Anthony Ittleson Award for outstanding service to the Brown Annual Fund (1998). An overseer, patron, and special event chair at the Museum of Fine Arts in Boston, Chelsey is a board member at Concord Family Service and a corporator and trustee emeritus of the Fruitlands Museum in Harvard, Mass.
Bill Shade '62 M.A.T. received the 1998 Avery O. Craven Award from the Organization of American Historians for his book Democratizing the Old Dominion: Virginia and the Second Party System, 1824-1861. This is the ninth book Bill has written or edited, and it will be the subject of a panel at the Social Science History Association's annual meeting in November. Bill is a history professor and director of American studies at Lehigh University.
Amy Lautman Ullrich (see Nicole Ullrich 90).
From the May / June 1998 Issue
Carole Gannon Potter '62 M.A.T. recently attended her high school reunion, where she saw Barbara Bordieri Spiezio and her husband, Nick '63, as well as JudyDarling Grimes and her husband, Bill '59. Carole's daughter, Sara Caitlin Potter, will graduate from Brown in May. Her son, Christian, received a master's in environmental law fromGeorge WashingtonUniversity. Carole has three grandsons, William, 6, Matthew, 4, and Dillon, 2. She is head teacher at New Discoveries, the preschool at Our Lady of Mercy School in East Greenwich,R.I.
Alan Tapper (see Lisa Lebow Kaufman '88).
From the May / June 1998 Issue
Carole Gannon Potter '62 M.A.T. recently attended her high school reunion, where she saw Barbara Bordieri Spiezio and her husband, Nick '63, as well as JudyDarling Grimes and her husband, Bill '59. Carole's daughter, Sara Caitlin Potter, will graduate from Brown in May. Her son, Christian, received a master's in environmental law fromGeorge WashingtonUniversity. Carole has three grandsons, William, 6, Matthew, 4, and Dillon, 2. She is head teacher at New Discoveries, the preschool at Our Lady of Mercy School in East Greenwich,R.I.
Alan Tapper (see Lisa Lebow Kaufman '88).
From the March / April 1998 Issue
Peter Amram and Ellen DeNooyer '77 announce the birth of their daughter, Allegra Amram DeNooyer, on Sept. 25. Ellen is taking time off from her duties as an architect at Wallace, Floyd Associates, an architecture and planning firm in Boston. After thirty years of teaching Latin and Greek in various New England private schools, Peter is devoting himself to several writing projects and to his new daughter, although not in that order.
Sharon Danhof Carpenter writes: "My husband, Noble, and I are leading a wonderful retirement life with winters in Canton, Ohio, and summers at Wallon Lake in northern Michigan. We've enjoyed several overseas assignments for the International Executive Service Corps. My youngest daughter, Ellen D'Atri (Amherst '93), was married this fall to Emmanuel Gonzalez, and they're living in Cebu City, Philippines."
Don E. Hamilton is happily retired in Laguna Beach, Calif. His son, Scott, has opened the James Coleman Art Gallery in Aspen, Colo.
Rod McGarry moved to Chicago to start a new business and has had to resign the class presidency. Vice president Dick Nurse is the new president, and Bob Lowe will fill in as vice president. Ray Barry appeared in his own play in New York City. Charles Royce was featured in an article in the New York Times Money and Business section on Nov. 19. The eldest of Bob Gorman's four daughters was married on Labor Day. Allyn Freeman, who submitted this note, has coauthored a new business book, Why Didn't I Think of That?, with Bob Golden '85. Myrna Danenberg Felder has appeared on Court TV as a guest commentator.
Steven Sewall (see Kimberly Sewall Sachs '90).