When students returned from winter break, the biggest news on College Hill was that Brown police were now carrying guns. On January 11, President Ruth Simmons announced by e-mail that the Department of Public Safety, after two years of preparation, was now cleared to arm campus police officers.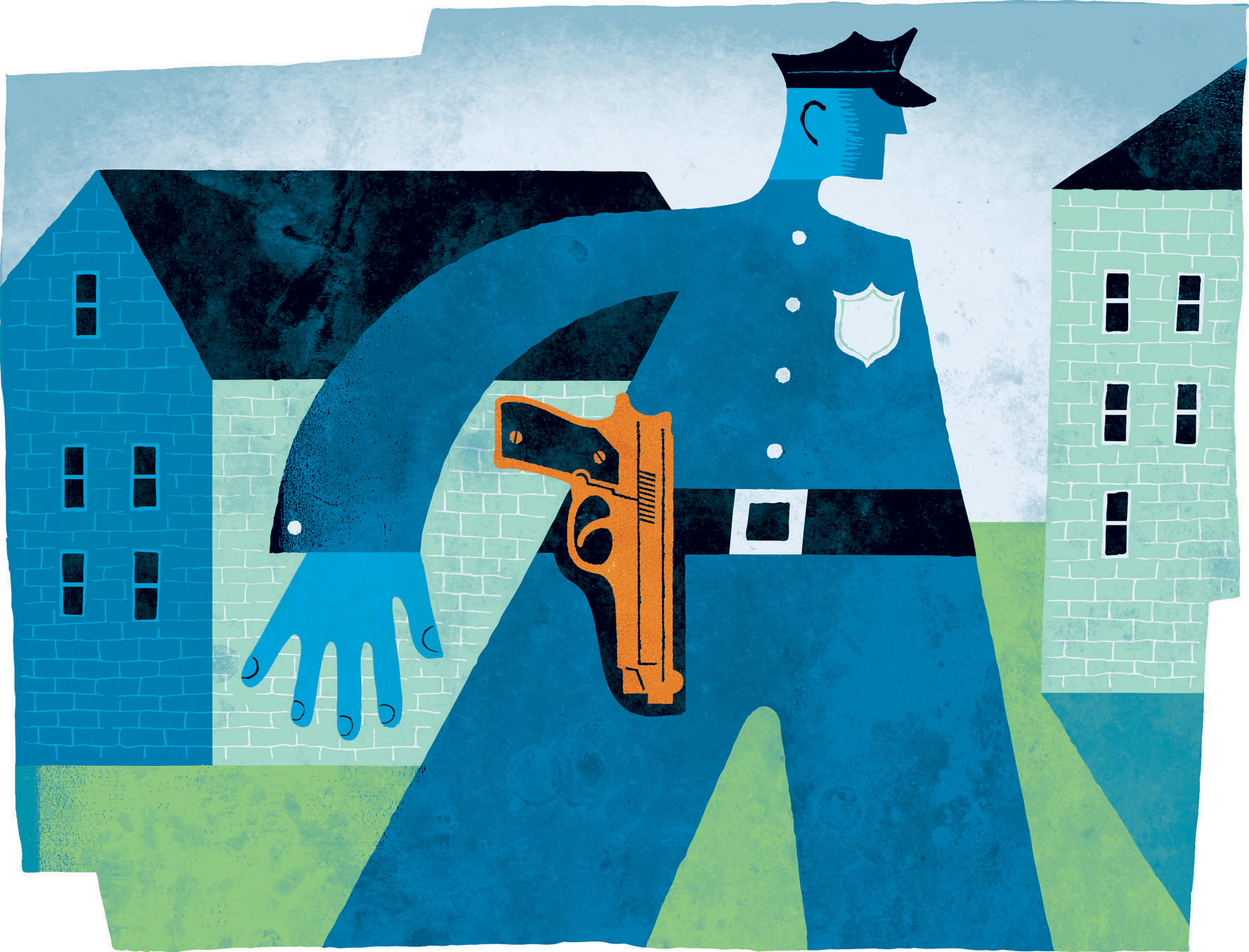 The change affected Brown's thirty-three police-academy graduates, who are licensed to enforce Rhode Island laws. It does not affect the University's eighteen security officers or the various outside security details that Brown has been hiring to provide additional street patrols. Both groups remain unarmed.
Brown police officers have long argued in favor of the change. Yet police Chief Mark Porter says that when he told his staff of the new policy on January 11, you could have heard a pin drop. "It's an enormous responsibility," he says. "There was no high-five hand slapping." Still, Porter says, his officers are "relieved that they can now perform all the functions of their job."
Until now, Brown police have followed a policy of disengagement—that is, when faced with a potentially violent situation or a fleeing suspect, they have had to stop pursuit and call Providence Police. The effect of this policy was dramatized last November, when a gun was fired near Keeney Quad and Brown police could not intervene ("One Really Bad Weekend," Under the Elms, January/February). That event, Porter says, "opened some eyes."
Even though the debate over the merits of arming campus police goes back four or five University administrations, student response to the change was subdued. On February 2, the Brown Daily Herald released the results of a quick poll that found 60 percent of students supporting Simmons's decision; only 30 percent disapproved.
One reason for the lack of controversy may be that the president had carefully prepared the campus for the inevitable. She had stated her plan in December 2003, in response to recommendations made by security consultant William Bratton, who now heads the Los Angeles Police Department. ("Searching for Answers," Under the Elms, July/August, 2002).
In 2003 Simmons presented the arming as just one of the Bratton recommendations she was approving. Brown, for example, has adopted a community-policing model and has donated space for a police substation on Brook Street. "Community policing has resulted in a stronger relationship between students and public safety," says Walter Hunter, who as vice president for administration oversees campus safety. Policing a college campus, he points out, is not like policing a city. "The mission is to protect our community, not to regulate it. To do this job, you have to like young people and want to serve them. You have to appreciate them—not just accept them."
Brown has also increased the size of campus police and security forces over the past two years, and has hired outside security guards to increase vigilance on the streets. The University has also paid Providence police to add patrols of the neighborhoods near campus.
All Brown police officers have undergone FBI checks, psychological testing, and an additional 160 hours of training in anticipation of being armed. That training, Hunter says, comes on top of 600 hours of municipal police-academy training, and has included such issues as racial profiling and diffusing tense situations. Eighteen of Brown's thirty-three officers carried weapons in previous jobs, and even the rank-and-file officers have an average of ten years' experience. "It's a pretty seasoned group," Hunter says.
Hunter observes that serious crime on campus is down about 40 percent from three years ago. "We still have people lifting laptops," he admits. But to protect the campus, he says, "We needed to end disengagement. I don't expect our officers to use guns. But I do expect them to engage."