While he was filming training videos for a health clinic in the Democratic Republic of Congo in 2002, Bent-Jorgen Perlmutt '01 noticed something disturbing. Every day, the doctors there performed four or five fistula operations—a procedure to repair a tear in the flesh separating the bladder and rectum from the vagina.
The cause was rape—of an especially violent kind. Marauding soldiers vying for control of the eastern Congo were going into villages, rounding up women, and in addition to raping them, often leaving them permanently debilitated by shoving objects such as sticks or guns into their vaginas. It was part of a campaign of terror against the local residents.
In 2004 Perlmutt returned to the nonprofit clinic, HEAL Africa, to film a documentary about the rape survivors undergoing fistula operations there and their struggle to live a normal life. He calls it an "all-Brown effort" because his fellow producers, directors, and editors were Lynn True '99, Nelson Walker III '00, and Louis Abelman '02. Even the sound editor was an alumnus—Paul Bercovitch '02. They hadn't all known each other in college, but through friends of friends they wound up working together. Lumo, as the documentary is called, has won numerous awards and has been shown at the Human Rights Watch International Film Festival in both London and New York City. It aired on PBS's P.O.V. on September 18.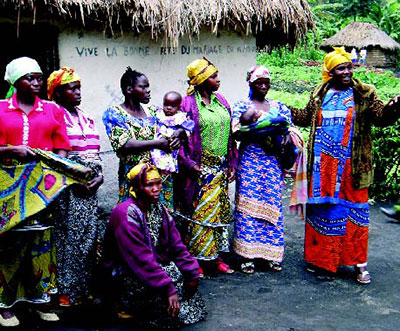 The film gets its title from the name of the twenty-three-year-old woman who serves as its focus. Like many other victims of Congolese violence, Lumo was permanently marred as a rape victim. Her torn fistula left her incontinent. Her fiancé abandoned her. Her village shunned her. "These are all women who are on the lowest of the low rungs of society," says Perlmutt. "It's a highly male-dominated society. Men can get away with abusing, even raping, their wives."
At HEAL Africa, Lumo entered a community of several hundred similarly afflicted women who were also undergoing fistula operations. The women became a powerful support network, as they shared accounts of their trauma and provided comfort when, as sometimes happens, the surgical procedure fails. Lumo herself undergoes five operations. "I was amazed at the sense of safety that was created among all these women," Perlmutt says.
When the film crew first arrived at the clinic, the producers distributed cameras to some of the women so they would grow used to having the devices around them. "Lumo sort of stood out among the others because she was really eager to let us tell her story," Perlmutt recalls.
Abelman, who had roomed with Perlmutt during a semester abroad in Argentina, says he often felt overwhelmed by the suffering he witnessed. "You'd just see convoy after convoy arriving full of women who'd been raped," he says. "We took refuge in this idea that we were making this film. That helps you displace your feelings. We focused on what we could do productively."
The film ends with Lumo, her fistula at last repaired, returning to her village. Perlmutt says she was initially welcomed back, and her former fiancé even agreed to marry her. But two months later rebels stormed the village and killed him. Then Lumo's fistula ruptured again, and she had to return to the health clinic.
In July, Lumo called Perlmutt and told him her surgery had been a success. "She had made a lot of progress and was very optimistic," says Perlmutt. He says she looked forward to leaving the clinic and once again trying to make a life for herself in her village.
Lawrence Goodman is the BAM's senior writer.