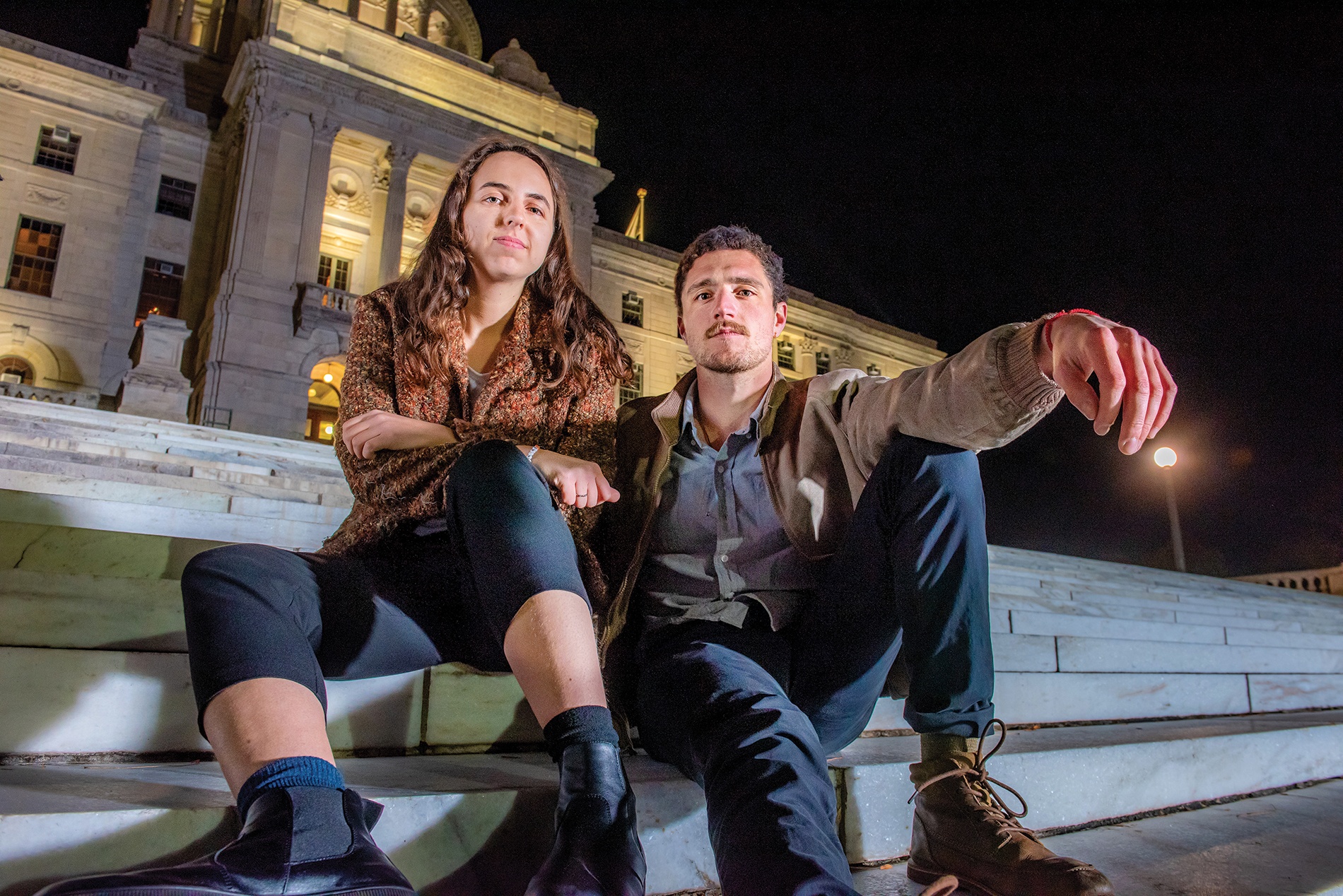 Politics & Law
From Scholarship to Shelter
Student research bolstered legislation to stop housing discrimination in R.I.
January 3rd, 2020
In a campus-wide email blast she read the night before her first day of college, Amelia Anthony '22 saw an advertisement for a DISP, a Department Independent Study
Project, on housing policy. Anthony knew a little about homelessness, having just finished reading Evicted by Matthew Desmond—that year's selection for Brown's First Readings
program, in which all incoming first-year students are encouraged to read and discuss the same book. It made her want to learn more. "After reading that book, I was like, gosh, here is a chance to study something we had just learned. I thought that was a really cool opportunity…. I went on the first day and it was super interesting, and that's how I found out about a lot of what I do at Brown now."
That DISP, called Mapping Providence, was launched by Oscar d'Angeac '17 and Jennah Gosciak '19, who teamed up with other Brown students involved with housing advocacy work and a pair of professors in the Urban Studies Department. Their idea: to partner with community organizations in order to take on data-intensive research projects on housing throughout Providence. They figured only a couple of students would come to the first class, but 40 showed up. The class became an official course this year, Housing Justice, in the Urban Studies Department.
"Brown has so much to offer local organizations," says d'Angeac, who was an urban studies concentrator and is one of the founders of Signs of Providence, a media collective confronting Providence's housing crisis. "For a lot of Brown students I think the [awareness of] need is there, but the actual way to go about creating meaningful change or to relate your learning to the community around you wasn't necessarily there, hence the really strong interest in the class from the very beginning."
Providence as Classroom
The inspiration for the course came out of community interviews that Gosciak and d'Angeac were doing for Signs of Providence. Leaders of organizations like Direct Action for Rights and Equality (DARE), the Center for Justice, and HousingWorks RI were saying that their legislative efforts were stymied by a lack of time and resources to do longer-term research projects on specific focus areas in Providence housing.
"But we are students and we do have the time," says Gosciak. "We thought it would be a really valuable experience as a student to do original community-based research like that."
Gosciak and d'Angeac reached out to the Urban Studies department and its community partners throughout the summer of 2018, compiling questions the partners wanted answered. Adjunct professor Marijoan Bull agreed to help teach the course and visiting lecturer Yesim Sungu-Eryilmaz signed on as an adviser. Their hope was to help community partners with their political advocacy efforts, harnessing the interdisciplinary knowledge and research skills that Brown students could offer in the service of a community based goal.
"We like to think of the model as one of the community, as a partner, teaching the students, leading the students," says Bull, who teaches another Brown course on housing in America. The course drew students from across the University, bringing diverse sets of knowledge to the table, from computer science students skilled in parsing through data sets to students with direct experience in homelessness through organizations like Housing Opportunities for People Everywhere (HOPE), a Brown student organization that serves the homeless population in Providence. "We had so many different kinds of knowledge and curiosity and skill sets that students were answering each other's questions and teaching each other," says d'Angeac.
REAL Political impact
Students were organized into five research projects, each proposed by a community partner in Providence. After some initial class-wide readings on homelessness in Rhode Island and the United States, students broke into research teams. Some students worked on evaluating data on evictions or the criminalization of homelessness, while others focused on understanding who owns Providence, or what the source-of-income discrimination looks like in the state. Each project was presented with community partners in the spring at an event on Brown's campus.
The research from the source-of-income discrimination project went into a larger study in partnership with SouthCoast Fair Housing, a housing advocacy group in Rhode Island. That work eventually became part of a legislative push in the State House to make it illegal in Rhode Island, as it is in most other New England states, to discriminate in housing rentals on the basis of source of income, such as refusing to rent to tenants who rely on public benefits or setting rents artificially high to keep out tenants who are on public assistance. "It helps our organization to tackle an issue in a way that we otherwise don't have the capacity to do," says Kristina da Fonseca, the executive director of SouthCoast Fair Housing. "The work that they did resulted in data that went directly into the report that we released. It helped to really quantify the extent of the problem we were trying to address with the bill."
Students involved in the research project were able to present their work at the State House in front of state-wide press and legislators. While the bill did not pass during the 2019 legislative session, advocates are aiming to push the bill again in 2020. Other research projects that the original DISP pursued have continued into the 2019 fall semester and could impact legislative efforts during the spring of 2020.
"I really like the course because it requires us to become a part of the greater Providence community," saysAnthony, who is involved with an evictions research project that could impact 2020 legislative efforts. "This class and HOPE kinda started me on what I see as my life's work, which is a dumb and cheesy sentiment, but true."