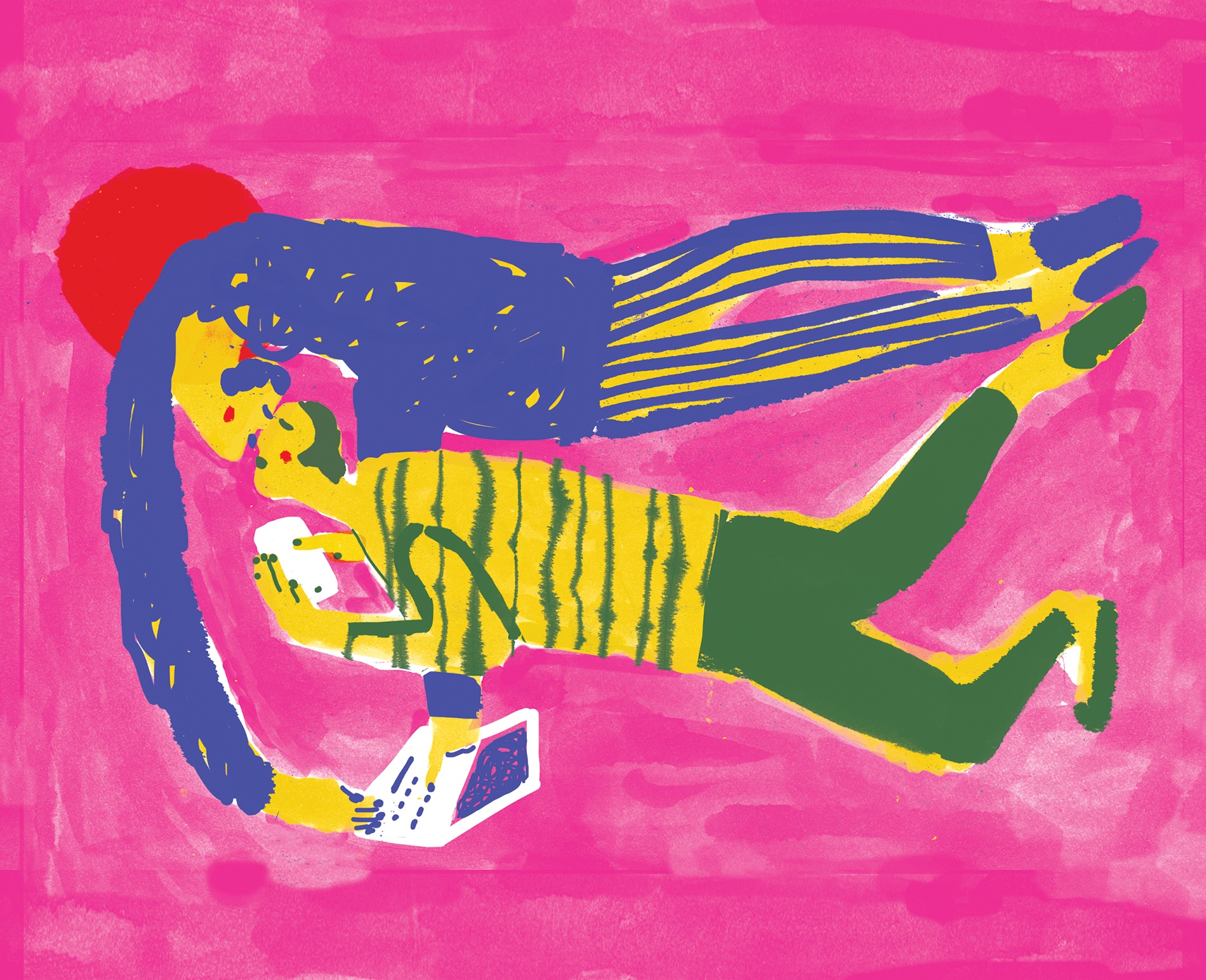 Humanities & Culture
Love, Actually
A lit class examines love and desire through academic, intellectual, and deeply personal lenses.
October 28th, 2020
Something different
Public storytelling figures prominently in Colarusso's course, including all the vulnerabilities and neuroses that surround sharing painful parts of our lives with strangers. Each session began with one or two students sharing a love story with the class.
"People ended up sharing really intimate details about their lives," says Dorit Rein '18, who took the first iteration of Colarusso's course in 2015. "It accelerated the relationship-building process because we got so vulnerable with each other."
In the 2020 edition of the course, one story in particular stood out to Tesler. A student Facetimed her ex-boyfriend and put him on the big projector in front of the entire class. The ex answered her questions, and the class's questions, about how their relationship had morphed and evolved, from romance, to long-distance, to friendship, and how they were able to stay in each other's lives. Once COVID-19 began to spread across the country in March, classes moved online and topics of discussion in class shifted away from the abstract and towards the reality of how dating, love, and relationships have been changed by the pandemic.
Students say that Colarusso served not just as their professor, but also their companion in the group's exploration of love. "I think sometimes professors and teachers distinguish themselves from students; they'll facilitate conversation but they won't engage," says Rein. "But Professor Colarusso will share stories of his own and I felt like we were on equal ground. The relationships we were able to build with him were slightly different from relationships I've had with other professors at Brown."
"In this class, we were all sitting at a big circular table, and [Colarusso] was right there with us," says Tesler. "He wanted to center the class around our stories. He was instrumental in pushing us and creating a cohesive environment, but I think the best thing he did was giving us a space to share, and creating that space with us and for us. He could have gotten in front of the class and told us what love was, but I think he wanted us to figure that out for ourselves with his help."
"As a teacher, I feel it is my duty to inspire more generative thinking around these subjects, not necessarily to think what I'm thinking, but to get my students to come to a more grounded place in their own thinking," says Colarusso. "What is actually healthy in a loving relationship?"
One grounding idea he hopes students walk away with is the importance of and need for genuine and loving relationships in their lives, and the need to break free from relating to each other via technology, including social media platforms. "We need that awkward tangible connection with others," Colarusso insists. "Relationships can't just be mediated by algorithms."
W
hen Professor Andrew Colarusso '13 MFA began to refine the syllabus for the third iteration of LITR 1230: Why Don't We Fall In Love, the words of another Brown alum, Emma Watson '14, came to mind.
"She makes the assertion that she is happily self-partnered," says Colarusso, a professor in the Literary Arts department, referring to what Watson infamously told British Vogue in 2019. "I thought, what does that mean for a generation of people who are so used to social media and technology that the idea of partnership or dealing with other human beings becomes untenable?"
The idea of self-partnership became the cornerstone of Colarusso's 2020 coursework for Why Don't We Fall in Love, which has evolved over the years as Colarusso's own thoughts on love and desire have changed. Heavily inspired by Audre Lorde's essay Uses of the Erotic: The Erotic as Power, Colarusso's course seeks to help students better understand their own experiences with love through reading literature, watching movies, listening to songs, and engaging with relationships and love in their own lives. Why Don't We Fall in Love was the first course Colarusso ever taught at Brown, after finishing his MFA in 2013.
The course features interactive exercises that are meant to break students out of the shells created by social media and technology and help them embrace new aspects of love, by fostering a shared and "conjunctive" relationship amongst members of the class, Colarusso says.
The psychologically oriented exercises are paired with more standard academic coursework, such as reading novels like Death in Venice by the German writer Thomas Mann, plus scientific studies that show the power of neurotransmitters in forming relationships. One detailed pair-bond formation in male prairie voles, while another looked at the role of plasma oxytocin in social skill development in children with and without autism.
The class also analyzes films, such as the classic French film Children of Paradise and, in past versions of the course, the sci-fi thriller Ex Machina.
"As soon as I felt his energy, I knew I wanted to take the class," says Lucas Tesler '20, who took the course this past spring. "For people to be that vulnerable, and for Professor Colarusso to foster such a vulnerable environment, that was something that I had never experienced before."