"How the hell did 'do-gooder' become a pejorative?" That's what Ben Goldhirsh wants to know. That's also the perception he wants to change by promoting a virtue-is-hip sensibility.
Goldhirsh's tools are movies and magazines, and he has the money to use them. Dressed in rumpled khakis and a T-shirt, he oversees Reason Films and a newly launched magazine, Good, from a funky two-story building overlooking Sunset Boulevard. His office is littered with half-finished bowls of Cheerios, cups of day-old coffee, a can of Red Bull, and one white sock. The start-up employs a dozen or so twentysomething staffers and is financed by a trust fund established by Goldhirsh's father, Bernie Goldhirsh, the founder of Inc. magazine. (Bernie Goldhirsh sold that magazine for $200 million just before he died in 2003.)
While Daryl, the dog Goldhirsh adopted from a pound, busies himself with a chew toy on the floor, his owner says the relaxed atmosphere encouraged by his "invisible" management style belies high expectations. "I would expect myself to succeed if I started with nothing. Given that I'm starting with so much, I damned well better succeed now. We've really bitten off a lot."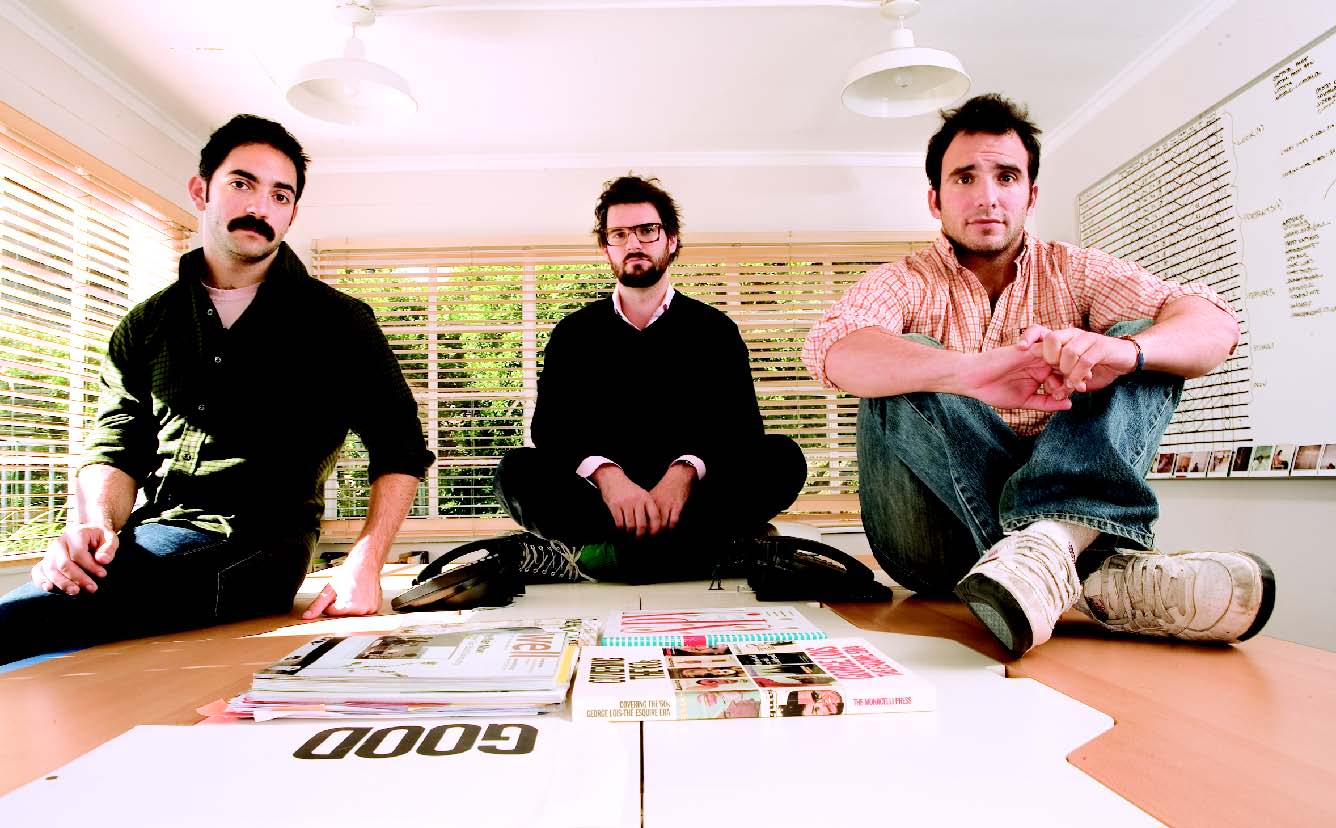 Indeed. Current projects under way at Reason Films include Which Way Home, about three Mexican kids traveling across the border to the United States, as well as a documentary about Greenpeace founder Paul Watson and a profile of Illinois senator Barack Obama, which Goldhirsh is coproducing with actor Edward Norton. First out of the gate, though, is The World 2006, a soccer documentary by Michael Apted (Gorillas in the Mist, Coal Miner's Daughter). It's now playing the film festival circuit.
Shot on location in Iran, Senegal, South Africa, Argentina, China, the United Kingdom, and Germany, the movie was inspired by a paper Goldhirsh wrote at Brown, which argued that soccer's nearly universal appeal is a metaphor for what he calls "common denominators of values across broad geopolitical spectrums." "I thought soccer is so visceral and has so many fans that the subject matter would work as a film rather than just as political theory," he says.
Goldhirsh moved west to make movies but dropped out of the University of Southern California's graduate film production program after just one semester. "I decided there was a more efficient path," he says. Still, movies take a long time to gestate, and Goldhirsh decided to expand media platforms by launching a magazine targeted to professionals between the ages of twenty-one and thirty-five. "Technology used to be for nerds," he notes. "What Wired magazine did for technology, we want to do for [doing] good. We want to really cover the sensibility, blow it up, give it some teeth, give it some angle."
Goldhirsh called on his former Brown roommate Casey Caplowe '03 to serve as Good's creative director and recruited Zack Frechette '04, a former editor of the Brown Daily Herald, to manage the magazine, which made its debut last fall. The second issue features a cover story on NPR humorist John Hodgman. To lure subscribers, Goldhirsh is donating all subscription fees to one of the dozen nonprofits collaborating with the magazine.
"In Hollywood," Goldhirsh says, "so much energy is spent watching your back because of the short-money hustle. Everyone's so hungry for that next deal." With $2.5 million already invested in Good and another $10 million set aside for the next five years, that's not a problem Goldhirsh will have to worry about any time soon.
Hugh Hart writes about the entertainment industry in Hollywood.