I'm not really one to hold onto things for a long time, particularly clothes. My size changes, I get bored with my wardrobe, and I wear out my favorites. It's not the most frugal way to be, but I do keep the Salvation Army well supplied with my gently used garments. There is one exception. It is a T-shirt, worn and well-loved like the velveteen rabbit in the children's classic. Other shirts have come and gone, but this one has staying power.
The day before I graduated from Brown in 1997, my family threw me a party. An aunt and uncle from Philadelphia couldn't make it, but their daughter Leidy, then thirteen, came up with other family members. She brought a gift she had picked out and bought herself: a T-shirt bearing the image of a suffragette and emblazoned with the words women fly. A mature sentiment, I thought, coming from a thirteen year-old. It suited me well, especially at a time when I was so acutely aware of the possibilities my post-graduation life might hold.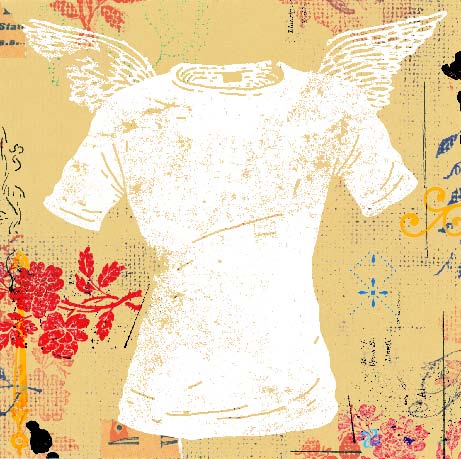 The shirt went into heavy rotation in my wardrobe. I wore it on weekends while running errands or meeting friends for lunch. For several months whenever I put it on, I thought about Leidy. I wondered how she was doing in middle school and thought I should give her a call. After many washings, tiny holes appeared around the seams and edges, prompting me to restrict the T-shirt's wearing to around the house. Eventually it became a night shirt. By this time, several years after graduation, the T-shirt had stopped reminding me of Leidy or graduation or anything else. It was just a comfy shirt, worn soft like baby clothes. When I folded it with the other laundry, I must have seen the words women fly, but I no longer read them.
The last time I saw Leidy was at a party for her graduation from nursing school. She was radiant with pride and relief at having finished. I should have brought her a gift with an inspirational saying, something that would usher her into this exciting new phase in her life, to encourage her to fly. But I didn't. I think I gave her a check.
A few weeks later, Leidy was murdered by a man she had dated briefly, someone with a shady past and evidently no conscience. Grief-struck, my family and I pored over every photograph, relived every memory of Leidy. I read and reread the brief thank-you note she had sent me for her graduation gift. Everything Leidy had ever touched became meaningful.
Especially the T-shirt. I wore it to bed the night before Leidy's memorial service and again the night before her murderer was sentenced to life without parole. Now I look at it, read the words, imagine Leidy at the store where she bought it, holding it up against her chest to check the size. I inspect it when I fold the laundry. How is it holding up? Can I still read the words? Recently, the collar began to tear off, and I decided to cut it off completely. Now the shirt hangs off of one shoulder when I wear it, like Jennifer Beals's in Flashdance.
I wonder now what I should do with the T-shirt. Despite the fact that it has lasted longer than any item of clothing I've ever owned, I know it's not a miracle shirt. If I continue to wear it and wash it, it will deteriorate. Should I put it in a special box with the lock of Leidy's hair given to me by her mother? Or under glass in a shadow box with one of the justice for leidy buttons we wore before the trial?
My younger undergraduate self might have suggested that I could increase the shirt's longevity if I didn't wash it quite so often. But I think I'll keep loving the T-shirt literally to pieces, like the boy loved his velveteen rabbit. I'd like to think that Leidy would agree.

Rebecca Bonanno is a social worker and doctoral candidate at Stony Brook University on Long Island, New York.