Michael Bolcerek would be the first to admit there are a lot of good causes out there—fighting poverty, saving the planet, curing AIDS. But he thinks he's found one that, while not as important in the grand scheme of things, still deserves his attention: protecting the rights of poker players.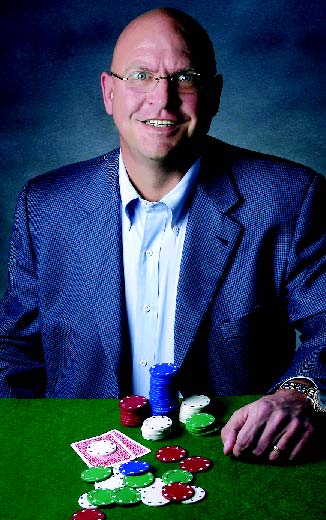 Bolcerek, 44, is the president of the Poker Players Alliance, an organization dedicated, as its slogan says, to "protecting the freedom to play America's game." Representatives of the group, which claims 75,000 members, lobby in Washington, D.C., and in state capitals across the country, fighting government regulations that would make it harder to play the game they so cherish.
Bolcerek, who lives in San Francisco, is himself a casual poker player, gathering with friends about once a month to play. His background is in corporate finance—he's worked for Oracle, Nokia, and Hyundai—and only joined the PPA at the urging of a friend in 2005. He forked over his dues, but then found himself so upset about various efforts in California to regulate poker that he began to dedicate more and more of his time to the cause. He became president last February. Bolcerek sees his future in politics, but for now, he says, "I'm just trying to make the world safe for poker players."
According to Bolcerek, "There's a political backlash going on right now against a very popular activity . Politicians are legislating morality." Exhibit A, he says, is a bill recently passed by Congress and signed by President Bush that threatens to wipe out the $3 billion U.S. online gambling market. The new law prohibits banks and credit card companies from processing checks and electronic payments involving Internet gaming sites. "If the goal of Congress is to protect people from the possible dangers of gambling, a prohibition is the worst way of achieving it," Bolcerek said in a press release issued right after the bill was passed in September. "All it will do is push poker underground, essentially creating online speakeasies."
Then there's the crackdown on poker at the state level. California recently shut down several casino nights hosted by charities, as officials enforced a state law that for years had gone ignored. In Cincinnati last January, Bolcerek says state agents went undercover as players at a poker tournament sponsored by local residents to raise money for a cancer patient to find out if the organizers had obtained the necessary permits. And a year earlier, in Palmer Lake, Colorado, a SWAT team of fifty-two officers raided a local restaurant where two dozen gamblers were playing Texas hold 'em. Witnesses told the press that the cops entered with guns drawn. "Put your hands up," they yelled, "This is a raid."
Though the PPA is an independent nonprofit organization, it was started with contributions from the gambling industry along with annual dues payments from its members. Bolcerek also says he is "currently courting U.S. casino interests with regard to supporting other initiatives we'd like to accomplish," though he won't detail what those are. Nonetheless, Bolcerek insists that the PPA comes up with its positions independently of any outside influence.
"It's a special interest," he argues, "but so are guns, so are environmental issues. The fact is, it's about personal freedom and the freedom to enjoy a game of skill wherever you want to play."