When Kyle Rowley '01 played football at Brown, he sat on the bench for his first three years, only occasionally filling in as a running back on a trick play. He expected to become the starting quarterback for his senior season, but a more experienced player stayed for a fifth year and filled the spot. Rowley then stayed for a fifth season himself, finally grabbing the starting job, but, as he says, "to prepare for four years and play for one is not a big return on your investment."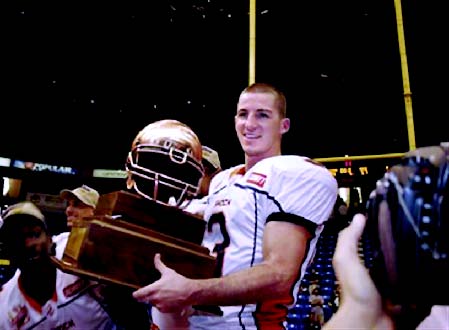 After graduation most of Rowley's teammates did the sensible thing and left the sport for steady, dependable jobs. But he wanted to keep playing. He sent videotapes of himself in action to teams across the country but heard nothing. Six feet tall and and weighing 195 pounds, Rowley is on the small side for a professional quarterback; despite his great aim, his throwing arm isn't as powerful as the typical professional starter.
One day, though, a sports agent called and offered him a job with the South Carolina team in arenafootball2, or af2, the minors of the twenty-year-old Arena Football League, whose games feature eight players to a side competing indoors on a padded field fifty yards long. The job with the now-defunct Charles-ton Swamp Foxes turned out turned out to be just a tryout, though and, Rowley says, "there were four other guys ahead of me at quarterback."
But Rowley impressed the coach and wound up making the squad—only to spend five games on the bench before being traded to a team in Georgia. There, too, he warmed the bench. The only time he got to play at all that year was after the starting quarterback suffered a serious injury late in the season. Even that opportunity evaporated quickly: the team brought in a league veteran to take over within weeks.
Finally, in 2005 Rowley was picked as a starter for the Wilkes-Barre/Scranton Pioneers in northern Pennsylvania. But after eight games he was knocked flat and jumped on by a 300-pound defensive lineman, suffering a shoulder injury that kept him out for the rest of the season. Once again, Rowley wound up on the bench, waiting and watching.
Then the coach of the Manchester (New Hampshire) Wolves called last year to say he wanted Rowley to be his starter. Once again Rowley arrived to find that the team already had a starter. "In actuality, I was only called in as an insurance policy," he says. "I sat there while the guy lost three games. Finally, we were doing so poorly that the coach had to start me." He won two games before being told he was about to be traded to the Bossier-Shreveport Battle Wings, a Louisiana team that up to that point in the season was 0–6.
"It was one of the bleakest moments in my career," Rowley says. He turned down the offer, and a week later a call came from the coach of the Spokane (Washington) Shock inviting Rowley to be his starter. Not sure what to expect, he packed all his belongings into his car and drove across the country.
Incredibly, Rowley's confidence was still high. He knew that as Brown's quarterback during that one season, he'd led the Ivy League in every passing category and had broken the school record for total yards in a single game (485). The Bears had gone 6–3 that season, just one win short of the Ivy championship. And later, when Rowley had played in Georgia, he'd led the af2 in completions, throwing for 4,200 yards and eighty-six touchdowns. All he needed was a fair chance.
In the end the Spokane coach's word proved good. Rowley started as quarterback in all of the nine games remaining in the season and won all of them. In August he led the Shock to a decisive victory in the ArenaCup, the af2's Super Bowl, defeating the Green Bay Blizzard, 57–34. Rowley threw for six touchdowns in the game, completing twenty-nine of his thirty-six passes for 264 yards.
Now Rowley believes he may be on the verge of being bumped up to the Arena Football League itself. Of course, he realizes he may have to sit on the bench for a while, but by now he's used to that.