At about 3 a.m. on September 10, two female students called campus police to say they were nervous about leaving a building in Keeney Quad. When they'd arrived earlier, two men had asked to be let into the building, and the women had refused. After later seeing the two men, who were African American, inside the building, the women phoned for a police escort home.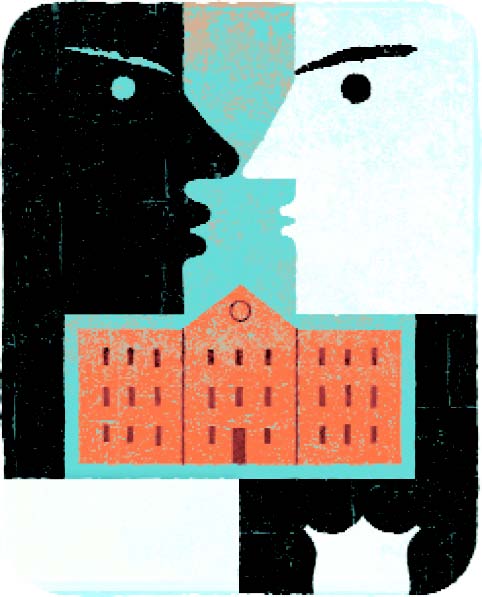 What happened next would later be described as either Brown and Providence police officers doing their job or roughing up students while engaging in racial profiling. According to the results of an investigation by the Brown public safety office, while a Brown police officer was taking the two women home, they recognized the two men now walking down Brown Street.
When the police officer asked the men to produce identification, one of them refused and kept walking down Brown Street. The officer radioed in a description, and a short time later a second Brown police officer tried to stop him near Faunce Arch. The man refused again. The police officer followed the man on foot while using his radio to ask for more help. The young man was next intercepted by a Brown police sergeant and two Providence police officers.
This is where the facts get sketchy. What is known is that Providence police officers arrested the young man, who was later identified as computer science graduate student Chipalo Street '06, and charged him with assault and resisting arrest. According to a Brown public safety office report, a University police officer helped handcuff Street during the arrest, but "there is no evidence that any [Brown police officer] caused injury to the individual."
Street, however, claims he was wrestled to the ground and assaulted during the arrest. In an e-mail to the Brown Daily Herald that he later forwarded to the BAM, he wrote, "I was assaulted by officers, while officers of Brown Police and Providence Police were either present or involved in the beating." Street was taken by the police to a Providence hospital for cuts to his face.
Also contributing to tensions that weekend was an incident involving another African American student, this time off campus. Providence police claim that as they were trying to clear a downtown street of traffic so a police vehicle could pass, this student, who was in a car on the same street, refused to comply. According to the police report for the incident, the man had to be physically restrained while officers arrested him. (No Brown police were involved.)
A few days later demonstrators were on the College Green protesting police treatment of racial minorities. University officials quickly assured the Brown community that they took all allegations of police misconduct very seriously. On September 12, President Ruth Simmons and Interim Vice President for Campus Life and Student Services Russell Carey '91, '06 AM sent an e-mail to students, faculty, and staff promising a "prompt and thorough" investigation.
A second e-mail was sent three weeks later by Carey and Walter Hunter, the vice president who supervises the Brown police department. This update announced that the University's Public Safety Oversight Committee (PSOC), whose members include faculty, administrators, and students, would investigate whether Brown police are unfairly and disproportionately stopping people of color. The e-mail cautioned, however, that the Brown investigation "will not be able to definitively conclude what happened between [Street] and [Providence police department] officers on Thayer Street as that is a matter the [Providence police department] would need to investigate." However, the Providence police report by the arresting officer says that Street "struck" an officer who tried to question him. The report also said, "police could smell the presence of an intoxicating beverage while Street was in the rear of the police cruiser."
At a pretrial conference on November 1, a district court judge accepted a prosecutor's recommendation that the charges against Street be dropped after he completes twenty hours of community service and pays a $200 fine. At another hearing that same day, misdemeanor, assault, and disorderly conduct charges against the student in the downtown incident were also dropped. (Street and University officials declined to comment to the BAM beyond their public statements.)
Were the September 10 incidents examples of racial profiling by Brown and Providence police officers? In an October 16 e-mail sent to Brown faculty, students, and staff, Carey and Hunter summarized the internal public-safety report about the on-campus incident. In it, they concluded that Brown officers had acted properly in the incident involving Street, and that officials at the Providence police department were still looking into Street's claims about its officers. Carey and Hunter went on to say that the PSOC is examining data "regarding complaints filed against officers over the past two years and the data regarding field stops (requests for identifications) of any individuals on the campus" to determine whether any patterns are evident.
The PSOC, together with the Brown police and Carey's office, are also planning an "outreach and information campaign … making clear policies and expectations for officers and for those who are stopped." (Students, for example, are required to show an ID whenever a University official asks for one.) The two Providence officers involved in the Chipalo Street incident were working on a paid University detail. The University hires outside officers from the city police department "to augment our law enforcement capacity around the campus," President Simmons wrote in her original e-mail to the Brown community. But she also said that Brown Police Chief Mark Porter would "assess that arrangement and make a recommendation to the administration regarding whether or not it should continue." Porter later announced he was going to stop the practice of hiring city police officers to perform routine patrols sometime this winter.