Being Mrs. Alcott by Nancy Geary '87 (Warner).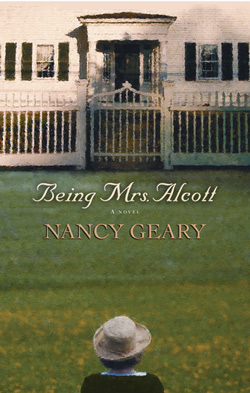 Grace Alcott, ne Montgomery, has just learned she may have breast cancer when a lingerie salesclerk informs her that her American Express card has been canceled. Then Grace's husband, Bainbridge, announces he's decided to sell their rambling oceanfront house on Cape Cod. Whisk. Just like that Mrs. Alcott's upper-crust life unravels.
Without telling anyone, she decides to forgo treatment.
The Alcotts' grown sons explode when they learn that the house is up for sale - all full of righteous anger and feigned nostalgia. The boys are fairly pickled in Brahmin entitlement, and they're livid that the free ride seems to be screeching to a halt. The eldest, a Realtor, is mad that he didn't get the listing commission. When the youngest wants $40,000 for private school tuition and day care, Grace suggests he get a job. "Coming from you, that's just a tad disingenuous, wouldn't you agree?" he snaps. "Have you ever worked a day in your life?"
Such is the dilemma in which Mrs. Alcott finds herself at the outset of this surprisingly compelling novel. No, she
hasn't "worked a day in her life"; she earns her first cash holding a yard sale to sell the house. But she's made more than her share of beds. Grace is younger than a reader might suspect. She arrived at Radcliffe in 1964 and dropped out to marry the first man she kissed. On their honeymoon he announced he was shelving his writing ambitions to take a job with Bank of Boston. Just as summarily, he bought the house on Cape Cod and then ditched his safe bank vice presidency to join the savings-and-loan fiasco. When that failed, he retired to the Cape where, in an effort to convince the neighbors that all was well, he ripped up Grace's adored rose garden to put in a swimming pool. In his fifties he's pretending to write and deferring maintenance on their house, which needs a roof and major plumbing work.
Grace Alcott emerges as a force to be reckoned with. When her son suggests she take the $40,000 out of his inheritance, she tartly tells him there may not be any inheritance. And when Bain intercepts a call from her physician and learns of her illness, she demands that he relinquish control. In the end, Mrs. Alcott decides how she will handle this final roll of the dice, and she does it with depth of character and characteristic grace. She is, in the end, a woman worth knowing.