Although the building that houses the Thomas J. Watson Jr. Institute for International Studies opened its doors last winter, its dedication took place in a roomy tent on a sunny afternoon this May. The crowd, as you might expect, was a mix of dignitaries in pressed suits and pearls and undergrads in tattered jeans and ponytails.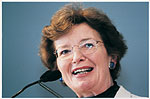 The tent stood on the lawn behind the institute's new block-long structure, which sits at the intersection of Thayer and Charlesfield streets. The dedication began with nearly an hour of greetings, including videotaped remarks from United Nations Secretary General Kofi Annan. After that, U.N. High Commissioner for Human Rights Mary Robinson, the keynote speaker, approached the podium.
"It's a great honor to come back to Brown University to mark the day a dream is realized," began Robinson, who is also the former president of Ireland. In her talk, a Stephen A. Ogden Jr. Memorial Lecture on International Affairs, she urged faculty and students to help the United Nations reach such goals as reducing world poverty. People are sometimes surprised, she said, to hear her say that poverty is the worst human-rights problem facing the world today. Robinson explained that there is a "deep humiliation" that goes along with extreme poverty, robbing its victims of a voice and a sense of self worth.
Robinson pointed to other human-rights problems as well, including the postÐSeptember 11 rise in xenophobia, anti-Semitism, and anti-Muslim sentiment. She said people must "bridge the gap of insecurity and fear" that divides the world.
All people are responsible for protecting the rights of their neighbors, Robinson concluded, "whether they live on the same street or the next continent."