When Edwidge Danticat MFA '93 was in Providence September 18 to read from her new book,
Brother, I'm Dying
, she confessed that she'd felt a little sad crossing the Brown campus. She half-expected to see her younger, more tentative self on the street.
As a creative-writing graduate student in the early 1990s, the Haitian- born Danticat feared she didn't measure up. This fall, however, she was a finalist for the National Book Award in nonfi ction—her second shot at the prize; her collection Krik? Krak! was a finalist for the fiction award in 1995. The Farming of Bones won the American Book Award, and The Dew Breaker won the Story Prize and was a PEN/Faulkner finalist. Oprah Winfrey chose Breath, Eyes, Memory for her book club in 1998.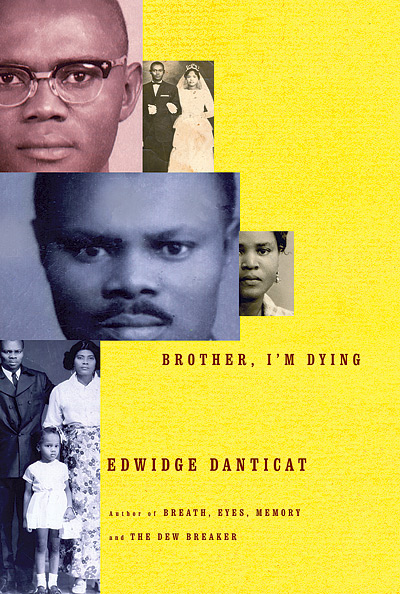 Danticat's new book culminates in a horrific series of events in which her aged uncle Joseph flees violence in Haiti only to die in a Miami prison hospital.
Standing before the Salomon Center's auditorium, Danticat read from that narrative, closed the book, and asked for questions. The audience seemed too stunned to speak, so she read on.
When she finished, people collected themselves and moved toward the microphones in the aisles. A young woman asked about the role of metaphor in Danticat's writing, and the author laughed. "That's how you know you're at a u-ni-ver-si-ty," she joked. "You get the 'use-of-metaphor' question!' " Danticat said she considered herself lucky to have learned Creole as her first language. "Creole is a very visual language," she said. "I don't take any credit for it." A good speaker of Creole, she said, can address five people simultaneously, leaving each with a different message.
Brother, I'm Dying is told in a cool, measured voice, and when asked how she achieved that distance, Danticat said by the time she sat down to write, she had largely spent her rage at the callousness with which immigration officials treated her uncle. She'd had to battle to get U.S. Customs and Border Protection to release the records of his case. She'd told and retold his story. She'd tried to hire a lawyer to bring suit against the government (none would take the case, she writes). When it came to writing, she said, she tried simply to put the facts down on the page, to document and make sense of what happened.
"I had wings on this one," she said.
For a review of Brother, I'm Dying, click here. To read a review of Danticat's novel The Dew Breaker, click here.