On Thursday of New York Fashion Week in September this year, a fleet of impossibly thin young women receives the final touch-ups to orange lipstick and long curls while men and women dressed in black race around urgently. "We're having a model crisis," explains designer LynDevon '02. A model is missing. Just minutes away from presenting her spring ready-to-wear collection to the world's fashion arbiters, Devon presides unflappably over the commotion. The tardy model arrives and is run through the gauntlet of stylists in record time.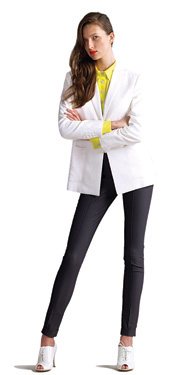 At twenty-nine, Devon, one of today's hot young designers, is about to watch her collection share the spotlight with those of veterans Vera Wang, Calvin Klein, and Tommy Hilfiger. Fashion editors, photographers, and actors—as well as Devon's friends and relatives, many wearing her designs—pack the room. The buzz grows to a roar. Cameras flash on a tableau of models sporting the classic, tailored garments Devon favors for spring. There are slim, cuffed pants and short dresses and skirts in whites and neutrals, punctuated with bright splashes of color and crystals from sponsor Swarovski.
Women's Wear Daily will later comment approvingly on her "fuss-free clothes, crisp with a cool factor." Devon calls the designs "tough urban chic."
Devon is driven, self-confident—like the women she designs for. "I want to fill a niche in the American market for classic American designer sportswear, totally wearable and effortless—really created with the customer in mind," she says. Tall and model-slim, with almost waist-length brown hair, Devon started her own line out of her West Village apartment in 2005 after an internship with Zac Posen and an assistant-designer job at Ralph Lauren. The accolades came quickly. In January 2007, Fashion Group International anointed her a "rising star." Her clothing was featured in an exhibition about women designers at NewYork's Museum at the Fashion Institute of Technology. Her striking fall 2008 collection, inspired by medieval armor, prompted
Style.com
to include her on a "top ten new designers" list. Sarah Jessica Parker wears her clothes.
Devon grew up on Manhattan's Upper East and Upper West Side, the oldest of five children, and attended private schools. She found her vocation early. "I've always been an artist," she says. "She sewed her own promgown, and it was fabulous," recalls her mother, Pam Michaelcheck, who wears a black zippered Devon dress and has a closet filled with herdaughter's designs. At Brown, Devon concentrated in art and architectural history, designed costumes for theater productions, and worked summers in the Metropolitan Opera Company's costume shop. She later took an intensive fashion design course at Parsons School of Design. "I think the freedom of Brown's curriculum allowed me to find my own way," she says, noting that she regularly draws on the visual arts and architecture courses she took for inspiration.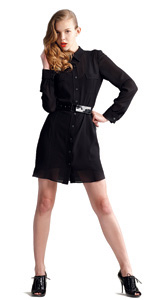 Fashion is "an incredibly tough business," she says. A few days after the Fashion Week presentation, she is scouring vintage shops for new ideas and preparing to fly to Paris to buy fall fabrics. "Most days it's a real struggle," she says, "whether you're having trouble because of the economy, or because a fabric came in wrong. I'm exhausted, but I have my eyes on the prize, which is growth."
Of course, fashion is also "an incredible art form," she adds. "We'reall wearing clothes, we're all expressing ourselves." Her goal is to offer women "what they need to feel beautiful and comfortable and confident," she says. "That's what drives me, too."
Philadelphia-based culture writer Julia M. Klein is a contributing editor at the Columbia Journalism Review.
Photos courtesy Lyn Devon.