Chris Skrelja '09 and Scott Friske '09 have been through three headbasketball coaches in four years, but they have handled the transitionslike professional athletes. Now in their final season, the captainswill try to lead a young group of Bears to the team's first Ivy Leaguetitle in more than twenty years.
"I couldn't have asked for two guys who are better people to be my first captains," says new Brown head coach Jesse Agel, who was an assistant for the last two seasons under Craig Robinson, who is now at Oregon State. "Change is tough in the coaching business, as it is in life, and they've handled it like champions."
"This past spring," Skrelja says, "I was at an interview and they were asking me about how basketball was going. I mentioned that I was going to have my third coach in four years. They said, 'Welcome to real life. You never know. You could have three different bosses in four years.' You just have to persevere and fight through and make the best of your experience."
Despite the coaching changes, the Bears have made steady progress and continued to improve during each of Skrelja and Friske's first three seasons. The team won ten games during the pair's freshman year, and eleven their sophomore season, including an upset win over Providence College.

Last season, however, was an authentic breakout year for the Bears. They posted a school-record nineteen wins and received a bid to the inaugural College Basketball Invitational. They also finished second in the Ivy League.
With a new coach and the departure of All-Ivy guards Mark McAndrew '08 and Damon Huffman '08—who averaged thirty-plus points per game—some prognosticators might feel this is a rebuilding year on College Hill. Agel and his players strongly disagree, however. "Our goal every year is to try and win the Ivy League championship," Agel says.
Cornell was once again chosen as the favorite in the preseason Ivy League media poll, with former Brown head coach Glen Miller's Penn Quakers picked second. Brown was picked to finish fifth, behind Yale and Harvard.
"For me and Scott, this is our last opportunity to make it to the NCAA Tournament," said Skrelja. "Ever since I was a little kid I dreamed of being one of those sixty-four teams. That would be an amazing experience."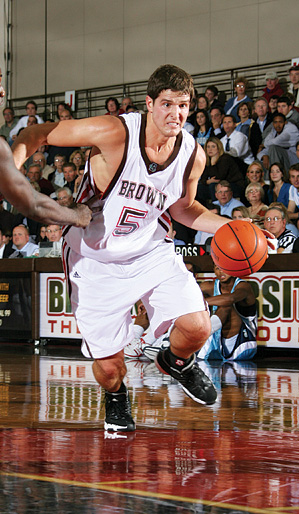 Skrelja, a second team All-Ivy selection a year ago, was Mr. Versatility for the Bears. He played primarily at point guard, but also saw time at forward and center. In the Army game, he played four different positions and nearly registered a triple-double with fifteen points, nine rebounds, and eight assists. 
"The more versatility you have on your team, the better," Agel says. "Chris can do a lot of different things on the floor. He was used in a lot of different roles last year, and he will be again this year."
Friske will need to continue as a force down low if the Bears are to challenge defending champion Cornell for the title. Last season, he was third on the team in both rebounds and assists, the latter a surprising stat for a big man, but Friske is an adept passer from the low post.
One of the people he'll be looking for on the wing is sharpshooter Peter Sullivan '11, Brown's leading returning scorer at 8.8 points per game. After hitting 48.1 percent of his three-point attempts last season, Sullivan will be a marked man this year.
Guard Adrian Williams '11 saw extensive playing time as a freshman, averaging 4.6 points per game. He will be joined in the Bears' backcourt by Steve Gruber '10, who has carved out a niche as a reliable backup point guard. 
Up front, Matt Mullery '10 led the team last year with thirty-seven blocked shots. Chris Taylor '11 and Morgan Kelly '11 were role players last season, but will need to step up their contributions in the post this year if the Bears hope to contend.
"This year I'm just looking forward to going out with these guys, especially Chris, one last time and playing our hearts out and letting the chips fall where they may," Friske says.
"Chris and Scott are the type of people you want your sons to grow up to be," Agel says. "They are warriors on the court, and they're gentlemen off the court. They're interested in their teammates. They're interested in the world around them. You can't find two finer people to represent your university and to represent your team."