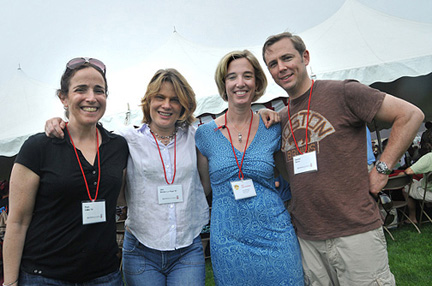 OPEN SECRETS
(Left to right) Pam Heller '91, Jen Binder-Le Pape '91, and Jennifer Gaudette Quinn '91 lived together off-campus senior year. At the reunion, Quinn brought along a few old photos of the group on her cell phone. "We were laughing our asses off looking at them," Binder-Le Pape said. One snapshot showed the trio together during Senior Week, each  triumphantly holding up three of her fingers. "We had three very good nights in a row," said Gaudette Quinn. They didn't want to say what made the nights so good—after all, they're now responsible parents with kids. "We can't explain it in print without it being held against us" Binder-Le Pape said. (Far right) Daniel Quinn '90, Jennifer's husband, joined in the merriment.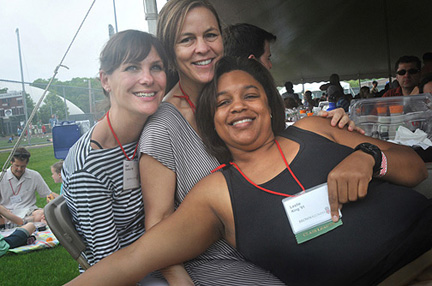 ALL TOGETHER NOW
When she couldn't find a chair at a picnic table, Lauren Sidle '91 (middle) simply plopped herself down on the lap of Sam Garbers '90 (left). Leslie King '91 didn't want to be left out so she threw herself on the heap as well. The three women met at Brown in a class on urban politics. This wasn't Garbers' reunion year, but she came anyway, she said, "because I loved it so much last time." King may have traveled the farthest distance of anyone to attend this year's reunion: she flew in from New Zealand, where she is an emergency medicine physician. 
GROUNDED
After the official Campus Dance this year,  there was the unofficial one, held afterwards at a club downtown. It went until 3:30 a.m., leaving left classmates (counterclockwise from right) Michael Soule '06, Mara Terras, and Chris Sha (glasses), exhausted along with  their friend Rose Levine. They found the soft, thick grass of the Berylson Family Fields ideal for a nap."We walked here, but we're just too tired to walk back," Terras said.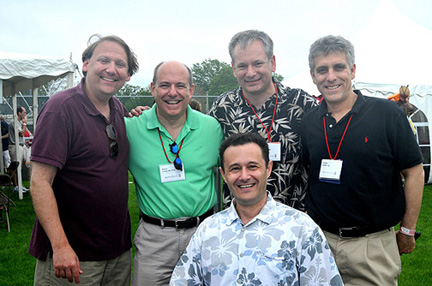 UNIT FIVE
Classmates from '86 (left to right) Paul Stendig, Kevin Leitao, Edward Zadravec, David Geffen, and (kneeling) Selim Suner met as as undergrads in the same unit in the West Quad. They've been fast friends ever since, frequently getting together for informal reunions and even starting a Facebook page for members of the unit. What keeps the group together? "Love," says Leitao. "Love for Brown, love for each other."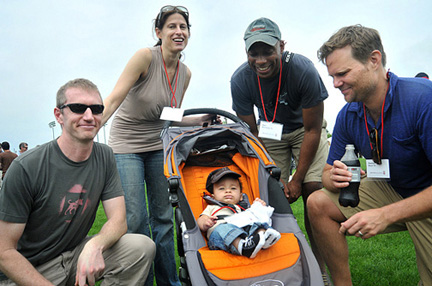 LOVE AND DEATH
Matt McFarlane '91 (baseball cap) and classmate Jennifer Nadeau (to his right) met in a class on Death and Romantic Music, but their relationship really blossomed when they went on an assignment together to a cemetery in Jamestown, R.I. "The class was all about romance," says Nadeau. "Something was bound to happen." McFarlane and Nadeau, now married, came to Field Day with their 3-month-old boy, Felix McFarlane. They were joined by classmates Dana Burd (left) and Stephen Meyer (right). "Dude," McFarlane said to Burd, "where did all the time go?"
Photos by Frank Mullin.