All We Know: Three Lives
by Lisa Cohen '84 (Farrar, Straus and Giroux). Esther Murphy, Mercedes de Acosta, and Madge Garland moved between London, Paris, and New York City, inhabiting the modernist worlds of letters, fashion, celebrity, and homosexuality. This triple biography is literary, scholarly, and riveting.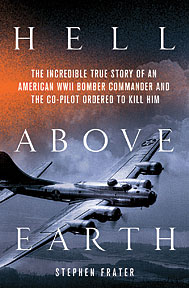 Hell Above Earth: The Incredible True Story of an American WWII Bomber Commander and the Copilot Ordered to Kill Him
     by Stephen Frater '78 (St. Martin's). U.S. Captain Werner Goering was not only a first-rate pilot, he was also the nephew of the Luftwaffe's Hermann Goering. In the event that Captain Goering's plane was downed over Germany, his copilot had secret orders to kill him to prevent his capture or the appearance of desertion.
Word. 144 Crossword Puzzles That Prove It's Hip to Be Square
by Natan Last '12, with contributions by Jonah Kagan '13, Aimee Lucido '13, Caleb Madison, Will Nediger, and Zoe Wheeler '12  (Workman). The youngest person to have a puzzle run in the Sunday New York Times, Last and his fellow Times puzzlers created this collection full of up-to-the-minute pop culture references.
Central Park: An Anthology
edited by Andrew Blauner '86 (Bloomsbury). For New Yorkers and tourists, Central Park is a special place. In one essay, Susan Cheever '65 describes it as "my little bit of country." She prefers it to the real thing. David Michaelis navigates his release from a soured marriage while his sons catch and release carp. Paul Auster tells of sleeping in the park and eating out of trash cans.
Superman: The High-Flying History of America's Most Enduring Hero
by Larry Tye '76 (Random House). From Kal-El to Clark Kent and from George Reeves to Christopher Reeve, Tye traces Superman's saga, his creators, and his transition from paper to screen and back again.
ALUMNI FICTION
Strong Vengeance: A Caitlin Strong Novel by Jon Land '79 (Forge). 
ALUMNI NON-FICTION
Athens in Black: A Story of Life in Nazi-Occupied Greece by Constantine E. Anagnostopoulos  '49 (Anavasis Press). 
Peculiar Work: Writing about Benton MacKaye, Conservation, Community by Larry Anderson '85 AM  (Quicksand Chronicles). 
Forever Azathoth: Parodies and Pastiches by Peter Cannon '74 AM  (Subterranean Press). 
The Birth of Conservative Judaism: Solomon Schechter's Disciples and the Creation of an American Religious Movement by Michael R. Cohen '08 (Columbia University Press).  
Piloting Strategy: 5 Leadership Jobs Once Your Plan Is Done by John Delany '72 (Big Snowy Media).
PTC Carousels: The History of Philadelphia Toboggan Company Carousels by Richard A. Gardner  '69 PhD (The Connecticut Press). 
Creating Consumers: Home Economists in Twentieth-Century America by Carolyn M. Goldstein '84  (The University of North Carolina Press). 
Charles Dickens's Networks: Public Transport and the Novel by Jonathan H. Grossman '89 (Oxford University Press).
The Click Moment: Seizing Opportunity In An Unpredictable World by Frans Johansson '95  (Penguin Group). 
Confessions of a Plagiarist and Other Tales from School by Kevin Kopelson '88 AM, '91 PhD (Counterpath Press).  
Why the News from Hollywood Always Wears a Tan by Sean Mitchell '70 (New Caronia Press).   
The Man with the Bionic Brain by Jon Mukand '95 PhD (Chicago Review). 
The Secret Life of Objects by Dawn Raffel '79  (Jaded Ibis Press). 
Obama's America: A Transformative Vision of Our National Identity by Ian Reifowitz '93 (Potomac Books). 
High-tech, High-touch Customer Service: Inspire Timeless Loyalty in the Demanding New World of Social Commerce by Micah Solomon '87 (AMACOM).  
Totally Immersed: The Polish Experience by Michael E. Starzak '63  (MEJS).
Between the Lines: Finding the Truth in Medical Literature by Marya Zilberberg '84  (EviMed Research Press). 
ALUMNI POETRY
The Ground by Rowan Ricardo Phillips '98 AM, '03 PhD (Farrar, Straus and Giroux). 
FACULTY NON-FICTION
When the State Speaks, What Should It Say?  How Democracies Can Protect Expression and Promote Equality by Corey Brettschneider (Princeton University Press). 
Crossroads at Clarksdale: The Black Freedom Struggle in the Mississippi Delta After World War II by Francoise N. Hamlin (The University of North Carolina). 
ALUMNI MUSIC
Song Dance Banjo by the Evie Ladin Band (produced by Evie Ladin '91), (Music Hill Studio).