Recognition Awards
November 8th, 2016
During alumni fall weekend, the Brown Alumni Association handed out awards at the Alumni Recognition Ceremony on September 24. Jaykumar A. Menon '90, who received the William Rogers Award, spoke for many when he said he'd acquired at Brown a willingness to ask: "Why don't we do this another way?"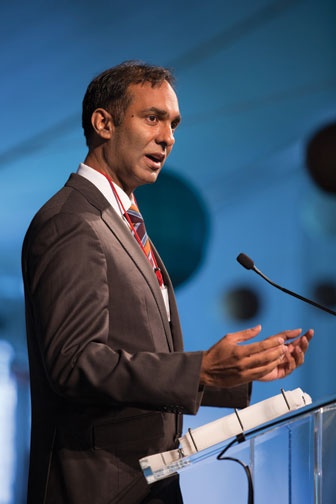 William Rogers Award
Considered the BAA's highest honor, this award goes to an alum whose service to society embodies the life "of usefulness and reputation" called for in the Brown Charter. This year's recipient, Jaykumar A. Menon '90, is an award-winning international human rights lawyer, social entrepreneur, and teacher whose latest initiative, the Open Source Pharma project, aims to provide affordable medicine throughout the world by establishing a global open-source pharmaceutical ecosystem. As an attorney, he won a $4 billion judgment on behalf of victims of the Bosnian genocide.


Joseph M. Fernandez '85 Award
Given in memory of the late BAA president, this award recognizes a commitment to diversity and collaboration with the University community.
Javette Pinkney Laremont '80


H. Anthony Ittleson '60 Award
For extraordinary volunteer leadership in raising money for the Brown Annual Fund
Todd A. Fisher '87
Nancy Fuld Neff '76


Brown Bear Award
For a lifetime of outstanding volunteer service to Brown
Andrea Terzi Baum '83
James J. Burke '73
Sheryl D. Brissett-Chapman '71
Peige Katz '91

Brown Annual Fund Gold Award
For fundraising success by graduates of the last decade
Daniel J. Pipkin '14


Young Alumni Service Award
For distinguished alumni service to Brown by young alumni
Robert J. Klaber '07
Erik A. Peterson '07

Alumni Service Award
For continuing volunteer service to Brown
Phoebe D. Knowles '96
James R. Moody '58
Carrie A. Savage '98
Naeem Zafar '81

Brown Annual Fund Class Participation Award
For the class with the highest participation in giving to the Brown Annual Fund
Class of 1956


Brown Annual Fund Cochairs' Award
For a volunteer who played a critical role in the Brown Annual Fund's achievement of its goal in the previous fiscal year
Brennan Gilbane Koch '01

2016 Class of the Year Award
For the Brown class that most effectively engages its members
Class of 2011
Class of 1951